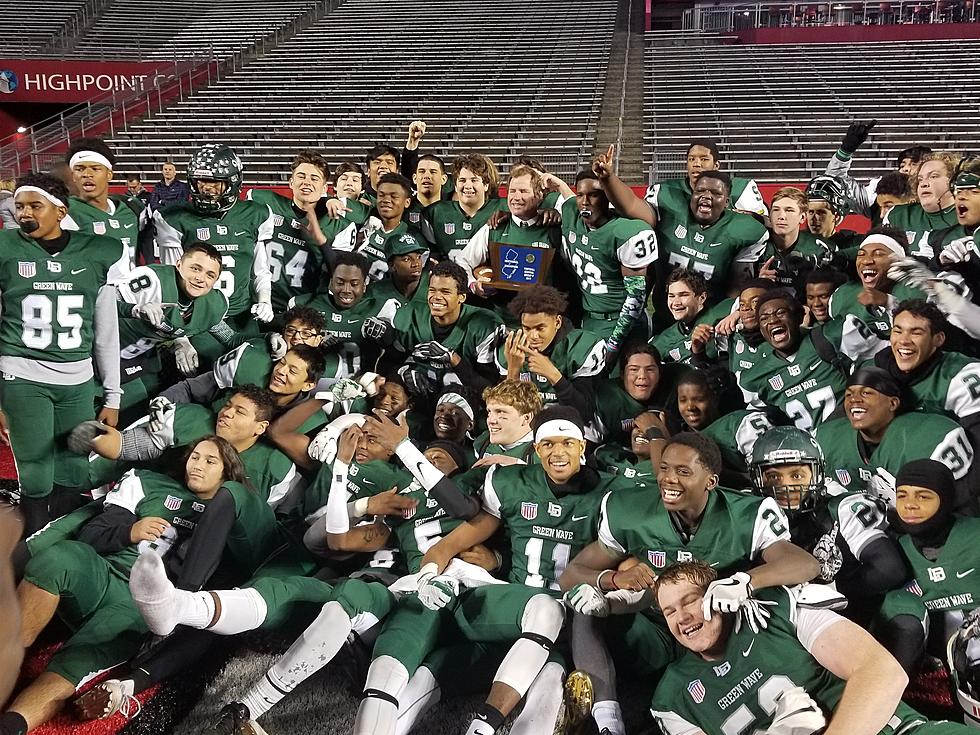 Long Branch Wins OT Thriller on 2-Point Conversion For its First State Title Since 1999
Long Branch brought home its first state title in 18 years by winning an overtime thriller. (Photo by Scott Stump)
PISCATAWAY - With Long Branch's first state title in 18 years hanging in the balance in overtime against Freehold Boro on Saturday, head coach Dan George decided to roll the dice with lucky No. 13.
George elected to go for a two-point conversion and the win, and senior quarterback Juwan Wilkins made him look like a smart man when he hit wide-open senior Elijah Sherin to give the Green Wave a heart-stopping, 43-42 victory in an instant classic to capture the NJSIAA Central Jersey Group IV title at High Point Solutions Stadium.
"I told (George), that's a great idea,'' Wilkins, who wears No. 13, said about the decision. "When I heard it, I was like, 'Let's go!' I was very, very excited. I'm glad we executed."
"We practiced that play all week,'' Sherin said. "I knew it would be the game-winner, so I told him, let's go for it. Let's win or go home."
The Green Wave (9-3) won their first state title since 1999 and their third overall while denying the Colonials (8-4) their first state championship since 2010 and avenging a regular-season loss to Freehold.
After Freehold star quarterback Ashante Worthy scored his sixth touchdown of the game on a 6-yard run to start overtime, Long Branch answered with a six-yard touchdown pass from Wilkins to senior wide receiver Pasa Fields on a slant to cut it to 42-41.
"I knew the ball was coming to me, I just had to get it in the end zone,'' Fields said.
Long Branch had been stunned in overtime by a one-win Red Bank team on a blocked extra point in its Thanksgiving game last week and also missed a field goal at the end of regulation on Saturday, which factored into George's decision. He also was worried Freehold might try to go for two and the win behind the unstoppable Worthy if there was a second overtime.
"I didn't want to lose a game on an extra point,'' George said as blood trickled down his cheek from a scratch in the raucous postgame celebration.
"I said, 'Let's end this. We need to put the game in No. 13's hands."
The Green Wave were able to somehow pull out the win despite losing four fumbles and allowing 271 yards rushing and six touchdowns to the otherwordly Worthy, who set multiple state records in the loss.
"My pregame thing was, we gotta be positive,'' George said. "You've got to be confident. This guy (Worthy) is gonna make us look silly. It's just what he does. We can't start doubting ourselves and our teammates. I'm just so proud of our guys."
Worthy finished his amazing career with modern state single-season records for rushing yards (2,860), combined touchdowns between rushing and passing (61) and total yards (4,966).
He passed the rushing mark of 2,815 yards set by Jonathan Taylor, now a star freshman running back at Wisconsin, for Salem last year. He also became the first player in state history to both throw and run for 2,000 yards in one season.
Worthy also finished No. 2 in career rushing yards in Shore Conference history with 6,400, passing Middletown South legend and NFL first-round draft pick Knowshon Moreno to finish only behind Keyport's Ken Cattouse, who had 6,676 in the early 2000s.
"He's gonna make you look bad,'' George said. "That's just what Ashante Worthy does."
Wilkins almost matched him on the big stage, finishing 18-for-25 for 260 yards and three touchdowns while also running for a touchdown. He went 10-for-15 for 155 yards and two touchdowns and ran for a score after halftime as the pressure ratcheted up.
"Juwan has an awesome arm. We wanted to leave it up to him, leave it up to the team,'' said senior tight end Kaymar Mimes, who had 4 catches for 50 yards and a touchdown.
The teams entered the half tied at 21 after Wilkins hit Matt Clark for a 22-yard touchdown pass with no time remaining to end the second quarter. It helped Long Branch keep pace with Freehold after Worthy ran for three scores in the first half. Green Wave sophomore running back Jermaine Corbett had a pair of first-half touchdown runs on his way to finishing with 152 yards on 29 carries.
Freehold appeared to be pulling away when Worthy ran for touchdowns of 22 and 29 yards in the third quarter after a pair of fumble recoveries by the Colonials. With Long Branch down 35-21 going into the fourth quarter, George put the game in the hands of Wilkins and his army of playmaking wideouts, which also include Monmouth University recruit T.J. Fosque.
"Juwan Wilkins has been the guy all year,'' George said. "I was gonna ride him."
"We just kept our heads up,'' Wilkins said. "We had to overcome adversity, and we did. I just said that this is our ring, this is our time."
The Green Wave started their comeback with a 9-play, 77-yard drive that ended with a 12-yard touchdown pass to the 6-foot-5 Mimes with 11:51 left in regulation.
"It gave us hope,'' Mimes said. "We can score at any time, no matter where we're at."
Long Branch got a stop on fourth down at its own 28 to get the ball back. The Green Wave then went 71 yards in 11 plays, tying the game on a 1-yard sneak by Wilkins and an extra point by Paul Montague with just 1:07 left in regulation.
Defensive back Marc Dennis then gave Long Branch a chance to win it with Long Branch's second interception of Worthy in the game. That set up an eventual 34-yard field goal try by Montague, which was no good as time expired in regulation to set up the thrilling overtime finish.
It led to a playcall in overtime by "Riverboat Danny" that won't soon be forgotten at his alma mater, which he has led to a pair of state titles.
"I fully embraced it,'' Mimes said. "I didn't want to just kick the extra point. We wanted to end the game when we had the opportunity. I couldn't dream of a better ending."
Long Branch 43, Freehold 42 (OT)
.                                  L                       F
First downs               25                    21
Rushes-yards     48-203                42-265
Passing                 18-25-0               16-23-2
Passing yards         260                    141
Penalties                  5-48                  12-83
Fumbles-lost            4-4                     0-0
Freehold (8-4)               7      14     14     0    7  -    42
Long Branch (9-3)        7      14        0   14   8 -  43
F: Worthy 1-yard run (Hurler kick).
L: Corbett 2-yard run (Montague kick).
L: Corbett 29-yard run (Montague kick).
F: Worthy 6-yard run (Hurler kick).
F: Worthy 4-yard run (Hurler kick).
L: Clark 22-yard pass from Wilkins (Montague kick).
F: Worthy 22-yard run (Hurler kick).
F: Worthy 29-yard run (Hurler kick).
L: Mimes 12-yard pass from Wilkins (Montague kick).
L: Wilkins 1-yard run (Montague kick).
F: Worthy 6-yard run (Hurler kick).
L: Fields 6-yard pass from Wilkins (Sherin pass from Wilkins).
Rushing - F: Worthy 39-271, Dixon 1-5, Krauss 1-5. L: Corbett 29-152, Porch 1-26, Wilkins 18-25.
Passing - F: Worthy 16-23-2 141. L: Wilkins 18-25-0 260.
Receiving - F: DaSilva 7-59, Dixon 4-30, Krauss 3-32, Macon 2-20. L: Fosque 5-88, Clark 4-60, Mimes 4-50, Fields 4-49, Dennis 1-13.
Interceptions - L: Dennis 1-0, Cleveland 1-0.
More From Shore Sports Network