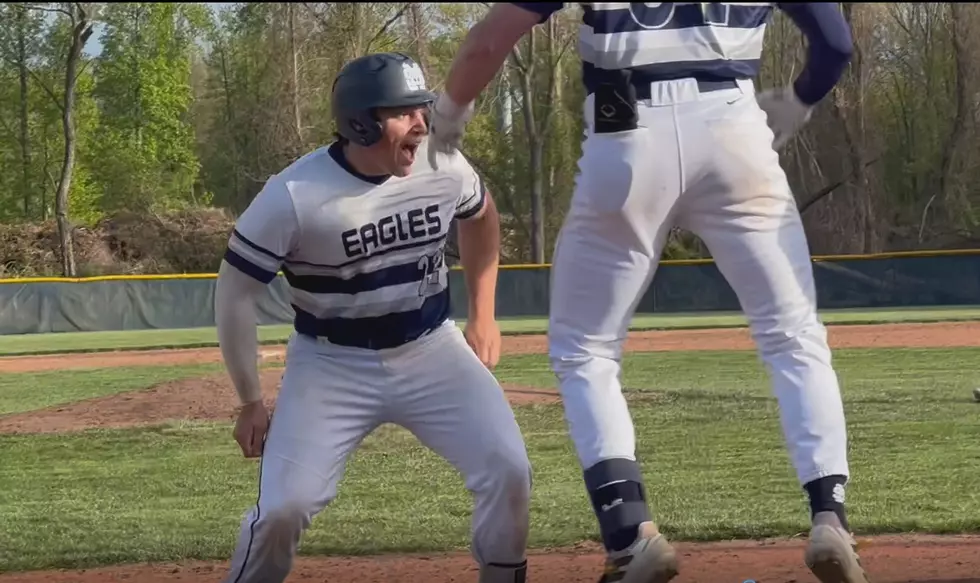 Baseball – Stanzione's Walk-Off Blast Sends Middletown South to the Monmouth County Semifinals
Middletown South senior Joe Stanzione touches home plate as his teammates mob him following his game-winning home run vs. Red Bank Catholic. (Image: Matt Manley)

MIDDLETOWN -- There are baseball players getting paid to play for a living who wish they could play one more year of high school baseball and while they might currently be living his dream, Joe Stanzione is living one of theirs too.
The Middletown South slugger is in his fifth year of high school baseball as part of the NJSIAA's bridge-year program for players from the Classes of 2021 and 2022 and he is playing, quite literally, like a man among boys.
On Monday at his home field, Stanzione authored the most memorable moment of a high school career that has had plenty to begin with.
With one out and a 3-0 count in the bottom of the ninth inning, Stanzione crushed a fastball from Red Bank Catholic sophomore Steve Svenson over the leftfield wall for a game-winning, two-run home run that gave Middletown South a 2-0 win over the Caseys in the Monmouth County Tournament semifinal.
The walk-off home run capped a 2-for-4 day at the plate, with Stanzione also singling to lead off the bottom of the fourth.
"It felt really good," Stanzione said. "They got us last year in this tournament and in the Shore Conference Tournament, so it was good to turn it around and make them feel like we did last year."
Stanzione's dramatic home run did not come soon enough to reward junior Ben Schild with a win on the mound, but it ensured that the 8 1/3 scoreless innings by the Eagles' UConn-bound ace did not go to waste. Schild silenced a dangerous RBC lineup by allowing two hits -- both to junior Frank Scrivanic -- and one walk while striking out 10.
At 107 pitches, Schild handed the ball off to senior Evan Wood, who recorded the final two outs of the top of the ninth to earn the win in relief.
Schild also started the winning rally in the bottom of the ninth with a one-out walk, although he did not have to do much after reaching first base thanks to his teammate. Stanzione got the green light on 3-0 and crushed a fastball over the leftfield wall for his Shore-Conference-leading eighth home run of the season.
"I didn't really get an inside fastball all game," Stanzione said. "(Red Bank Catholic starter) Alex (Stanyek) did a great job. He's a great pitcher and he was spotting everything on the outside corner. The last at-bat, I wanted to see an inside fastball and I got one and was able to turn on it."
"Every single time a pitcher throws the ball and he swings, I have a feeling it's going to go out," Schild said of Stanzione. "Whenever I'm on first base, half the time, I don't even take a lead just to make sure he gets his chance to hit the ball. Every time he swings, it's with a mission in his mind. Three-oh, he had the green light and absolutely hammered one."
Stanzione established himself as a clutch hitter last season, when he sent the Eagles to the NJSIAA Group IV final with a huge day at the plate against Clearview in the Group IV semifinal. He hit two solo home runs and delivered the game-winning RBI hit in the bottom of the seventh to give Middletown South a come-from-behind, 4-3 win.
"He's a run-producer every game and he leads our team in basically everything," Schild said. "We have crazy trust in him and we're really happy he is back. We know every time up, something is going to happen."
Stanzione is committed to play at Gardner-Webb University next season and is taking classes at Brookdale Community College per the NJSIAA requirement for 2021 graduates to participate on their high school team for an additional season. The rule was instituted in response to the cancelation of the 2020 season due to COVID-19, with the purpose of restoring a season for players to showcase themselves to colleges while also, potentially, protecting them from the backlog of college players due to the NCAA also granting an additional season of eligibility.
"These are my best friends, so it's great to be able to play with them for one more year," Stanzione said. "We go out there every day and have fun. We play every game like it's our last and we do our jobs.
"I was hurt in the preseason so I didn't get many at-bats to get ready. It took me a little while to settle down and stop trying to do too much."
Red Bank Catholic starter Alex Stanyek struck out Stanzione in a big spot in the bottom of the sixth. Stanzione stood in with the go-ahead run on third base -- the only runner of the game for either team to make it that far and just the second to get beyond first base -- and Stanyek froze him with a 3-2 fastball on the outside corner for his 13th strikeout of his six-inning outing.
Stanyek came back out for the bottom of the seventh at 103 pitches and issued a seven-pitch, leadoff walk to junior Will Christopher, which ended his day. Svenson, who has emerged as something of a shutdown reliever for Red Bank Catholic, took over and retired the next two batters before getting out of the inning when junior catcher Shane Andrus threw out pinch-runner Brendan Roche trying to steal second base.
Svenson pitched a one-two-three seventh and made it six batters in a row retired with a pop-out to start the ninth before running into Schild and Stanzione with one out.
Stanyek struck out the side in three out of his six full innings, including in order in the bottom of the fifth. A two-out walk to Schild on a 3-2 count in the sixth ended a run of five straight strikeouts and after courtesy runner Matt Sliva stole second and reached third on a throwing error, Stanyek dug deep for a big strikeout of Stanzione.
"It was awesome going head-to-head with him," Schild said of Stanyek. "I was a little mad our team could pull off a run against him, but that just made it more intense. Me and him were on a team together when we were seven or eight years old, so it's awesome kind of seeing where we have come from so I wouldn't really want to throw a pitching duel against anybody else."
Schild matched Stanyek for six innings and outlasted his counterpart with his most efficient game of the season. Schild had not started since pitching five innings on 58 pitches in a 13-1 rout of Middletown North on April 26, but his last outing was on May 3 at Howell. Schild came on for the seventh inning looking to close out a 10-6 game and gave up four earned runs to blow the save. The Eagles scored in the top of the eighth and held on in the bottom of the inning for the win.
"I didn't really need the Howell game to get me going for this game," Schild said. "It's RBC, so I'm ready for every game we play against them. I was definitely mad about the way I pitched at Howell. It was a situation I wasn't used to, but they got the best of me that day and luckily, I was myself today and we could pull one out against these guys."
After giving up four runs in one inning in his worst career outing, Schild pitched like he could have gone all night without allowing RBC's first run. The junior faced two batters more than the minimum in 8 1/3 innings thanks to throwing 67 of his 107 pitches for strikes and getting pristine defense behind him.
"That was the best I have felt all year with my slider and curveball," Schild said. "I was throwing some changeups in there and that was working. I was really locating my fastball as much as I wanted to. They were coming out swinging and I realized I didn't have to strike every one of them out and kept my pitch count down."
Middletown South did not commit an error and also turned what looked like a clean single by freshman Dylan Passo into a fielder's choice when sophomore centerfielder Louis D'Alessio quickly retrieved the ball off one hop and threw it to second for a force out and the second out of the top of the fifth inning.
Senior catcher Ben Cacoilo then threw out Passo attempting to steal second base to end the inning.
Middletown South will now await the winner of the other semifinal between Wall and Marlboro, which will not be played until Friday. The date for the championship game is yet to be determined.
Box Score
Middletown South 2, Red Bank Catholic 0
| | | | | | | | | | | | | |
| --- | --- | --- | --- | --- | --- | --- | --- | --- | --- | --- | --- | --- |
| | 1 | 2 | 3 | 4 | 5 | 6 | 7 | 8 | 9 | R | H | E |
| RBC (13-5) | 0 | 0 | 0 | 0 | 0 | 0 | 0 | 0 | 0 | 0 | 2 | 1 |
| Midd South (14-7) | 0 | 0 | 0 | 0 | 0 | 0 | 0 | 0 | 2 | 2 | 3 | 0 |
Pitching
| | | | | | | | |
| --- | --- | --- | --- | --- | --- | --- | --- |
| Red Bank Catholic | IP | H | R | ER | BB | SO | PC |
| Alex Stanyek | 6 | 2 | 0 | 0 | 2 | 13 | 110 |
| Steve Svenson (L, 4-1) | 2.1 | 1 | 2 | 2 | 1 | 2 | 26 |
| | | | | | | | |
| --- | --- | --- | --- | --- | --- | --- | --- |
| Middletown South | IP | H | R | ER | BB | SO | PC |
| Ben Schild | 8.1 | 2 | 0 | 0 | 1 | 10 | 107 |
| Evan Wood (W, 4-1) | 0.2 | 0 | 0 | 0 | 0 | 0 | 6 |
Top Hitters
| | |
| --- | --- |
| Red Bank Catholic | Game Stats |
| Frank Scrivanic | 2-3 |
| | |
| --- | --- |
| Middletown South | Game Stats |
| Joe Stanzione | 2-4, HR, R, 2 RBI |
More From Shore Sports Network