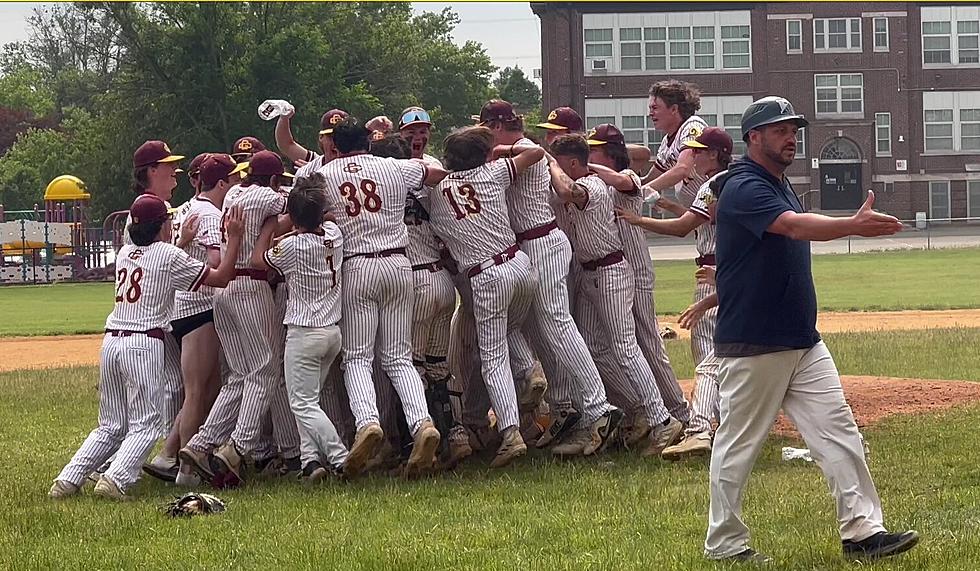 Baseball – Ranney's Landmark Season Ends at Gloucester Catholic
Gloucester Catholic celebrates winning the South Non-Public B title as Ranney coach Pat Geroni walks off the field. (Image: Matt Manley)

BROOKLAWN -- Gloucester Catholic senior left-hander Tanner Nolan spoke in glowing terms about the players on the Ranney baseball team and some choice words for the field those Ranney players call home.
It is hard to blame Nolan. Last spring, he watched four home runs -- three of them by his opponent -- clear Ranney's unusually short porch in a wild, NJSIAA South Jersey Non-Public B final in Tinton Falls, which Ranney won on what else: a walk-off home run.
In Saturday's 2023 installment of the South Non-Public B final -- again between Ranney and Gloucester Catholic -- it was the Rams playing host in the championship game on a field that lives on the extreme opposite Ranney's home park.
"It's great not playing on a Little League baseball field," Nolan said, referring to Ranney's hitter-friendly outfield dimensions. "It's great playing on a field with the right dimensions. Half the fly balls we hit and they hit (today) would have been home runs there, so it probably would have been 15-10. This felt more like a baseball game than a softball game."
Playing at home, it was indeed a different game than in 2022 and, much to the delight of Nolan and chagrin of Ranney's senior-heavy team, a different outcome as well.
Pitching on his home mound, Nolan was on his game and Gloucester Catholic's bats provided enough support as the Rams ended Ranney's landmark season with a 4-1 victory Saturday at Joe Barth Field.
"I have thrown against them every year I have been here," said Nolan, who pitched in Gloucester Catholic's 9-8 win over Ranney in the 2021 sectional semifinals, as well as last year's 8-7 loss. "Last year, I came out, they hit a walk-off and we lost. This year, I wasn't letting that happen. I was going out on top, one way or another. I was not letting them beat us again."
Gloucester Catholic will look to add to its state-record 20 group championships by winning No. 21 Thursday against St. Mary's of Rutherford, while Ranney laments the end of the careers for a program-changing group.
Gloucester Catholic earned home field advantage over Ranney despite entering the state tournament with a record five full games worse than that of the Panthers. The Rams, however, won the Diamond Classic, which supplied them with an infusion of power points that allowed them to pass Ranney in the final days prior to the NJSIAA Tournament cutoff on May 17.
"Today was a tough one," Ranney coach Pat Geroni said. "It's always difficult coming down here and playing Gloucester Catholic. They are a great program, they have really competitive, high-level kids who play with a chip on their shoulder. We feel like we have a lot of those same qualities and I think that has made for some really memorable games between us over the last three years."
For the first three innings, Ranney senior left-hander Marcello Mastroianni exchanged zeros with Nolan, but the Rams continued to mounting increasingly-dangerous threats and putting the ball in play throughout the game. Mastroianni struck out the first batter of the game but did not pick up another strikeout the rest of the way in his 4 1/3 inning outing.
"Today, they just hit the ball better than we did," Geroni said. "They generated a lot of barrel contact and they didn't swing and miss a whole lot, which puts a lot of pressure on a pitcher and a defense. I thought Marcello did a great job making big pitches to get out of some of those tough situations for the first few innings and we threw out maybe five runners on the bases, which kept us in the game."
Gloucester Catholic broke through in the bottom of the fourth on a two-run double by designated hitter Tyler Bunting into the gap in left-centerfield to plate Sal Serici from second and Tate DeRias from first.
Second baseman Jason Bogart then delivered a two-out RBI single to centerfield, scoring Bunting for a 3-0 Gloucester Catholic lead.
"As soon as you see the ball fall and someone cross home plate, the feeling doesn't get better," Nolan said. "You know you've got back-up, you know you can pitch with a lead, but you've still got to come out like it's zero-zero and throw the ball."
Ranney got a run back in the top of the fifth inning when senior centerfielder and Duke commit A.J. Gracia crushed a ball that rolled to the right-centerfield fence on the adjoining softball field some 450 feet away from home plate. Gracia raced around the bases and cruised into home with an inside-the-park home run, cutting the Ranney deficit to 3-1.
"Gracia is a great athlete," Nolan said. "Kid's a stud. But you can't let him know that. You've got to go out, you've got to throw your game and go after them like they're nobodies. Even if they have studs on their team -- and they do, you have to give them their due -- you can't let them know it when you're out there on the mound."
The home run was also the 29th of Gracia's high school career, which ties him for second place all-time in Shore Conference history, behind only 2007 Ocean Township graduate Keith Weinkofsy.
"I have said it over and over -- he is the best player I have ever coached and the best high-school baseball player I have ever seen," Geroni said. "There is nothing a player can do on a baseball field that he can't do and do really well. On top of that, he is such a great kid and he's got a great future. He's a generational talent and you don't get those. You have to be really lucky."
After Gracia lit a fire under Ranney, Gloucester Catholic responded with some cold water in the bottom of the fifth. Centerfielder R.J. Mustardo dropped in a blooper down the rightfield line and hustled into second base with a one-out double.
Ranney then replaced Mastroianni on the mound with fifth-year senior right-hander Nick Coniglio and Rams catcher Damon Suriani greeted him with an RBI single to left that just barely eluded the diving reach of Ranney third baseman Diego Tavarez.
Coniglio bounced back to strike out the next two batters and after Gloucester Catholic started the sixth with a single and a walk, Gracia came on to pitch and maneuvered out of the inning without giving up another run.
With Nolan throwing 113 pitches in six innings, sophomore right-hander Joe Vacarella took over for the seventh and closed out the victory with a 10-pitch, 1-2-3 inning.
Gloucester Catholic was responsible for more miscues in the game, but Ranney could not capitalize on the defensive errors at the plate while the Rams overcame making four outs on the bases. Gloucester Catholic centerfielder Jake Terranova was also called out for stepping out of the batter's box after laying down a bunt that would have extended the bottom of the fourth inning with runners on first and second for the top of the order.
Ranney's best scoring chance outside of Gracia's home run was in the first inning, when Tavarez punched a single through the middle with two out and senior second baseman Jack Tallent ripped a ground ball to third base that freshman Guy Lynam stopped with a great diving stab, but threw away to put runners on second and third.
Nolan, however, bounced back with a strikeout -- his third of the first inning -- and Ranney did not advance another baserunner past first base outside of Gracia's homer and on a wild pitch with two out in the sixth landed a runner at second.
Over the last two games, all of Ranney's runs scored on home runs, with Gracia hitting two solo home runs and Tavarez hitting the go-ahead two-run homer in Wednesday's 4-3 win over Bishop Eustace.
"I don't think we have relied too much on the home run," Geroni said. "We have really been emphasizing hitting the ball hard on the ground and our guys were going through their preparation understanding what the plan was today. You just have to give Nolan credit. His fastball has a lot of spin and he gets a lot of popups and fly balls with it and he did a good job going to his offspeed to get us out in front for some weak contact in key situations."
Spadafora, meanwhile, had a strong showing behind the plate, throwing out four runners on the bases, although the last two were trail-runners that the Rams were willing to sacrifice to move the lead runner up one base.
Ranney was on track to finish off its best season in program history and with a 27-3 record and Monmouth County Tournament championship, there is a strong case to be made the Panthers topped what they did a season ago.
"I know a lot of people will say we brought basically the same group back that won a state championship last year and didn't get it done this time," Geroni said. "I don't see it like that. This group won 27 games, which was a school record, we beat RBC to win the Monmouth County Tournament, we made it to the Shore Conference final, we beat a quality Bishop Eustace team twice, beat a really good Rumson-Fair Haven team twice and we made it back to a sectional final at Gloucester Catholic.
"I know they wanted to go out with a championship, but this group set the standard for an entire program. They raised the bar here. Baseball is such a tough game: you can have one bad day or your opponent has a really good day and your season is over. You can't let that take away from the entire season and the entire experience and what this group is done, you can't take away. They are very special."
Unlike last year, however, the season won't end with a championship celebration. After bringing back all but one starter from its 2022 Non-Public B championship team, Ranney came up short of another state title and, for the first time since this group of seniors arrived at Ranney together, Geroni will have to bid farewell to a significant number of players.
"I have had seniors graduate plenty of times," said Geroni, a graduate of Point Pleasant Boro who previously coached at Monroe High School before taking the Ranney job in 2019. "Most of the time, you never see them again. This group: they'll come back. The bond they have formed with one another playing for this team is as strong as any I have seen and I know how much it means to them. It has meant a lot to me. It was an honor to coach them."
Box Score
Gloucester Catholic 4, Ranney 1
| | | | | | | | | | | |
| --- | --- | --- | --- | --- | --- | --- | --- | --- | --- | --- |
| | 1 | 2 | 3 | 4 | 5 | 6 | 7 | R | H | E |
| Ranney (27-3) | 0 | 0 | 0 | 0 | 1 | 0 | 0 | 1 | 2 | 1 |
| Gloucester Cath (23-7) | 0 | 0 | 0 | 3 | 1 | 0 | X | 4 | 10 | 2 |
Pitching
| | | | | | | | |
| --- | --- | --- | --- | --- | --- | --- | --- |
| Ranney | IP | H | R | ER | BB | SO | PC |
| Marcello Mastroianni (L, 9-1) | 4.1 | 8 | 4 | 4 | 1 | 1 | 76 |
| Nick Coniglio | 0.2 | 2 | 0 | 0 | 1 | 2 | 24 |
| A.J. Gracia | 1 | 0 | 0 | 0 | 1 | 1 | 11 |
| | | | | | | | |
| --- | --- | --- | --- | --- | --- | --- | --- |
| Gloucester Catholic | IP | H | R | ER | BB | SO | PC |
| Tanner Nolan (W, 8-0) | 6 | 2 | 1 | 1 | 3 | 9 | 113 |
| Joe Vaccarella (SV) | 1 | 0 | 0 | 0 | 0 | 0 | 10 |
Top Hitters
| | |
| --- | --- |
| Ranney | Game Stats |
| A.J. Gracia | 1-4, HR, R, RBI |
| Diego Tavarez | 1-3 |
| | |
| --- | --- |
| Gloucester Catholic | Game Stats |
| Tyler Bunting | 2-2, 2B, BB, R, 2 RBI |
| Damon Suriani | 3-3, RBI |
| Jason Bogart | 2-3, RBI |
| R.J. Mustardo | 1-3, 2B, R |
| Jake Terranova | 1-2, 2B, BB |
| Tate DeRias | 1-3, R |
More From Shore Sports Network