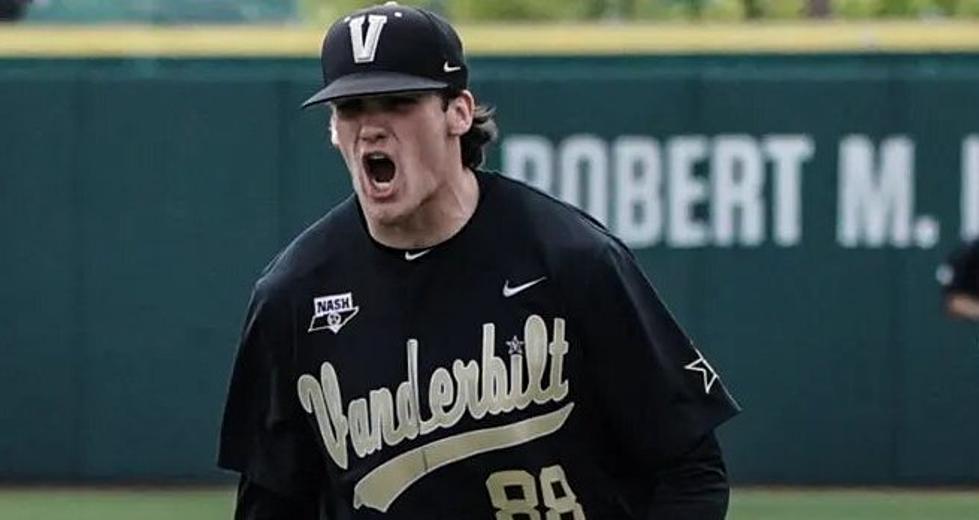 Baseball – Pirates Select Former CBA Standout Patrick Reilly In Fifth Round of 2023 MLB Draft
Vanderbilt right-hander Patrick Reilly. (Photo: Vanderbilt Athletics)

Three years ago, when the Major League Baseball Draft was shortened to five rounds during the COVID-ravaged spring and summer of 2020, Patrick Reilly was one of the many players who did not have the honor of hearing his name called as one of the selections, even though he most certainly would have in a normal year.
On Monday, Reilly -- a Freehold native and former star right-handed pitcher at Christian Brothers Academy -- finally got that call and it came early in the fifth round.
With the 140th overall selection of this year's draft, the Pittsburgh Pirates drafted Reilly out of Vanderbilt University. Reilly is the second graduate from a Shore Conference school to be drafted this year and the highest draft pick out of CBA since Pat Light was selected out of Monmouth University with the 37th overall pick in 2012.
Reilly was considered a potential top-three-round pick back in the spring of 2020 before the loss of the 2020 high-school season cost him a chance to validate and perhaps add to the the hype. He honored his commitment to Vanderbilt and was a durable pitcher for the last three years for a Commodores program loaded with high-profile pitching recruits.
As a freshman, pitching for a team that had two pitchers who wound up top-three overall picks in consecutive MLB Drafts in Jack Leiter (second overall in 2021) and Kumar Rocker (third overall in 2022), Reilly finished fifth on the team in innings pitched and posted promising overall line: a 4-2 record with a 4.98 ERA, and striking out 53 against 28 walks in 43 1/3 innings.
Reilly's ERA increased in each of the next two college seasons while his walk rate remained consistent and his home-run (eight in 2021 and six each in 2022 and 2023) and strikeout rates (27.5 percent to 28.2 to 29) actually improved slightly. This past spring, Reilly posted a 5.77 ERA over 48 1/3 innings with 44 hits allowed, 30 walks and 65 strikeouts while making four starts and 12 appearances out of the bullpen.
While at CBA, Reilly only pitched one varsity season, which came as a junior in 2019. He was a Shore Sports Network First Team All-Shore pitcher after going 7-0 with a 0.67 ERA  in 42 innings, during which he allowed 19 hits, 19 walks and struck out 67.
Reilly turned in his All-Shore junior season as a Northeastern University commit throwing 90-to-92 miles-per-hour but by the fall, his fastball was up to 97 miles-per-hour and he decommitted from Northeastern to sign with Vanderbilt. The increased velocity made Reilly an appealing high-school prospect for Major League scouts but the canceled 2020 high school season and shortened 2020 MLB Draft cost him the chance to be selected.
With an athletic, 6-foot-3 frame, a swing-and-miss fastball that rushes up to 98 miles-per-hour and an array of potential secondary weapons that includes a slider, cutter, two-seamed fastball and a changeup, Reilly has all the ingredients to be a Major League pitcher in some capacity. He bet on himself by going to Vanderbilt as one of the program's top recruits from the 2020 graduating class and while his performance has not elevated him to first-round status, he has competed for three years in the ultra-competitive SEC, has stayed relatively healthy and maintains the powerful arm he displayed coming out of CBA.
The Pirates made Reilly their fourth pitcher selected in the Draft, with Pittsburgh opening up the Draft by taking LSU flamethrower Paul Skenes with the first overall pick. The Pirates long had a reputation for failing to get enough out of talented pitchers who went on to significantly improve with other clubs: Gerrit Cole, Charlie Morton, Tyler Glasnow and Joe Musgrove were the primary examples.
Lately, there is some reason to hope Pittsburgh is turning the corner on pitching development under general manager Ben Cherington. Mitch Keller is enjoying a breakout season at age 27 with full-season career-highs in both strikeout (26.7 percent) and walk rate (7 percent) while posting a 3.31 ERA in 117 innings through the All-Star break.
The recommended signing bonus attached to the 140th overall selection is $455,600.
This is a breaking news story. Check back for additional details.
More From Shore Sports Network