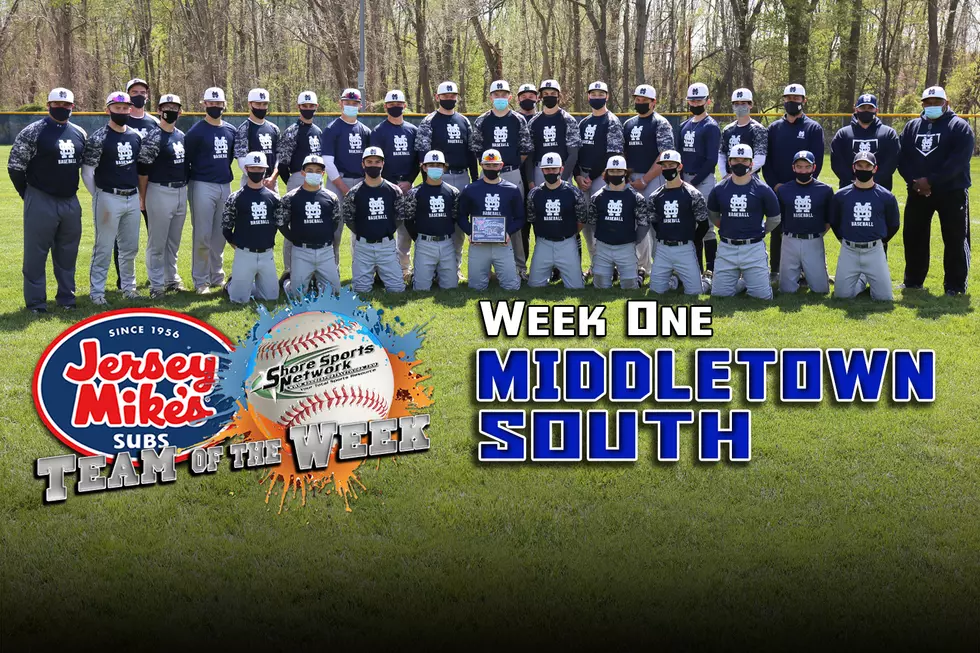 Baseball – Jersey Mike's Week 1 Team of the Week: Middletown South
Photo by Steven Meyer

Only one starter from Middletown South's 2019 baseball team is still with the program now that high school baseball has returned to New Jersey in 2021 and playing in the Shore Conference Class A North division with that level of inexperience is a challenging proposition.
Based on the first week of the season, it's a challenge the Eagles appear eager to embrace.
With so many new starters contributing and Middletown South's more experienced pitching staff providing some stability, the Eagles stormed out to an impressive 4-0 start, climbing from unranked in the Shore Sports Network Top 10 to No. 5 in one week while also capturing the first Jersey Mike's Team of the Week Award of 2021.
Shore Sports Network projected Middletown South to finish seventh in the Class A North standings this season mostly because of that lineup inexperience in a division loaded with programs that have proven their ability to turn over rosters, as well as teams that actually retained some 2019 starters. No. 7 in A North, however, is on par with the top of a lot of other divisions and leagues around the state and Middletown South looked like a team ready to compete with A North's best after beating some serious competition during the season's first week.
The Eagles opened with a 5-1 win over Manchester on the strength of big days from their senior battery, with Mike Keenan tossing five strong innings for the win and catcher Greg Trezza going 3-for-3 in his first varsity game.
Game two appeared to be out of reach when Red Bank Catholic stormed out to a 7-0 lead at Middletown South on Thursday of last week, but the Eagles exploded for nine runs in the fourth inning - keyed by a three-run home run by Trezza - and beat the No. 2 team in the Shore Sports Network Top 10, 12-10.
Middletown South hammered Bloomfield on Friday, 22-2, then blanked a quality Ramapo team, 4-0, on Saturday at the Autism Awareness Challenge in North Brunswick. While senior starters Keenan, Matt Pontari and Jack Shea handled the pitching duties during the early part of the week, sophomore Ben Schild made his long-awaited high-school debut by pitching a two-hit shutout with 12 strikeouts and one walk in the Saturday win under the lights.
The Eagles suffered their first loss of the season Monday in their Class A North opener at Freehold Township, but again showed plenty of fight with Shea on the mound before falling, 4-2. The Class A North race is sure to be a battle all year long and with its performance during the first week, Middletown South showed it will be a key player in that race.
More From Shore Sports Network