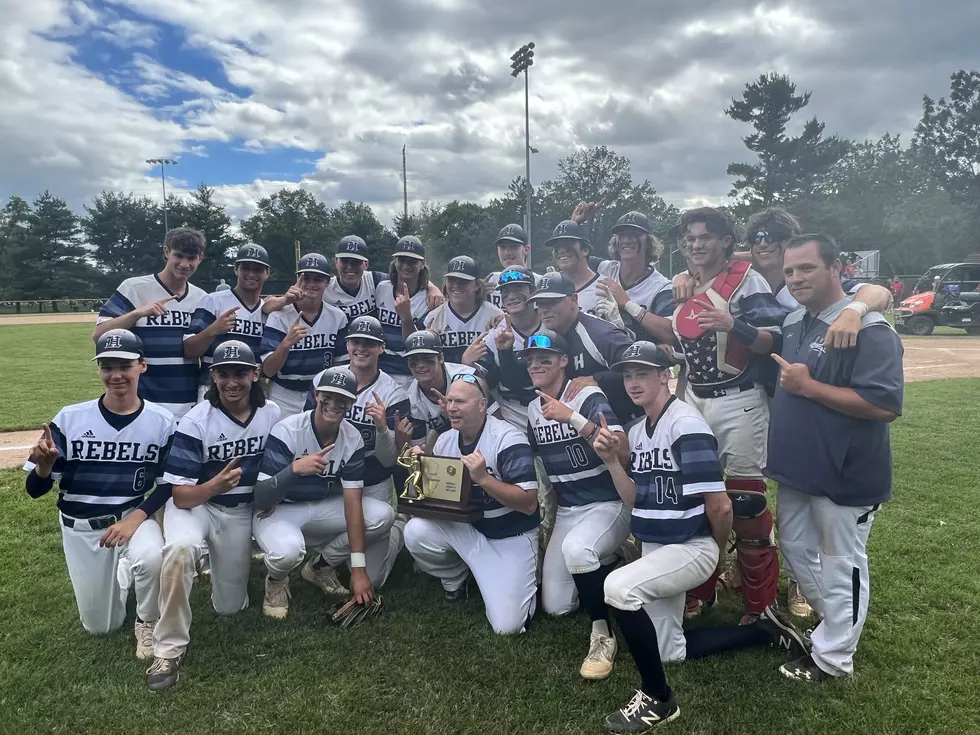 Baseball – Howell Overcomes the Odds to Beat Hunterdon Central, Win First Group IV Title
Photo by Matt Manley

HAMILTON TWP. -- For a team trying to make a run to a state championship, it is usually not a good sign when the Nos. 5 and 6 pitchers on the depth chart have to make an appearance with the season on the line.
It is especially ominous when the team in the other dugout has nine starters in the lineup hitting .310 or better and a senior starting pitcher who is committed to pitch at Maryland and has not allowed an earned run all season.
For the 2022 Howell baseball team, however, this particular season would not be complete without once more adding to the list of heroes that defied the odds and led the program to its first ever NJSIAA Group IV championship.
With its top two starters out with season-ending injuries and its two standout replacements struggling through the first four innings, Howell got huge contributions from senior Thomas Strauch and Russell Halvorsen, then turned to junior Aidan Bauer and senior Ryan Bilello on the mound to finish off a 9-8 win over Hunterdon Central Saturday at Bob DeMeo Field and clinch the program's first ever state title.
"This team is no more talented than some of the others we have had, but they were just a better team," Howell coach Eric Johnson said. "Some guys talk about loving baseball, but they don't mean it. These guys truly love it. They are just a very unselfish group that understood everything that needed to get done in every situation. You never see a guy yell at anyone for not making a play. They love each other and they picked each other up. That's why they're champions."
Most teams that lost their two best pitchers to injury in back-to-back games, as Howell did with Nick Gomes in the Central Jersey Group IV final and Dan Furlong four pitches into the Group IV semifinal, would be staring at their impending doom, but Johnson and his team only saw it as a chance to strengthen the narrative of the 2022 Rebels: no matter the circumstances, they found a way.
"We love being the underdogs," Strauch said. "It takes the pressure off us because we're the only ones expecting us to win. We like to prove people wrong."
The circumstances on Saturday in Hamilton against, perhaps, the top public school program in the state were as follows:
- Senior Nick Barracato was making the first start of his career at Howell and entered the game with all of 21 innings of experience over the past two seasons.
- Barracato and classmate Jason Pace were the only two available pitchers on Howell's staff that had pitched in a postseason game this season. Although the two combined for 12 scoreless innings over the past two games, if Howell needed a third pitcher to get through Saturday, it would require one who has not pitched in live-game action since the end of the regular-season.
- Not only were Furlong (broken jaw) and Gomes (broken wrist) not available to pitch, but the two were hitting in the Nos. 4 and 5 spots in the lineup at the start of ever Central Jersey Group IV playoff game.
- Hunterdon Central boasted a lineup of nine hitters hitting at least .316 or better and a starting pitcher in Kyle McCoy who had allowed zero earned runs and three walks in 32 1/3 innings.
"I told the guys before the game that we're going to show why baseball is the ultimate team sport," Johnson said. "This was it today. You've got a team of Division I players over there. We've got some Division III guys over here, at least as of right now. They don't get intimidated by things like that. They know they are good baseball players and they went out and showed it today."
On top of all that, Howell sent Furlong for the pre-game coin toss to determine the home team two days after he was released from the hospital following surgery to repair a broken jaw...and lost the toss.
"Having those guys in the dugout was huge today," Strauch said. "Just seeming them there, pulling for us, it made us want to win for them even more. We were already playing for them, but having them here with us was extra motivation."
As it turned out, even bad luck was good luck for the Rebels. Before Hunterdon Central could take its first trip to the batter's box, Howell sent each of its nine starters to the plate during a four-run first inning -- all four of which were earned against the Red Devils left-hander who had not surrendered a run before Saturday.
"We faced some of the best pitchers in the state during the course of the year so we felt like we were prepared for the challenge," Halvorsen said. "We like facing those kinds of pitchers so we were looking forward to it and we were ready."
The first runs allowed by McCoy were both loud and record-breaking, and not just because they ended McCoy's streak. Strauch fouled off two two-strike pitches and on the seventh pitch of his at bat, with a runner on first, the Howell shortstop unloaded on a fastball from McCoy and sent it sailing over the 360-foot sign on the fence in left-center.
"The first two at-bats helped," Strauch said. "Russell and Devon (Smith) saw a lot of pitches and I felt like I had a good look at (McCoy). Russ came back and told me he was working the outside corner, so I was looking outside. I was just fighting off pitches and eventually, he threw one in my spot."
The two-run blast by Strauch stunned McCoy and the Red Devils, fired up the Howell dugout and tied a single-season Howell record with his 11th home run of the season. Chris Ellison hit 11 home runs a year ago to set the new record and Strauch broke it with, perhaps, the biggest swing in Howell's biggest win ever.
"We prepared for (McCoy) all week," Johnson said. "We told our guys you can't be looking to pull the ball against him, but what I told Tom is, as I was living outside in batting practice with him all week, I said, 'Look, I'm not worried about you not hitting an inside pitch. If you look outside, you can still do damage in.' And then: bang."
After Strauch's homer, Howell kept coming. Sophomore Joe Zito drew a four-pitch walk, senior catcher Nick Todisco singled through the left side and senior Jeremiah Wojenski lined a single into right with two out to load the bases.
Senior second baseman Nick Gallo -- who had been a defense-only player in the starting lineup earlier in the players -- then showed his worth as a hitter by poking an RBI double down the leftfield line to stretch Howell's early lead to 4-0.
"The energy in the dugout after that home run that double was incredible," Strauch said. "We haven't had that kind of energy all year and we were just ready to play today. We knew what were were facing, we knew they were good, but we were up for the challenge."
Strauch struck again with an RBI double in the top of the fourth and a second run scored on a throwing error to stretch the Rebels lead to 6-2. Hunterdon Central cut its deficit in half with two runs off Howell starter Nick Barracato in the bottom of the the third.
The runs allowed by Barracato ended a scoreless run of 14 innings by the duo of Barracato and Pace.
Hunterdon Central surged in front with five runs in the bottom of the fourth against both Barracato and Pace. No. 9 hitter and second baseman Chase Masokowitz made it 6-4 with an RBI double off the fence and third baseman Mike Contiliano tied the game with a two-run double to left that got past a diving Bilello, who started the game as the leftfielder.
The Red Devils took a 7-6 lead on a pop-up fielder's choice RBI by first baseman Chase Fischer, with Howell's infield losing the ball in the wind with runners on first and third and one out, settling for the force out at second base.
"It was a little down in the dugout compared to the first few innings," Strauch said. "But it was just that kind of game: we jumped out early, they chipped away and took the lead, but we stuck together and got the guys going. We all believed in each other."
Howell came right back with three runs in the top of the fifth to regain the lead. After a pair of walks, Bilello delivered a one-out single through the middle on a 1-2 count to load the bases. Halvorsen then came through with a two-run single to left to put Howell back in front, 8-7.
The Rebels tacked on a crucial insurance run when Strauch hit a one-hopper to shortstop hole and Ryan Facinelli made an errant throw to a moving target at third base, allowing Bilello to score on the play.
The immediate answer was another statement from Howell that it would take more than one big punch to knock the Rebels out and for the next two innings, the Rebels did not let Hunterdon Central land one of its own. After recording the final out of the fourth inning, Bauer got the first two outs of the fifth before turning the ball over to Bilello with the bases loaded.
Bilello got a groundout to first to end the threat, then pitched around a leadoff walk and two stolen bases by retiring the next three in order. He finished with one earned run on one hit and one walk while striking out three to earn the save. Bilello also went 2-for-4 with singles in each of his last two at-bats.
Bilello's last outing prior to Saturday was on May 27 in a win over Hamilton West.
"Incredible," Strauch said of Bilello's effort. "I honestly couldn't tell you the last time he pitches, so to come in in that spot, against a good team and be able to close it down was huge."
Hunterdon Central drew a run closer in the bottom of the seventh on a one-out solo home run by leadoff hitter and centerfielder Christian Petino. A throwing error by Strauch on the next batter gave Hunterdon Central the tying run in scoring position. Logan Mason followed with a dangerous line drive toward the leftfield corner, but Halvorsen -- who shifted from rightfield to left when Bilello left to warm up -- made a running, sliding, back-handed catch for the second out.
"I have been playing outfield my whole life, so I'm comfortable at all three positions," Halvorsen said. "Off the bat, I knew it was a do-or-die play and I had to get there."
Johnson credited assistant Brian Blood with the decision to move Halvorsen across the outfield to suit the tendencies of the pitching staff. Halvorsen also made a catch coming in a ball and charged a single to left by Logan Mason that might have scored a run in the fifth, but it only loaded the bases because of how quickly Halvorsen got to the ball and delivered an accurate throw to the plate.
"Coach Brian Blood as an assistant coach is every bit of why we are here," Johnson said. "Ryan tends to give up the ball to the left side when he pitches. He talked about it with me and I thought it was just a great idea and moving Russell to leftfield was absolutely the right thing to do. He is a great outfielder and he came up big today."
With Hunterdon Central down to its last out, Bilello then induced a flyball to centerfielder Devon Smith for the championship-clinching out.
Winning a state championship is sweet for any head coach, but Johnson's experience in coaching Howell it its first ever state title helped exorcise the demons of Howell's loss in its only other Group IV championship appearance. Johnson was a junior on the team that lost to Elizabeth in the 1994 championship game and has fielded an immeasurable number of calls and texts from former players and coaches in the program over the last week.
"I grew up in Howell," Johnson said. "My family moved here in 1988. I love this school, I love this town and I love this team. I think of the history of Howell Baseball, there is only one other upset that might be comparable to this and that was a Little League upset. I think this is just an incredible win for this team and this town."
Box Score
Howell 9, Hunterdon Central 8
| | | | | | | | | | | |
| --- | --- | --- | --- | --- | --- | --- | --- | --- | --- | --- |
| | 1 | 2 | 3 | 4 | 5 | 6 | 7 | R | H | E |
| Howell (25-6) | 4 | 0 | 0 | 2 | 3 | 0 | 0 | 9 | 10 | 1 |
| Hunterdon Cent (25-5) | 0 | 0 | 2 | 5 | 0 | 0 | 1 | 9 | 6 | 2 |
Pitching
| | | | | | | | |
| --- | --- | --- | --- | --- | --- | --- | --- |
| Howell | IP | H | R | ER | BB | SO | PC |
| Nick Barracato | 3.1 | 2 | 5 | 5 | 2 | 1 | 57 |
| Jason Pace | 0.1 | 1 | 2 | 2 | 4 | 0 | 31 |
| Aidan Bauer (W, 1-0) | 1 | 2 | 0 | 0 | 1 | 0 | 19 |
| Ryan Bilello | 2.1 | 1 | 1 | 1 | 1 | 3 | 39 |
| | | | | | | | |
| --- | --- | --- | --- | --- | --- | --- | --- |
| Hunterdon Central | IP | H | R | ER | BB | SO | PC |
| Kyle Mason | 3.1 | 6 | 6 | 5 | 5 | 6 | 95 |
| James Scott (L, 5-2) | 1 | 1 | 2 | 2 | 2 | 3 | 30 |
| Logan Mason | 2.2 | 3 | 1 | 0 | 0 | 4 | 44 |
Top Hitters
| | |
| --- | --- |
| Howell | Game Stats |
| Thomas Strauch | 2-4, 2B, HR, R, 3 RBI |
| Russell Halvorsen | 2-4, BB, R, 2 RBI, SB |
| Nick Gallo | 1-3, BB, R, 2 RBI |
| Ryan Bilello | 2-4, R |
| Braden Walsh | 1-3, BB, R |
| | |
| --- | --- |
| Hunterdon Central | Game Stats |
| Christian Petino | 1-3, HR, 2 BB, 2 R, RBI |
| Chase Moskowitz | 1-2, 2B, BB, HBP, 2 R, RBI |
| Mike Contiliano | 2-4, 2B, HBP, R, 3 RBI |
| Jared Cassella | 1-3, BB, R, RBI |
More From Shore Sports Network