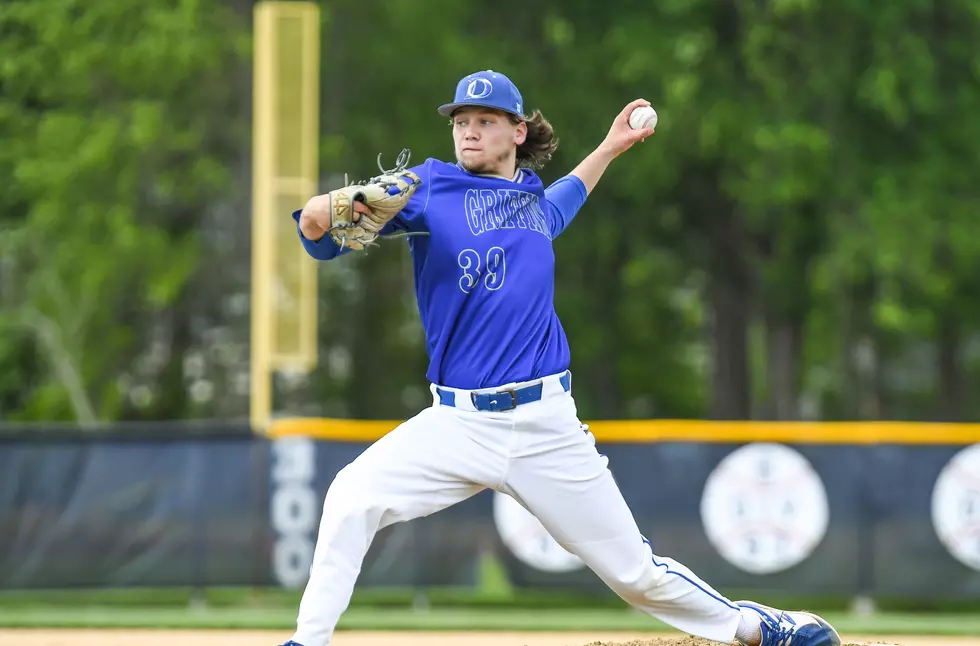 Baseball – 2023 Shore Conference Tournament Quarterfinals: What to Watch for on Monday
Donovan Catholic senior Shaun O'Keefe. (Photo: Tom Smith | tspsportsimages.com)

This 2023 Baseball Shore Conference Tournament began as the "most unpredictable tournament the Shore Conference runs" according to the voice in this space and, of course, the tournament, the baseball gods and the best teams in the SCT field answered that assertion in the funniest way possible: all of the best teams won.
The top eight seeds in the tournament will comprise Monday's Shore Conference Tournament quarterfinal round, which now begs the question: are any surprises in the cards over the next week? Are Ranney and Red Bank Catholic steamrolling toward a rematch? Would Donovan Catholic – a 19-1 team on a 14-game winning streak since losing to Red Bank Catholic – reaching the final really be a surprise? Regardless of the answer to that question, would CBA and ace Chris Levonas beating Donovan Catholic be a surprise either?
The answers to those questions are not clear, but it is probably safe to assume that with the eight top teams in the tournament all making it to Monday, we're in for some high-level, entertaining baseball this week.
Non-Publics Loaded Up on the Mound
At this stage in the tournament, the gap between the pitching depth of the four non-public schools left and the four public schools left is stark. Donovan Catholic, Red Bank Catholic, Ranney and CBA all have No. 1 options available on the mound, while just two of the others can say that.
No. 3 Donovan Catholic is set up as well as a team can be for its situation, which includes the Ocean County Tournament final on Tuesday night. Were it not for that game, the Griffins would have their top two starters in Shaun O'Keefe – who threw only 18 pitches on Friday vs. Brick Memorial – and Jake Marciano available on Monday and fellow starter Jason Basilicata would become eligible for a potential semifinal on Thursday. The championship game on Tuesday does complicate matters, but the three high-quality starting options, plus a strong bullpen means the Griffins should feel comfortable with what is on the mound at all times this week.
No. 6 CBA's rotation is more top-heavy than Donovan Catholic's, but that is in part because junior ace Chris Levonas has been so dominant. The Wake Forest commit is in line to take on O'Keefe on Monday in Toms River and after Donovan Catholic stomped CBA last year in the round of 16, the Colts will be out for revenge. The rest of CBA's staff has not been nearly as dominant as Levonas, but Nick Harnisch has been solid throughout the season, while Brennan O'Keefe, Zaine Toneske and Danny DiTullio have delivered on the mound lately.
No. 1 Ranney fifth-year senior Nick Coniglio needed only 62 pitches to complete a victory over Matawan Saturday – too many to make him eligible for Monday vs. Marlboro, but few enough that he should be rested and raring to go for a potential semifinal game on Thursday in Red Bank. Ranney will have its other two headliners – left-handers Marcello Mastroianni and A.J. Gracia – ready for Monday and are well-positioned to sprint through the finish line with those three fireballers leading the way.
No. 2 Red Bank Catholic's situation is a little less clear, but still encouraging. Alex Stanyek pitched in the Monmouth County Tournament final and has sat the past two games while recovering, so it is unlikely that he, while eligible, will pitch before a potential SCT final on Sunday. RBC has been able to give its pitchers full weeks to recover from starts and Declan Leary will be on a full week of rest heading into Monday's tilt with surging Middletown North. The Caseys also have Steve Svenson ready to go, with additional options of Ryan Prior, Ethan Marzo, Anthony Nannini and Brandon Hendrickson.
The Public Plight
As for the public teams, three of them have their nominal No. 1 starters ready, but there are caveats to each pitcher taking the mound. No. 4 Rumson ace John Goodes is coming off an appearance in which he came into a game vs. 7-11 Red Bank in the seventh inning with a 7-3 lead and gave up four runs – albeit with defensive miscues instigating the rally. Since a 106-pitch outing vs. Wall on April 19, Goodes has not thrown more than 70 pitches in any appearance and has given up eight earned runs in eight innings.
Still, Rumson will feel good about its chances with Goodes available given his history of performing in big games and his top-of-the rotation stuff. ON top of that, the Bulldogs have had a host of pitchers step up in a big way, with Owen O'Toole, Cal Champeau and Matt Bruno all available coming off successful relief appearances in Saturday's win over Shore.
During its 10-1 run over the last 11 games, No. 7 Middletown North has leaned on a scorching offense led by a host of players who were key members of last year's Group III title run, plus the return of left-handed slugger R.J. Kernan. The pitching has been more of a supporting part, but an important one, to say the least. Sophomore Gabe Ahlemeyer was outstanding on Saturday vs. Ocean and on Monday, it will be classmate Zach Hampton likely taking the ball vs. Red Bank Catholic. Hampton has proven himself in big games since his freshman year, but RBC will present a next-level challenge for him on the mound.
Senior left-hander Anthony Mehmet has been No. 5 Jackson Memorial's No. 1 starter all season long and after throwing 62 pitches in five innings Friday vs. Southern, he is available for 88 pitches on Tuesday. With Mehmet's ability to fill up the strike zone and keep the walks to a minimum, he is capable of getting through seven innings within that limit, but even if he is unable to, Jackson Memorial has been able to finish off games with a stellar bullpen led by fifth-year senior Dean Daddio.
The only team in the final eight without a No. 1 starter eligible to pitch at all is No. 8 Marlboro, which used Alex D'Ambrosio for 98 pitches in a round-one win over Point Boro and Lawrence Elinson for seven innings on Saturday vs. Brick Memorial. The ace in the hole could be Alex Frank, who pitched in each of the first two rounds and struck out 10 over four scoreless innings. With only 29 pitches between the two outings, Frank is available for a full 110-pitch plate, but given his usage out of the bullpen all year, he is likely to share the game with at least one of Dan Trentacosta and Andrew Li.
Lion in the Weeds?
So if there is to be an upset Monday, who is it? CBA figures to be a sensible choice, given Levonas is ready to go against a Donovan Catholic team that needed not one but two walk-off homers by Gavin Degnan to extend its 14-game winning streak this past week. The Colts probably had the inside track for the No. 3 seed in the SCT before losing to Marlboro while Donovan Catholic beat Gloucester Catholic in the final days before the seeding, so there is not a huge edge to the Griffins in this one, if there is one at all.
Rumson-Fair Haven vs. Jackson Memorial is not really a game that has a clear favorite, which means there is not an outcome that can be deemed an upset. Rumson is the home team and has been very tough in close games, but the same can be said of the road team in this one.
Marlboro defeating Ranney would absolutely be an upset, but looking at the pitching available to both teams, it suggests the Mustangs are also the least likely road team to win. Were D'Ambrosio available, the Mustangs would pose an intriguing challenge to Ranney and perhaps they still will. The Panthers, however, will force them to beat one or both of Mastroianni and Gracia while Marlboro pieces the game together on the mound. With the way Ranney swings one-through-nine, defends and runs the bases, there is a lot for which Marlboro will have to account.
That leaves Middletown North, a distinct underdog in this round but one that has what it takes to keep playing past Monday. The pitching is not dominant, but it has kept the Lions in games throughout the season. With the way Middletown North's offense has produced, there hasn't been a lot of pressure on the pitching to be spectacular. Dylan Briggs, Ryan Frontera, Colby McMahon and Kernan have been locked in throughout this Lions hot streak and they make up a lineup that won't be intimidated by whichever arm RBC throws at them.
There is always the possibility that RBC's bats – also tearing it up lately and throughout the season – are more than Middletown North can keep up with, but the Lions are a year removed from winning a championship with a relentless lineup and could be the most likely surprise team during Monday's quarterfinal round.
More From Shore Sports Network