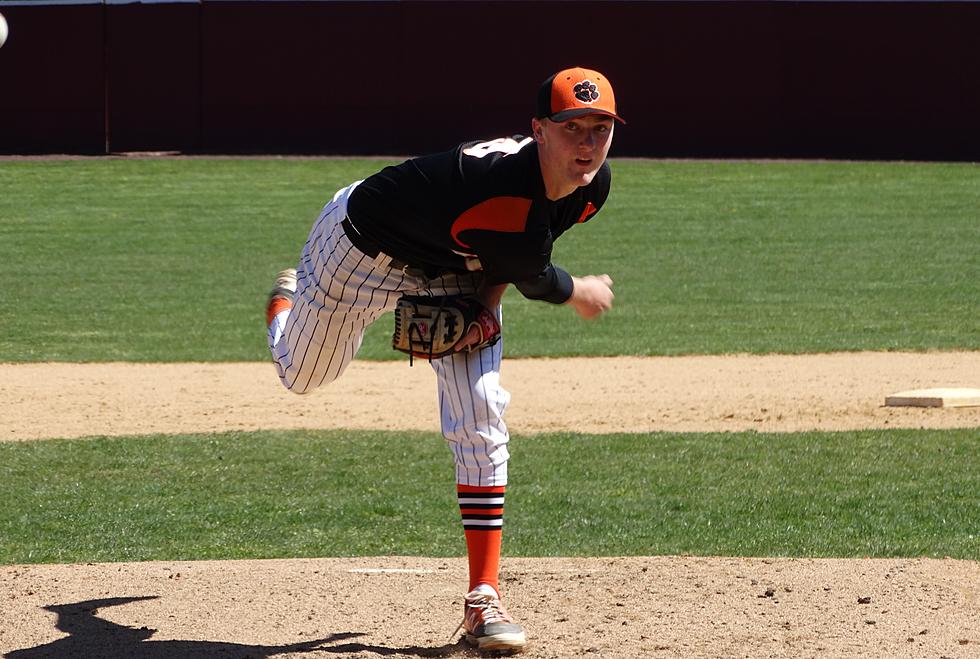 Baseball – 2018 Preview: Class B North
Middletown North junior pitcher Tyler Ras. (Photo by Matt Manley)
Baseball is unique in the landscape of N.J. because while other sports have multi-part seasons featuring the regular season, county/conference tournament and the NJSIAA Tournament, baseball at the Shore blends the three into one another. The nature of the game with its hot-and-cold streaks and pitching rotation structuring also lends itself to surprises during both the regular season and in the postseason.
Class B North was a textbook example of the baseball season progressing through multiple segments with totally different outcomes in each. Monmouth Regional – picked to finish fifth in the division in this space a year ago – won the outright Class B North over a sophomore-heavy Wall team projected to finish seventh, then both teams sputtered out in the postseason while fifth-place Red Bank Catholic made runs to a Monmouth County championship and an SCT runner-up while third-place Manasquan won the Group II title.
The roller-coaster in B North was also an indication of the division's strength and that strength remains this year, perhaps even growing some. There is a great mix of pitching and hitting talent throughout the division, but the teams that project the best are the ones that have pitching in spades.
In predicted order of finish
Head Coach: Justin Nathanson, fourth season
2017 Record: 14-10 (8-6, fourth in B North)
Key Returners: Tyler Ras (Sr., RHP/INF/OF), Garrett French (Sr., SS/RHP), Brendan Doherty (Sr., OF), Jason Timmons (Jr., OF), Nick Donato (Sr., 3B), Chris Price (Sr., RHP), Jake Dillon (Sr., C), Mike Adamson (Sr., 2B)
Key Losses: Mike Mercier (1B/RHP), Marc Cerbo (2B), Cody Sharkey (OF/RHP)
Key Newcomers: Kevin Fallon (Sr., P/OF), Vincent Gregorio (Sr., P/INF), Brian Quinn (Sr., 1B), Sean Gardiner (Jr., P), Brandon Sansone (Jr., P/INF), Michael Roditis (So., 2B), Daniel Frontera (Fr., INF)
If pitching really does win championships, it will be hard to top Middletown North for any hardware this year. The Lions return three All-Shore arms on the mound and all three are unique in their own right. Senior Tyler Ras is a 6-foot-4, 220-pound beast who breaths easy low-90's fire and is heading to Alabama next year unless a Major League organization makes him a better offer. Fellow senior Garrett French is a polished right-hander with high-80's heat that moves, which he will feature at Rutgers next season. Then there is Chris Price, who not only changes the pace with a legitimate knuckleball but was Middletown North's best big-game pitcher a year ago.
As long as those three pitchers stay healthy and Price has a feel for the knuckleball, Middletown North is going to be in every game. The offense, on the other hand, has some questions beyond Ras – who posted a 1.109 on-base-plus-slugging percentage (OPS) last year – and lefty-swinging senior outfielder Brendan Doherty. French is a capable offensive player who could very well build on his junior numbers and senior outfielder Jason Timmons had a solid .288/.392/.394 line as a junior, which gives the Lions at least four solid hitters.
Senior catcher Jake Dillon and senior third baseman Nick Donato return with plenty of varsity experience and Dillon picked up some big hits over the course of his junior year. Seniors Mike Adamson and Brian Quinn will also factor into the lineup and underclassmen Michael Roditis and Dan Frontera will get a chance to make an impact on an otherwise-senior-heavy team. The roster is not as loaded from top-to-bottom as some other top teams in the Shore Conference and this group has not quite gotten over the hump in the postseason yet, but with three pitchers like Ras, French and Price, the sky is the limit in 2018.
Head Coach: Todd Schmitt, 21st season
2017 Record: 19-7 (10-4, second in B North)
Key Returners: David Howarth (Jr., C), Teddy Sharkey (So., OF/RHP), Trey Dombroski (Jr., LHP), Ryan Napolitano (Jr., RHP), Grant Schulman (Jr., 3B/RHP), Johnny Volpe (Jr., 2B/OF), Dylan Richey (Jr., SS), Jason Horowitz (Sr., RHP), Andy Lenneper (Sr., OF), Anthony Velasquez (Sr., OF), Joe Schimko (Jr., OF), Tanner Powers (Jr., 1B/LHP)
Key Losses: Shane Richey (2B), Kevin Lenneper (OF), John Perrino (1B), Matt Yard (RHP), Alex Smith (RHP/INF)
Key Newcomers: Drew Tidwell (Jr., INF), John Iradi (Jr., INF), Doug Wetzel (Jr., OF/C), Tyler Winkowski (Jr., RHP/OF)
On pure talent, Wall has the goods to win any championship on the board: Class B North, the Shore Conference and Group III are all on the table heading into the season. The Crimson Knights have three starters who were dominant as sophomores last year in left-hander Trey Dombroski (already committed to Monmouth) and right-handers Ryan Napolitano and Grant Schulman, plus sophomore Teddy Sharkey coming off a sparkling freshman season as the team's closer. Throw in two more solid arms in senior Jason Horowitz and junior southpaw Tanner Powers and the Crimson Knights will not be lacking for pitching.
The potential downfall for Wall this year will be an offense that was inconsistent a year ago and a team without a lot of senior influence. The Knights won 19 games a year ago but faltered down the stretch when the intensity of the postseason really set in and a sophomore-heavy roster had to respond against some very hungry, older teams. It was a good lesson for a young group, who will be looking to start developing that killer instinct as juniors.
Offensively, there is hope that last year's light-hitting attack (.254 team batting average last year) will improve as last year's sophomores mature into juniors. Catcher David Howarth put up promising numbers as a freshman and battled injuries last season, so he is a prime breakout candidate for the Crimson Knights. Johnny Volpe and Shulman both showed a feel for hitting and could tap into some more gap power this season. Sharkey, meanwhile, has serious upside after slugging .478 as a freshman. Even if the offense is slow to come around, Wall's pitching should keep pace with Middletown South over the course of the regular season and will be a major asset heading into the thick of tournament time.
Head Coach: Buddy Hausmann, 11th season
2017 Record: 21-9 (7-7, tied fifth in B North)
Key Returners: Austin Nappi (Sr., RHP), Blaise Panzini (Sr., RHP), Vincent Bianchi (Jr., SS/RHP), David Glancy (Jr., OF), Jon Michael Rotando (Sr., 1B), John Nimeth (So., RHP), Jake Birnbaum (Sr., RHP)
Key Losses: Aaron Ahn (SS), Anthony DeRosa (3B), Aidan Supp (2B), Mike Veit (1B), Brian Sheehy (C), Connor Caizza (OF), Dom Caraballo (CF), Steve Turk (OF/RHP)
Key Newcomers: Ryan O'Hara (Sr., 3B/RHP), Elijah Ally (Jr., CF), Alex Gonzales (Jr., 2B), Jack Bertoldo (Sr., RHP), Joe Ianelli (Sr., RHP), Dan Ianelli (Sr., 1B), Tommy Lang (Sr., RHP), Chris Sparber (So., C), Nick Merlo (Sr., OF), Harry Allegra (Jr., C), Matt Arthur (Sr., 3B), Matt Mallamaci (Sr., 2B), Shane Panzini (Fr., RHP), Brad Schmitt (Sr., OF), Steve Claggett (Jr., RHP), Jack Scrivanic (So., 1B), Robert Gonzales (So., SS)
The Caseys are coming off one of the stranger seasons you will see and it all ended up working out in their favor. They finished 7-7 in divisional play – good for just fifth place in Class B North – but went unbeaten outside the division before losing to St. Augustine in the NJSIAA Non-Public A Tournament and Toms River North in the Shore Conference Tournament final in consecutive games. With 14 wins outside of divisional play, including one over the No. 1 team in N.J., Delbarton, the Caseys finished the year ranked No. 2 at the Shore.
A heavy-hitting, senior-led offense was central to Red Bank Catholic's success throughout 2017 and with so many of the players that made up that attack gone, the lineup will get an overhaul. That will not hinder the Caseys too much as long as an experienced pitching staff can deliver like it did a year ago. Side-arming senior right-hander Austin Nappi is coming off a 10-1 season on the bump and will anchor the staff again this season, with fellow senior Blaise Panzini and junior right-hander and St. John's commit Vincent Bianchi backing him up. Bianchi was a revelation for the Caseys a year ago and the Red Storm jumping on him suggests he has the tools to build on his strong showing as a sophomore. While right-hander John Nimeth faced some growing pains as a freshman last year, he has the stuff to make a big difference on the mound for the Caseys as well.
Even if RBC's offense isn't the machine from top-to-bottom that it was last year, it still has its bright spots. Junior David Glancy has just about every tool a coach could want and he started to show some pop at the end of last year to go with his athleticism. Senior John Michael Rotando emerged as a big bat last year as well. Bianchi will man shortstop as part of a promising group of first-year starters in the field that includes Ryan O'Hara (third base) Elijah Ally (center field), Alex Gonzales (second base), and sophomore Chris Sparber (catcher). Even if there other teams get more out of their more experienced offenses, RBC has better returning pitching than most of the teams in B North and the Shore.
Head Coach: Paul Crivello, fifth season
2017 Record: 17-7 (11-3, first in B North)
Key Returners: Justin Scotto (Sr., CF), Liam Kile (Sr., SS/3B/RHP), Ricky Voss (Sr., 1B/LHP), Charlie Kelly (Sr., RHP/OF), Dante Ciaramella (Jr., SS/RHP), Chris Anfuso (Jr., OF), Anthony Guarino (Sr., C/INF), Eli Rife (Jr., INF/OF),
Key Losses: Josh Jackson (C), Paul Birzin (1B/LHP), Mark Abrams (OF), Joe Malfara (RHP)
Key Newcomers: Jack Martell (Sr., P), Matt Kopp (Sr., OF), Tyler Riccardi (Sr., OF), Seth Gonalez (Sr., P/OF), Andrew Faccone (Jr., C), Joe Schwartz (Sr., P), Evan Smith (Jr., INF/P), Jake Cushing (Jr., INF), Alex Alonso (So., INF/P), Nick Bogan (So., P/INF), Daniel Forsman (Jr., INF/P), Nick Alfano (Jr., OF/P), Kevin Lynch (Jr., OF/P), Jack Faletti (Sr., C) – transfer from Red Bank Catholic
Like Wall, Monmouth enjoyed a regular season that went about as well as it possibly could before the other shoe dropped come tournament time. The Falcons beat out Wall to win the outright Class B North division title – arguably the toughest division in the Shore Conference from start to finish – behind three All-Shore performers in Josh Jackson, Paul Birzin and Justin Scotto. Although Scotto is the only member of the trio back this season, he is surrounded by a lot of experienced and capable talent that should again make Monmouth a contender for the B North crown.
Senior Liam Kile and junior Dante Ciaramella form arguably the top left side of the infield in the division, with Ciaramella back at shortstop and Kile at third base. Both players also pitch and Kile can cover shortstop effectively with Ciaramella on the mound. Senior Ricky Voss was one of Monmouth's top hitters last year as well and will be the regular first baseman, as well as a middle-of-the-order bat. Junior Chris Anfuso and senior Anthony Guarino are also back and ready to start after getting the job done as part-timers last year.
The lineup does have a couple of holes to fill, but Monmouth's pitching appears to be its strength. The Falcons bring back senior right-hander Charlie Kelly, who emerged as the team's best pitcher in 2017 – leading it in innings (38 2/3) while going 4-1 with a 2.56 ERA and 23 strikeouts to just eight walks. Ciaramella was fourth on the team in innings (25) as a sophomore and Voss was effective over a small sample of seven innings. There are a couple of lineups and pitching staffs better on paper, but Monmouth strikes a nice balance in their roster that will give the Falcons a chance to repeat as B North champions and stick around deeper in the tournaments.
Head Coach: Ryan Spillane, 10th season
2017 Record: 14-11 (7-7, tied fifth in B North)
Key Returners: Joe Sprake (Sr., RHP/DH), Aurellio Licata (Jr., SS), Robby Zega (Jr., 2B/RHP), Trevor Brey (Jr., C), Jack Roesch (Jr., RHP), Dylan Walling (Jr., INF/OF), Nick Sabatino (Jr., RHP)
Key Losses: Ryan Ruziecki (CF), Ben Porpora (1B/3B), John Martin (RHP/1B), Jeremy Joyce (3B)
Key Newcomers:  Chris O'Connor (So., 3B/1B), Anthony Esposito (So., 1B), Danny Minze (So., RHP/OF/2B), Chris Lotito (So., OF/1B/RHP), Bobby Pirie (So., RHP), Mike Rauso (So., OF/LHP), Jack Sheridan (So., INF/OF/P), Matt Cruz (Jr., C), Jack Kinsella (Jr., OF), Ryan Truscio (Jr., RHP/OF), A.J. Vega (Jr., C)
Even with a pitching staff that had trouble keeping teams off the scoreboard, Middletown South managed to compete in 2017 thanks to a potent offense that relied on a mix of seniors and underclass talent. The Eagles surrendered a B-North-worst 6.2 runs per game, but were also third in the division at 5.1 runs scored. Still, being outscored by a run per game is unusual for a Middletown South program that has been among the winningest in the Shore Conference during coach Ryan Spillane's first nine seasons and they are intent on reversing their fortune this season.
Pitching will naturally be a question mark for Middletown South after last season, but senior right-hander and Elon commit Joe Sprake has the arm and the potential to emerge as the staff ace after showing flashes of brilliance over the course of his junior year both on the mound and at the plate. Junior Jack Roesch also did an admirable job as a sophomore when thrown into the fire last year and should be better for it now that he is a junior.
At the plate is a different story. Middletown South graduated two All-Shore bats in Ben Porpora and Ryan Ruziecki and two more productive starters in John Martin and Jeremy Joyce and still sport what should be a stacked lineup. Juniors Robby Zega and Aurellio Licata form one of the Shore's best double-play combinations, with the second baseman Zega already verbally committed to Pittsburgh and shortstop Licata to Seton Hall. Sprake also had a big year at the plate and junior catcher Trevor Brey and junior utility man Dylan Walling are primed to step up a produce more this season. Corner infielders Chris O'Connor and Antonio Esposito lead a strong group of sophomores that will give the lineup even more depth and if the Eagles can pluck some pitching from the ranks, they will be back among the Shore's elite before long.
Head Coach: Brenan Gordon, first season
2017 Record: 16-10 (9-5, third in B North)
Key Returners: Tommy Antonucci (Sr., CF), Ethan Thompson (Sr., 2B/SS), James Harmstead (Jr., 3B/RHP), Alex Galvan (So., 1B), Will Hopkinson (So., SS), Dylan Finn (Sr., OF/1B), Ricky Flynn (Sr., OF/RHP)
Key Losses: Tommy Sheehan (LHP/1B), Conor Muly (RHP), Adam Schreck (C), Declan Reichey (RHP)
Key Newcomers: Spencer Bauer (Jr., RHP/3B/OF) – transfer from CBA; Mike Anthony (Jr., OF/RHP), Denny Maher (Sr., C), Tim McEneny (So., LHP), Alec Wells (Jr., C/RHP), Jack Kinneally (Sr., OF/INF), Joey Attardo (Sr., P)
Top-heavy pitching staffs are a theme among the top projected teams in B North this year and no team better displayed the blueprint for a team with a top-heavy pitching staff than did the 2017 Manasquan team. The Warriors entered the NJSIAA Tournament an even 10-10 and proceeded to catch fire between dual pitching aces Tommy Sheehan and Connor Muly – whom Manasquan rode to its first NJSIAA Group title in 31 years. Both aces – Sheehan the Shore Sports Network Player of the Year and Muly the Pitcher of the Year – graduated and leave sizable voids in the pitching staff, but Manasquan's players and first-year head coach Brenan Gordon have reason for hope.
While Sheehan and Muly were certainly the driving force behind Manasquan's championship run, the efforts of the collection of position players cannot be overstated. With the exception of catcher Adam Schreck and Sheehan, every Manasquan starter returns this season, which will make the Warriors a formidable lineup, particularly on defense. Senior second baseman Ethan Thompson, senior center fielder Tommy Antonucci and junior third baseman James Harmstead all enter their third season as starters, with the trio combining for the same number of home runs as Sheehan and Schreck combined to hit (nine). Sophomores Alex Galvan and Will Hopkinson broke into the lineup as freshmen, with Galvan slotting into the middle of the order as a first basemen and Hopkinson stabilizing the defense with his advanced glove at shortstop.
Although Manasquan's pitching staff has four big shoes to fill, the Warriors have a committee of pitchers who are ready for the challenge and might just be able to do the job. Harmstead was Manasquan's third-best pitcher last year and will likely be used in a starting capacity after working in relief in his first two seasons. Senior Ricky Flynn is also in the mix to head the staff along with sophomore left-hander Tim McEneny and junior right-hander Mike Anthony will also compete for starts on the mound. The Warriors will also get a boost in May, when junior transfer Spencer Bauer becomes eligible. Bauer pitched on the Christian Brothers Academy varsity team last year and will also provide the lineup with another solid bat at either third base or in the outfield when he is ready to play. If the pieces fall into place, Manasquan could once again be a team that peaks in late May.
Head Coach: Cip Apicelli, ninth season
2017 Record: 10-16 (3-11, seventh in B North)
Key Returners: Max Winters (Jr., C/INF/RHP), Jack D'Auria (Sr., OF/P), Matt Redbord (Sr., 1B), Mark Butler (Sr., RHP/INF), Evan Arbeeny (Sr., C), Ryan Toomey (Jr., 2B), Will Callano (Sr., OF), Scuba Hagerman (Jr., INF/RHP), Brian Yatcilla (So., INF), Kevin Schoenberger (So., RHP)
Key Losses: Phil DeMarco (LHP/1B), Alec Keezer (C/INF/RHP), Travis Lillie (LHP)
Key Newcomers: Cole Kelly (So., 1B), Isaac Greenspan (So., RHP), Jack Mostow (Sr., RHP/INF), Jack Adams (Sr., INF), Brent Gabner (Jr., OF), Matt Samilow (Sr., OF), Dylan Thomas (Jr., RHP), Michael Cascaes (Jr., LHP/OF), Mark Schell (So., LHP), Kevin D'Auria (So., RHP/OF), Nick Callano (Fr., OF/RHP), Ryan Mishkin (Jr., RHP)
After starting 2017 4-1, Ocean's season quickly slid off the rails thanks to a nine game losing streak that buried the Spartans in a hole from which it could never quite escape. During the streak, Ocean lost seven games by a margin of two runs or fewer and finally got the ball to start bouncing in its favor in the Monmouth County Tournament, in which the Spartans reached the semifinals before losing to Red Bank Catholic. Between the run of close losses and the MCT run that followed, Ocean has plenty of reason to believe things will be different this year.
Although the Spartans come in at No. 7 in the preseason B North projection, they have a roster that looks plenty good enough to challenge for a spot in the top-half of the division or perhaps better. Most of the position player talent from a year ago is back, led by versatile junior Max Winters. During his first two seasons, Winters has moved back and forth from catcher to shortstop and will likely settle back at catcher this season with the option of moving him to the infield remaining on the table for coach Cip Apicelli. Seniors Jack D'Auria, Will Callano, Matt Redbord, Mark Butler and Evan Arbeeny also return to the lineup, as does junior second baseman Ryan Toomey.
On the mound, Ocean will have to replace reliable seniors Phil DeMarco Alec Keezer and will look to Butler to lead the staff after the right-hander pitched to a 3.03 ERA in 30 innings last season. D'Auria, junior Scuba Hagerman and sophomore Kevin Schoenberger are likely to pick up some innings while senior Isaac Greenspan, juniors Dylan Thomas and Michael Cascaes and two more sophomores – Mark Schell and Kevin D'Auria – look to help as well. Ocean has the makings of a team that will put up some runs and handle balls in play, so if the pitching staff can pound the zone, the Spartans should be yet another quality B North team with a legitimate chance to contend.
Head Coach: James Reilly, third season
2017 Record: 7-17 (1-13, eighth in B North)
Key Returners: Matt Mincieli (Sr., SS/RHP), T.J. Brewer (Sr., C), James Horniacek (Sr., 1B/LHP), Nick Lunn (Sr., 2B), Juwan Wilkins (Sr., 3B/SS/RHP), Pasa Fields (Sr., CF), Evan Yerman (Jr., RHP/SS), Jordan Pellot (Sr., OF), Joseph Mazza (Jr., OF)
Key Losses: Jalen Walls (RHP/1B), Justin Navarro (RHP), Ryan Lorme (OF), Carlos Irizarry (3B)
Key Newcomers: Brendan Cuddy (Jr., 1B), R.J. Hurd (Jr., INF/OF), Ivan Navarro (So., RHP/INF), Jaire Smith-Moore (Jr., P), Paul Montague (Sr., OF), J.R. Bracerro (Sr., C)
Long Branch had one of its best teams in quite some time last year and it still was not enough to get the Green Wave out of the B North cellar. While Long Branch went 1-13 in B North play, it managed a 6-4 mark in all other games – a pretty good indicator that the division was more strong than Long Branch was bad.
The good news for the Green Wave is it returns most of the team from a year ago and this senior-laded squad is hungry to author the best baseball season at Long Branch in the last two decades. Headlining the host of returning seniors is pitcher and shortstop Matt Mincieli, who might flown under a lot of radars as a 2-5 pitcher on the staff of a 7-17 team, but put up impressive numbers in 50 innings. Mincieli will be backed by experienced varsity hurlers Juwan Wilkins – who quarterbacked the football team to a Central Jersey Group IV title in the fall – left-hander James Horniacek and junior Evan Yerman.
The deep, seasoned Long Branch staff will throw to catcher T.J. Brewer, who figures to challenge for the All-Division catcher spot after hitting .312 with 16 RBI and throwing out 16 would-be base-stealers as a junior. The four pitchers all figure prominently in the lineup as well, as does senior center fielder Pasa Fields and senior second baseman Nick Lunn. Junior first baseman Brendan Cuddy and sophomore utility man Ivan Navarro will also be cogs in the batting order R.J. Hurd and Zaire Smith-Moore provide depth in the staff. B North is as loaded as ever and Long Branch has a measurable gap to close, but the Green Wave have never been better-suited to shake off the cellar-dweller moniker and make some serious noise late in the year.
Max Winters, Jr., C/SS, Ocean (.354/.474/.405, 4 2B, 12 R, 17 RBI)
Ricky Voss, Sr., 1B, Monmouth (.364/.456/.455, 5 2B, 6 R, 12 RBI)
Robby Zega, Jr., 2B, Middletown South (.338/.422/.465, 6 2B, 1 HR, 14 R, 16 RBI, 11 SB)
Aurellio Licata, Jr., SS, Middletown South (.360/.461/.547, 5 2B, 3 HR, 17 R, 17 RBI)
James Harmstead, Jr., 3B/RHP, Manasquan (.354/.436/.573, 7 2B, 1 3B, 3 HR, 18 R, 14 RBI)
Brendan Doherty, Sr., OF, Middletown North (.392/.467/.430, 3 2B, 15 R, 11 RBI)
Justin Scotto, Sr., CF, Monmouth (.419/.619/.500, 5 2B, 29 R, 10 RBI, 19 SB, 20 HBP)
Teddy Sharky, So., OF/RHP, Wall (.313/.382/.478, 3 2B, 1 3B, 2 HR, 15 R, 9 RBI)
Joe Sprake, Sr., DH/RHP, Middletown South (.394/.463/.577, 5 2B, 1 3B, 2 HR, 14 R, 15 RBI, 5 SB)
Tyler Ras, Sr., RHP, Middletown North (3-2, 40 IP, 36 H, 8 BB, 46 K, 2.80 ERA)
Austin Nappi, Sr., RHP, Red Bank Catholic (10-1, 67 IP, 70 H, 4 BB, 29 K, 1.88 ERA)
Trey Dombroski, Jr., LHP, Wall (6-0, 44.2 IP, 32 H, 6 BB, 31 K, 0.47 ERA)
Garrett French, Sr., RHP, Middletown North (7-2, 56.1 IP, 31 H, 22 BB, 59 K, 1.12 ERA)
Matt Mincieli, Sr., RHP, Long Branch (2-5, 50.2 IP, 41 H, 12 BB, 55 K, 2.35 ERA)
Breakout Players to Watch
David Glancy, Jr., OF, Red Bank Catholic
Alex Galvan, So., 1B, Manasquan
T.J. Brewer, Sr., Catcher, Long Branch
Dante Ciaramella, Jr., SS/RHP, Monmouth
Vincent Bianchi, Jr., SS/RHP, Red Bank Catholic
More From Shore Sports Network