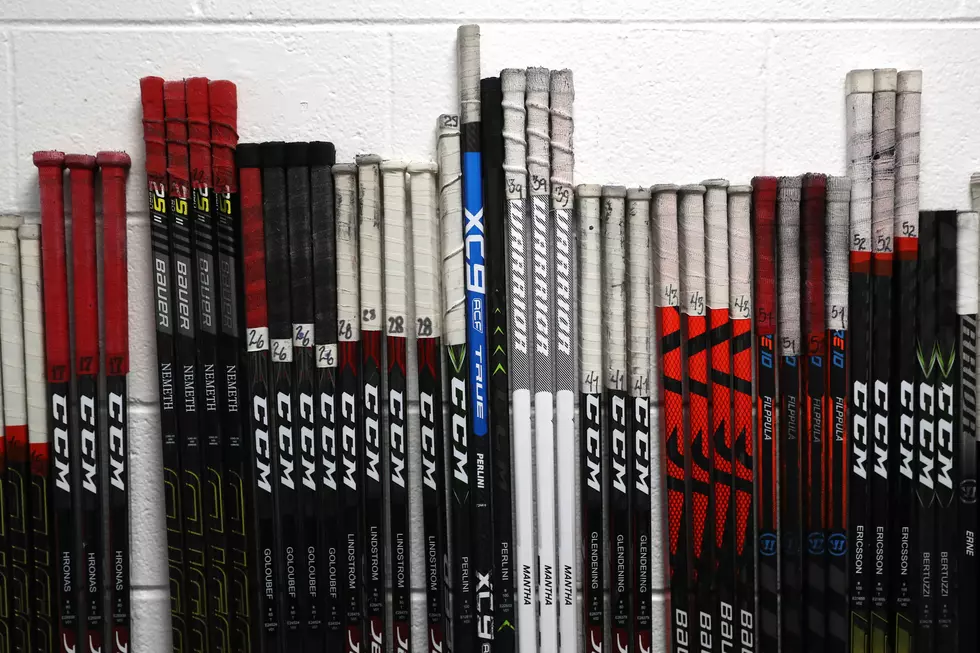 VOTE for the Week 3 Shore Conference Ice Hockey Player of the Week
Getty Images
Enter your number to get our free mobile app
With our foray into ice hockey coverage comes another feature very familiar to Shore Sports Network readers: The SSN Player of the Week vote.
There were some great individual performances in Week 2 of the season and now it's time to get your vote in for who had the top performance in the conference to choose the Shore Sports Network Ice Hockey Player of the Week. The winner will be announced on Wednesday right here on ShoreSportsNetwork.com. Voting will end Tuesday at midnight.
Scroll down to see the candidates and make your selection. If you'd like to vote more than once, just wait one hour and come back.
Shore Sports Network Player of the Week nominees for Week 3 (listed in alphabetical order)
Ryan Bechutsky, Sr., Fwd., Manalapan
Bechutsky recorded his third career hat trick and added an assist when Manalapan defeated Monroe, 4-2, last Thursday in its first game since Jan. 22. He scored twice in the first period and then scored in the third period to give the Braves a two-goal edge. In five games, Bechutsky has a team-high five goals and a team-high nine points.
Nate Block, Jr., Fwd., Middletown South
Block had a hand in all three of the Eagles' goals during their 3-2 victory over No. 2 St. John Vianney in Middletown South's first game since Jan. 20. Block had the primary assist on goals by Michae Volpi and Aiden Cavendish that staked the Eagles to a 2-0 lead and then scored his goal in the second period to put South up 3-0. Block has two goals and three assists in three games for the third-ranked Eagles.
Patrick DeMarinis, Sr., Fwd., Wall
Wall picked up its first win of the season in its second game by blanking Red Bank Regional, 7-0, and DeMarinis led the way, offensively, by recording two goals and two assists.
Ethan Gelman, Jr., Fwd., Marlboro/Holmdel
Gelman tallied two goals and one assist when the Mustangs shut out Wall, 3-0, and then assisted on three goals during Marlboro's 5-2 victory over St. Rose/Red Bank Catholic/Donovan Catholic to give him six points over two games during the week. For the season, Gelman leads Marlboro with 11 points and is tied for the team lead with four goals.
Colin Grable, Sr., Def., Christian Brothers Academy
Grable totaled two goals and two assists in two CBA wins last week as the Colts ran their record to 6-0-1 to remain the No. 1 team in New Jersey. Grable scored twice and added a primary assist during CBA's 5-1 Gordon Conference victory over Pope John. Then, in a 5-1 win over Middletown North, Grable scored once. In both games he led a CBA defense that allowed only one goal. Grable leads a balanced team in goals (5) and is tied for the team lead in points with 10. He has also spearheaded a defense that has yielded just eight goals in seven games and held six of seven opponents to one or fewer goals.
Corey van den Berg, Jr., Fwd., Central Regional
Van den Berg scored a career-high four goals and added one assist when the Golden Eagles won 10-0 over Freehold Township to improve to 6-0. It was van den Berg's fourth multi-point game this season and he now has nine goals and six assists on the season.
Managing editor Bob Badders can be reached at bob.badders@townsquaremedia.com. Follow him on Twitter @Bob_Badders. Like Shore Sports Network on Facebook and subscribe to our YouTube channel for all the latest video highlights. 
LOOK: TV Locations in Every State