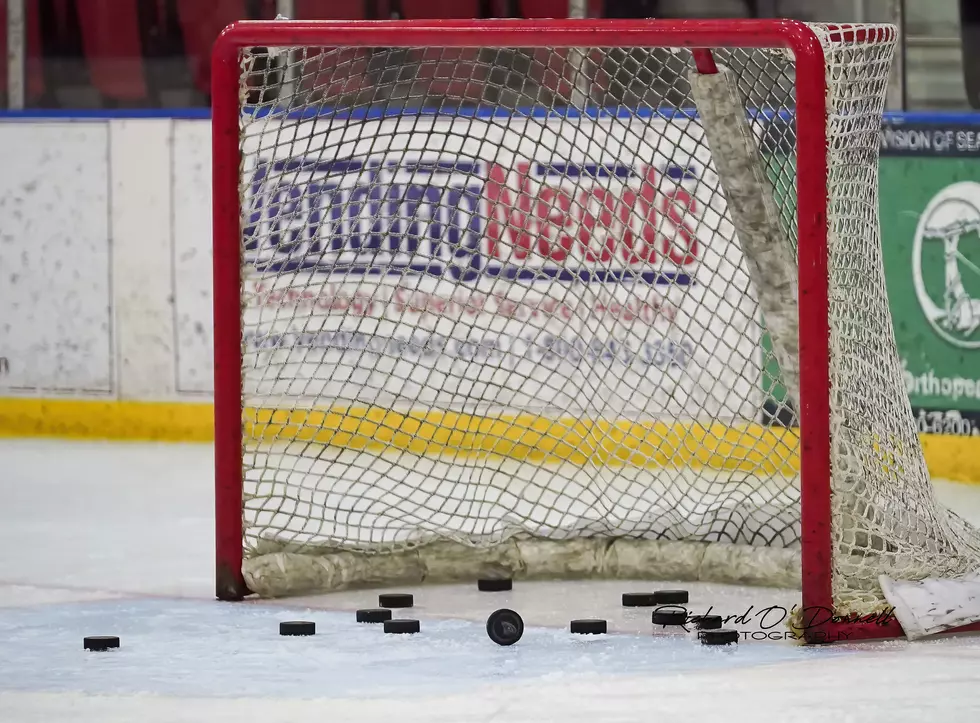 James Fay, Vincent Vassallo lead Howell, NJ past Brick, NJ in ice hockey matchup
Photo by Richard O'Donnell

By Casey Krish - Shore Sports Network Contributor
FARMINGDALE – Protect the house.
It sounds a lot easier on paper than in practice, but sometimes it is executed to perfection. Howell came into its fifth contest of the season allowing nearly six goals a game, albeit after playing some high-octane offenses in Woodbridge and Old Bridge, among others.
On Friday, the Rebels (2-3-0) would only need a single goal to capture their second victory of the young, yet fast-moving season as they downed Brick Township, 4-0, in a Shore Conference nondivisional game at Howell Ice World.
Vincent Vassallo locked down the crease, and the junior was rewarded with his first career varsity shutout for his efforts.
He was tested early and often, as the Dragons (0-4-1) started the game with a strong push. Brick was playing its first game since Jan. 26 after being one of the many victims to this year's COVID-19 protocols.
"We didn't really make it a point of emphasis, but we knew that they haven't played a game in quite a while," said Howell head coach Bill Daley. "You could get a team that's a bit rusty, or a team fired up (and) anxious to get back out there. We got the latter of those, but we were able to hang in there and battle."
"We were also shut down earlier in the year, so we know what it's like to get back out here after some time off."
Howell was also not helping its own cause. The Rebels took three penalties in the first 15:39 of the game but were able to kill off all three infractions.
Vassallo made eight saves during the kills, made extra impressive by the pressure and zone time Brick was able to exert.
James Fay broke a deadlock in the second period after Brick took two interference penalties to set the Rebels up with a 5-on-3 advantage. The senior captain scored two goals to bring his team-leading tally to five.
After the first goal, the Rebels seemed to play more relaxed and the ice began to flip more in their favor.
"That was big for us. You always want to play with the lead, because it allows you to be more in control of the game," Daley said.
Stan Paluszek banged home a tally in the first minute of the third period to help build a 3-0 lead. Paluszek also assisted on both of Fay's goals to give him three points on the night.
The final period was anything but clean. Both teams successfully killed off a five-minute major penalty and the action started to get chippy. Howell didn't waver from its game plan and continued its stout defense, limiting Brick's offensive zone time. Brick was only able to muster two shots on its major advantage.
"(Howell's players) pride themselves on team defense. It doesn't matter if we are down a man, up a man, or at even strength," Daley said. "We want to limit the other teams scoring chances."
Freshman Tony Brandi stuffed home his second career goal on a scramble in front of the net to account for the final 4-0 score.
Matt Gresko and William Daley collected an assist each.
Vassallo made 29 saves for the first shutout of his varsity career.
"Vassallo was unbelievable for us tonight, and him helping us get out of the first period without being down was huge," Daley said. "They were all over us early on, and he made some timely saves, especially while we were on the penalty kill. He held strong until we were able to put a few in later in the second."
There was also a different vibe to the arena Friday night. For the first time since March, fans were permitted into the rink to take in the action. Governor Phil Murphy signed an executive order Friday afternoon allowing each player to have two parents or guardians attend youth and high school sporting events. Anyone who has been fortunate enough to attend a game this season can attest to the eerie feeling of an empty rink. Live streams have started to become the new normal this season.
The crowd was much smaller than that, but listening to gasping parents each time the puck went in the crease or hearing all the referees in the crowd was certainly a breath of fresh air and a sense of normalcy.
"I really don't think it makes that much of an impact for us, honestly," Daley said. "We love having our parents here with us, but the kids try and stay zoned-in to what is happening on the ice."
The hockey season only has three weeks remaining, and while the governor's order allows for fans immediately, some rinks might still need to prepare their precautionary measures to ensure safety. Masks will be required and all fans will be subject to temperature checks. The season might be winding down, but every parent would jump at the opportunity to watch their children play one more time.
"I feel for the senior parents, especially," Daley said. "This is the final year that some of them might ever play hockey, so I am glad that their parents and family will get the chance to come watch them play again."
James Fay (Stanley Paluszek), 3:30
James Fay (Stanley Paluszek), 8:26 PP
Stanley Paluszek (Matt Gresko), 0:53
Tony Brandi (William Daley), 12:25
POWER PLAY – Howell, 1-for-3, Brick, 0-for 6
SAVES – Howell: Vincent Vassallo, 29; Brick: Kevin Toye, 22.
LOOK: Answers to 30 common COVID-19 vaccine questions
While much is still unknown about the coronavirus and the future, what is known is that the currently available vaccines have gone through all three trial phases and are safe and effective. It will be necessary for as many Americans as possible to be vaccinated in order to finally return to some level of pre-pandemic normalcy, and hopefully these 30 answers provided here will help readers get vaccinated as soon they are able.
More From Shore Sports Network