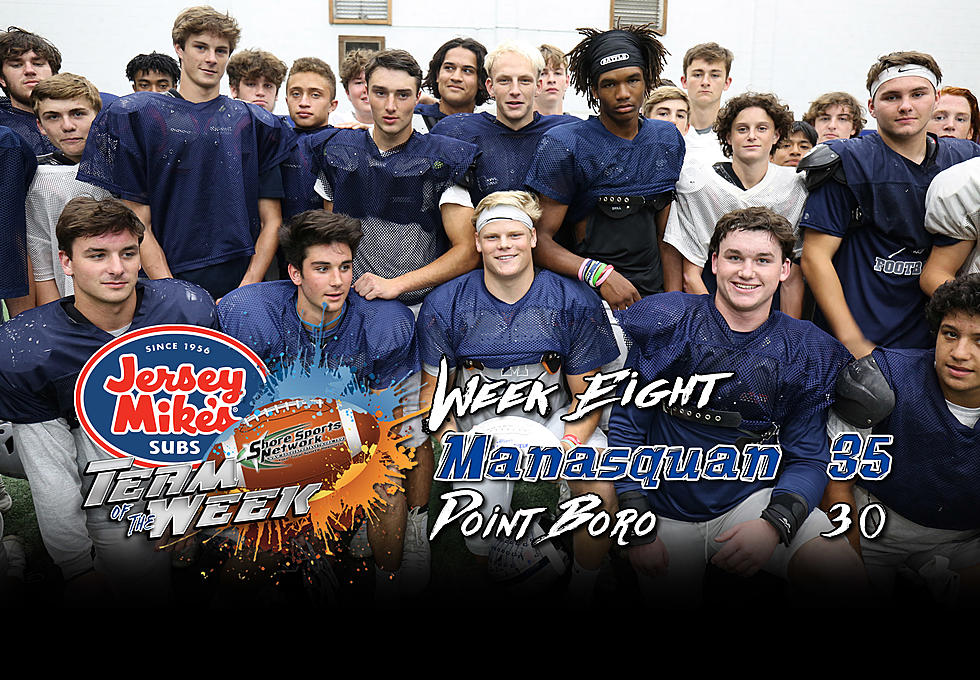 Manasquan is the Jersey Mike's Week 8 Football Team of the Week
Steve Meyer

Every week this fall, Jersey Mike's and Shore Sports Network will be teaming up to select a Team of the Week based on its performance over the past weekend.
The Jersey Mike's Team of the Week for Week 8 is Manasquan, which crossed the river and came away with a thrilling 35-30 victory over a previously-undefeated Point Boro team to win the latest chapter between the former Thanksgiving rivals. Shore Sports Network stopped by practice on Tuesday to present the Warriors and head coach J. Price with a special game ball and a $250 Jersey Mike's gift card.
Point Boro entered the game undefeated and with the Shore Conference's No. 1 scoring offense, and the Panthers jumped on Manasquan early with two first-quarter touchdowns to take a 14-0 lead into the second quarter. The Warriors regrouped, however, and scored the next 35 points of the game before holding off a late rally by Point Boro to improve to 5-2.
Manasquan got on the board when junior quarterback Brett Patten threw a 27-yard touchdown pass to senior wide receiver Cole Kozlowski and tied the game at 14 when senior wide receiver Robert Pendergist took a screen pass into the end zone on a 31-yard touchdown. Manasquan then took the lead for good when junior running back Jhamier Howard returned the opening kickoff of the second half 85 yards for a touchdown.
Later in the third quarter, a 77-yard reception by Kozlowski on a screen pass set up Patten for a 1-yard touchdown run. Patten then added an 8-yard touchdown run for a 35-14 lead. Point Boro scored two touchdowns with two 2-point conversions in the final six minutes but the Warriors were able to get the ball back with just over two minutes left to run out the clock and secure the victory.
Patten threw for 163 yards and two touchdowns along with his two touchdown runs, while Kozlowski caught three passes for 117 yards and a touchdown and Howard added 60 yards rushing. Senior defensive lineman JJ Cavanagh had five tackles for loss to help slow down Point Boro's triple-option rushing attack and senior cornerback Patrick Woodford had an interception.
RELATED: Watch Manasquan head coach J. Price and senior Cole Kozlowski on the Varsity Link Coaches Corner Football Show.
On the season, Patten has thrown for 1,122 yards and 16 touchdowns with just three interceptions, plus six rushing touchdowns. Kozlowski has caught 30 passes for 467 yards and four touchdowns and Pendergist has 19 receptions for 371 yards and five touchdowns. On the ground, Woodford has 328 yards rushing and two touchdowns (plus two receiving TDs) and Howard has 306 yards rushing and four touchdowns along with three touchdown receptions.
Defensively, twin brothers Jack and Ryan Burns are Manasquan's leading tacklers. Jack Burns also has a team-high three sacks along with three tackles for loss. Cavanagh has a team-leading five tackles for loss, junior linebacker Cael Driscoll has four tackles for loss, and Woodford and Kozlowski each have two interceptions. Additionally, junior Jack Dettlinger has been one of the more reliable kickers in the Shore with 27 of 29 extra points converted plus two field goals.
Manasquan will host Asbury Park (4-3) on Saturday afternoon at Vic Kubu Warrior Field where it will try to continue its push for a top-two seed in the state playoffs. The Warriors will be seeking to claim their 13th sectional championship in program history. Their 12 rings are the most in Shore Conference history.
Manasquan is currently sixth in the South Group 3 United Power Rankings.
Archive
Top 20 High Schools With The Best Teachers In Monmouth & Ocean County - 2022
More From Shore Sports Network