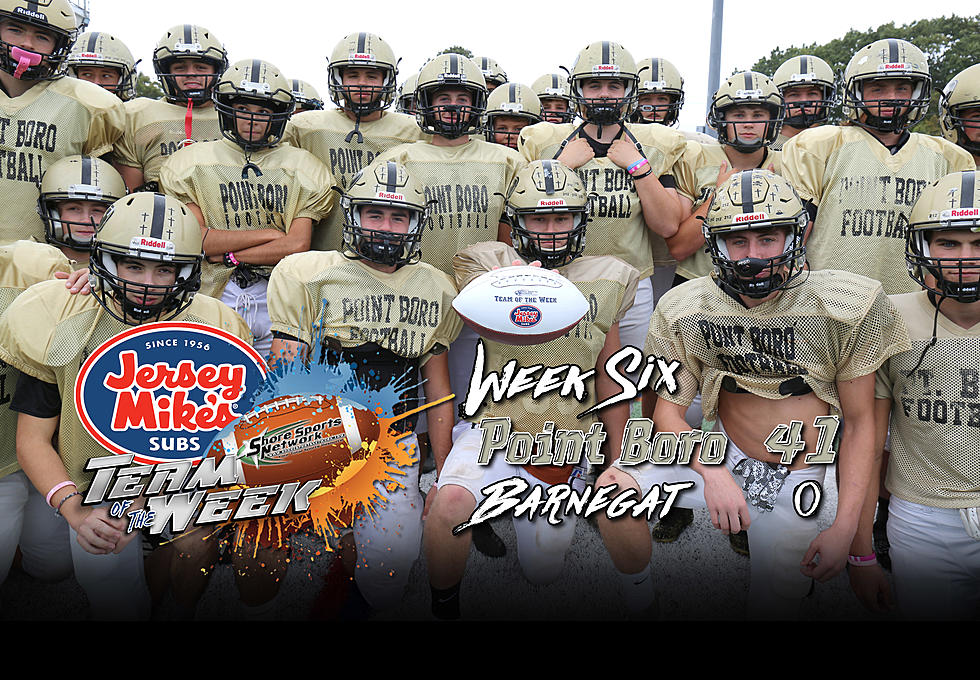 Jersey Mike's Week 6 Football Team of the Week: Point Boro
Steve Meyer

Every week this fall, Jersey Mike's and Shore Sports Network will be teaming up to select a Team of the Week based on its performance over the past weekend.
The Jersey Mike's Team of the Week for Week 6 is Point Boro, which continued its resurgent season with a dominant 41-0 victory over Barnegat that clinched the Shore Conference Patriot Division title and improved the Panthers' record to 5-0. Shore Sports Network was at practice on Tuesday to present the Panthers and head coach Brian Staub with a special game ball and a $250 Jersey Mike's gift card.
Sophomore running back Jake Croce had a fantastic game with 285 yards of offense and five touchdowns to lead a Point Boro offense that rolled up 447 yards. Croce ran for 223 yards and four touchdowns on 12 carries, scoring on runs of 59, 44, 16, and 63 yards. He also hauled in a 38-yard touchdown pass from senior quarterback Charlie Vitale. Junior running back Connor Cilento added a 34-yard touchdown run and finished with 78 yards rushing. The Panthers ran for 383 yards as a team.
The Point Boro defense posted its first shutout of the season with junior linebackers JJ Bennet and Tyler Gordon each registering a team-high nine tackles. Junior defensive ends Connor Reynolds and Aiden Ward recorded two sacks each.
Point Boro has scored at least five touchdowns in all five of its games and owns the No. 1 scoring offense in the Shore at 41.2 points per game. The Panthers' flexbone triple-option offense has rushed for 1,691 yards on an average of 8.8 yards per carry and 338 yards per game. Croce has 503 yards and six touchdowns, Vitale has 467 yards and eight touchdowns, Cilento has 315 yards and three touchdowns and sophomore Matt Oliphant has 234 yards and six touchdowns plus a pair of kick return touchdowns. Vitale has also thrown for 233 yards and four touchdowns on 10 of 13 passing.
Next, the Panthers will look to complete an undefeated regular season in a matchup of division champions. On Saturday, Point Boro will travel to Tinton Falls to square off with National Division champion Monmouth Regional (5-1).
Additionally, the NJSIAA playoffs are three weeks away and Point Boro is currently ranked No. 1 in the South Group 2 section.
Archive
The Most Horrifically Haunted Places in New Jersey
More From Shore Sports Network