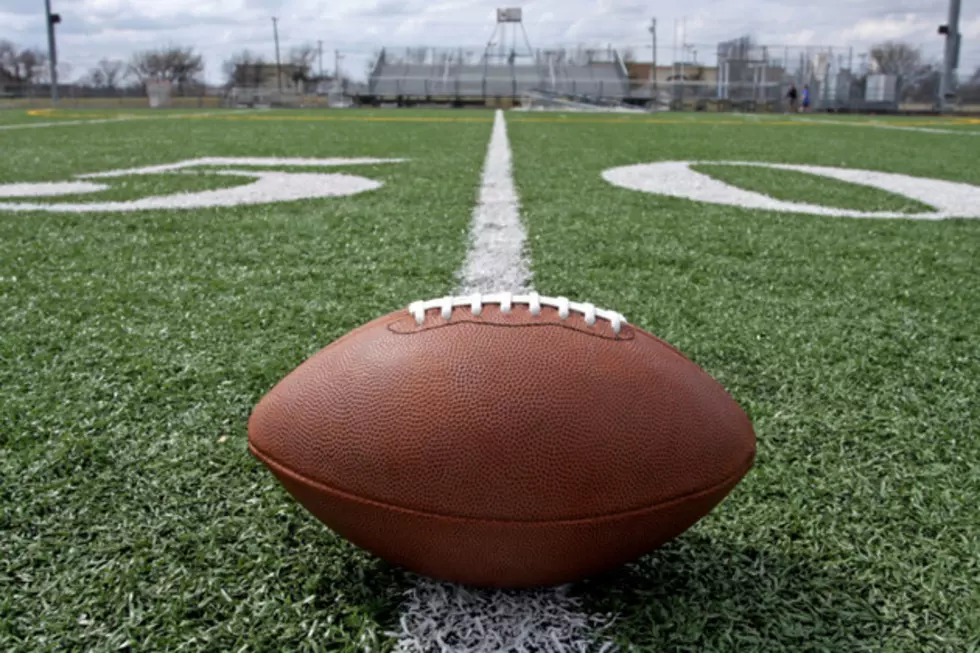 Football: Shane Fallon Hired as Red Bank Regional Head Coach
David Lee

He grew up wearing maroon, grey and white as a spectator to some of the school's best football teams. Later, he starred at the rival school just a few miles north before building that program into the juggernaut it is today. Now, he is returning to Ridge Road.
As first reported by Shore Sports Network, Shane Fallon was hired as a health and physical education teacher and as the new head coach at Red Bank Regional High School during Wednesday night's board of education meeting. With an opening to fill, the Bucs made a splash by bringing in a championship-winning coach to lead their program.
After serving as Holmdel High School's Athletic Director, Fallon returned to the sidelines last season as the head coach at Neptune. He now replaces David Schuman, who was Red Bank's head coach for two seasons before stepping down in March.
Fallon was the head coach at Rumson-Fair Haven from 1998-2012 and the athletic director at Holmdel from 2015-2020 before heading to Neptune last season. Fallon went 106-51 in his 15 years at RFH and led the Bulldogs to a state sectional championship, two other finals appearances and four division titles.
Fallon's father, George, was a physical education teacher and an assistant football coach at Red Bank from 1975-1979. He was then the school's athletic director for 20 years from 1980 to 2000.
"I wasn't looking to leave Neptune but this is an opportunity that presented itself and Red Bank Regional has been my second home," Fallon said. "The Neptune administration, parents and players have been nothing but great during my one year. It's always difficult to leave a place after one year and I realize the optics on that don't look good."
"I grew up at RBR as a kid when my father was a longtime teacher and administrator there. I have a lot of connections and have been to a lot of events in my lifetime at RBR. It's in close proximity to my house (Fallon still lives in Rumson) and I have lifelong friends who are alumni at RBR who were encouraging me to apply for the position and go for it. During the course of the interview process I was really impressed with their administrative team and their vision for the school and the athletics programs. I feel like I will be a good fit for them and they will be a good fit for me in terms of our long-term future. My wife Lisa and I are really excited to be part of the Red Bank Regional community."
"He obviously has a very good track record and he knows the area. He built the program right down the road," said Red Bank Regional Athletic Director Mike Stoia. "It just made sense and it was the right time. The stars kind of aligned."
While his early years were spent around the RBR football program, Fallon made a name for himself at Rumson-Fair Haven High School. He is a 1990 RFH graduate where he quarterbacked the Bulldogs from 1987 to 1989, including leading the team to the NJSIAA Central Jersey Group 2 final in 1989. After graduating from West Chester University, Fallon returned to Rumson's football program as an assistant coach. Two years later at 25-years old, Fallon took over as the Bulldogs' head coach.
Rumson had won just eight games in the four previous seasons and finished with a losing record in four of five seasons prior to Fallon taking over as head coach. He immediately turned things around with a 6-4 record in 1998. Rumson slipped to 4-6 in 1999, but that remains the last time the Bulldogs finished a season without a winning record.
Fallon guided Rumson to an 8-2 record in 2002, the program's most wins in school history. In 2007, Rumson went 9-3 and reached the Central Jersey Group 2 title game but was denied its first title in a 20-14 loss to Carteret. The Bulldogs won nine games again in 2009 but bowed to Manasquan in the playoff semifinals. Then came 2010, the year that forever changed Rumson football.
Rumson met a juggernaut Matawan squad and its high-octane offense in the 2010 Central Jersey Group 2 final. The Huskies were the overwhelming favorite having defeated Rumson, 48-21, during the regular season but with a defensive performance for the ages, Rumson shocked Matawan, 13-7, to win the first state sectional title in program history.
Rumson reached the final again in 2011, this time losing to Matawan, 3-0, in the title game. Fallon's 15th and final season at the helm was in 2012 when Rumson went 7-3.
Rumson has since become the flagship public school football program in the Shore Conference and one of the best in New Jersey. The Bulldogs won four straight state titles from 2013 to 2016 – two in Central Jersey Group 2 and two Central Jersey Group 3 – and added another in 2018. They have played in seven straight sectional finals and their six titles are tied for the fourth-most in Shore Conference history.
Now, he'll be on the other side of The Battle of Ridge Road aiming to lead Red Bank back to prominence.
"He brings a presence," Stoia said. "Not only is he known as a good coach and a winning coach but he also brings a sense of stability to our program, especially with him working in the building. It's a huge draw for sixth-, seventh- and eighth-graders. We do lose kids to certain schools down the road from us. Now we have the winningest coach on the peninsula, so to speak."
"We need to keep our homegrown talent at Red Bank Regional and that's extremely important if we are going to build the program the right way," Fallon said. "I think you need to be able to win the parents over and sell your vision, not only for the football program but how it translates directly to their child and our ability as a school to help mold their child into an adult. You have a four-year window to develop them socially, emotionally, physically and in more than just football. Our job is to develop them for college and prepare them for life."
In the last two years under Schuman, Red Bank went 9-8 and reached the Central Jersey Group 2 semifinals in 2019. In the prior nine seasons under Nick Giglio, the Bucs won 40 games and reached the Central Jersey Group 3 final in 2015 with an 11-1 record. Before Giglio, Red Bank was 4-36 over a four-year span.
"I think with some of the schools in the surrounding area to Red Bank Regional we need to be able to make sure we close the gap a little bit over the coming years in terms of consistent play year in and year out on the football field," Fallon said. "Nick Giglio did a fantastic job of taking the Red Bank program and building it back up and providing some continuity during his 9-year run. The last two years they were a little up and down but the participation numbers are there. We need to continue to build upon that because if you have numbers it increases competition in practice and that makes you a better program."
"Look directly at how we built RFH. It was getting kids to come out for football and compete and that same formula will be applicable at Red Bank Regional. We will have high expectations for our players. They need to come in and make a strong first impression with our coaching staff in terms of work ethic in the weight room and their commitment level this summer. We're going to challenge them to be the best they can be."
Fallon said he will begin interviewing coaches in the building who were on the previous staff along with interviewing coaches from the outside.
"The goal is to put the best coaching staff together that I can."
Red Bank is coming off a 2-4 season in 2020. Among the Bucs' key returners for 2021 will be wide receiver/linebacker Cian Curylo, defensive backs Jack Grassi and Matt Dengler and offensive lineman Peter Thomas.
Red Bank Regional is known for having strong school spirit and a passionate fan base. The student section at football games is always lively and former players and alumni are a regular presence at games. Fallon wants to take that atmosphere to another level.
"They have a strong tradition there and they have a ton of alumni support," Fallon said. "The student body gives you that home-field advantage because they really come out and support the team, and the community is very involved. We were able to do that same thing at Rumson and even when I was at Holmdel I worked collaboratively with (head coach) Jeff Rainess for brainstorming ways to get people in town to want to attend games, and it almost became an event. That's what I want to see continue to grow at Red Bank Regional, for our games to become an event where people in the community want to go and it becomes the thing to do in the fall."
Fallon will remain at Neptune through the end of the school year and won't officially begin as a teacher at Red Bank until September, but in terms of football, he's about to hit the ground running. From a 6-year-old kid wearing an oversized helmet in full Red Bank uniform walking to the field with his father to becoming the program's head coach some four decades later, it has all come full circle for Shane Fallon.
PHOTO QUIZ: How Well Do You Know the Jersey Shore?
More From Shore Sports Network