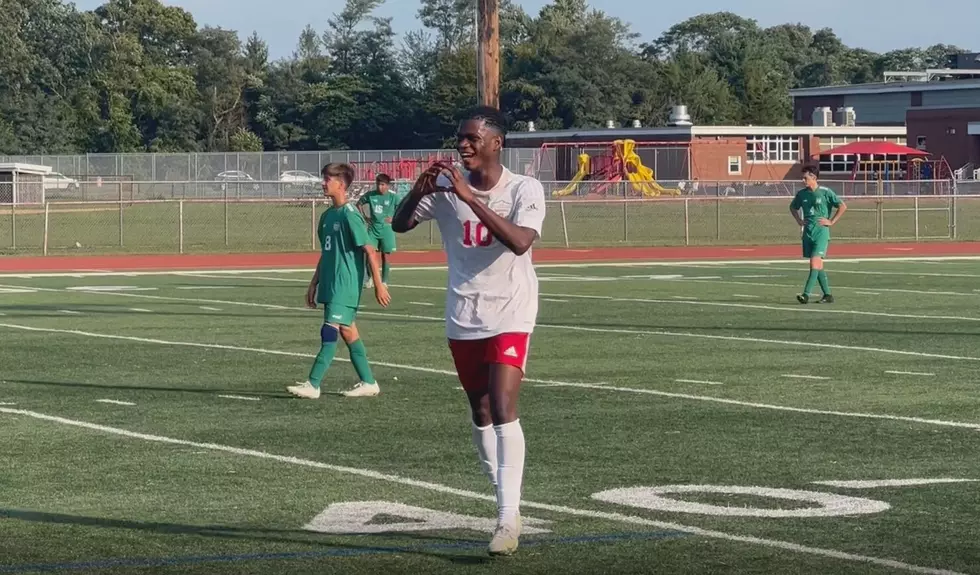 Boys Soccer – Ocean Gets Payback Win over Long Branch
Senior Archeley Eugene celebrates his goal vs. Long Branch. (Image: Matt Manley)

OCEAN TWP. -- The last time Long Branch paid a visit to Ocean Township for a boys soccer showdown, Dan Abrams watched from the bench as Long Branch ended his Spartans' 2021 season in the semifinal round of the NJSIAA Tournament.
Abrams endeared himself to his teammates and earned a captainship for 2022 with his positive attitude after suffering a torn ACL earlier in the 2021 season, but it still ate him up inside that he was not able to help his team on the field.
"Anyone in his position could have been on the sideline and wallowed in self-pity," Ocean coach John Terlecsky said of Abrams. "We named him captain at the banquet because we saw the positivity he brought every day and not many people can handle that kind of adversity and still root for everybody and still carry himself like a captain, even from the bench."
A little less than a year later, Abrams is back on Ocean's back line and on Wednesday, he was on his home field with his teammates for a moment of redemption against the team that ended their season.
Abrams started the play that led to Ocean's first goal, while junior Alexander Korolev and senior Archeley Eugene finished the Spartans' two scores as Ocean -- No. 6 in the Shore Sports Network Top 10 -- upended No. 4 Long Branch, 2-0.
PHOTO GALLERY: Ocean at Neptune Boys Soccer by TSP Images
"Those were my boys last year, so it was tough seeing them go out like that and not be able to play," Abrams said. "Coming back with this group of boys is the greatest feeling ever. I couldn't ask for anything more."
After a first-half that saw Long Branch enjoy a slight edge in possession while the teams exchanged three shots apiece, Ocean carried a strong defensive effort over to the final 40 minutes while also growing more dangerous and opportunistic.
"They have a great attack," Abrams said of Long Branch. "Those are some of the fastest kids I have ever played against. We kind of just dropped off and we knew they were going to run past us and I didn't have the speed to keep up, so I knew if I dropped off 10 yards, that would keep them in front."
In the 10th minute of the second half, Ocean earned a throw-in and Abrams moved up to take it. Abrams launched the ball toward the near left post and Eugene was the first to get his foot on it. Both Korolev and senior teammate Stephen Aliaj got to the ball and Korolev got his toe on it first to finish off Ocean's first goal.
Korolev is a transfer from Christian Brothers Academy who has slotted into the middle of Ocean's formation. Wednesday, he had his first big moment with his new team.
"Being able to put (Korolev) in the middle has added to our attack and now we have some real depth," Terlecsky said. "On a hot day like today, we are able to give guys some rest and I thought it definitely wore them (Long Branch) down."
Long Branch's best chance to equalize came just minutes later on a 20-yard free kick and Ocean junior goalkeeper Zach Frabizio saved Green Wave senior Jeremy Hernandez's strike.
In the 69th minute, Frabizio helped Ocean give him and the defense some insurance. The junior keeper blasted a long punt that freed up both Eugene and classmate Jake Schwartz to make a run at the goal with just a keeper and a defender to beat. Earlier in the half, Long Branch starting keeper Chris Lazo left with an injury and Ocean took advantage on Frabizio's long punt when Eugene was the first to get to it and slammed it in for a 2-0 Spartans lead.
Prior to scoring, Eugene caught a lengthy breather on the sideline while Schwartz and junior Rodley Petit handled the duties at the front of the formation. Once he went back on, his energy was hard for Long Branch's defense to match and his speed became even more of a problem.
"Rodley and Schwartz are champing at the bit to get in there, so we have to carve out time for them too," Terlecsky said. "It's tough, because Aliaj is a very skilled player as well and guys like him and (Eugene) want to be out there for all 40 minutes of a half, so a certain sacrifice has to be made with playing time. The same thing goes for the midfield. We have a lot of sophomores and I feel confident putting them all in."
Last November, Long Branch visited Ocean and beat the Spartans, 3-1, to advance to the Central Jersey Group III championship game. Ocean was not only missing Abrams, but was also without current junior defender Justin Cook, who was also injured in 2021.
With both Abrams and Cook in the fold, the Spartans have shown more stability in defending the goal. Although they did concede four goals in a 4-3 loss at St. Peter's Prep on Saturday, they also have two shutouts against what figure to be two of the Class B North division's most dangerous attacks -- Long Branch and Neptune.
"We probably want to generate some more goals," Terlecsky said. "I think we're doing it at the defensive end, which is ironic because last year, we were constantly trying to find a defender while we were dealing with those injuries. Having Cook and Danny back healthy sparks everything for us."
The 2-1 start to the 2022 season has a much different feel than Ocean's 4-1 start in 2021. That season began with close wins over Shore Regional and Colts Neck, followed by a pair of wins over Freehold Boro and Neptune in which Ocean outscored its two opponents by a combined margin of 10-1. This year, Terlecsky sought to challenge his team in the two games prior to the big rematch with Long Branch.
"I feel like we played down to the level of our competition a lot last year," Abrams said. "We dominated a lot of games because of (Shore Conference leading scorer) Aidan (Tisony). This year, we played against top-quality teams the first two games of the season, so I feel like we played up to their energy and we just followed through with it to today."
With no shortage of capable opponents in Class B North, Ocean still has plenty of work to do in order to claim the outright division championship. With wins over defending division co-champion Neptune and a Top-10-regular in Long Branch, however, the Spartans have planted their flag as the current favorite to win the division.
"We're not going to get ahead of ourselves," Abrams said. "We're going to take every game as it comes and just play as hard as we can."
These 10 New Jersey Colleges Were Ranked Best In The Country
So what are the ten New Jersey Colleges and Universities that made the list of best in the country according to US News' 2022 list?
More From Shore Sports Network