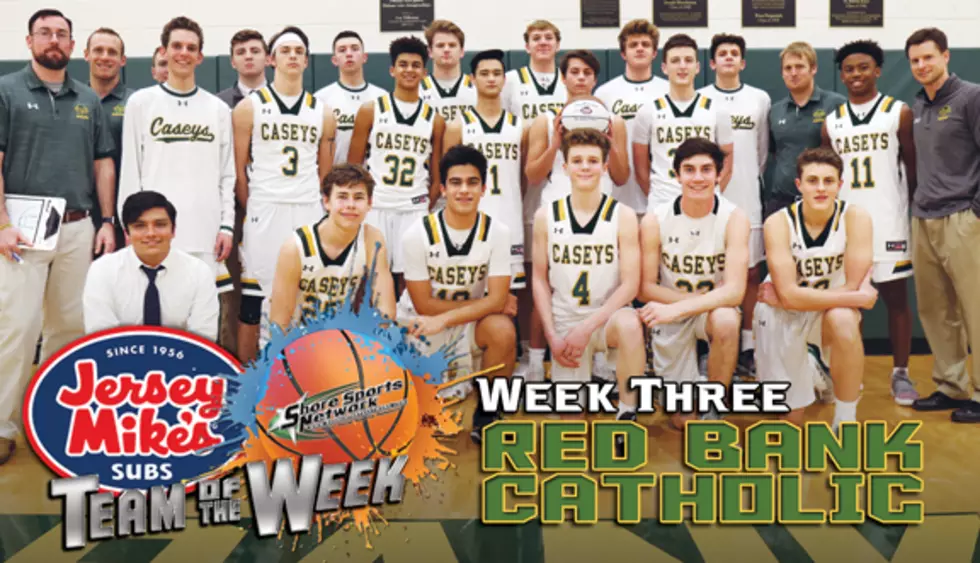 Boys Basketball – Week 3 Jersey Mike's Team of the Week: Red Bank Catholic
Photo by Steve Meyer
Few basketball teams in the Shore Conference have accomplished what the players on the Red Bank Catholic boys basketball team have in an athletic arena.
The only catch is most of those accomplishments are on the football field.
The Caseys' football-influenced starting lineup is making some serious waves on the basketball court as well and their performance last week earned them the Jersey Mike's Team of the Week honor for Week 3.
The week opened with a win over Monmouth Regional, a team that has had an up-and-down season but has also had some standout moments in the form of wins over Middletown North and, more recently, Holmdel.
RBC's week picked up significant the following Thursday, when Manasquan, with their undefeated record in the Shore Conference Class A Central division, paid the Caseys a visit. The Caseys landed a key 10-0 run in the second quarter to break that game open and never let the Warriors get within five points en route to a 62-50 win.
The Caseys closed the week with a strong showing at the Hoop Group Boardwalk Showcase at Brookdale, where they pulled away late to beat Middletown South, 59-46. Middletown South is currently ranked No. 7 in the Shore Sports Network Top 10 and on Monday, the Eagles responded to their loss vs. RBC by hammering No. 4 Freehold Township, 70-54.
Junior Charlie Gordinier has spearheaded RBC's scoring effort throughout the year and last week was no different. The 6-foot-6 wing led the Caseys with 20 points in the win over Manasquan to go with 16 against Monmouth and 13 in the Boardwalk win over Middletown South.
As usual, the Caseys got plenty of support from the rest of the lineup as well. Senior John Duffy led the way against Monmouth with 17 points and poured in 15 on five three-pointers against Manasquan.
Junior forward and Notre Dame football commit Kevin Bauman was named team MVP by the Hoop Group for his 15 points and 12 rebounds in the Caseys' win over Middletown South. Bauman also played lock-down defense on Manasquan leading scorer Alex Galvan, outscoring the 6-7 junior, 6-5, in the RBC win.
Gordinier and Bauman are two of four RBC basketball starters who not only played on the Caseys' 12-0 state championship team; they starred. The two juniors, senior Steve Lubischer and senior M.J. Wright were All-Shore selections by Shore Sports Network and all four are slated to be college football players. Bauman is verbally committed to Notre Dame, Lubischer is signed with Boston College, Wright is headed to Fordham and Gordinier is uncommitted with offers from Rutgers and Pittsburgh, among others.
2018 Team of the Week Winners
More From Shore Sports Network