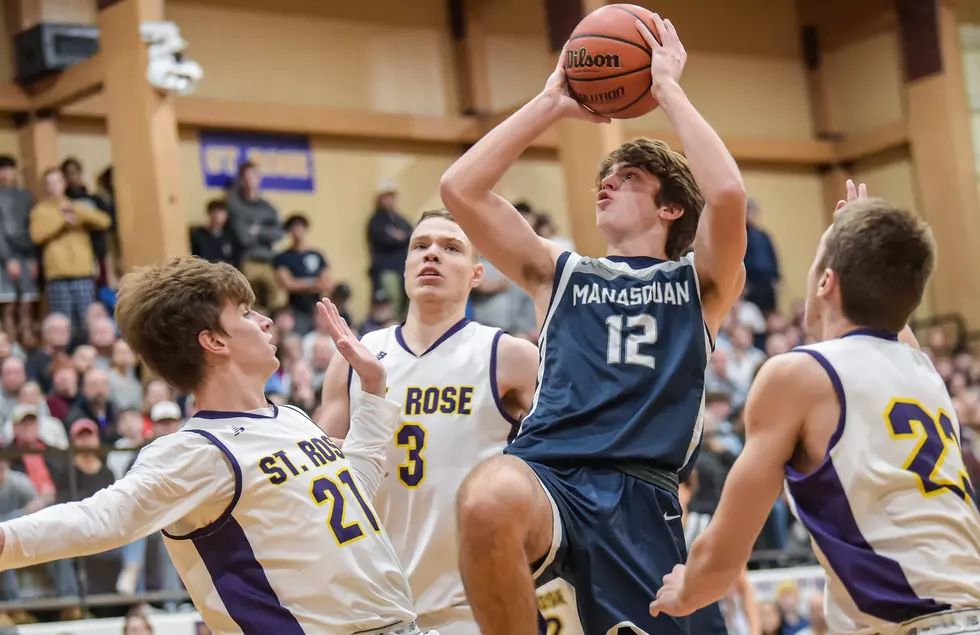 Boys Basketball – 2023 All-Shore Final Vote Winners
Manasquan sophomore Griffin Linstra with the running jumper over the double team during the St Rose vs Manasquan Shore Conference Boys Basketball Game at St Rose HS Gym in Belmar, New Jersey. 12-22-2022 Photo Credit: Tom Smith | tspsportsimages.com

2023 Boys Basketball All-Shore Final Vote Winners
Luke Schorr, So., 6-2, Guard, Rumson-Fair Haven
2022-23 Stats: 15.4 points, 72 3-pointers, 76.6 FT%
Schorr introduced himself to the Shore with an impressive scoring season for a sophomore that was rooted in smooth shooting stroke and ability to get himself space for clean looks. It was not all smooth sailing this season for the Bulldogs sharpshooter: after starting his career with a 25-point performance on opening night, he was bottled up in Rumson's next two games – including a one-point outing against Colts Neck and its standout defender, Mike Belcher. Schorr, however, made adjustments. The first time through the division schedule, he averaged nine points per game; the second time through, he went for 18 per game with three 20-plus-point performances. Schorr closed the year with scoring games of 27 and 21 in the NJSIAA Tournament and will go into 2023-24 as one of the Shore's top juniors to watch.
Top Five Finishers
| | | |
| --- | --- | --- |
| Player | Votes | Vote% |
| Luke Schorr, Rumson | 421 | 26.85 |
| Alex Frank, Marlboro | 206 | 13.14 |
| Drew Buck, Ranney | 166 | 10.59 |
| Chauncey Brown, Matawan | 131 | 8.35 |
| Connor Howard, SJV | 129 | 8.23 |
Griffin Linstra, So., 6-4, Forward, Manasquan
2022-23 Stats: 7.0 points, 7.2 rebounds, 2.45 assists, 1.0 steals, 71.7 FT%
Like just about every coach familiar with Manasquan, the voters looked past the stats and recognized everything Linstra brings to the table for the now-reigning Group II champions, not to mention Shore Conference champions. Linstra's credentials start on the defensive end, where he routinely guards the opponent's top threat and has shown an ability to defend every position on the floor. He defended smaller guards like Schorr (five points vs. Linstra) and Ranney's Isaac Hester (15 points in the SCT final), interior players like Middle Township's Re Ale Basquine (three points), and versatile forwards like St. Rose's Matt Hodge (three points in the second meeting between the teams) and South River's Roman Santos (seven points). Linstra posted double-doubles vs. the Patrick School (12 points, 13 rebounds), Hightstown (12, 11 and 6 assists), Rutgers Prep (11 and 11) and in the Central Group II final at South River (10 and 14), and had his two highest-scoring games vs. Shore Conference Tournament runner-up Ranney (20 and 15), including 15 points in the championship game at Monmouth.
Top Five Finishers
| | | |
| --- | --- | --- |
| Player | Votes | Vote % |
| Griffin Linstra, Manasquan | 408 | 27.53 |
| Nick Valentino, Red Bank | 221 | 14.91 |
| Ben Kipnis, Holmdel | 163 | 11 |
| Ta'haj Wiggins, Monmouth | 128 | 8.64 |
2023 All-Shore Final Vote Homepage
2023 Shore Sports Network All-Shore Teams: First | Second | Third
Every NJ celebrity with a star on the Hollywood Walk of Fame
More From Shore Sports Network