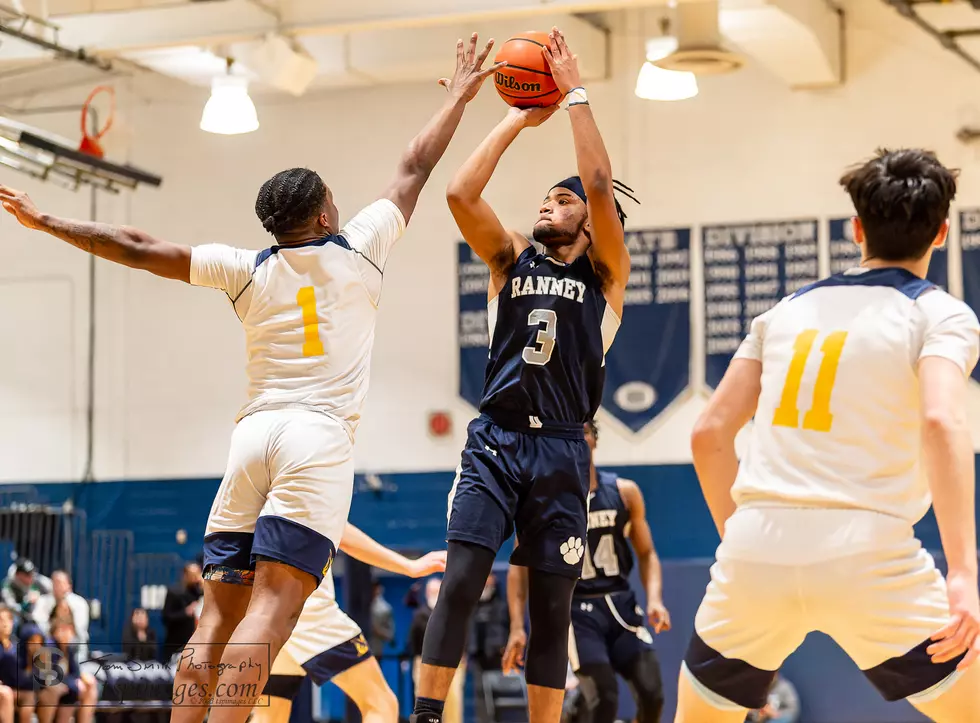 Boys Basketball – Shore Sports Network 2022-23 All-Shore Teams: First Team
Ranney senior Isaac Hester shoots over Toms River junior Micah Ford. (Photo: Tom Smith | tspsportsimages.com)

Shore Sports Network 2022-23 Boys Basketball All-Shore First Team
Players were selected by Shore Sports Network Basketball Editor Matt Manley based on stats, first-hand accounts, input from coaches and the impact the player had on his team. You can see the coaches' choices for All-Shore and All-Division here.
Darius Adams, So., 6-3, Guard, Manasquan
Key 2022-23 Stats: 20.4 points, 7.8 rebounds, 2.9 assists, 1.4 steals, 62 3-pointers, 75.4 FT%
Signature Game: Adams played two outstanding championship games in college arenas and at an individual level, it is very hard to separate the two performances. Considering, however, what the NJSIAA Group II championship victory over Caldwell meant to Manasquan basketball, that has to be the one. Adams was showcased his full set of skills at Jersey Mike's Arena on March 4, putting up 22 points on 8-for-13 shooting, 12 rebounds, five assists and two blocks to key a 62-29 Manasquan rout. The win gave Manasquan its first ever NJSIAA group championship and Adams – just like he did in the Shore Conference Tournament championship at Monmouth two weeks earlier – delivered a spectacular performance with the trophy on the line.
A year after cracking the All-Shore First Team as a freshman, Adams ascended to Player-of-the-Year status this season. He finished third in the conference with 20.4 points per game, scored a Shore-Conference-leading 653 points, led his team in rebounds and reached the 1,000-point plateau for his career on the way to 1,097 points by season's end. As mentioned above, Adams was at his best in big games, and that was not limited to championships. He averaged 23.5 points, 9.0 rebounds, 4.75 assists and 2.25 steals during Manasquan's run to the Shore Conference Tournament. In the Warriors' six-game run to their first ever NJSIAA Group II championship, he posted 21.8 points, 9.3 rebounds, 2.8 assists and 1.3 steals.
To read up on Adams's entire Player-of-the-Year campaign, check out his Player of the Year profile.
Matthew Hodge, Jr., 6-8, Forward, St. Rose
Key 2022-23 Stats: 14.75 points, 9.6 rebounds, 4.0 assists, 1.75 steals, 1.4 blocks, 30 3-pointers, 72 FT%
Signature Game: Hodge's consistency is what made his and his team's season so special, so it is hard to run through his performances and find one that is any greater than the other. It is worth noting, though, that his first big performance as a member of the Purple Roses and his performance in St. Rose's last win look awfully similar. On Dec. 22, Hodge canned six three-pointers on the way to 20 points, eight rebounds and three assists to help St. Rose earn an early statement win over Manasquan. Fast-forward to March 1 when the do-it-all junior helped St. Rose clinch its first South Jersey Non-Public B championship with 20 points, eight rebounds and four assists – including two dagger three-pointers – to beat Bishop Eustace in the sectional final.
Since he showed up stateside over the summer and joined the St. Rose program, Hodge has been generating a buzz for himself and a resurgent Purple Roses program under head coach Brian Lynch. When the actual high school games started in December, the 6-foot-8 native of Belgium was as advertised. Playing as a point forward for the Purple Roses, Hodge did everything for St. Rose: ran the point, crashed the offensive glass, hit threes, took defenders off the dribble, created shots for teammates, guarded perimeter players, defended the post and protected the rim. And more times than not, he was good for a highlight-reel dunk.
While Hodge could be flashy at times, he spent most of his time giving St. Rose exactly what it needed, whenever it needed it. Sometimes, keeping it simple was spectacular. Although it came in an overtime loss to Ranney, Hodge played something resembling a perfect game: 21 points on 10-for-12 shooting, 15 rebounds, seven assists and two turnovers to go with two missed shots – which came on the last shot of regulation and the second-to-last shot of the game, which Hodge followed up with a putback to dress up St. Rose's margin of defeat. The junior standout closed his season with a second strong showing against state No. 1 Roselle Catholic (19 points, eight rebounds and two assists), giving him 19.25 points, nine rebounds, 3.25 assists and 1.25 blocks during the state tournament.
Hodge heads into the offseason with offers in hand from Virginia Tech, Maryland, St. Louis and Old Dominion and is trending toward returning next season as one of the players to watch around the state on a St. Rose team whose championship aspiration are sure to intensify.
Isaac Hester, Sr., 6-0, Guard, Ranney
Key 2022-23 Stats: 21.9 points, 7.1 rebounds, 3.05 assists, 1.95 steals, 65 3-pointers
Signature Game: Ranney's run to the Shore Conference Tournament championship as a No. 11 seed was one of the most entertaining stretches of the 2022-23 Shore Conference basketball season and Hester put on a show at Middletown South on quarterfinal Saturday. Facing third-seeded Toms River North, Hester dazzled the Shore Conference crowd with a tournament-high 33 points on 12-for-17 shooting while also grabbing 10 rebounds and coming up with four steals. Ranney went on to upset No. 2 St. Rose three days later before falling to No. 1 Manasquan in the championship game that following Saturday at Monmouth University.
Hester is a two-time All-Shore First Team selection having just missed a second-straight First-Team selection a year ago as a junior. On a deep, talented Ranney team in 2021, the senior guard made an instant impact and impression by teaming with Elijah Perkins to form a scary backcourt duo. Last year was a struggle – not so much for Hester to score and create offense, but in adjusting to a different roster without as much offensive firepower to share the defensive attention.
This year, he faced a similar challenge and looked like a player who had things figured out. Hester opened the season with 14 straight games scoring at least 21 points – which jumpstarted a season in which he finished second in the Shore Conference in scoring. During that stretch, however, Ranney put up an underwhelming 7-7 record, which dropped to 8-9. After starting 0-4 and needed a late push to qualify for the Shore Conference Tournament, the Ranney lineup came together around Hester, classmate Jahlil Bethea and junior Drew Buck. Hester averaged 21.6 points and 8.6 rebounds during Ranney's five-game stay during the tournament, leaving his mark on the Shore Conference season and at the Tinton Falls school.
Jayden Holmes-Cotter, Sr., 6-5, Forward, Freehold Township
Key 2022-23 Stats: 22.8 points, 14.4 rebounds, 1.6 assists, 0.6 blocks, 61.2 FG%
Signature Game: Special boys basketball seasons at Freehold Township quite often include a spirited win at CBA and this season's 20-win Patriots team turned in a memorable performance against the Colts on the road. In that 71-70 double-overtime win, Holmes-Cotter was – as he usually is – the most dominant player on the floor. Not only did he go off for a game-high 24 points and 18 rebounds, but he also scored the game-tying layup in the final seconds of the fourth quarter to push the game into overtime, then delivered the winning basket with 10 seconds left in double-overtime. In two games vs. CBA this season, Holmes-Cotter averaged 21.5 points and 15 rebounds.
While Holmes-Cotter's 28 points and 14 rebounds against CBA was his signature performance, that stat-line was nothing out of the ordinary for the Shore Conference's double-double machine. In all, Holmes-Cotter recorded a double-double in 23 of Freehold Township's 25 games and his 18 straight games with a double-double to open the season only ended when he fell ill and had to miss the team's 19th game of the season.
The result was a rare feat for a player in any conference: Holmes-Cotter led the Shore Conference in both scoring and rebounding on a per-game basis. This was also the second straight season in which Holmes-Cotter was the only player in the Shore Conference to post at least 20 points and 10 rebounds per game, which he blew past this season in pulling in nearly two full rebounds per game more than runner-up Jayden Elijah of Matawan (12.46 per game). With Holmes Cotter leading the way in performances like the one at CBA, a 20-20 game vs. Holmdel and with a 31 and 15 outburst in a Shore Conference Tournament win over Keyport, Freehold Township got back to the 20-win mark for the first time in four seasons.
Ryan Frauenheim, Jr., 5-9, Guard, Manasquan
Key 2022-23 Stats: 11.3 points, 2.6 rebounds, 5.1 assists, 1.3 steals, 65 3-pointers, 79 FT%
Signature Game: If you ask anybody associated with the Ranney boys basketball program, that person would likely insist Frauenheim's two best games are the two he played against the Shore Conference Tournament runners-up during the regular season. In the first meeting, Frauenheim scored a career-high 29 points and in the second meeting, he beat it with 33. Still, neither of those are the game for Frauenheim. On the road at South River in the NJSIAA Central Group II final, with his team in a tight game with a 26-win opponent, Frauenheim rose to the occasion with 20 points, four rebounds and four assists to lead the Warriors to a fourth straight sectional championship.
Frauenheim's display of mental toughness and competitiveness in the win at South River perfectly captured who he has been for the Warriors from the time he jumped into the rotation as an undersized varsity freshman. When Manasquan was struggling to make layups and South River had jumped in front in front of its fired-up crowd, Frauenheim hushed the run with back-to-back three-pointers to close out a 16-point first half. After Manasquan finished off the victory, it marked the first time the Warriors had won a sectional championship as a true road team.
Frauenheim has shown a knack for hitting huge shots, many of which have been daggers in Warriors wins. In the Shore Conference Tournament final, he hit a three-pointer with two minutes to go that pushed Manasquan's lead on Ranney to seven and the Warriors coasted from there. He also hit two second-half three-pointers at Rutgers in the Group II championship game – part of a 24-6 third-quarter run against Caldwell that effectively clinched Manasquan its first ever NJSIAA group title.
If Frauenheim seemed like he was always playing for something more than the victory on that given night, it is because he was. His mother, Christine, died in November after a nine-year battle with cancer and with basketball practices just getting underway, the team rallied around their grieving teammate and his family. The result was a season for the ages at Manasquan and Frauenheim's first All-Shore selection – and a First Team one at that. Quite the loving tribute.
Jahlil Bethea, Sr., 6-1, Guard, Ranney
Key 2022-23 Stats: 19.7 points, 3.1 assists, 3.3 steals
Signature Game: Like his Ranney teammate, Hester, this is an easy answer and it might be the best answer of any player on the First Team. Facing a loaded St. Rose team that handled Ranney twice during the regular season in the Shore Conference Tournament semifinal, Bethea caught fire early, kept his team in the game and made the game-tying steal and goal-tended layup with two seconds left. When the smoke cleared, Bethea went off for a career-high 29 points with 4-for-7 three-point shooting.
Bethea got off to a late start while sitting the required 30 days as a transfer from the Patrick School, but what he lacked in volume compared to some of the other potential First-Team candidates, he made up for in impact. Upon Bethea becoming eligible, Ranney transformed from a 5-6 team struggling to get over the hump against opponents of various shapes and sizes into a championship-contending squad. After going 5-6 without Bethea, Ranney went 12-5 with him in the fold and the losses came against big-name teams: Manasquan twice, St. Rose, Rutgers Prep and Bishop Eustace.
Bethea's production was steady for all 18 of his games in 2023 and he also added a premium perimeter defender to a Ranney team that needed a more defensive slant to its game-by-game approach following a slow start. In a Shore Conference Tournament win over Jackson Memorial, Bethea had a solid offensive showing with 14 points and three assists, but really made his mark on the game by coming up with four steals and holding Jaguars standout Samir Padilla to 11 points. That was one of only four games in which Bethea scored fewer than 17 points, with the senior scoring at least 20 in eight of the 17 games in which he played.
While he had to sacrifice a month of his senior season in order to play at Ranney, Bethea made his time on the court count by consistently producing on both ends while playing 15 of his 17 games played against teams that either finished with a winning record or won a Shore Conference division title share.
READ MORE: Now that you have met the six members of the First Team, continue on to SSN All-Shore Second Team.
More From Shore Sports Network