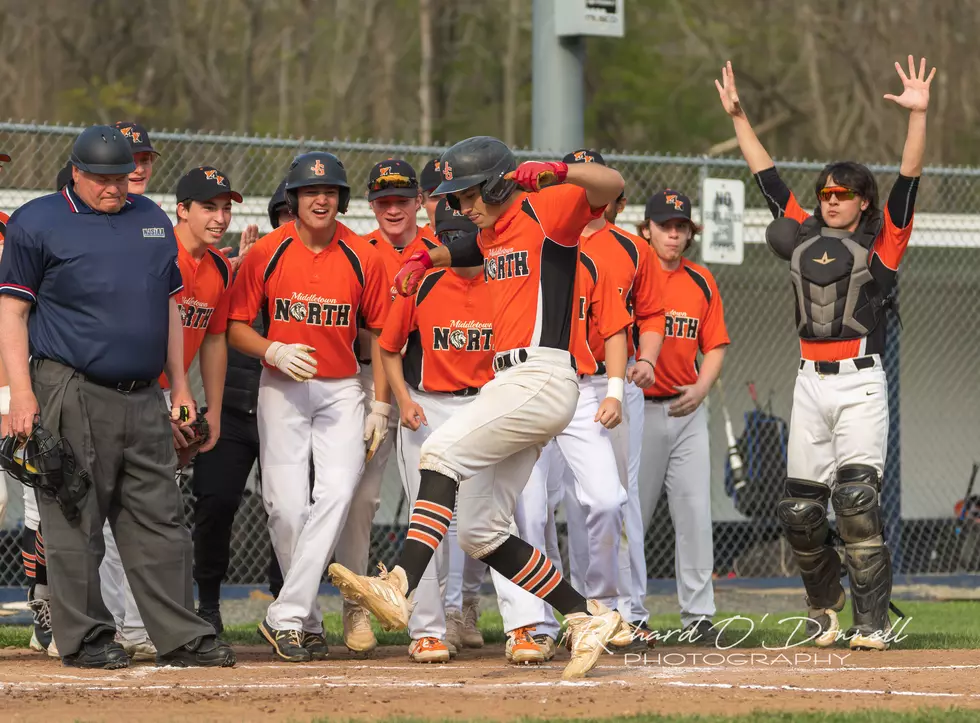 Baseball – Middletown North's Run at a Repeat Ends vs. Resurgent Mainland
Middletown North senior Ryan Frontera is greeted at home plate by his teammates after homering at Middletown South. (Photo: Richard O'Donnell Photography)

MIDDLETOWN -- The Middletown North baseball players knew how dangerous visiting Mainland Regional was heading into Monday's NJSIAA Group III semifinal at Rich Veth Field because the Mustangs are playing a lot like the version of Middletown North that won the Group III championship last season.
Middletown North battled up until the 21st out like the defending champions that the Lions are, but Mainland's stark postseason turnaround continued with a 5-4 win over the reigning Group III champions that carries the Mustangs into the Group III championship game for the first time in 19 years.
"It's tough because these guys wanted more," Middletown North coach Ryan McCabe said. "I'm sure, in a little while, when they look back, they'll realize this was a great run and a really successful season for us, but this group always wants to keep playing. They got to experience a championship last year and that's the expectation now."
Mainland entered the NJSIAA Tournament 9-13 and has now climbed above a .500 winning percentage for the first time since the Mustangs were 4-3 on April 17. Middletown North pulled a similar feat last year, falling to 9-10 on the cutoff day of the Shore Conference Tournament, then winning its last 12 games of the season to win the Group III championship.
"Yeah, we know what they are feeling right now," Middletown North senior shortstop Ryan Frontera said. "They are a talented team and they are playing with a lot of confidence. That's what happened with us last year. Once we started to trust our talent and believe in one another, we were hard to beat. We played a good game today, but hat's off to them. They are playing really well right now."
Middletown North had to dig out of a 5-0 hole in the final three innings and nearly pulled it off once its offense finally broke up the shutout by Mainland sophomore right-hander and University of Miami commit Jake Lodgek in the bottom of the sixth.
With Lodgek cruising into the sixth on 91 pitches, a pair of Mainland miscues in the field opened the door for Middletown North and knocked the sophomore right-hander out. Frontera walked and moved to second base on a wild pitch to start the rally. With one out, sophomore Zach Hampton punched a ball up the middle for an infield single and when second baseman Jake Blum mishandled it, Frontera sped around third and scored the first Lions run.
An error on a groundball to third base by Colby McMahon made it 5-2 with one out, but sophomore right-hander Jake Lodgek came through with a huge strikeout looking on a 3-2 pitch to Jason Quardt that the Middletown North junior leftfielder did not appear to agree with. Sophomore and starting pitcher Gabe Ahlemeyer then flied out to left to end the threat.
With sophomore right-hander Alipio Figueroa coming out of the bullpen keeping Mainland off the board in the sixth and seventh innings, Middletown North made some more noise in the seventh. Sophomore Aldo Casale -- who came off the bench to play third base on the pitching change -- slapped a line-drive single into rightfield to lead off the inning.
After a strikeout by reliever Ethan Mitnick -- who took over with one out, two on and a 4-1 lead in the sixth -- moved Mainland within two outs of clinching the victory, Frontera unloaded on a 3-1 pitch and launched it over the leftfield fence for a two-out homer and a one-run deficit.
Frontera -- just one of two seniors starters, along with first baseman R.J. Kernan -- returned to a fired-up dugout that had reached peak belief that a comeback win was imminent.
Mitnick responded by inducing a pop-up to shortstop Brady Blum, who ran in from his position and navigated the pitchers mound to make a basket catch. Mitnick then finished the game off with a breaking ball for a swinging strikeout.
With Ahlemeyer and Figueroa pitching to contact, Middletown North's defense was on display, particularly Quardt in leftfield and centerfielder Dylan Briggs. The two speedy juniors chased down well-struck fly balls throughout the game, starting with a towering blast to left-center by Mainland centerfield Christian Elliot to lead off the game. The ball traveled a good 370 feet, but that wasn't enough to get it out of the confines of Veth Field, nor out of the reach of Briggs in center.
Two plays on defense, however, cost Middletown North two runs in the top of the second inning. A bunt attempt by Brady Blum turned into an infield since and a second-and-third set-up for the Mustangs when Ahlemeyer threw wide of first base in a desperate attempt to get the first out of the inning.
On the next play, Frontera juggled a groundball ball before alertly firing it to third base in an attempt to cut down the advancing lead runner. Blum, however, slid under Hampton's tag just in time, giving Mainland a 1-0 lead with runners on the corners and none out.
Bryan Perez followed with a sacrifice fly before Ahlemeyer struck out the next two hitters to limit the damage to a pair of runs.
"I thought we gave up some light runs early, especially those first two" McCabe said. "I think we made a good deal of solid contact and caught some barrels. We had a close play at third that was a good read by Ryan and the sac fly after turns out to be big in a one-run game. That was one we'd like to have back and it was just a couple of little plays. When you play a really good team, those add up."
Mainland stayed on Ahlemeyer in the third inning, with Elliot crushing a double off the left-centerfield fence and scoring on a sacrifice fly by Blum. Jack Haines then delivered a clutch two-out, RBI single to stretch the Mainland lead to 4-0.
Ahlemeyer walked the leadoff man in the fifth and Middletown North went to sophomore right-hander Alipio Figueroa out of the bullpen. Colin Cook then dropped a bunt up the first-base line and it stopped directly on top of the chalk. As if that was not bad enough for Middletown North, Mike Wagner advance all the way to third while the Lions were letting the ball roll in hopes that it would eventually kick foul.
Mainland capitalized with another sacrifice fly from Brady Blum to make it 5-0 and leaned on Lodgek to carry the game as long as he could.
Monday's loss was the first time Middletown North has lost a game in June since 2021. Over the past two seasons, the Lions are a combined 10-14 in April games, and 28-5 in May and June, with a 7-0 mark in June before Mainland held on for dear life to beat the Lions on Monday.
Middletown North's transformation from middling program to elite Group III championship contender has appeared stunningly swift, but has been a process that started when McCabe took over before the 2019 season. The foundation was in place in both 2020 and 2021, but circumstances outside the Lions' control stalled the breakout.
The 2020 season was canceled in the midst of the COVID pandemic, but Middletown North showed its promise with a strong showing in the Last Dance World Series in the summer of 2020, making it to the final 16 teams in the southern part of the state behind a relentless lineup and three dominant pitchers.
Two of those pitchers -- Danny Frontera and Colin Dowlen -- returned in 2021 and got Middletown North off to a red-hot start, with the Lions climbing into the state top 20 at one point. Dowlen pitched a no-hitter against a Middletown South team that went on to win the Group III title, but dealt with elbow discomfort coming out of that start.
"That was the most talented team we had, at least from a pitching standpoint," McCabe said. "That first year (in 2019), we took our lumps, learned from it and after that, our expectations were to be right there every year, competing for championships."
Middletown North struggled with Dowlen shut down, but still managed to advance in the Central Group III tournament, with Dowlen set to pitch in the next round. The right-hander battled against eventual sectional champion Colts Neck, but wasn't the same pitcher as he was pre-injury and the Cougars eliminated the Lions, ending their season at 11-10.
In 2022, Dowlen returned as a bridge-year senior and the Lions again entered the season with high hopes, but things again went south in a hurry -- this time early in the season. Tony Sansone had also returned as a bridge-year two-way player but suffered a season-ending injury. Kernan, meanwhile, injured his knee and missed most of the season, as well as the first two weeks of 2023.
With all of those issues, Middletown North started the season 5-8 and failed to qualify the Shore Conference Tournament when it lost to Red Bank on the day of the cut-off to drop to 9-10.
"We had guys we expected to contribute for us who weren't able to give us anything and we looked around and said we've got to make due with what we have," McCabe said. "These are incredibly resilient kids. It's one of the reasons I thought we always had a shot in this game today."
At that point, Middletown North's fortunes completely turned around. While the team still missed Kernan and Sansone, senior catcher Andrew Lombardi returned in the designated hitter role and added significant power to the middle of the order. Mike Weinbel and Matt Adamson found their footing as the Nos. 2 and 3 pitchers in the rotation, while young players like Hampton, Briggs, Quardt and Colby McMahon began to emerge.
While all that was happening, Dowlen caught fire again on the mound. With everything finally clicking, the 9-10 Lions did not lose again, closing the season with 12 straight wins, including six in the NJSIAA Tournament to win the Group III title for the first time ever.
This season again started slow for Middletown North, but after a 2-5 start, Middletown North welcomed Kernan back to the middle of the order and got rolling again. The Lions closed their division schedule on a 7-1 tear, finishing as the Class A North public division champions. They then made it to the Shore Conference Tournament quarterfinals and battled eventual champion Red Bank Catholic before ultimately losing, 4-2.
That RBC loss was just one of three Middletown North suffered after the calendar flipped to May, with the other coming in a loss to Point Pleasant Beach on the day of the NJSIAA Tournament cutoff.
Middletown North is set up to continue its success next season, when the Lions are set to return seven of nine starters in the lineup, their three top pitching options in Hampton, Ahlemeyer and Figueroa and a pair of defensive specialists in Casale and junior outfielder Connor Walsh. Frontera and Kernan are the last links to the Middletown North teams that fell short of championship expectations and, according to Frontera, their struggle is why the program is in such good shape as they leave it.
"It started with the seniors last year and even going back to the year before with my brother," Frontera said. "We had some tough losses and a lot of adversity, but we still had great leaders who helped the program take the next step and really paved the way for the young guys on last year's team. This is a really tight group, we have a lot of talent and these guys who are coming back, they are going to be good. The program is in great hands."
Box Score
Mainland 5, Middletown North 4
| | | | | | | | | | | |
| --- | --- | --- | --- | --- | --- | --- | --- | --- | --- | --- |
| | 1 | 2 | 3 | 4 | 5 | 6 | 7 | R | H | E |
| Mainland (14-13) | 0 | 2 | 2 | 0 | 1 | 0 | 0 | 5 | 4 | 2 |
| Midd North (17-9) | 0 | 0 | 0 | 0 | 0 | 2 | 2 | 4 | 6 | 2 |
Pitching
| | | | | | | | |
| --- | --- | --- | --- | --- | --- | --- | --- |
| Mainland | IP | H | R | ER | BB | SO | PC |
| Jake Lodgek (W, 4-2) | 5.1 | 4 | 2 | 0 | 3 | 7 | 109 |
| Ethan Mintick (SV) | 1.2 | 2 | 2 | 2 | 0 | 2 | 32 |
| | | | | | | | |
| --- | --- | --- | --- | --- | --- | --- | --- |
| Middletown North | IP | H | R | ER | BB | SO | PC |
| Gabe Ahlemeyer (L, 6-3) | 4 | 3 | 5 | 4 | 5 | 2 | 71 |
| Alipio Figueroa | 3 | 1 | 0 | 0 | 0 | 1 | 28 |
Top Hitters
| | |
| --- | --- |
| Mainland | Game Stats |
| Christian Elliot | 1-3, 2B, BB, R, SB |
| Colin Cook | 1-1, 2 BB, R |
| Brady Blum | 1-1, R, 2 RBI |
| Jackson Haines | 1-3, 2 RBI |
| | |
| --- | --- |
| Middletown North | Game Stats |
| Ryan Frontera | 1-3, HR, BB, 2 R, 2 RBI |
| Dylan Briggs | 1-2, BB |
| R.J. Kernan | 1-3, BB |
| Zach Hampton | 1-4, R |
| Aldo Casale | 1-1, R |
| Gabe Ahlemeyer | 1-3 |
More From Shore Sports Network