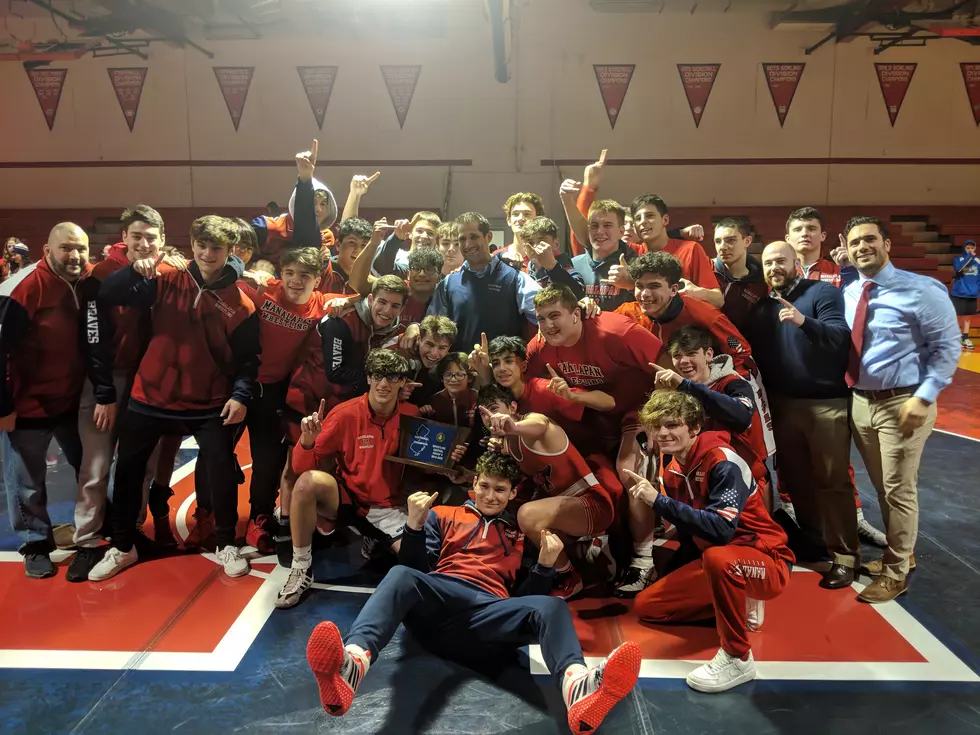 Wrestling – Manalapan Ends 28-Year Drought With CJ V Championship
Photo by Matt Manley

Enter your number to get our free mobile app
MANALAPAN - With his Manalapan wrestling team needing a spark past the halfway point of Friday night's Central Jersey Group V championship match against Hunterdon Central, junior George Zavalnik had only two things on his mind: throw his opponent on his back and go get something to eat.
The quicker he completed his first task, the sooner he could get to work on the second.
Zavalnik cut weight to wrestle at 195 pounds and overpowered Red Devils sophomore Nick Lewis for a pin at 3:47 to set off the Manalapan comeback, sparking the Braves to a 38-19 win over Hunterdon Central that secured the program's first NJSIAA sectional championship since 1992.
"It made everyone's hopes go up," Zavalnik said. "Everyone just wanted to win. It's been since 1992 - it's about time."
Manalapan fell into a 16-3 hole and trailed 19-10 when Zavalnik took to the mat for the 195 bout. He kept control of the match over the first period-and-a-half but only had a 3-0 lead to show for it to that point.
"I try to feel out my opponent," Zavalnik said. "If I have a hard opponent, I try to wear him down. If I have a lighter opponent, I try to finish him quick, so I can go eat."
Zavalnik quickly changed the tenor of the match when he powered Lewis to the ground near the boundary and pressed him onto his back for a quick-strike pin.
"I'm more of a thrower - I like to throw people, I like to slam people," Zavalnik said. "I just look for the open holes and just go for it. Just throw them and hope I don't kill them."
Manalapan coach Scott Pressman called Zavalnik's slide down from 220 to 195 his "big move" with regard to his lineup.
"I think Georgie's pin came out of nowhere and that was huge," Pressman said. "He sucked it up for the team, he cut down a weight, which was our big move and it ended up paying off."
The move paid immediate dividends, with Zavalnik cutting the deficit to 19-16 and 26-3 junior Gavin Claro coming through with an 8-0 major decision at 220. Claro held a 6-0 lead late in the third period and Hunterdon Central senior Brandon Donoghue just needed to avoid a takedown to avoid conceding a bonus point.
Claro, however, had other ideas. He got his left foot inside Donoghue's right leg and tripped him to the ground with 12 seconds remaining, holding on for the final seconds and nailing down the extra point to give Manalapan a 20-19 lead.
"I was hearing the crowd yell out how much time was left and I heard some people saying we need the major," Claro said. "I'm always working on my inside trip. I saw my opportunity and I went for it. It paid off in the end.
"After that, I think we just smelled blood and kicked it up a notch."
Manalapan extended its lead at 285 after senior Matt Kovacs drew actual blood and won by injury default over freshman Jacob Tulli after one period. Kovacs tackled Tulli to his back and might have ended the bout with a fall if not for a nosebleed that forced the officials to stop the clock and separate the wrestlers. Tulli was tended to during three different stoppages during the period and deemed unable to continue before the start of the second.
Trailing 29-19 with three bouts to go, Hunterdon Central faced a virtual must-win at 106 with freshman Henry Wilkinson taking on Manalapan Anthony Vitola. Wilkinson took a 4-2 lead with a takedown in the second period but Vitola came through with the tying points in the final 30 seconds by riding Wilkinson to the mat and spinning into position.
"With all the adrenaline pumping, I'm sure he (Wilkinson) didn't expect that to happen," Vitola said. "I didn't even expect either. You just go for things in the moment."
Vitola ended the match with a takedown in the first minute of overtime, giving Manalapan a 29-19 lead and putting Hunterdon Central in the nearly-impossible position of needing four bonus points in the final two bouts.
"I saw the shot coming," Vitola said. "He kept going for a snap and I just popped my hands up, went for the double and tried to get my points and get off the mat with a win."
Senior Justin Schifter dashed Hunterdon Central's hopes and clinched Manalapan's elusive championship by pinning Chris Dill in 2:37.
Manalapan junior Chris Balzano capped the night with a 10-6 decision over sophomore Aidan Portnoy, officially setting off the celebration 28 years in the making.
Friday's match began at 126 pounds, which played to Hunterdon Central's strength and helped the Red Devils take a sizable early lead. Manalapan, though, made sure it was not big enough thanks to a 7-4 win by freshman Vincent DePierro at 132 over Red Devils junior Curtis Wheatley.
Manalapan also avoided conceding bonus points at 126, 138, 152 and 182. Sophomore Nick Canonica could not get the last two points necessary for a technical fall against Manalapan senior Calvin Burke in an 18-5 major decision to open the match at 126. Sophomore Tanner Peake had the same difficulty against junior Jason Porcaro at 138, settling for a 13-1 major decision.
Junior Colton Washleski delivered a technical fall, 20-5, at 145 for his 30th win of the season, but 27-3 senior Anthony Romaniello came up short of a major decision at 152, settling for a 7-1 win over Braves senior Hunter Konstantoulas.
"We knew they were super-talented in the middle weights and we were just trying to minimize some damage knowing we could make it up on the back end," Pressman said. "We felt really good after the 132 bout - that was a big swing bout. You don't feel great when you are losing on the scoreboard but in general, we had a good feeling."
Senior Matt Benedetti picked up a 6-2 victory at 160 in a showdown with 30-3 junior Norman Cella, which halted a three-match winning streak for Hunterdon Central and made the score 16-6.
Senior Dylan Waller stormed out to a quick lead at 170 and made a push for a pin at the end of the first period, but ended up on his back against Hunterdon Central senior John Rieche. Waller wiggled out of the pinning predicament and went on to dominate the final two periods on the way to a 16-7 major decision.
Hunterdon Central sophomore Vincent Brito made a major decision bid at 182 but senior Mike Slitas held him off in for an 8-2 decision. Zavalnik followed with his pin at 195 and Manalapan was off and running.
Hunterdon Central's need for early bonus points coupled with Manalapan's dominance after 152 underscores how far Manalapan has come since last year when the Braves lost to Hunterdon Central in last year's sectional final.
"When you have a group of kids who are mature, who understand what's going on and are good leaders, you just have confidence," Pressman said. "I have seen them train and seen them compete - some of them since they were five years old. I know what kind of people they are, so we lay out a game plan for them and I don't think there is ever any sense of panic. They just do their job."
The Braves advance to the Group V semifinal against Watchung Hills, which the two teams will wrestle on Sunday at RWJ Barnabas Health Arena in Toms River.
"We're making history," Claro said. "There is nothing else to say. It's great."