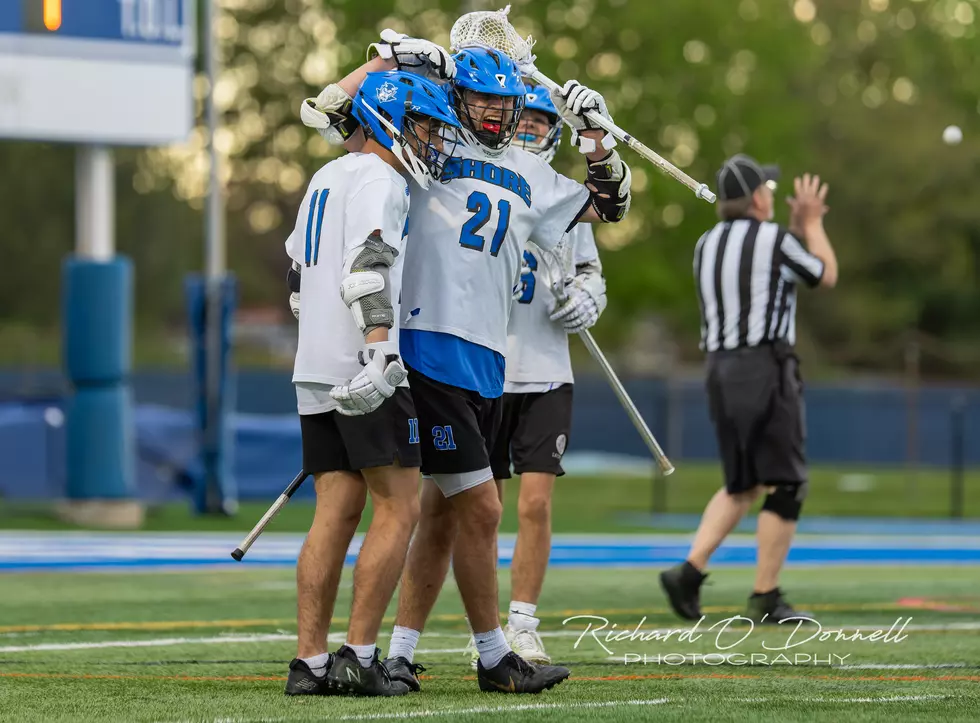 Shore Regional Rolls Past Red Bank Catholic and into Shore Conference Tournament Quarterfinals
Richard E. O'Donnell

WEST LONG BRANCH -- After nearly pulling off an upset just five days earlier, Red Bank Catholic had to have felt pretty good about its chances in an immediate rematch with Shore Regional during the first round of the Shore Conference Tournament.
As it turns out, the Blue Devils were just as excited to see the Caseys right away for round two.
Senior attackman Carson Cooke scored four goals and senior midfielder Jame Mazzacco scored three goals and assisted on two others as the Blue Devils, ranked No. 5 in the Shore Sports Network Top 10 and seeded sixth in the SCT, started fast and never let up to defeat 11th-seeded RBC, 13-3, on Monday evening at Feeney Field.
Sophomore midfielder Sam Madalone added two goals and two assists, sophomore attackman Carson "Gary" Spallone scored twice, Andrew Decker and Aidan O'Brien each scored once, and junior goalie Walker Hunter made 14 saves to lead the Blue Devils into the quarterfinals where they will face third-seeded Wall on Thursday afternoon.
"Last week it was the first hot day we've had, it was a random Thursday game, we had to go there; a lot of things just didn't feel right," Mazzacco said. "But after that game, we knew if we got them again it would be a completely different game. You might think we would be nervous after (the close game) but it's RBC, public school vs. Catholic school, they take guys from us. At the end of the day we go to war, it doesn't matter who it's against, what seed, what rank. It's just two teams, and we came out hot today and got the job done."
"It was a total team effort and we told the guys it was going to be about the little things," said Shore head coach Gregg Malfa. "We talked about working hard on ground balls, especially on face-offs, and we figured if we could get possessions and be patient we would be fine. And going back to the first game, we saw how our defense held them to one goal in the second half and we said we have to come out and play with that same kind of intensity and grit from the beginning. We couldn't make it a trade-goals game like we did the first time."
"And it always helps when you have Walker in net."
It was all Shore (10-2) in the first quarter when Cooke scored midway through and Spallone scored both of his goals to stake the Blue Devils to a 3-0 lead. The advantage grew to 4-0 when Madalone scored early in the second quarter, then goals by Cooke and Mazzacco stretched the cushion to 6-0 with 3:29 left in the first half. With 1:01 left, Cooke skipped a shot in for a commanding 7-0 lead. It wasn't until Jackson Lu scored with 48 seconds left in the first half that RBC finally got on the board.
RBC is a high-scoring team that is difficult to stop once it gets rolling. The Caseys are playing without standout senior Anthony Muniz at the moment but with standout junior middie Torin Harmon leading the way they can be quite formidable. Harmon finished with three assists and had some great looks, but the Blue Devils never let him take over the game. The entire defense was active with their sticks in altering and deflecting several RBC shot attempts.
"I think our D-middies, Lucas White and Aidan O'Brien, played tremendous," Malfa said. "Torin Harmon and Sam Fertal, those guys can score, so to hold them to limited points leads to a good solid defensive outing."
Red Bank Catholic had some pressure early in the third quarter and trimmed its deficit to 7-2 when Harmon set up Connor McGee for a transition goal. Shore got that goal back, however, when Mazzacco stepped into a shot and blasted it up an over Christian Schrader to make it 8-2. Mazzacco then finished a slick feed from Aidan Murphy for a 9-2 lead that Shore held into the fourth quarter.
A bounce shot by Andrew Decker found its mark early in the fourth quarter before Madalone scored his second goal to make it 11-2 and put the game well out of reach. Fertal, a junior midfielder, scored for RBC at 8:57 but Shore secured the final two goals of the game on strikes by Cooke and Aidan O'Brien.
Now it's onto the SCT quarterfinals and a date with a Wall team that is fast, physical, and experienced in the latter stages of the conference and state sectional tournaments. The Crimson Knights will enter the game with a 13-2 record, ranked No. 3 in the SSN Top 10, and ranked No. 17 in New Jersey. The two teams met in last season's SCT quarterfinals with Wall earning an 8-6 win.
"It's a measuring stick," Malfa said. "Wall is ranked in the state and highly-ranked in the Shore and they have a lot of quality players. You want to play those teams because you know if you can hang with them you can play with almost anybody in the state. We didn't want to look too far ahead but I know our guys are looking forward to it. A lot of the guys know each other, play summer and club ball with each other, and it's always a competitive game. It's usually not more than a one- or two-goal differential and it's always hard-fought."
"We're familiar with that Wall team because we played them last year in the exact same spot," Mazzacco said. "They took it from us last year and here we are this year with another shot. We have to go and take it from them."
Check back for an expanded photo gallery by Richard O'Donnell
Shore vs. Red Bank Catholic, SCT Boys Lacrosse
Box Score
6-Shore 13, 11-Red Bank Catholic 3
RBC (11-6)   0 1 2 0 --  3
Shore (10-2) 3 4 2 4 -- 13
GOALS -- RBC: Sam Fertal, Connor McGee, Jackson Lu; S: Carson Cooke 4, Jamie Mazzacco 3, Sam Madalone 2, Carson Spallone 2, Andrew Decker, Aidan O'Brien.
ASSISTS -- RBC: Torin Harmon 3; S: Jamie Mazzacco 2, Sam Madalone 2, Aidan Murphy.
SAVES -- RBC: Christian Schrader, 22; S: Walker Hunter, 14
POP QUIZ: Can you name all 10 interstate highways in New Jersey?
More From Shore Sports Network