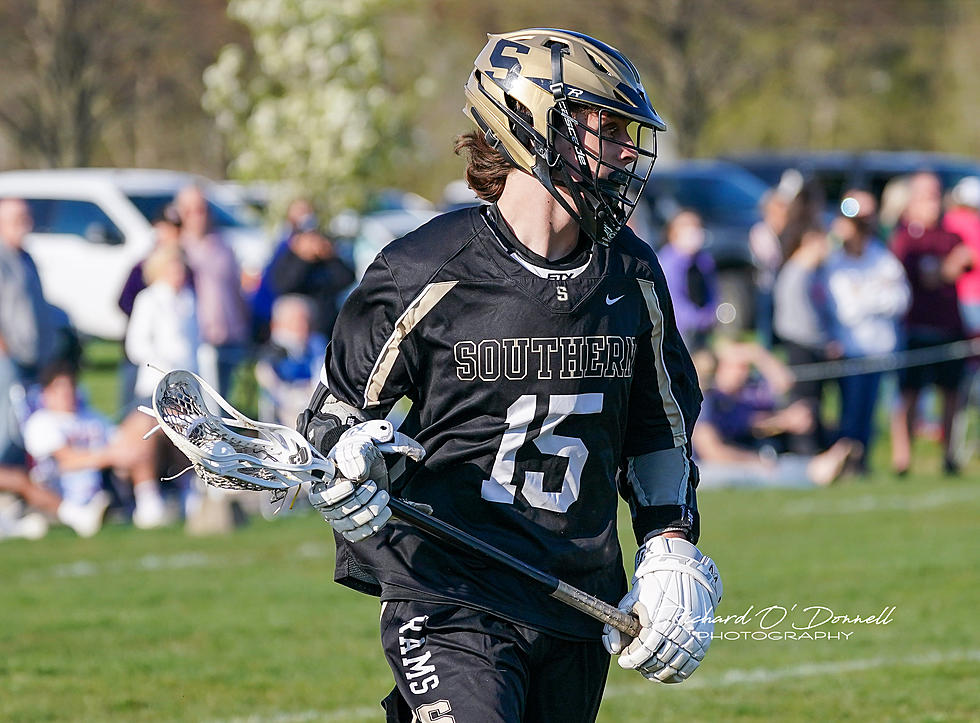 Shore Conference (NJ) Boys Lacrosse Scores & Recaps for Tuesday, April 27
Richard O'Donnell

Tuesday, April 27
Class A South
No. 5 Southern 14, Toms River North 0
Junior midfielder Ryan Sininsky delivered three goals and three assists while junior midfielder Zach Washco and sophomore attackman Joey DeYoung each sank three goals as the Rams (2-1, 2-0) blanked the Mariners (1-2) for their 51st straight divisional victory.
Jake Washco added a pair of goals while Jake Cornelius and Andrew Mulholland had a goal and an assist each and Shea Hille scored his first varsity goal. Sophomore midfielder Kurt Falk dominated the face-off X by winning 14 of 18 draws. Goalies Tyler Sininsky (5 saves) and Nick Roesch (3 saves) combined for the shutout.
Class B South
Lacey 12, Point Boro 8
Senior Chase Granit scored a career-high seven goals and Steven Starner won 19 of 24 face-offs as the Lions (2-2) scored six goals in the third period to rally past the Panthers (1-2).
Wolf added a goal and two assists, Mike Long and John Dodaro had a goal and an assist each and Kownacki and Delapote scored one goal apiece. Mike Walizer backstopped the win by making 10 saves.
Junior midfielder Aiden Kirk scored four goals and added three assists to lead Point Boro. Brian Ostrander, Matt Koehler, Nick Campbell and Chris Criscuolo each scored once and Matthew Azzarano made 15 saves.
Nondivisional
No. 8 Jackson Memorial 13, Jackson Liberty 1
Senior midfielder Drew Walenty tallied four goals and two assists and senior attackman Justin Perillo scored three goals and one assist to lead the Jaguars (3-0) to a blowout win over the Lions (1-2).
Charlie Harrison had two goals and two assists and went 10-for-10 on face-offs. Drew Barocas added two goals, Alex Ariel had a goal and an assist and Aiden Rose scored once. Matt DeRosa assisted on four goals and Tim Salisbury picked up 10 ground balls. Senior goalie Chad Szatkowski made seven saves.
Matthew LaBianca was under heavy fire all game and made 28 saves for Jackson Liberty. Paul Capozzi scored the Lions' lone goal.
St. Rose 15, Central 1
Senior attackman Brendan Dwyer scored five goals and senior midfielder Logan LeMoult scored four goals to power the Purple Roses (4-0) to a win over the Golden Eagles (0-4).
Tim Keegan had a goal and three assists. Colin Westhoven had a goal and an assist, picked up seven ground balls and won 10 of 12 face-offs. James Vitale also had a goal and an assist plus eight ground balls. Sean Lattimer, Morgan Fahy and James Magrini scored once and senior goalie Max MacEachern made four saves.
Jahaziel Garcia scored the lone goal for Central.
Barnegat 19, Neptune
Senior midfielder John Porcelli scored seven times and also had an assist and senior attackman Tyler Quinn scored four goals to power the Bengals to a win over the Scarlet Fliers.
Jerry Weir and James Corliss each tallied two goals and one assist, Kurt Bonin had a goal and two assists and Aiden Reiser scored a goal and an assist. Robert Sawicki and Seith Friewald each scored once and Andrew Vernieri went 16-for-19 on face-offs.
Nonconference
No. 3 CBA 15, Shawnee 5

Senior midfielder Michael DeRosa scored four times and senior FOGO Jared Lucich won 17 of 22 face-offs and scored a goal as the Colts (3-1) scored eight times in the first quarter on their way to a convincing win over the Renegades (0-3).
Ged Clark had two goals and one assist and Ryan Howard, Brendan Donnelly and Sean Tennyson each scored twice. Hayden Kelly and defenseman Aidan Quinn also scored once. Senior goalie Noah D'Andrea made six saves.
LOOK: 50 images of winning moments from sports history
Sometimes images are the best way to honor the figures we've lost. When tragedy swiftly reminds us that sports are far from the most consequential thing in life, we can still look back on an athlete's winning moment that felt larger than life, remaining grateful for their sacrifice on the court and bringing joy to millions.
Read on to explore the full collection of 50 images Stacker compiled showcasing various iconic winning moments in sports history. Covering achievements from a multitude of sports, these images represent stunning personal achievements, team championships, and athletic perseverance.
More From Shore Sports Network