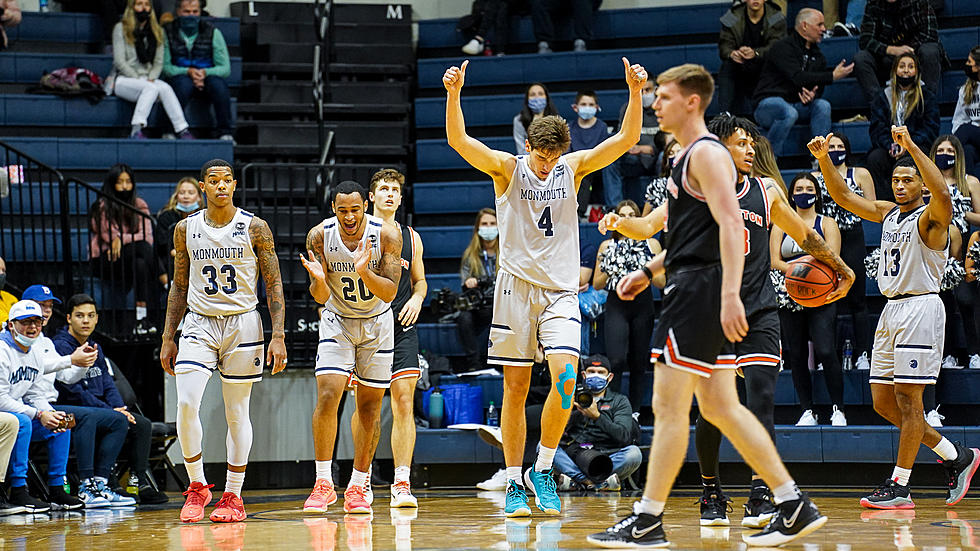 Reynolds, Monmouth Off to 4-1 Start After Locking Down Princeton in the Second Half
Shavar Reynolds (33) and Monmouth teammates Tahron Allen (20), Walker Miller (4) and Marcus McClary (13) celebrate during a win over Princeton. (Photo: Monmouth Athletics)

WEST LONG BRANCH – Monmouth coach King Rice calls his four graduate seniors "the grown men" and of those four exceedingly-experienced college basketball players, Shavar Reynolds has seen more battles than anyone.
Never one to shy away from a little adversity, Reynolds fought his way back from a bout with the flu to take the floor Wednesday night for the Hawks against Princeton and provide a critical lift on offense for a team that played its best defensive game of the young season.
Reynolds hit three consecutive three-pointers during a huge stretch of the second half, finished with 16 points and was part of a dominant defensive performance that carried Monmouth to a 76-64 win over Princeton at the OceanFirst Bank Center Wednesday night.
With the win, Monmouth improves to 4-1 for the first time since 1990.
"With each game, we have been weathering adversity and that's what championship teams do," Reynolds said. "We were down by 14 but we don't change. We stay even-keeled, we stay steady, and that's how championship teams are made. We just keep building on that each day."
Reynolds started both the first and second halves on the bench and in the second half, he entered with Monmouth trailing, 53-52, and keyed a 13-2 run by burying three straight three-pointers – the last of which put the Hawks ahead, 63-57, with 11:39 left.
Fellow graduate senior George Papas capped the run with a drive to the basket and finished with a game-high 20 points.
"My teammates kept believing in me," Reynolds said. "George was screening for me. Usually I'm the one screening for George, but he was like, 'No, no, you go.' That's a testament to coach Rice. You don't have to second-guess your shots. You can just play. As long as you are giving that same effort defensively, he'll let you just play your game. It's just my teammates playing hard and finding me and coach Rice allowing me to be myself."
While that spurt was the one in which Monmouth overtook Princeton for the lead, it was during the final 8:39 that the Hawks secured the win with a defensive performance to remember. After Princeton cut the Monmouth lead to 65-62 on a steal and jumper by top scorer Jaelin Llewellyn, Papas answered with a contested three-pointer to push the lead back to six.
From that point, neither Papas, nor Reynolds scored for the remainder of the game, but it did not matter because nobody from Princeton scored for more than seven minutes. Since the Llewellyn basket with 8:39 to go, the Tigers scored just two points the rest of the way and that basket came with 59 seconds left after coach Mitch Henderson waved the white flag and pulled his starters with his team down by 14 points.
When it was all said and done, Monmouth held a potent Princeton offense – which was averaging 76.75 points per game and had already beaten South Carolina at a neutral site and 2021 NCAA Regional Finalist Oregon State on the road – to a meager 18 points in the second half on 24 percent shooting. The Tigers threw up 46 in the first half on 51 percent shooting, with Llewellyn pouring in 13 of his 17 before halftime. At one point, Princeton led, 44-30 before Monmouth closed the gap to 46-39 be halftime.
"We were just a half-a-step slow (in the first half)," Rice said. "We were half-a-step slow on our switches and our traps and we talked more after halftime and in talking to one another on defense in the second half, our communication was so good that I think that kind into their legs a little bit, they got tired and we were able to get away from them."
Rice did some mixing and matching with his lineup during the second half, with Reynolds replacing true senior Samuel Chaput with 14:36 left, graduate senior and North Carolina transfer Walker Miller and sophomore Myles Foster sharing the center duties and true freshman Tahron Allen working into the lineup.
When Chaput re-entered the game after the under-eight media timeout to share the floor with Reynolds, Papas and graduate senior Marcus McClary, the defense hit its peak. That quartet, plus Foster for the first two-plus minutes and Miller for the next four-plus, completely shut down the Tigers offense down the stretch, with McClary and Chaput, in particular, doing a number on Llewellyn (2-for-8 shooting in the second half).
"We made more of an effort to pick up at 94 feet," Reynolds said of the second-half change. "We tried to push them out more – don't let them be so comfortable. In the first half, they were walking it down, getting into their sets. They were back-cutting us after we were letting them catch the ball in the high post. We were switching (screens) and giving them more lanes and leaving Walker behind us, so we just tightened that up and contested shots more."
Chaput (10 points, four assists and four steals) and McClary (nine points, six rebounds) also combined on the highlight-reel play of the night, with Chaput picking off one of his four steals and dropping it off to McClary on the break for a one-handed dunk.
Monmouth was without starting center Nikei Rutty and guard Myles Ruth due to illness, with Rutty battling the flu and Ruth coming down with pink eye, according to Rice. Rice said the flu had been going around the team, but that all of the players had cleared COVID-19 tests.
Reynolds was among those to catch the flu and although he was able to shake his fever in time to pass the pre-game screening, he still did not participate in the normal pregame routine on Wednesday and, as a result, did not start. He first entered at the 12:54 mark of the first half by replacing Chaput, who started in his place.
"(Reynolds) came to shootaround today and he did not participate," Rice said. "He went and put his running shoes on and did a couple moves. I said, 'You good?' He said, 'Yep.' I said, 'Okay, you're playing.'"
After shooting 6-for-12 overall and 4-for-7 from three-point range on Wednesday, Reynolds has now turned in back-to-back solid showings on the offensive end after a slow start over his first three as a Hawk. The Manchester native and former Seton Hall walk-on-turned-starter shot 12-for-35 over the first three games and fouled out in just seven minutes in a win over Towson on Nov. 13.
In a win over St. Joseph's Saturday in Philadelphia, Reynolds scored a season-high 25 points on 7-for-16 shooting before following that up with Wednesday's efficient 16-point effort.
Reynolds, along with Miller, are now settling in as the two headline transfers, with Papas, McClary, Rutty, Chaput, Ruth and Foster as the holdovers who have embraced them.
"It's been a totally different experience for me," Reynolds said of his early impressions of playing at Monmouth. "It's been more personal because I get to play. I don't want to get too in-depth, but I can just play basketball again. I love the group – everybody wants to get better. There's no egos or selfishness. There's no pressure, I don't have to look over my shoulder. It's just fun and I think sometimes, you can lose that because you are trying to pursue this dream of playing at the highest level."
Rice recounted the first conversation he and Reynolds had via FaceTime.
"He said, 'Coach, I just need someone to really believe in me as a coach,' and I started thinking that somebody put him up to this," Rice said. "That's who I am: I'm going to make you believe in yourself on the basketball court. When you show me you can rock, I'm going to let you do it and I'm behind you and I got your back.
"Then he asked me about Sam Chaput and Myles Ruth. He asked how they were going be with somebody coming in and taking their minutes and right then, I knew I needed this guy on my team. I needed him on my team because of those qualities and he has been 10 times better than all the things that he said."
Wednesday night's game featured a number of Shore Conference alumni in uniform between the two teams. Former Mater Dei Prep star Elijah Barnes – now in his fifth year at Princeton – played five minutes in the second half, while 2021 Neptune graduate Sam Fagan played the final minute for Monmouth. The Hawks also have former Toms River North standout guard Jakari Spence – another native of Manchester who was a walk-on at Robert Morris as a freshman in 2020-21 – on the roster.
More From Shore Sports Network