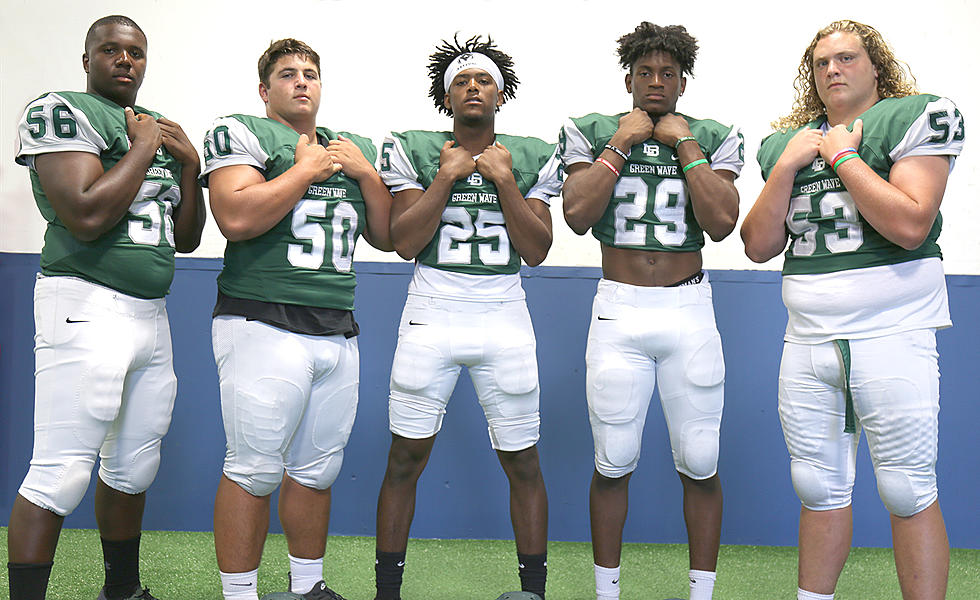 Prolonging the Run: Long Branch 2019 Football Preview
From left: Tracey Taylor, Vincent Mandica, Jah'kwan Gordon, Jayson Glasper and Matt Guidetti. (Photo by Steve Meyer)
Even with some new faces replacing some of the Shore's best talent, the Long Branch football players are carrying themselves like a team that expects to keep alive a run that started two seasons ago and included many of the remaining seniors on this year's roster.
Head coach Dan George, however, remembers how fragile that success can be. Just three years ago, with many of the members of the subsequent NJSIAA Central Jersey Group IV championship teams playing as sophomores and juniors, Long Branch struggled to a 2-8 record despite sporting that talented, promising young roster.
That the 2-8 season was not so long ago serves as a reminder to the remaining players from last year's 12-1 squad and the newcomers hoping to continue that legacy that 2018 is over and everything in 2019 must be earned.
"We lost quite a few kids," George said. "We've got about four or five kids back so there are a lot of opportunities for other kids to play. They have been dying waiting to play so they're excited about that. We really focused on day-to-day operations to get them up to speed in order to compete with the teams we're playing."
With all that being said, there is plenty of reason for Long Branch to be optimistic. The Green Wave bring back the state's leading rusher, a number of playmakers on the outside and a strong spine on defense – a checklist that includes just about everything a coach would want heading into a season.
The notable omissions to that list are the offensive line and quarterback, which George and his staff have poured their efforts into developing as the season approaches – particularly the former.
Experienced or not, the expectations have not changed.
"There are no excuses – either we win or we're a bust," senior offensive and defensive tackle Matt Guidetti said. "We've got to win and everybody's got to work hard."
Player to Watch: Jermaine Corbett (Sr., RB, 5-9, 180)
After breaking onto the scene as a sophomore, Corbett took things to the next level during his junior season in 2018. Not only did his 2,021 yards lead the Shore; it also led the state. Along with those 2,000-plus yards, Corbett also reached the endzone 31 times, including 26 on the ground for the No. 3 team in the final Shore Sports Network Top 10.
This year, Corbett will have to run behind an offensive line with far less experience than it had last year and will be taking the ball from a new quarterback as well. The line is trying to replace three starters while Kyle Davidson and Nick Reilly compete for the quarterback job, so Corbett will be the focal point of both the Green Wave and every one of its opponents.
"He has shown a lot of football skills the last two years," George said. "Now he is going to have to show more of his leadership skills and his tenacity to find ways to figure things out and put a stamp on his career. We have to put a lot of things in place around him. He can't do it alone and he knows that."
Under the Radar Player: Jayson Glasper (Sr., DE/TE, 6-1, 220)
As a junior last year, Glasper emerged as a disruptive force on the defensive line. Despite only playing eight games, the crafty defensive end chased down the quarterback for eight sacks, which led the team. Kevin Cerruti and linebacker Luke Arnold earned the accolades but Glasper took advantage of his opportunity last year as well and will be among the leaders of the defense.
"Jayson Glasper really came on strong and ended up with eight sacks in only two-thirds of the games," George said. "He is doing really well so far. He has been a guy that has had a great camp."
Top Unit: The Defensive Spine
Of all Long Branch's losses to graduation, the one George mentioned by name was that of Kevin Cerruti – the two-way lineman who cleared the way for Corbett, protected quarterback Marc Dennis, shut down the run game and terrorized quarterbacks on the pass rush.
Despite that loss in the middle of the defensive line, the Green Wave remain strong up the middle of the defense thanks to the return of some experienced players at defensive tackle, senior Jah'Kwan Gordon and junior Andrew Conklin at linebacker and a strong pair of safeties. Senior Tracey Taylor is back at one defensive tackle with seniors Miguel Figueroa and Matthew Guidetti working in at the other tackle spot on defense.
"We are built up the middle," George said. "Two inside guys, Jah'Kwan and Andrew Conklin, have looked very good and right behind them is Jermaine at safety. So we're trying to build it inside out."
Gordon is the mainstay among the linebackers, while Conklin, junior David Rodriquez and Bobby Lawrence make up the key supporting players in the linebacking corps. Corbett, meanwhile, is back at strong safety, with sophomore Christian Rodriguez earning the free safety job.
"It's hard playing in the middle because there are a lot of big running backs," Gordon said. "We maintain it though."
Long Branch will be successful if…
The line keeps the quarterback upright and Corbett healthy. With all the weapons on hand, the offensive line does not have to drive opponents into the ground like it did on occasion over the past two seasons. Defensively, Long Branch has the depth and experience at enough key spots to remain strong on that side of the ball and the offense can only drop off so much with Corbett primed for a big senior year.
A new quarterback, however, will need time to operate and if the Green Wave have to lean on Corbett to carry the offense, it could take its toll, particularly if defenders are getting clean shots at him. The Green Wave can also use its depth at running back, which includes Gordon as an elusive-but-tough, change-of-pace option.
"You can put a 2,000-yard rusher in at any time but if you need to change it up, we got guys who can make plays," Gordon said. "I don't have 2,000 rushing yards but I'll rush for it if I'm in there. It's great having all of us."
HEAD COACH: Dan George, 20th season
2018 RECORD: 12-1 (4-1 in Freedom Division)
BIG SHOES TO FILL: Kyle Davidson and Nick Reilly (Sr. QB)
When quarterback Juwan Wilkins graduated in 2018, Long Branch had the luxury of replacing him with Marc Dennis, who had experience taking snaps and performed at an All-Shore level in his only season as the full-time starter. There is no version of Marc Dennis this year but George has been pleased with the quarterbacks competing for the job.
Senior Kyle Davidson has experience at the varsity level after moving from California, where he played at Berean Christian last season. Reilly is also in the mix for time at quarterback after coming up in the program and whichever signal-caller gets the nod will have plenty of weapons at his disposal, with Corbett in the backfield and junior Jayon Farrar leading a promising receiving corps.
The development of the offensive line over the years leading up to the 2017 championship season was a major reason the Green Wave went on to bring home hardware in back-to-back seasons. That is why George's primary focus from the end of last season was preparing the next wave of Long Branch linemen to take over after enduring a heavy loss to graduation.
"Our offensive line is coming together a little faster than I anticipated," George said. "That's the first thing that we talked about in the offseason and it will be the last thing that's talked about. We know how important that is to the success of the program. It's that critical."
Taylor is the only starter back from last season and will play center, surrounded by newcomers on both sides. Conklin and Figueroa are the guards while Guidetti and senior Vincent Mandica take over the tackle spots. Four of the five spots are occupied by seniors so if this is the version of the offensive line that stays intact, it will be one that includes program players from the past few seasons.
"I think we've worked the hardest out of any group," Guidetti said. "I know the coaches were concerned about the o-line but it's never been a concern for us. We know we can get it done."
IMPACT NEWCOMER: Jayden Farmer and Christian Rodriguez (So. DB)
Two sophomores will man key positions on defense – Farmer at one cornerback opposite J.J. Sherin and Rodriguez at free safety next to Corbett. Long Branch was deep and talented in the secondary last year and it remains to be seen how the sophomore duo will employ their talent at the position. That George has entrusted them with starting roles is a good early sign for both.
PIVOTAL GAME: Sept. 20 at Rumson-Fair Haven
The Nos. 3 and 4 teams in the final Shore Sports Network Top 10 meet in the third week of the season, with Long Branch making its first road trip of 2019. Rumson has been a perennial championship contender in Central Jersey Group III, winning five of the last six titles. Long Branch is trying to extend its run to something comparable and what better way to find out how this year's team measures up than to play another champion early in the season?