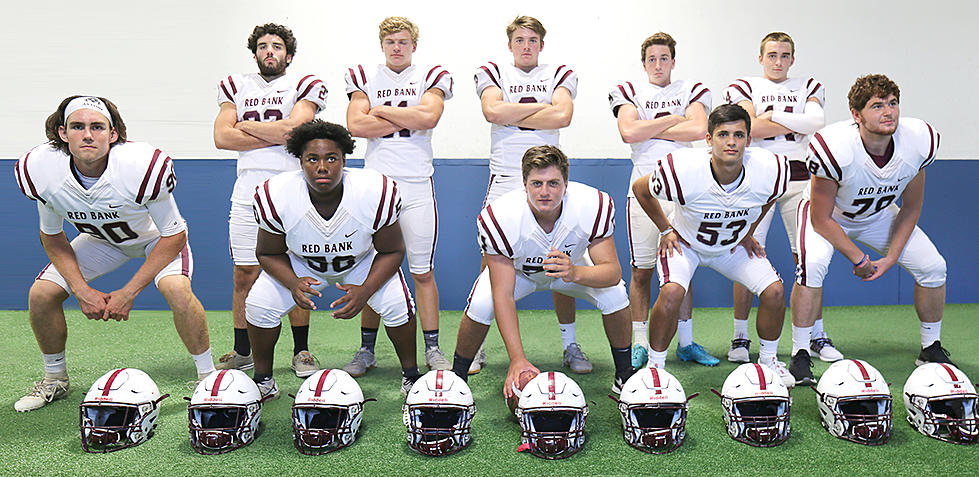 Next Man Up: Red Bank 2019 Football Preview
Photo by Steve Meyer
At first glance, the thing that drew Dave Schuman to the opening for a head football coach at Red Bank Regional High School was pure convenience. He and his wife had bought a home in Red Bank a little more than a year earlier and while he was not necessarily looking to leave his post as head coach at Indian Hills but the idea of reducing his commute by more than an hour made it worth the shot.
Upon closer inspection, though, Schuman said he found the program to be so much more than the school just happened to be around the proverbial corner.
At first glance, losing a player the caliber of Makai Mickens to a torn ACL – an injury the senior running back suffered in June that is expected to know him out for the entirety of his senior year – would doom a team hoping to get back to the NJSIAA Central Jersey Group III final for the second time in five years.
Just as Schuman found out during his hiring process, there is more to this Red Bank team than the stats Mickens posted last season (1,207 yards, 13 touchdowns) and the Bucs are hoping to prove to the rest of the Shore that even without their star and with a new head coach, they roll deep.
"Same goals, nothing changes," Schuman said. "Obviously, we would love to have him. He is a great player. He has accomplished amazing things, but our outlook doesn't change at all.
"What was really great to see was when he went down, the kids were really caring towards him and really considerate. Guys have been helping him go to therapy and all those kinds of things. At the same time, they have reframed their mindset that we all have to step up and they have done a tremendous job at that."
Coming off a 7-3 season in which its only losses were to Red Bank Catholic, Long Branch and Rumson-Fair Haven, Red Bank will resume its unwavering chase for the program's first sectional championship since 1975. That chase ended with a hard-fought, 14-9 loss at Rumson-Fair Haven last season and will officially begin again with a home game vs. Freehold Boro on Sept. 6.
"I have been playing with Makai since I was a kid, so not having him on the field is a change," senior quarterback Jack Chamberlain said. "But it's a next-man-up mentality around here."
Player to Watch: Nick Ferrogine (Jr., RB/WR/LB/DE, 6-0, 190)
Red Bank's most versatile player is arguably its best all-around player as well. Ferrogine spent his sophomore season racking up 72 tackles while playing on the edge and was also a target in the passing game on offense.
This year, he will have an even broader role, particularly after the injury to Mickens. Ferrogine is looking at first-team reps as the Bucs tailback but if Red Bank's deep roster of options serves the team well, Ferrogine could still find himself lining up out wide as a go-to option for Chamberlain in the passing game.
"(Tailback) is a little new to me," Ferrogine said. "I played it a little my freshman year. I have been playing all over the place since I got here so my mindset is wherever the team needs me, I'm going to be there to help the team win."
On defense, Ferrogine will again try to be the same type of force on the edge that he was last season. Red Bank graduated a pair of defensive standouts in Ka'Shaun Turner and Colin Chatto but Ferogine's return to the fold and some emerging depth should help the Bucs avoid missing a beat.
Under the Radar Player: Jack Chamberlain (Sr., QB/DB, 6-2, 195)
The quarterback rarely flies under the radar but in Chamberlain was a background player in Red Bank's run-heavy offense last year. When he did throw, however, Chamberlain was efficient, completing 41-of-64 attempts (64 percent) for 550 yards, seven touchdowns and three interceptions. This year, the offense is slated to revolve more around Chamberlain's full skillset, particularly after he impressed his new coaching staff during the summer in 7-on-7 camps.
"He looks really good. Last year, he was mostly just handing the ball off to Mickens and then if you need to throw the ball, then he would throw it," Schuman said. "What he has really improved on and worked hard on in the offseason is throwing the ball. He has been really accurate."
On top of leading the offense, Chamberlain will help captain the defense from the free safety spot, leading a secondary that includes three new starters – seniors Tucker Cochorane and David Hicks at the corners and junior Jack Dengler at other safety.
With four returning lineman who started for at least part of the year, Red Bank appears to be stable at a positional corps that is crucial toward the overall stability of the offense. Senior Zach Peterson leads the stable of returnees and at 6-foot-5, 275 pounds, he is an ideal left tackle to protect Chamberlain. Junior Brian Navitsky and senior Vincent DeLorenzi are back at the two guard spots and senior Sam Wasserman will reprise his role as the team's center.
"We have a lot of returners, we have a lot of new guys, we have a lot of subs: I think we're going to be strong on the o-line this year," Petersen said.
The new starter on the line is right tackle Vincent Carpenter, a 6-6 275 sophomore who has opened eyes during camp. On top of the strong starting five, the Bucs can go nine deep on the line according to Schuman, and that does not include tight ends Gorden Ogden, Kevin Screen and Kyle Weisman.
Red Bank will be successful if…
Chamberlain finishes off his transformation from game-manager to playmaker. The offensive line remains largely intact, there are capable options at running back and receiver despite the loss of Mickens and the defense has some experience back at every level. Chamberlain is part of that solid returning foundation, but with the Bucs losing nearly 1,900 rushing yards between Mickens and graduated back Nigel Mitchell (690 yards), they will ask Chamberlain to carry more of the load.
"Last year, I felt like I was more of a game-manager – making sure we got the ball to our best guys," Chamberlain said. "Now I feel like I need to take more of a role in the offense and be more of a leader. On those third-and-three's, I need to put my shoulder down and get a first down and whatever else the offense needs me to do. I need to be more involved."
HEAD COACH: David Schuman, first season
2018 RECORD: 7-3 (3-2 in Freedom Division)
Matt Norman (Def. Coordinator/Running Backs/Def. Backs)
Jeff Mass (Off/Def Lines)
Derek Depascale (Asst. Head Coach/Receivers/Def. Backs/Special Teams)
Dimitrious Smith (Off/Def Lines)
Chris Leroy (Receivers/Def. Backs/Freshman)
Adam Bobertz (Off/Def Lines/Freshman)
BIG SHOES TO FILL: Jakir Johnson (Jr., DL)
Ka'Shaun Turner was one of the top defensive lineman in the Shore Conference last season, totaling 10 sacks and 80 tackles during his senior campaign. Red Bank returns senior defensive end Tyquan Crawford coming off a five-sack junior season and Johnson will line up on the inside in both three-man and four-man fronts.
The number of quality players and athletes in the Red Bank program caught Schuman's attention when he started surveying the cupboard upon his arrival. His predecessor, Nick Giglio, built up the Bucs into the respectable program, one that could do damage when a quality class of players came through.
That depth would have been a strength to begin with and with the injury to Mickens it becomes even more crucial. Beyond just finding players to assume touches on offense, Schuman can work cycle his nine offensive and defensive lineman to keep them all fresh and give some of the skill players on either side of the ball a break here and there as well.
"For a Group 3 school, that's a great luxury to have: nine guys that we feel really comfortable about," Schuman said. "Not just if somebody gets hurt, but if somebody is having a bad day, we can rotate somebody in or change up positions and we shouldn't lose much."
IMPACT NEWCOMER: Owen Laughlin (Jr., RB/LB)
Laughlin is a name that Schuman and several of his teammates threw out as a player who has made his mark during the preseason, both running hard on offense and solidifying a starting linebacker spot along with seniors Kyle Weisman and Will Del Pra.
PIVOTAL GAME: Sept. 20 vs. Manasquan
Although the schedule could provide some surprises, it appears the Liberty Division championship will come down to home games against Manasquan and Donovan Catholic. The first of those two will be against Manasquan and if the Bucs can get by Freehold Boro and Raritan to open the season, they could be welcoming the Warriors to their home field with a chance to secure a 3-0 start. Both Manasquan and Donovan Catholic are new to Red Bank's schedule thanks to the latest Shore Conference realignment.
"I think every team's goal is to win a state championship," Chamberlain said. "It's been mine since I was a little kid. I was at the (Central Group III championship) game in 2015 when I was in eighth grade. I was really close with that team and ever since then, it's been eating away at me. I just want to bring a championship back to Red Bank."
More From Shore Sports Network