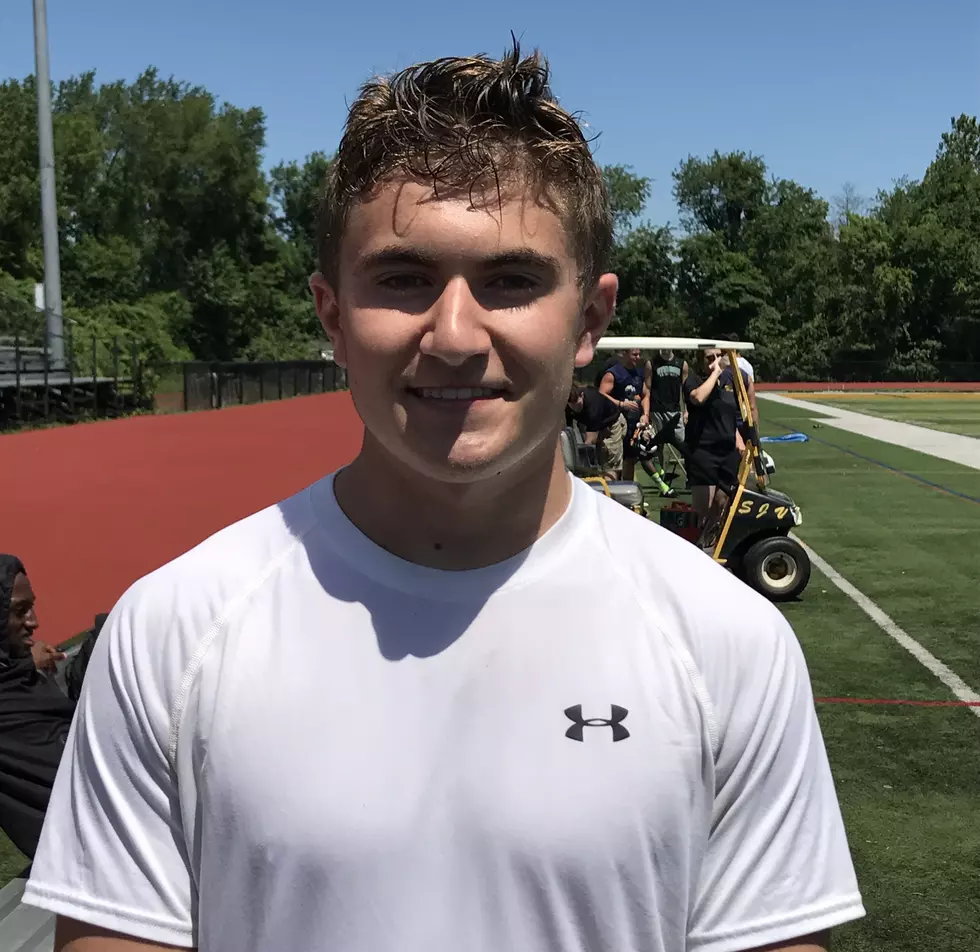 Gridiron Classic: From the Pitch to the Gridiron, an Unexpected Journey for Freehold Township's Tyler Schulman
Freehold Township kicker Tyler Schulman. (Robert Badders, Townsquare Media).
HOLMDEL – Standing on a practice field in late June preparing to play in an all-star football game was the last place Freehold Township's Tyler Shulman could have imagined he would be this time last year.
Yet in a span of just a few months, Schulman went from a backup goalie on the Patriots' soccer team to one of the top kickers in the Shore Conference on Freehold Township's most successful football team in 15 years. Shulman was a Shore Sports Network first-team All-Shore selection and on Thursday will suit up for Monmouth County in the 40th annual All-Shore Gridiron Classic at Shore Regional's Feeney Field.
"It's still really surprising," Schulman said during one of Monmouth County's practices at St. John Vianney High School. "Sometimes I look back and I'm like, 'wow, that really happened'."
Schulman was nearly perfect for a Freehold Township offense that averaged 25.9 points per game (15th in the Shore) to lead the way in a 7-3 season. The Patriots qualified for the NJSIAA playoffs for the second year in a row to mark the only postseason appearances in program history. Schulman was a perfect 6-for-6 on field goals with a Shore Conference-long of 42 yards. He converted 29 of 32 extra points and finished with 47 kicking points, the seventh-best total in the Shore.
The success he had in 2016 still blows his mind. Heading into the summer he remained focused on soccer with the idea of football only starting to get serious as the calendar turned to August. A soccer player his whole life, Schulman didn't get a lot of playing time as a backup varsity goalie and knew there would be stiff competition for the starting job his senior year. He had toyed with going out for the football team as a sophomore and junior, but with standout Nick Galanti kicking and punting for the Patriots, Schulman knew he wasn't going to get any playing time there either. With Galanti having graduated after the 2015 season Freehold Township now had an opening at kicker.
"Some of the guys kept saying they didn't have a kicker and that I should come out for the team," Schulman said. "I went to the park one day and started kicking and it started going pretty well, so I thought, 'hey, why not'."
Schulman was participating in summer league soccer games during the day and going to football practices in the morning through July, still undecided on what the fall season would hold. Eventually he made his decision.
"It was the beginning of August about five days before football camp and I was like, 'you know, I'll just kick'," Schulman said. "It just figured I'd go for it. It was a new experience and it couldn't hurt."
Schulman won the starting kicking job heading into the season and it didn't take long for the Patriots to put him to the test. In the season-opening game against rival Freehold with "The Duke" trophy on the line, Freehold Township head coach Cory Davies called on Schulman with the Patriots trailing 12-7 in the fourth quarter. They sent out Schulman for a 26-yard field goal attempt and he connected to pull the Patriots within two points. Later in the fourth quarter Charles Sabbagh connected with Anthony Lotti for a 75-yard touchdown and the Patriots held on for the 16-12 victory.
"For Davies to have trust in me and kick a field goal instead of going for it, to take a kid that had never played football in his life and it's his first game, to have faith in me to go out there in the fourth quarter and kick an important field goal, that was definitely a confidence builder," Schulman said.
The following week in a 44-7 win over Colts Neck, Schulman went 5-for-5 on extra points and 3-for-3 on field goals, including a 42-yarder that ended up being the only field goal over 40 yards in the Shore Conference all season. In a 10-6 win over Neptune he kicked a 29-yard field goal and in a 36-21 win over East Brunswick he hit a 27-yard field goal. Schulman also averaged 47.1 yards per kickoff with eight touchbacks.
Schulman will attend the University of South Florida in August, and since he found success walking onto his high school team he's going to give it a shot at the FBS level too.
"I reached out to the coach in March and he said to get back to him in the beginning of August for tryout information," Schulman said. "I'm going to see what happens from there. The worst that happens is I get cut."
Schulman is without question the "new guy" at the Monmouth County practices. Since he didn't grow up playing youth football and only played one year in high school, the only player on the team he knows is Sabbagh, his Freehold Township teammate. But if Thursday's game is like the many other close games in the all-time Gridiron Classic series, Schulman may be called upon for another clutch kick with an opportunity to make a name for himself. It would be a fitting moment in a year that he never could have predicted.
"This was definitely not something I expected, not even close," Schulman said. "I went out for the team and just wanted to have a good time. Everyone on Township was so welcoming and I never imagined it would go the way it did. Right from the beginning coach Davies had trust in me, and I really surprised myself."
Managing editor Bob Badders can be reached at bob.badders@townsquaremedia.com. Follow him on Twitter @Bob_Badders. Like Shore Sports Network on Facebook and subscribe to our YouTube channel for all the latest video highlights.
More From Shore Sports Network