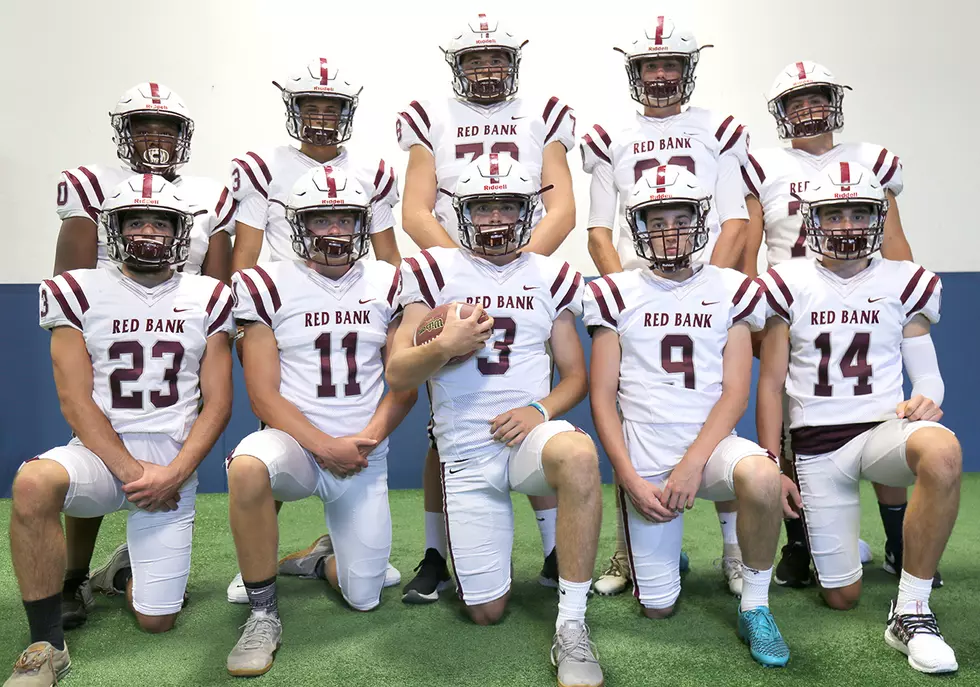 Football – Red Bank Explodes for 50, Statement Win Over Freehold Boro
Photo by Steve Meyer
RED BANK - In the first game of the 100th season of football at Red Bank Regional High School, the Bucs celebrated the century by scoring half-way to 100 on the scoreboard and making a statement to the rest of the Shore Conference.
After falling behind by a touchdown in the first five minutes, Red Bank rattled off 50 unanswered points and silenced Freehold Boro's normally-explosive offense en route to a 50-7 win over the Colonials to open the 100th season of Red Bank High School football.
If there were any doubts that Red Bank could overcome the loss of star tailback Makai Mickens to a season-ending knee injury and still build on last year's 7-3 season, those questions were all but put to rest and were never harbored by wearing the maroon and black of the Bucs.
"For us, the narrative hasn't changed," first-year coach Dave Schuman said. "Mickens is an amazing player, but these guys have stepped up. As a group, their mentality is 'I'm going to be the guy who picks up the slack where we need it. At least in game one, they have done that."
"Obviously there were some question marks with a new coach and a key player going down, but I think we answered them," senior quarterback Jack Chamberlain said. "We just have a next-man-up mentality - just keep plugging away."
Just like the Bucs did not altered their lofty expectations when their 1,200-yard back suffered a torn ACL in June, they never wavered Friday night in their season opener, even after a rough start.
After Red Bank had trouble handling the opening kickoff, Freehold Boro's defense forced a three-and-out, took over on the Bucs 37 yard-line and marched into the end-zone, with senior quarterback Jason Lee finishing the drive with a two-yard touchdown run.
"We came out and got punched in the face, but this team has a lot of experience," Chamberlain said. "We just relied on each other - I've got trust in everybody in our locker room to do the right thing. We trust the process, trust the play calls, trust what coach is saying and it will all work out."
That defense-to-offense sequence marked the high-point for Freehold Boro in the game. After finishing off the 37-yard drive to open the game, the Colonials managed just 35 total yards against the Bucs defense the rest of the way.
Chamberlain led the offense by completing 11-of-13 passes for 143 yards and a touchdown while running for 42 yards on 14 attempts with two touchdowns, as well as a successful two-point conversion run.
Chamberlain's biggest throw of the game came in the first quarter, with his team trailing 7-0 and facing a 3rd-and-15 on Freehold Boro's 37 yard line. The senior signal-caller rolled out to his right and dropped a perfect pass into the arms of junior receiver Nick Ferrogine along the right sideline for a 34-yard pick-up down to the Freehold three yard line.
"That obviously changed the game," Chamberlain said of the play. "To come out and get punched in the mouth the way we did and to respond with a drive, get a completion on third-and-long and answer with a touchdown changed the momentum."
"Chamberlain is a guy that gives you unbelievable confidence as a leader," Schuman said. "From the time we took over, he has been able to handle everything we have asked him to do. I was really confident and I try to let the guys just play. If they have shown they can do the job, I am not afraid to get any of the guys out there the ball and Chamberlain made great, on-the-money throws."
Chamberlain and the offense hustled up to the line and the senior quarterback rushed in from three yards out to get the Bucs on the board.
A missed extra point kept Freehold Boro in front as the game transitioned to the second quarter, but the Bucs would not stay down for long. On the final play of the first quarter, Chamberlain hit Ferrogine for an 18-yard gain on 4th-and-4 from the Freehold 27 to get the Bucs inside the 10 once again.
A holding penalty pushed the ball back to the 19 but Chamberlain scurried 16 yards to the three and ran it in himself on the next play for his second touchdown and a 13-7 Red Bank lead following Chris Maida's extra point with 11:20 left in the second.
From there, Red Bank completely took over the game, sparked by junior Owen Laughlin. With his team needing someone to step up in the running game with Mickens out, Laughlin answered the call with 65 yards rushing on 10 carries, 14 receiving yards on two catches and two rushing touchdowns.
"I think a lot of guys were looking forward to the opportunity to prove themselves, myself included," Laughlin said. "We definitely wanted to show that we are a team and even with a new coach and without Mickens, we are still going to be able to score points and win games."
Laughlin got going with a key 10-yard reception on a 3rd-and-5 from the Freehold 30 to keep a second-quarter drive alive. On the very next play, he burst through the middle of the line and rumbled into the end-zone for a 20-yard touchdown run. Another failed extra-point kept the lead at 19-7, but the Bucs were only getting started.
"I think our line needed some plays to get their confidence," said Schuman, who previously coached at Indian Hills High School in North Jersey. "It's a new system, a new coach and they just needed some time. Early on, we made some mistakes in our blocking scheme that we fixed real quick as soon as we saw what we were doing. That's the nice thing about having an experienced line - I can point out that correction and right away, they know how to fix it."
Chamberlain continued his big night on the next Red Bank drive with his biggest play through the air. Off a play-fake, Chamberlain slung a pass up the right side to senior A.J. Abarno, who caught it in stride and finished off a 50-yard touchdown reception with 3:25 left in the half. Chamberlain ran the two-point conversion in and the Bucs claimed an insurmountable 27-7 lead.
"I have the mentality that every play should be a home run," Chamberlain said. "You don't get that every single time but when it's third-and-long, I know I can put trust in my guys. I put that ball near their hands and they are going to make a play."
Laughlin added a four-yard touchdown run to open the third-quarter scoring and senior Dave Hicks tacked on a three-yard touchdown run as part of his 52 second-half-yards on the ground. Hicks also intercepted a pass by Lee in the third quarter and returned it 31 yards before a block-in-the-back penalty negated the remainder of his long return.
After a fumbled snap on a punt attempt resulted in a safety for Red Bank, Sophomore backup quarterback John Grassi capped the scoring with a nine-yard touchdown run with six minutes left in the fourth quarter.
Red Bank will try to carry its newfound momentum over to next week's showdown at Raritan.
"It's going to sound cliche because we just put up 50, but I'm never satisfied," Chamberlain said. "There is stuff we need to work on. I had a couple bad passes, we need to work better as a team in some areas and keep plugging away."
Red Bank 50, Freehold Boro 7
| | | |
| --- | --- | --- |
| | Freehold | Red Bank |
| First Downs | 8 | 16 |
| Rushes-Yards | 33-30 | 34-184 |
| Passing | 10-12-1 | 11-13-0 |
| Passing Yards | 40 | 143 |
| Fumbles-Lost | 0-0 | 0-0 |
| Penalties-Yards | 3-25 | 4-45 |
| | | | | | |
| --- | --- | --- | --- | --- | --- |
| | 1 | 2 | 3 | 4 | F |
| Freehold (0-1) | 7 | 0 | 0 | 0 | 7 |
| Red Bank (1-0) | 6 | 21 | 14 | 9 | 50 |
F - Jason Lee 2-yard run (Kayden Hutchinson kick)
R - Jack Chamberlain 3-yard run (kick failed)
R - Jack Chamberlain 3-yard run (Chris Maida kick)
R - Owen Laughlin 25-yard run (kick failed)
R - A.J. Abarno 50-yard pass from Jack Chamberlain (Chamberlain run)
R - Owen Laughlin 4-yard run (Chris Maida kick)
R - Dave Hicks three-yard run (Chris Maida kick)
R - John Grassi 9-yard run (Chris Maida kick)
Rushing - (F): Jason Lee 18-31, Kamore Gill 3-17, Yahsin Calhoun 3-7, Sha'kim Shuler 1-3, Darius Glover 3-(-8), Kaleb Rice 4-(-8), Kayden Hutchinson 1-(-12); (R): Owen Laughlin 10-70, Dave Hicks 5-52, Jack Chamberlain 14-42, John Grassi 1-9, Cian Curylo 1-6, Tyquan Crawford 2-5, Nick Ferrogine 1-0.
Passing - (F): Jason Lee 10-12-1 40, Kamore Gill 0-1-0 0; (R) Jack Chamberlain 11-13-0 143
Receiving - (F): Yahsin Calhoun 2-16, Kamore Gill 5-13, Sha'kim Shuler 3-11; (R): Nick Ferrogine 3-59, A.J. Abarno 2-50, Owen Laughlin 2-14, Dave Hicks 2-13, Kyle Weisman 2-7
Interceptions-Return Yards - (R): Dave Hicks 1-31
More From Shore Sports Network