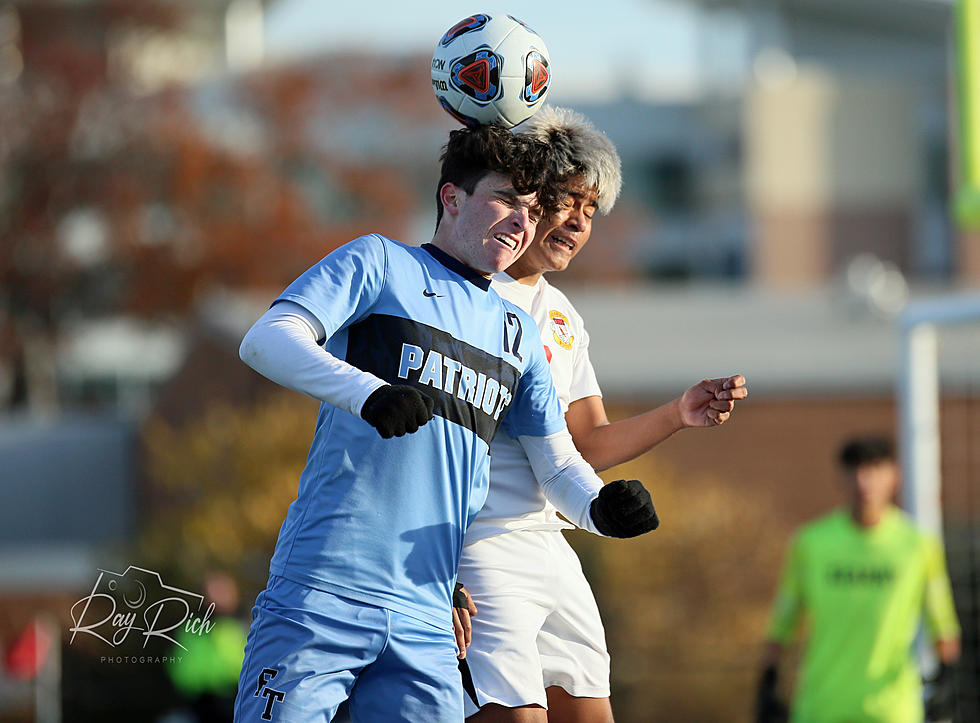 Boys Soccer – Kearny Spoils Freehold Township's Return to the Group IV Final
Freehold Township senior Ryan Keegan (12) and Kearny senior Johan Baez go up for the ball. (Photo by Ray Richardson)

UNION TWP. -- For 68 minutes, the Freehold Township boys soccer team had the most decorated soccer program in the state in its sightlines.
After a momentum-shifting penalty kick in the 69th minute, the state's best program left the Patriots in its dust.
Freehold Township pushed Kearny to its limit for the first 68 minutes, but the Kardinals caught fire in the final 12 minutes to run away with a 6-2 win and the program's 17th NJSIAA Group IV championship.
"All credit to them," Freehold Township coach Josh Mehl said. "They are a great team. We knew we were going to have to play some scoreless soccer and at times, we didn't. When those things happen and you have a lot to overcome, it becomes harder.
"I knew we weren't done. I knew we were going to fight and fight and fight. We knew if we could get one, we could build up some momentum and that's what happened."
PHOTO GALLERY: Freehold Twp. vs. Kearny by Ray Richardson
Facing a dynamic opponent that has scored eight or more goals in six games this season, Freehold Township fell into a dangerous two-goal hole during the first half, with Kearny taking a 2-0 lead into intermission. Kardinals senior Juan Rojas assisted goals by seniors Dalton Davila and Alan Antonelli -- on in the 16th minute and the other in the 30th -- to stake the No. 2 team in the state to a two-goal halftime lead.
Despite the deficit, Freehold Township enjoyed some quality play and outshot Kearny, 6-4, in the first half. Both senior Herman Colbert and classmate Ryan Keegan got high-percentage looks in the first half, with Colbert missing a chance right in front of the goal and Keegan ripping a clean shot that Kearny goalkeeper Josh Rodriguez saved.
In the second half, Freehold Township continued to claw back and missed on two more golden opportunities by senior J.T. Gold and junior Tim Bertscha in the first 10 minutes.
"We knew not matter what the score was, we were going to win the effort battle," Mehl said. "I haven't seen a team that works harder than we do and we were pretty convinced that even when it was 2-0, we still felt like we were in the game. In those first ten minutes of the second half, we got a lot of chances. They are a very technical team and they started to play our game."
In the 53rd, Freehold Township finally broke through on a free kick that touched more of the Kearny defense than it did anyone from Freehold Township. Senior Sean Keegan served the ball toward Rodriguez in goal and junior Logan Mullaney flashed in front of him and appear to head it ever-so-slightly past Rodriguez while simultaneously screening the Kearny keeper's vision.
Junior defender Max Silva tried to cover the endline but the ball was on its way in and he sped up the process by knocking it into the netting for Freehold Township's first goal.
Freehold Township's deficit did not stay at one for long, as Rojas took a pass from junior Alejandro Alvarado, created space and buried a shot from just inside the top of the 18-yard box for a 3-1 Kearny lead in the 59th minute. Rojas had a shot inside the six with an open goal in the 61st, but he popped it over the crossbar.
Less than two minutes after Rojas failed to stretch the Kearny lead to three goals, Freehold Township senior Josh Hocheiser cut it to one when he got behind the defense and finished to the far right corner of the goal in the 63rd.
With its lead back down to one goal, Kearny began to mount an increasingly dangerous threat before finally getting its big break in the 69th. Alvarado tracked the ball inside the 18-yard box on the right side and was knocked to the ground, giving Kearny a penalty kick.
Rojas stepped to the spot and buried the shot, giving him his second goal of the game and his team a 4-2 lead.
With Freehold Township throwing numbers up in search of two more goals, Kearny sealed the game with two more goals in the final five minutes. Alvarado joined the score sheet by rebounding his own miss and senior Johan Baez capped the scoring off the third assist of the game from Rojas.
Rojas finished his final high school game with two goals and three assists, giving him 20 goals and 16 assists in his final season.
Saturday marked the first time Freehold Township played in the NJSIAA Group IV final since 1982, when the Patriots also played Kearny and tied the Kardinals, 1-1, to win a share of the championship.
"We talked about how it's a privilege and an honor for the seniors to wear that uniform and you know it," Mehl said. "There is usually a lot of uncertainty in life, but this is one of those things you can celebrate. Yesterday was our last practice, today was our last game wearing that jersey and we wanted them to leave it out on the field and I'm proud of them."
PHOTO GALLERY: Freehold Twp. vs. Kearny by Ray Richardson
All of Freehold Township's losses and ties this season came against teams ranked in the Top 20 in the state -- a reflection of the quality of schedule the Patriots played in 2021.
It served them well for most of Saturday's game but Kearny hit a different gear while Freehold Township started playing catchup in the final 10 minutes.
"Today, we just wanted to come out and show the state that are one of the best teams in the state," Mehl said. "There is a reason our record is 17-4-2. We challenge ourselves. We play the Elizabeths, the CBA's, three games against Toms River North -- those games battle-test you. We were ready and we wanted to go out and show everybody that we belong in this conversation and unfortunately, they were the better team today."
More From Shore Sports Network