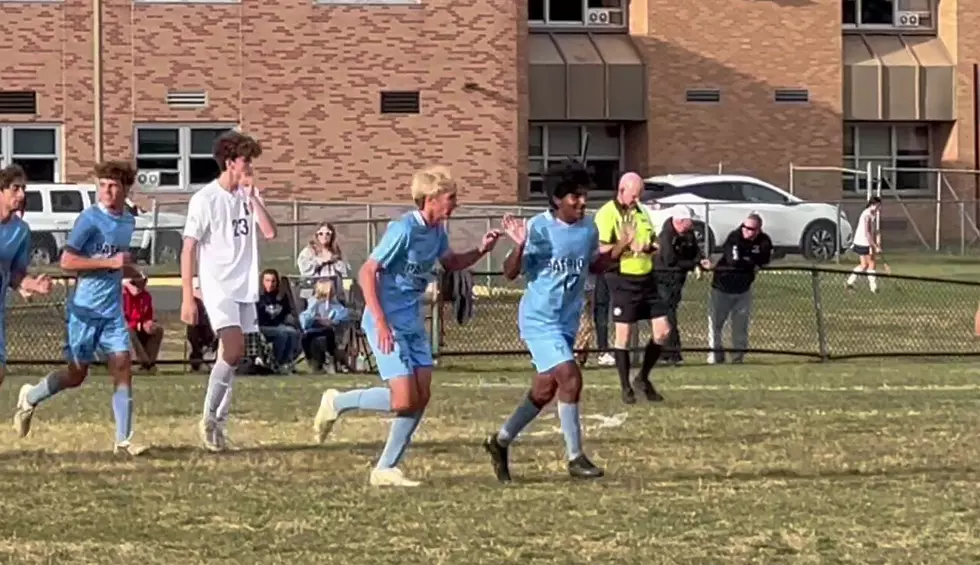 Boys Soccer – Focused Freehold Township Wins Seventh Straight
Kevin Kuriakose (right) celebrates Freehold Township's first goal vs. Marlboro with teammate Noah Jones (left). (Image: Matt Manley)

FREEHOLD TWP. -- Since conceding two goals in the first game of the first half of the season, the Freehold Township boys soccer team's defense has played like a team on a mission during a winning streak that stood at six games heading into Thursday's crucial Shore Conference Class A North showdown with Marlboro.
The defense again put the clamps on an opponent on Thursday, but that was not enough. In a game that was short on scoring chances, Freehold Township needed someone to create a goal. Fittingly enough, one of the players on the back line that has been so good at preventing them was the one who created one for his team.
Senior captain and left outside back Kevin Kuriakose got to a cross from junior Alessandro Principato in the 50th minute to force an own goal and classmate Tim Bertscha followed with a key insurance goal in the 75th as the Patriots turned away the Mustangs, 2-1, for their seventh straight victory.
"We're always emphasizing that clean sheet," said Kuriakose, whose team and senior goalkeeper Jack Goldsmith were 73 seconds and a well-place corner kick away from a fourth consecutive shutout. "They are not always going to happen, but that's the goal every single game. We also emphasize moving our outside backs up the field to get some dangerous services and chances and that has what we have been doing all season."
Kuriakose appeared to actually score the first goal of the game when he got on the other end of a cross from Principato 10 minutes into the second half, but a Marlboro defender beat him to it. Kuriakose was in position to finish at the front of the goal, but in a desperate attempt to break up the cross, senior Zack Laitman knocked it into the net for the game's first goal.
Before Freehold Township scored the first goal of the game, Kuriakose had the best chance on either side, with a first-half shot from the top of the 18-yard box skipping just wide of the left post.
"We always talk a lot about getting the ball your foot early," Kuriakose said. "Against teams like this, we need to take advantage of every chance."
Bertscha got into the act in the 75th minute by toe-poking a ball into the goal after beating a pair of defenders to a feed from junior Victor Torres.
In all, there were just six total shots attempted in the game by both teams and Marlboro's only shot of the game was a corner kick that went directly into the goal. Senior Evan Torillo made the final minute interesting by bending in a corner kick with 1:13 remaining on the clock, but Marlboro could not create another chance against a Freehold Township defense that had kept the Mustangs quiet for the prior 78:45.
On top of the limited number of shots, the only ones that were on goal went in, so neither goalkeeper came up with a save in the game.
Freehold Township's notorious natural playing surface was a factor in dictating the style both teams were forced to play. The surface can range from soggy or muddy all the way to dray and hard. This season, including Thursday, has been the latter and both teams had to deal with the unpredictable bounces that come with it. Marlboro is not unfamiliar with the conditions since its home field presents similar challenges.
The Patriots have been tough to beat on their home field in recent years, but this year's team has also traveled. They have won three games on turf against teams that have been ranked in the Shore Sports Network Top 10: Point Pleasant Boro, Rumson-Fair Haven and Middletown North.
With a new head coach in Mike Tepedino and only three returning starters, the success shows the program is not slowing down in the face of change.
"We have good players and great coaches," Kuriakose said. "Every day, we work on possessing specifically on this field. It keeps our touch sharp. When we get on turf, it's always much easier."
On Monday, Freehold Township will play what shapes up to be its most important regular-season game on artificial turf this season: a road match against No. 1 Christian Brothers Academy, with the Class A North championship on the line.
"We're excited with where we are at, but we expected it," Kuriakose said. "We're looking forward to our games against CBA and Howell coming up next week. We're very confident in ourselves."
You're Not From Jersey Unless...
More From Shore Sports Network