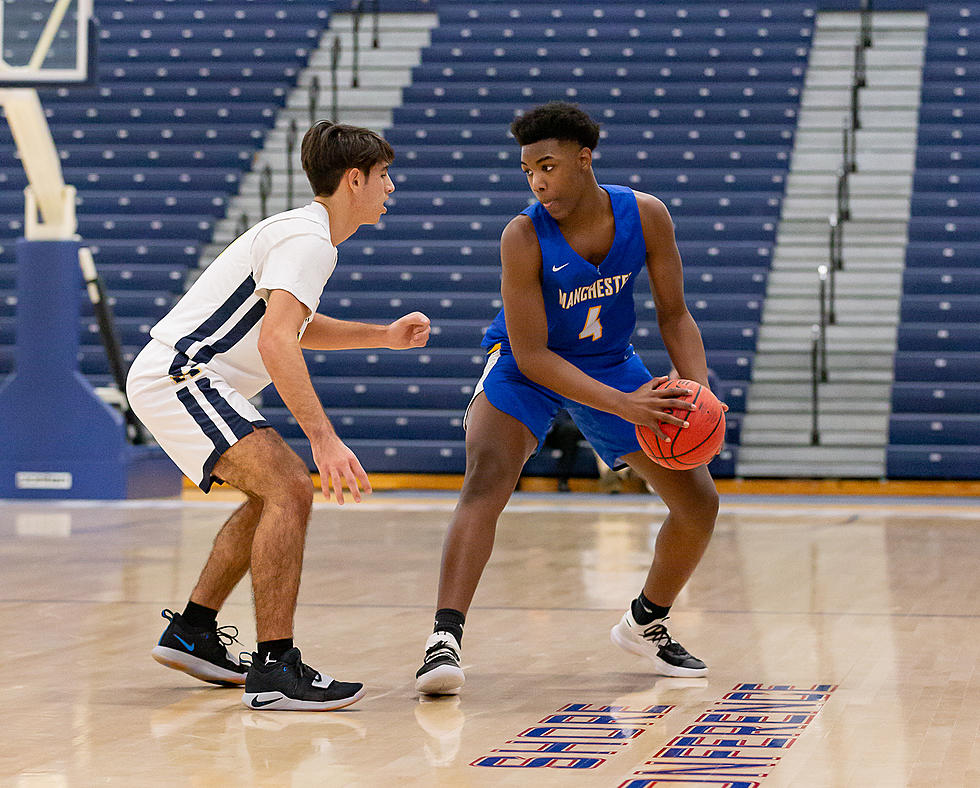 Boys Basketball – 2021 Season Preview: Manchester
Manchester junior Savon Myers. (Photo by Paula Lopez)

Enter your number to get our free mobile app
Last season came with some highs and lows for Manchester – not unexpected for a team so reliant on its talented group of sophomores who took their lumps as freshmen at the varsity level. Now heading into their third year together, Manchester's Class of 2022 players have an opportunity to elevate the program to the top of a wide-open Ocean County over the next two seasons. With Toms River North losing a lot of talent and Lakewood undergoing a program overhaul, there is a bit of a power vacuum at the top of Ocean County and no team has a roster better suited to claim the mantle than Manchester does.
The backcourt duo of Savon Myers and D'Maari Brown, plus 6-foot-7 forward Wyatt Haselbauer, make up the junior trio that has started since the three were freshmen. Brown and Myers are both capable of running the point, with Myers offering up plenty of versatility at 6-4. Haselbauer, meanwhile, is one of only two returning players at the Shore to have averaged a double-double last season. Senior Josh Glenn and junior Jordan Dupont also come back with starting experience, with Dupont picking up the slack while Glenn missed last season due to injury.
Manchester's starting lineup should have some help behind them this season, with seniors Gavin Clark and Sean Snead providing some size and versatility off the bench. Brandon Sogness and Evan Weiner have also made a bid to play important minutes and with both of those guys due back in 2021-22, Manchester has a good mix of young talent and senior influence to take a big step toward the top of Ocean County and, in turn, a spot in the championship pod to close out the season.
Head Coach: Ryan Ramsay, 16th season
2019-20 Record: 14-11 (8-6, fifth in Class B South)
2020 Postseason Performance: Lost in Shore Conference Tournament first round (Red Bank Catholic); reached South Jersey Group II quarterfinal (lost to Camden)
Disclaimer: Projected lineups listed in the 2021 Shore Sports Network Preview are not necessarily directly from coaches. Some are, while others are projections from Shore Sports Network staff. In either case, the projected lineup is fluid and could change leading up to the start of the season and beyond. Check back for periodic updates to every team's projected starting lineup on shoresportsnetwork.com.
D'Maari Brown, Jr., 5-9, Guard (RS)
Savon Myers, Jr., 6-4, Guard (RS)
Wyatt Haselbauer, Jr., 6-7, Forward (RS)
Josh Glenn, Sr., 6-2, Guard (RS)
Jordan Dupont, Jr., 5-11, Guard (RS)
Tyler Brockmeyer, 6-2, Forward
Nick Chiapissi, 5-10, Guard
Gavin Clark, Sr., 6-4, Guard/Forward (R)
Sean Snead, Sr., 6-3, Guard/Forward (R)
Brandon Sogness, Jr., 5-9, Guard
Evan Weiner, So., 6-5, Forward
Justin Merz, Sr., 6-2, Forward
Nick Uberti, Sr., 5-10, Guard
Allen Mitchell, Sr., 6-1, Guard/Forward
Javon Dupont, Jr., 5-11, Guard
Jameer Watts, Fr., 6-1, Guard
R – Returning Varsity Player
Players to Watch: Savon Myers and Wyatt Haselbauer
Myers was an all-around threat as a sophomore, filling up the stat sheet with 12.6 points, 7.8 rebounds and 3.5 steals per game. Now a year older, the 6-4, do-it-all guard can be an even greater force on both ends of the floor and will benefit from the rest of the team making strides along with him. While Myers is the team's best all-around guard and athlete, Haselbauer is its size and muscle, which he showed in posting 10 points, 10 rebounds and 1.5 blocks per game as a sophomore. Either Hawks star can carry the team on a given night and for the Hawks to reach their potential, both will have to bring it every game.
Big Shoes to Fill: Jordan Dupont
For the second straight year, Dupont will have to cover the minutes of a missing player from the prior year. Last season, Dupont earned more minutes in the absence of injured starter Josh Glenn to give Manchester a more guard-oriented lineup. This year, Dupont replaces Josh Hayes, who finished the 2019-20 season as Manchester's top scorer.
Impact Newcomer: Evan Weiner
While the current junior class takes over the leadership group within the program, it will be important for the Hawks to establish some underclass talent that can complement them over the next two seasons. At 6-5, Weiner provides a good young building block to work into the lineup as a backup for Haselbauer, as well as an option to play in bigger lineups.
After missing last season, Glenn is healthy for his senior campaign – the lone senior projected to start on opening night. Like most of his teammates, Glenn started as a freshman and brings athleticism and toughness to the front court. He should pair well with Haselbauer on both ends as a player who can battle on the inside and guard wing players as well.
Jan. 26 at Jackson Liberty, 6:30 p.m.
Jan. 28 vs. Jackson Liberty, 6:30 p.m.
Feb. 1 vs. Pinelands, 6:30 p.m.
Feb. 3 at Pinelands, 6:30 p.m.
Feb. 5 at Toms River North, 6:30 p.m.
Feb. 9 at Barnegat, 6:30 p.m.
Feb. 11 vs. Barnegat, 6:30 p.m.
Feb. 17 at Jackson Memorial, 5:15 p.m.
Feb. 19 vs. Donovan Catholic, 6:30 p.m.
Feb. 22 vs. Southern, 7 p.m.
Feb. 23 vs. Point Boro, 7 p.m.
Feb. 25 at Point Boro, 6:30 p.m.
More From Shore Sports Network