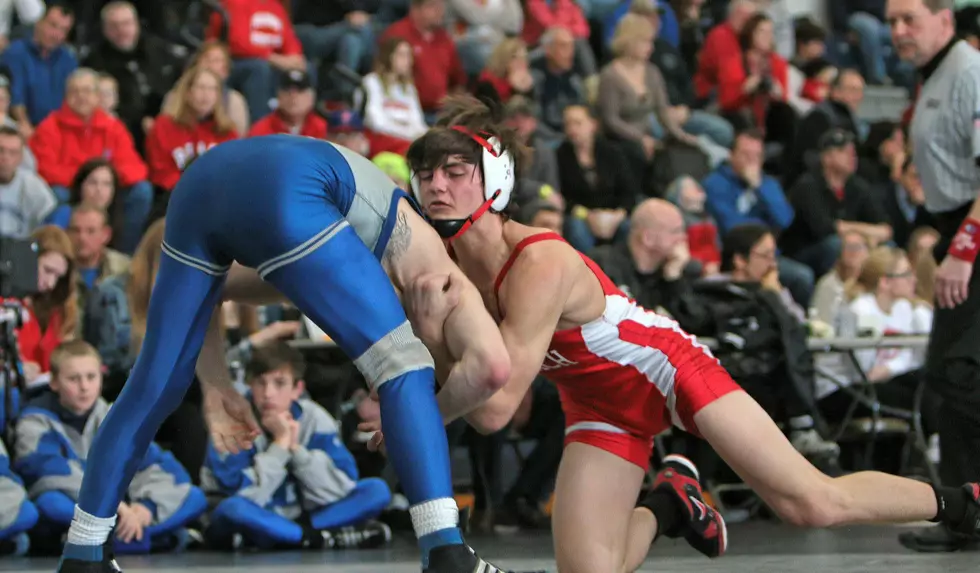 Beach Brothers: John Finnerty and Giancarlo Crivelli Look for Storybook Ending at Region 6 Tournament
Point Beach senior John Finnerty, pictured during the Group I semifinals, advanced to the Region 6 145-pound semifinals by pinning Howell's Peter Dee. He and teammate Giancarlo Crivelli are looking to become Point Beach's first state qualifiers since 2011. (Photo by Ray Richardson).
TOMS RIVER -- In the span of about 10 minutes on Friday night, Point Beach saw the chances of having its first state qualifier in five seasons move one step closer to reality.
And in fitting fashion, it was wins by a pair of senior four-year starters that put smiles on the faces of the Garnet Gulls' faithful fans.
John Finnerty and Giancarlo Crivelli were victorious in the Region 6 quarterfinals at Pine Belt Arena, putting themselves two wins away from either a region title or a third-place finish that would secure a spot in the NJSIAA state tournament next weekend. Both were No. 6 seeds in their respective brackets - 145 for Finnerty and 152 for Crivelli - but being underdogs at the start of the tournament hasn't mattered so far for the tandem.
"Honestly, seeds don't mean anything," Finnerty said. "You have to beat everyone anyway."
They're both halfway there. Finnerty, tied 4-4 in the third period with Howell senior Peter Dee, locked in a cradle and finished off the fall in 5:01 to reach the semifinals for the first time in his fourth appearance at the region tournament. Crivelli, making his first trip to regions, topped St. John Vianney sophomore Nick Caracappa, 5-2.
Point Beach is a little school big on wrestling history, but its last state qualifier was Dylan Kelly in 2011. With Finnerty and Crivelli in the championship bracket, and Jack Baker (182) and Forrest Gardner (heavyweight) in the wrestlebacks, the chance is as good as ever to end the drought and put a wrestler or two on the mats at Boardwalk Hall in Atlantic City next Friday.
"It would be great," Crivelli said. "It's something I've dreamt of doing every year of my high school career, but I fell short in districts every year until this year. Hopefully we can do some great things."
"I've been here four times but haven't had a good showing," Finnerty said. "I'm just trying to leave it all out there and get after it."
Throughout their high school careers, Finnerty and Crivelli have been separated by just one weight class and have been workout partners every step of the way. As freshmen, Finnerty went 30-7 and finished second in the District 23 Tournament at 106 pounds. Wrestling at 113, Crivelli didn't win any postseason medals but finished with a very good 23-9 mark in his first year of high school.
Their success continued as sophomores when Finnerty went 33-7 and placed third at districts at 120 pounds, and Crivelli went 28-9 at 126 pounds. Last season Finnerty finished 27-3 at 132 with another second-place finish at districts and Crivelli ended up 28-5 at 138.
As seniors, the pair helped lead Point Beach to its first sectional title in program history when they defeated Manville, 37-25, to capture the Central Jersey Group I title. Both also secured their 100th career victories, and Finnerty is now the program's all-time wins leader with 121, passing three-time district champion and state medalist Matt Rega.
"We won our first state championship, and no matter what happens next it's been a great season," Finnerty said. "The fans and everybody have been great, but I just want to give them another reason to be excited. I want to give them a reason to get down to Atlantic City. I want to make something happen."
"Me and John have been together since the start, and I owe a lot of where I'm at to practicing with him in the room every day," Crivelli said. "We've been doing great things all year and I couldn't be happier to go to that high school. It's been a great experience."
Crivelli won his first district title and the first for Point Beach since 2013 when he beat Wall's Chad McClelland at District 23. Finnerty, however, fell to Wall freshman Rob Kanniard in his final chance to bring home a district championship.
"I took second at districts for the third time and I was hurting," Finnerty said. "Matt Rega, his senior year he took second for the first time in districts, but that's the year he won regions. He said to me, 'you work your (butt) off and you get back out there and get after it'. You have to let that fuel the fire. It's one last ride, so why not go for it?"
Finnerty will face St. John Vianney senior Khalil Haskins, the No. 2 seed, during Saturday's 10 a.m. semifinal round. Crivelli will also square off against a No. 2 seed, Manalapan's Ronny Ghaida.
Even though they are so close, they know the road they'll face Saturday will be the most treacherous of their wrestling lives.
"Region 6 is the toughest region in the state," Finnerty said. "There is so much good wrestling that people who get knocked out could be champs in other regions. It means so much just to place. If you get down there (Atlantic City) out of this region anybody can place."
What Finnerty and Crivelli won't do is look ahead or overanalyze. Two wins, in any combination, is what they need. It all starts on Saturday morning.
"I know I'm as good as anybody in my weight and anything can happen," Finnerty said. "You just have to have a good tournament. You can never give up. You can never stop wrestling."
Wrestling editor Bob Badders can be reached at badders@allshoremedia.com. Follow him on Twitter @Bob_Badders. Like Shore Sports Network on Facebook and subscribe to our YouTube channel for all the latest video highlights. 
More From Shore Sports Network