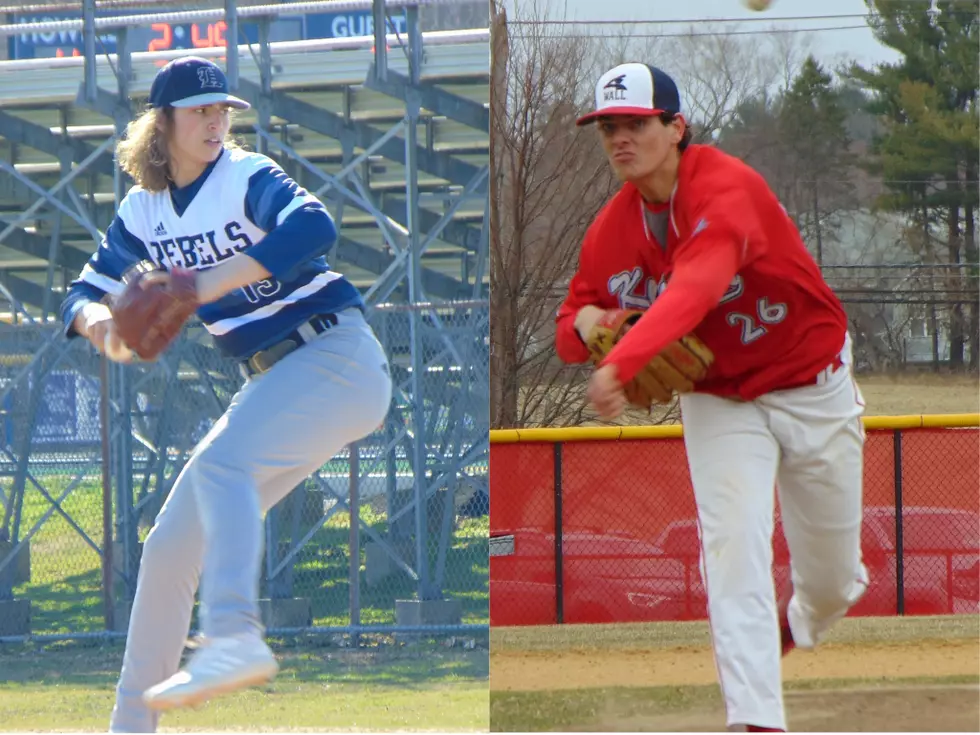 Baseball – VOTE: Toyota World Week 1 Player and Pitcher of the Week
Howell senior Ryan Bearse (left) and Wall senior Trey Dombroski (right). (Photos by Matt Manley)
Welcome to Week 1 of the Toyota World of Lakewood Shore Sports Network Player of the Week Feature, which cites the top players and pitchers from each of the six Shore Conference division and turns over the voting to the SSN Readers in order to choose the best performers. Read about the top players from the first week of the season and vote for the player and pitcher who stood out above the rest.
Vote in the polls at the bottom of the post and come back every hour to cast another set of votes until the polls close at 10 p.m. on Wednesday.
Class A North Player of the Week
After his team got off to an 0-2 start, Bearse stepped up big for the Rebels on the mound and at the plate. The senior right-hander twirled six dominant innings in a 4-2 win over CBA and also went 2-for-2 at the plate with an RBI to help his cause. The Monmouth University recruit struck out a career-high 11, walked none and allowed one run on five hits over six innings of work in the win over the Colts. Bearse also went 3-for-5 with a double and a pair of runs scored in a 9-1 win over Holmdel in Saturday's Strike Out Autism Challenge.
Class A North Pitcher of the Week
Reilly's week on the mound began, innocently enough, when he recorded the final out of the sixth inning of Wednesday's loss to Howell on a pop out. What followed on Saturday was a tour de force against an Allentown team that reached the Group III final last year and won it all two years ago. Reilly pitched a two-hitter with two walks and 16 strikeouts to carry the Colts to a win over the Redbirds in the Strike Out Autism Challenge. He also cracked an RBI double in that loss vs. Howell for good measure.
Class A North Honorable Mention: Ramon Fontanes, Marlboro; Robby Zega, Middletown South; Anthony Esposito, Middletown South; Tommy DiTullio, CBA; Kyle Brex, Howell; Bryan Bernard, Howell; Nick DiPietrantoio, Manalapan; Dominic Nonnenmacher, Freehold Boro; Aaron Ayers, Manalapan
Class A Central Player of the Week
In his first start since 2017 and first for Manasquan, Bauer was plenty sharp. The Elon commit struck out seven and walked none in a four-hit shutout of Monmouth and also brought his bat in the two Warriors wins over the Falcons, going 1-for-3 with an RBI in his win on the mound and 1-for-2 with a double and an RBI in his team's 17-2 romp on Thursday.
Class A Central Pitcher of the Week
Deusch was one of the best strikeout pitchers at the Shore last year and picked up where he left off with a dominant outing in Shore's opening-day win over Rumson. The senior left-hander fired a one-hit shutout with 10 strikeouts and one walk in an 8-0 win and he capped the week with a scoreless seventh inning to close out a win over Red Bank at Saturday's Strike Out Autism Challenge.
Class A Central Honorable Mention: Shane Panzini, Red Bank Catholic; Robert Gonzalez, Red Bank Catholic; Ryan O'Hara, Red Bank Catholic; Ezra Caspi, Holmdel; Alex Alonso, Monmouth; Dante Ciaramella, Monmouth; James Harmstead, Manasquan; D.J. Dekis, Raritan; Jake Tennant, Raritan; Andrew Schmid, Rumson-Fair Haven; Cody Fleischer, Shore; Evan Peeke, St. Rose
Class A South Player of the Week
Alex Iadisernia, Jackson Memorial
Any number of Jackson Memorial sluggers could have earned the Player of the Week distinction in Class A South but only Iadisernia went 7-for-8 and picked up his 100th career hit. The Elon commit went 6-for-his-first-6 and in three Jackson Memorial wins last week, he clubbed three doubles and a home run while scoring five runs and driving in five as well.
Class A South Pitcher of the Week
Matt Santos, Toms River East
Outside of Jackson Memorial, Santos and Toms River East had the best showing in A South last week. The junior right-hander earned a win with five strong innings vs. Central to open the season and pitched a scoreless inning to help the Raiders put away Barnegat at Saturday's Strike Out Autism Challenge, with just one run and two hits allowed in those six innings. Santos is also 4-for-9 with four doubles at the plate to open the season.
Class A South Honorable Mention: Ryan Lasko, Jackson Memorial; Carmine Petosa, Jackson Memorial; Ahmir Cournier, Jackson Memorial; Christian Pellone, Jackson Memorial; Joe Princiotta, Jackson Memorial; Ryan Goodall, Toms River East; Robert Pero, Toms River East; Dylan Feigin, Toms River North; Robert Jeans, Toms River North; Sam Angelo, Toms River North; Rob Page, Brick; Trevor Coltenback, Central; Frank Pellegrino, Southern; Xavier Hendricks, Southern; Jordan Erbe, Toms River South; Matt Hartshorn, Toms River South
Class B North Player of the Week
Neptune went 2-1 last week and Cole led the way in both wins – once from the mound and once at the plate. The University of Kentucky commit struck out eight over five shutout innings in a 4-0 win over Middletown North in Tuesday's opener, then went 3-for-5 with a double and a grand slam in a 10-3 win over Freehold Boro in the Strike Out Autism Challenge.
Class B North Pitcher of the Week
Get used to it, folks. Dombroski made regular appearances in this space last year and if his first start is any indication, he will be back a lot this year. In Wall's 3-0, opening-day win over St. John Vianney, Dombroski tossed six one-hit innings while striking out 14 and walking three to pick up win No. 1 this season. The 14 punchouts were a career-high for the reigning Shore Sports Network Pitcher of the year.
Class B North Honorable Mention: Grant Shulman, Wall; Teddy Sharkey, Wall; Ryan Toomey, Ocean; Max Winters, Ocean; Cole Kelly, Ocean; Rob Mannino, Colts Neck; Reece Horneck, Colts Neck; Dan Cowles, Colts Neck; Ryan Rozinski, Middletown North; Sean Gardiner, Middletown North; Jackson Hercek, Matawan; Griffin Falco, Matawan; Christian Rivera, Matawan; Dan Hirujo, Matawan; Jack Smith, Neptune; Jack Povey, Red Bank; Luciano Fabrizzi, St. John Vianney; Ryan Sekman, St. John Vianney
Class B Central Player of the Week
All but one game on Friday's Shore Conference schedule was rained out and when the umpire yelled "Play ball" to begin Ranney's home game with Asbury Park, Gavin made the most of the chance to play that day. The Panthers senior spun an eight-strikeout no-hitter over four innings and one lone error prevented a rain-shortened perfect game. Gavin also swung a hot bat last week, going 3-for-3 with two doubles, a triple and seven RBI in two lopsided wins over Academy for Urban Leadership and Asbury Park.
Class B Central Pitcher of the Week
Will Baranello, Point Beach
Before Gavin was perfect over four innings of a rain-shortened game, Baranello threw the first no-hitter of the Shore Conference season by shutting down a Keansburg team that entered the season aiming to win a B Central division title. Baranello, who moved from England for the 2018-19 school year, struck out 11 and walked four on 78 pitches during his five-inning no-no. Baranello also opened the season with a big day at the plate in a 12-5 win over Keansburg, in which the junior went 3-for-5 with a double and four RBI.
Class B Central Honorable Mention: Anthony Longo, Keyport; Brandon Sansone, Mater Dei; Patrick Mastro, Mater Dei; Mike Folk, Mater Dei; Sean Turner, Mater Dei; Brett Wehringer, Ranney; Tim Farrell, Henry Hudson; Grady Hendrickson, Henry Hudson; Matt Payne, Henry Hudson
Class B South Player of the Week
Young threw the third no-hitter of the week in the Shore Conference, shutting down Spotswood over five innings with 12 strikeouts and one walk. He also delivered at the plate by going 3-for-3 with a double and two RBI as part of a 5-for-10 week at the plate with two doubles.
Class B South Pitcher of the Week
Joey Ventresca, Pinelands
The only pitcher to pitch two complete, seven-inning games during the first week of the season, Ventresca was utterly dominant in both of them. The senior right-hander opened the season with a 16-strikeout one-hitter vs. Lacey and followed that up with a 12-strikeout two-hitter vs. Point Beach on Saturday. For the week, the Monmouth University commit allowed one run on three hits in 14 innings with 28 strikeouts and two walks. Ventresca also picked up a two-run single in the season-opening win over Lacey.
Class B South Honorable Mention: Kevin Ritz, Jackson Liberty; Brandon Kinsman, Jackson Liberty; Shane Hickey, Jackson Liberty; Dan Keenan, Jackson Liberty; Noah Dean, Pinelands; Rian O'Rourke, Pinelands; Nick Chiappisi, Manchester; Ryan Costello, Manchester; Jacob Tafrow, Manchester; Nick Guzzi, Point Boro; Ryan Jasaitis, Point Boro; Paul Franceschini, Point Boro; Matt Scott, Barnegat; Justin Vega, Neptune; Jacob Bowles, Lacey; Jorden Jurkiewicz, Lacey; Matt Morro, Donovan Catholic; Lawrence Zingi, Donovan Catholic
More From Shore Sports Network