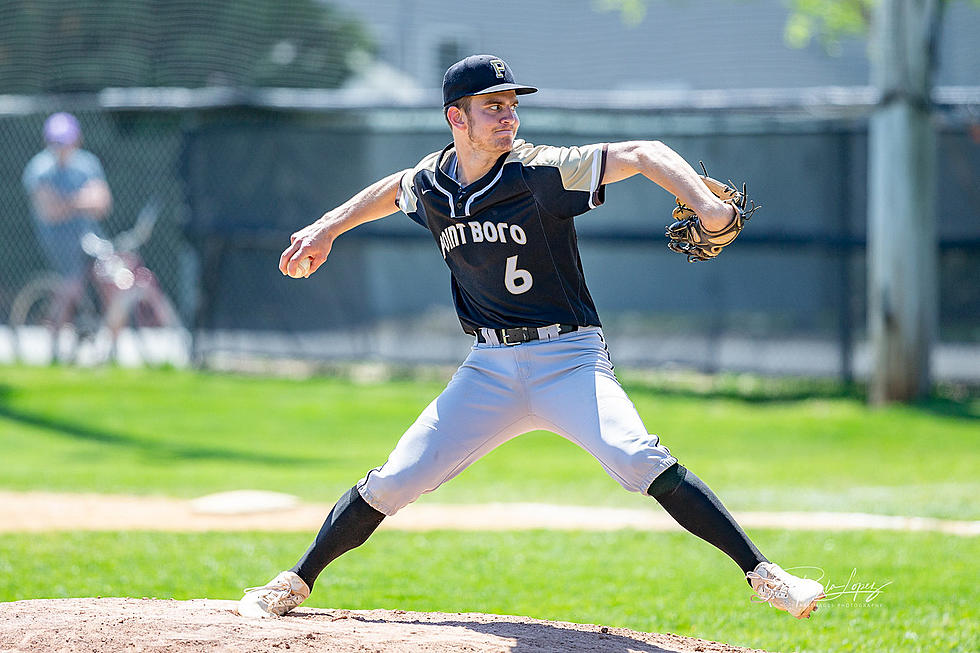 Baseball – Accomplished Talent Could Highlight Potential Shore Baseball Season
Point Boro junior Nick Guzzi. (Photo by Paula Lopez)
Enter your number to get our free mobile app
As we get ready to move out of a miserable March and into April, it is still up in the air whether or not there will be any sort of high school baseball in 2020. The college baseball season has already been canceled but the NJSIAA and programs all over the state are hoping to find time to play at least a partial season once the COVID-19 Pandemic is deemed manageable enough.
Should the 2020 High School Baseball season ever begin, it will feature some serious returning talent in the Shore Conference. In the coming weeks, we will give you a look at some of the players and teams that were positioned to make noise this spring and, perhaps, could still do so as the calendar gets closer to summer.
The quickest way to verify the quantity and quality due back at the Shore this season is with a quick browse through last year's All-Shore and All-Division teams. A total of 15 players were named to the Shore Sports Network All-Shore Team - five each on the first, second and third teams. The five winners of the All-Shore Final Vote were all underclassmen as well, making 20 of the 50 recognized players - 40 percent of the 2019 All-Shore Team - eligible to play in 2020.
The Coaches' All-Division teams get even more players into the mix, including four players named Hitter of the Year and three named Pitcher of the Year. Let's have a look at the players we are currently missing out on watching but will hopefully get to see in some capacity sooner rather than later.
Teddy Sharkey, Sr., CF/RHP, Wall – Emerged as Wall's No. 2 starter (6-0, 0.80 ERA, 68 strikeouts in 43 2/3 innings) behind two-time Pitcher of the Year Trey Dombroski. Put up big numbers at the plate (.391/.542/.598) as well for the Group III champion Crimson Knights. Flipped his college commitment from Florida State to Coastal Carolina.
Rocko Brzezniak, So., SS, St. John Vianney – An eye-popping freshman season puts Brzezniak in position to have one of the best careers ever by a Shore Conference hitter. Committed to play at Louisville before his freshman year, he then hit went out and hit .508 with seven homers and a .952 slugging percentage.
Nick Guzzi, Sr., RHP/3B, Point Pleasant Boro – Capped remarkable season with a gutty performance in the Group II championship game – Guzzi's only loss in a 9-1 season. With 84 strikeouts and a 1.23 ERA in 62 2/3 innings, the St. John's commit likely would have been the Pitcher of the Year if not for the magnificent Dombroski.
Shane Panzini, Jr., RHP/LF, Red Bank Catholic – Stock continues to rise after making the leap to All-Shore status as a sophomore, when Panzini went 7-2 with a 0.66 ERA and 73 strikeouts in 53 innings. Has since committed to Virginia and was invited to MLB's Prospect Development Pipeline Showcase in Santa Clara, Ca.
Pat Reilly, Sr., RHP/1B, Christian Brothers Academy – Started last year committed to Northeastern despite no varsity innings to his name and ended the summer as a First-Team All-Shore pitcher committed to pitching factory Vanderbilt. While last year was indeed a breakout (7-0, 0.67 ERA, 67 strikeouts in 42 innings), the 6-5 right-hander with a 96 mile-per-hour fastball is just getting started.
Carmine Petosa, Sr., 1B, Jackson Memorial – Wake Forest commit broke out as a junior, hitting .410 with five homers and a .754 slugging percentage.
Ryan Lasko, Sr., CF, Jackson Memorial – A prized recruit for Rutgers, Lasko showed athleticism in centerfield and on the basepaths while discovering his power stroke at the plate (.380, eight doubles, seven homers, 33 RBI and 14 stolen bases).
Chris Lotito, Sr., CF/RHP, Middletown South – The Seton Hall commit became one of the Shore's best all-around players – middle-of-the-order hitter, speedy centerfielder and top starting pitcher – on a Middletown South team that surprised by winning the A North title.
John Gannon, Sr., C, Neptune – Shared the B North Co-hitter of the Year with Brzezniak and finished tied fourth in the Shore with 33 RBI an eighth with a .778 slugging percentage. Committed to St. Thomas Aquinas.
Matt Potok, Jr., RHP, Jackson Memorial – Committed to Coastal Carolina after delivering 34 dominant innings as a sophomore, which included a 0.62 ERA, 33 strikeouts and only three walks.
Shane Hickey, Sr., 3B/RHP, Jackson Liberty – Stepped up as Jackson Liberty's most dependable starting pitcher and was his usual, steady self at the plate (.353, 10 doubles, 22 RBI).
John Foreman, Sr., CF, Manasquan – Flew under-the-radar (did not make the coaches' all-division team) with .414 average to go with six doubles, a homer and 19 RBI while playing centerfield for the No. 8 team in the Shore Sports Network Top 10.
Rob Mannino, Sr., C, Colts Neck – Athletic backstop was limited to DH duties during the season and took to it nicely with 10 extra-base hits and a triple-slash line of .368/.538/.632.
Kevin Schoenberer, Sr., RHP, Ocean – The ace of the No. 10 team at the Shore and Dominican College commit posted a 6-1 record with a 1.14 ERA in 49 innings.
Nick Beetel, Jr., LHP, Jackson Memorial – The Lehigh commit is already a two-time All-Shore selection after posting a 1.18 ERA with 46 strikeouts in 35 2/3 innings and hopes to have a chance to make it three in a row.
Ryan Goodall, Sr., C, Toms River East – TCNJ commit came on strong during Toms River East's run to the South Jersey Group III semifinals.
Will Hopkinson, Sr., SS, Manasquan – If the season ever starts, Manasquan's current leadoff man will be a four-year starter at shortstop with a state title already under his belt.
Ramon Fontanes, Sr., CF, Marlboro – Stepped up during Marlboro's run to the Central Group IV semifinals and has put up impressive numbers in each of the past two years.
Matt Santos, Sr., RHP/1B, Toms River East – Delivered on the mound and at the plate for Toms River East in two thrilling state tournament wins.
Ryan Sekman, Jr., LHP, St. John Vianney – The Lancers Southpaw took over as the Vianney ace during his sophomore year and hit his stride at the end of last season.
Tom Giudice, Jr., 1B/3B/OF, Manalapan
Chris O'Connor, Sr., 3B, Middletown South
Tommy Talbot, Sr., CF, Howell**
Ramon Fontanes, Sr., CF, Marlboro
Danny Minze, Sr., RHP/RF, Middletown South**
Chris Lotito, Sr., CF/RHP, Middletown South
Pat Reilly, Sr., RHP/1B, Christian Brothers Academy
Zach Gorman, Jr., RHP/OF, Freehold Twp.
**- Co-Hitter of the Year
Cody Fleischer, Sr., C, Shore
Alex Galvan, Sr., 1B/RHP, Manasquan
Jack Scrivanic, Sr., 1B, Red Bank Catholic
Andrew Schmid, Jr., SS, Rumson-Fair Haven
Thomas Elgrim, Jr., CF, Rumson-Fair Haven
Shane Panzini, Jr., RHP, Red Bank Catholic*
John Nimeth, Sr., RHP, Red Bank Catholic
Tom Cartnick, Sr., C, Jackson Memorial
Carmine Petosa, Sr., 1B, Jackson Memorial
Christian Pellone, Sr., 2B, Jackson Memorial
Max Cala, Jr., OF, Brick Memorial
Ryan Lasko, Sr., OF, Jackson Memorial
Robert Jeans, Sr., OF/RHP, Toms River North
Matt Potok, Jr., RHP, Jackson Memorial*
Nick Beetel, Sr., LHP, Jackson Memorial
John Gannon, Sr., C, Neptune**
Dan Cowles, Sr., 1B, Colts Neck
Rocko Brzezniak, So., SS, St. John Vianney**
Teddy Sharkey, Sr., OF/RHP, Wall
Jay Kalieta, Sr., CF, Matawan
Rob Mannino, Sr., DH, Colts Neck
Kevin Schoenberger, Sr., RHP, Ocean
**- Co-Hitter of the Year
David Terra-Nova, Jr., C, Point Pleasant Beach
Alec Glenn, Jr., 1B, Point Pleasant Beach
Sean Turner, Sr., SS/RHP, Mater Dei Prep
Phil Trebour, Jr., SS/RHP, Point Pleasant Beach
Brett Wehringer, So., SS/RHP, Ranney
Charlie Chropuvka, Jr., CF, Ranney
Hunter Alia, Jr., CF, Point Pleasant Beach
Pete Gorman, Sr., 2B/OF, Mater Dei Prep
Will Baranello, Sr., LHP/OF, Point Pleasant Beach
Patrick Mastro, Sr., RHP/CF, Mater Dei Prep
Matt Van Brunt, Jr., RHP/2B, Point Pleasant Beach
Shane Hickey, Sr., 3B/RHP, Jackson Liberty
Nick Zbikowski, Sr., 2B/SS, Point Pleasant Boro
James Johns, Sr., CF/LHP, Manchester
Liam Leonard, Sr., OF, Donovan Catholic
Ryan Jasaitis, Sr., C, Point Pleasant Boro
Nick Guzzi, Sr., RHP/3B, Point Pleasant Boro*
Nick Chiappisi, Sr., RHP/3B, Manchester