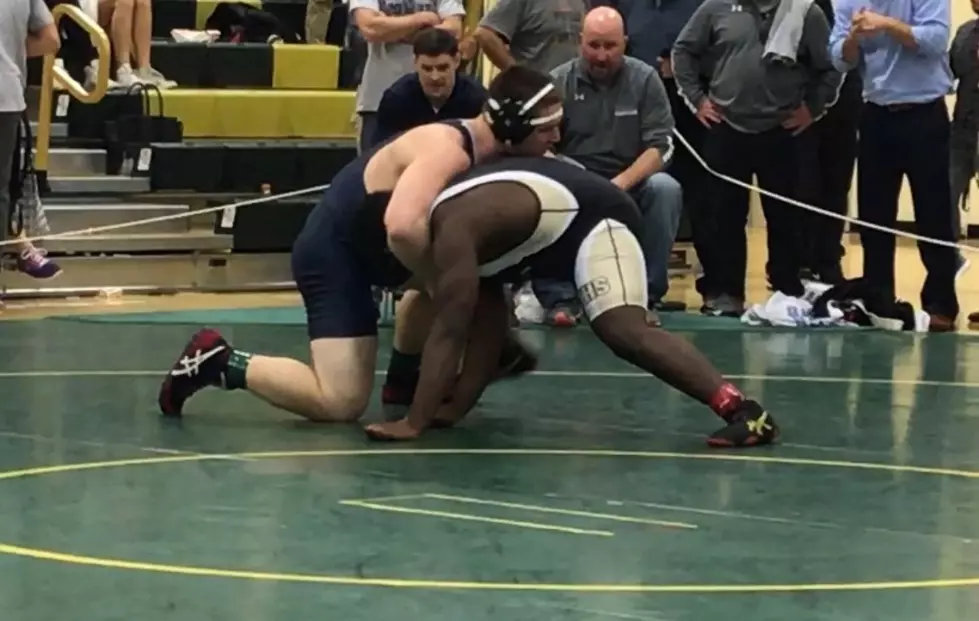 Wrestling – Region 6 Quarterfinals Recap: Howell Sends Nine to the Semifinals
Howell senior Eric Keosseian won by fall in the first period in the Region 6 220-pound quarterfinals.
BRICK TOWNSHIP -- The greatest season in the history of Howell wrestling isn't slowing down now that the individual portion of the state tournament has arrived. The Rebels are still going full steam ahead.
Howell advanced nine of its 11 wrestlers to Saturday morning's semifinals at the NJSIAA Region 6 Tournament, putting each one win away from qualifying for the state tournament. Top seeds Darby Diedrich (120), Kyle Slendorn (126) and Eric Keosseian (220) each won by fall in their quarterfinal bouts on Friday night to lead the way. Freshman Luke Rada at 113, junior Dan Esposito at 132, sophomore Xavier Kelly at 145, sophomore Christian Murphy at 160, freshman Shane Reitsma at 170 and senior Jake Nash at heavyweight also won to give Howell the most wrestlers still alive in the championship bracket in Region 6.
"We told the kids just get through that next round, go out there and just wrestle," said Howell head coach John Gagliano. "Some kids have tougher draws and you try to push as many as you can to the semis, but they're all still alive."
Junior Jesse Liptzin and sophomore Evan Richard were the only Rebels to taste defeat in the quarterfinals. Liptzin dropped a 7-3 decision to the No. 1 seed at 106 pounds, Allentown's Joey Lamparell. Richard fell to Wall's Nick Wagner, 7-0, in the 138-pound quarterfinals. Both can reach the state tournament with two wins in the wrestlebacks.
Eight of Howell's semifinalists are seeded either first, second or third, and Rada is the only No. 3 seed. The outlier is Kelly at 145 pounds, but that's nothing new. Kelly, the No. 6 seed, scored an 8-6 decision over the No. 3 seed, Long Branch's Luke Arnold, to reach the semifinals. Kelly isn't like most of the wrestlers on Howell's roster and in its wrestling room. He hasn't been wrestling his whole life. In fact, it's been just over a year since he first took up the sport.
It's hard to tell that when he's on the mat. He is among the leaders in technical falls in the Shore Conference with eight and was a key cog in the middle of the lineup that helped Howell claim its first NJSIAA Group V state championship and second straight Shore Conference Tournament title.
"He's athletic and he's like a sponge: he takes everything in," Gagliano said. "He's very coachable, a super nice kid and it's great to see him have success."
Kelly tried wrestling in seventh grade at the urging of a friend's uncle with the plan that, if he liked it, he would come out for the high school team.
"I didn't think I would want to do it, but I tried it and loved it," Kelly said.
Walking into a wrestling room filled with close to 100 wrestlers, almost all of whom would consider themselves "wrestlers" wasn't easy.
"It was definitely intimidating at first, but I knew I could push myself to be as good as them someday," Kelly said. "I just keep pushing myself and trying to get better."
Kelly (29-6) faces the No. 2 seed, Robbinsville's Garrett Bilgrav, in the semifinals on Saturday morning at Brick Memorial. He will try to reverse a 12-5 loss to Bilgrav from the District 22 semifinals, but improvement is something that has come at an accelerated rate for Kelly. Either way, he is one win away from a top-four finish and a trip to Boardwalk Hall.
Another Shore Conference wrestling neophyte is also close to a state tournament berth, and one that would end a 20-year drought for his program. Manasquan junior Francis Marshall, the No. 3 seed, won by 15-8 decision over Northern Burlington's Anthony Giampetro in the 152-pound quarterfinals and will meet Manalapan senior Ronny Ghaida in the semifinals.
Marshall is a first-year wrestler with a background in mixed martial arts, and began wrestling at the urging of his MMA coach, former Point Boro region champion Kurt Pellegrino. He is 22-7 on the season.
Manasquan also has senior Joe Ostberg in the 160-pound wrestlebacks. He needs two wins to reach the consolation final and clinch a state tournament berth. Manasquan's last state qualifier was Mike Schappart, who finished seventh/eighth at 171 pounds in 1998.
"It would be tremendous for our program," said Manasquan head coach Matt Voskian. "It's been 20 years and that's a long time. It would be great to see our kids' names in the media and hopefully we can get some kids to feed off that energy and get excited about the wrestling team."
All 14 of the No. 1 seeds advanced to the semifinals while 10 No. 2 seeds, seven No. 3 seeds, nine No. 4 seeds and seven No. 5 seeds are still on contention for a region championship.
There were two medical forfeits as Northern Burlington's Vincent Hellthaler, the No. 2 seed at 138 pounds, withdrew. That allowed the No. 10 seed, Point Boro sophomore Spencer Robinson, to advance to the semifinals. At 182 pounds Manalapan senior Justin Obermeyer had to withdraw, which put No. 2 seed Zeke Brinson of Riverside into the semifinals.
A major injury shook up the 170-pound bracket as Delran senior Phil Rogers suffered a dislocated elbow in his quarterfinal bout with Nottingham's John Jacobs to end his season. Rogers was the No. 1 seed, 38-0 and ranked fourth in New Jersey by NJ.com. Reitsma, the No. 2 seed who is also undefeated, is now the favorite to win the title.
A pair of juniors recorded their 100th career wins as Colts Neck's Joey King and Ocean's Jake Benner reached the century mark with pins. King pinned Ocean's John Santos in 3:59 in the 113-pound quarterfinals and Benner decked Delran's Anthony Cameron in 46 seconds at 138 for his Shore Conference-best 26th win by fall this season.
Five No. 6 seeds advanced to the semifinals, including Ocean freshman Alex Poniros at 126 pounds. The 34-1 frosh rallied to pin Bordentown's Verlensky Joachim with a spladle at the 5:22 mark. He'll face Trenton's Herbert Edwards in the semifinals.  
Speaking of spladles, a matchup between two wrestlers adept at the painful pin hold ended with Brick Memorial senior Chris Richardson scoring a 4-2 win over Point Beach junior Jimmy Sherlock in the 152-pound quarterfinals. Down 2-0 in the second period, Richardson rallied for the win with a third-period reversal by fighting off - what else - a spladle. The win also reversed a loss by fall to Sherlock from the regular season.
"He locked it in pretty tight but I just knew what to do with my hips," Richardson said. "I sunk them back down and eventually reversed him because of it. He had me going back but I posted both my arms and put him in an uncomfortable position."
"On the mat I think I can beat anyone in the state, honestly," Richardson said. "As bad as that sounds, I'm just confident on the mat."
Richardson will be a big underdog against the top seed, Wall sophomore Rob Kanniard, in the semifinals, but he needs just one more win either there or in the wrestlebacks to reach the state tournament.
'I've always wanted to go to the state tournament and I just want to win one more match so badly, it's unreal," Richardson said.
Wrestling editor Bob Badders can be reached at badders@allshoremedia.com. Follow him on Twitter @Bob_Badders. Like Shore Sports Network on Facebook and subscribe to our YouTube channel for all the latest video highlights. 
More From Shore Sports Network