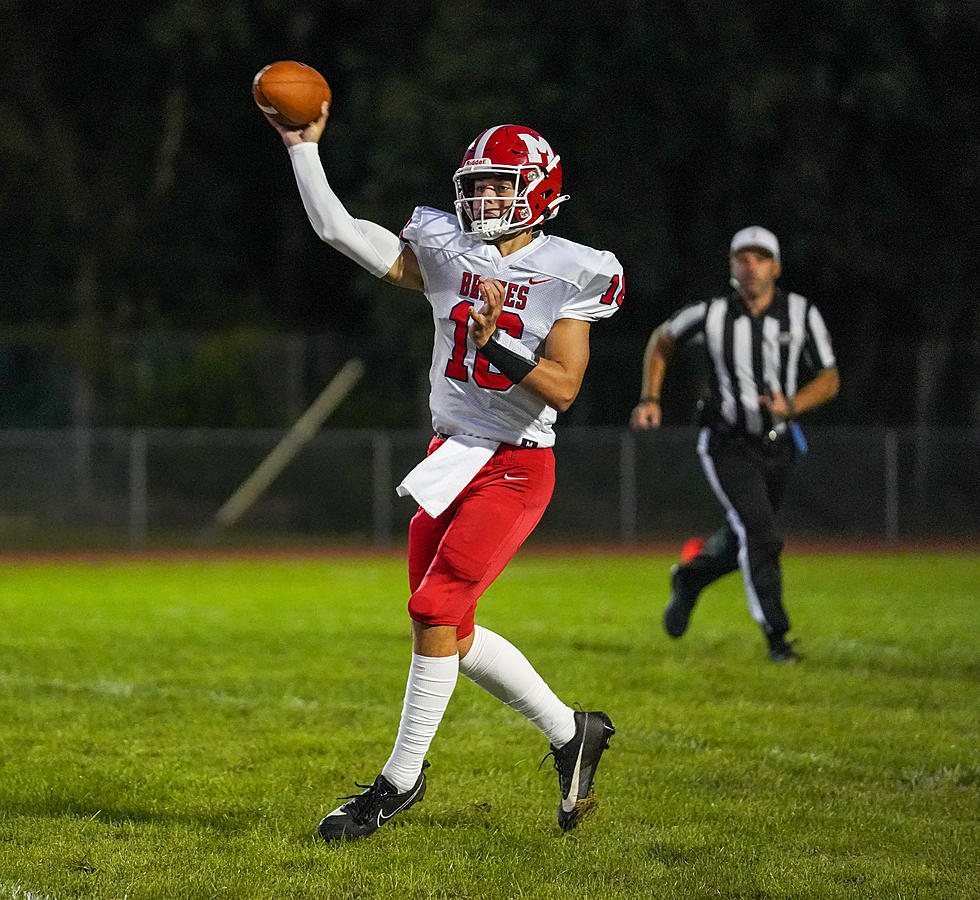 The Shore Football Report: Shocking the Shore
Robert Badders
The state playoffs haven't started yet, but they basically did for Manalapan in Week Six.
The Braves faced undefeated Point Boro, a team averaging 42.4 points per game and ranked fourth in the Shore Sports Network Shore 16 at the time. To top it off, the Panthers had won 15 straight against Shore Conference competition.
Manalapan was on the outside looking in when it came to the United Power Rankings in the South Group 4 region, so its playoff hopes were going to be on life support if the Braves couldn't find a way to stun the Panthers.
"Before the game even started in the huddle, we were saying this was basically do or die," senior WR/DB Anthony Macchio said. "It's win or go home, so we had to play our hearts out."
The Braves shocked the Shore with a 24-23 win over Point Boro in a Colonial Division game, which put them at No. 15 in the UPR in South 4. Teams must be in the top 16 to qualify. There are two regular-season games left before the cutoff, but only one for Manalapan, which has a bye this week before playing Red Bank.
Perhaps more importantly, it showed Manalapan's potential when it plays to its capabilities. The Braves (3-4) had lost three in a row before upsetting Point Boro, but turned it around behind a clutch offense and a defense that slowed down one of the Shore's top offenses.
"This game definitely showed what our team could be and should be, and that the losses we've had throughout the year, that wasn't us," Macchio said.
Junior quarterback Ryan Dougherty was 11-for-12 for 157 yards and two touchdowns, including one to Macchio, and threw a 2-point conversion pass that proved to be huge. Sophomore running back Ah'sere Woolfolk ran for 135 yards and broke off a 55-yard touchdown with 3:34 left in the game to help Manalapan take the lead.
Dennis Gabinelli came up with a game-clinching interception on defense, where the Braves limited Point Boro to a season-low in points. The Panthers' triple option attack had scored at least 30 points in 15 of their last 16 games. While senior quarterback Matt Oliphant had a strong game for Point Boro with 161 yards rushing and three total touchdowns, the Braves limited the damage by star fullback Jake Croce on the ground.
On the film that Manalapan coaches had watched Oliphant only pitched the ball to the slotback a handful of times across multiple games, so the Braves wanted to force him to pitch it while trying to contain Croce on the fullback dive, according to coach Dom Lepore.
They also enlisted assistant coach Bill Smith Jr. to mimic Oliphant in practice because he knew the offense, Lepore said. He helped prepare the Braves to slow down the Panthers' attack, and it created momentum during the game when they got stops on a team that had not been stopped much all season.
"Every time the defensive side made a play, our offense fed off it, and then vice versa," Macchio said. "The energy just kept going back and forth."
They also were resilient. Point Boro took leads of 17-10 and 23-18 in the second half and Manalapan kept answering. Senior linebacker Aidan Wilmot also made a huge tackle to stop a two-point conversion attempt with Point Boro up 23-18 with 5:26 left in the game.
"It was just that mentality of being that one team to end their undefeated record and having that mindset that the game's not over and the job's not done," Macchio said.
The Braves' win was also part of a banner week for teams from the Freehold Regional District. Marlboro improved to 6-0 and clinched at least a share of its first division title since 1994, Freehold Township won a one-point thriller over Brick to put itself in position for a state playoff berth, and Howell won its second straight after an 0-4 start.
Plus, Manalapan's win helped out its district rival, Colts Neck, which can now potentially tie Point Boro for the Colonial Division title or take it outright if the Panthers lose to Raritan in their regular-season finale. The Cougars rolled to a win over Raritan on Saturday and now can get at least a share of their second straight division crown with a victory over Long Branch on Oct. 21.
Lepore was a guest on this week's Varsity Link Coaches Corner show, so keep a lookout for that to hit Spotify, YouTube, Apple, etc. on Thursday.
Watch for the Hook
Speaking of Freehold Township, the Patriots pulled off a 27-26 win over Brick in the Independence Division by executing a play they had been sitting on for weeks.
Junior quarterback Nick Cardone threw a pass to junior wideout Jaylen Gill-Anderson, who flipped it to crossing wideout Bobby Loff for a 43-yard hook-and-lateral. That trickery set up Cardone's 23-yard touchdown pass to GianPaul Cortes inside the final minute to give the Patriots a heart-pounding win.
"We've been waiting for that all year," Cardone said about the hook-and-lateral. "We work on it every walk through, once or twice a day. We finally had a moment to use it. I was like, 'It's going to be a touchdown.' That didn't happen, but it worked out to set up the game-winner."
Head coach Cory Davies has made that play a staple of late-game heroics over the years between his stints at Howell and Freehold Township. The win also put the Patriots (4-3) at No. 11 in the UPR in the South Group 5 region, giving them a shot at a potential home playoff game.
"We were pumped," Cardone said. "We needed that win bad. It was like an elimination game for us."
Cardone has been one of the most productive quarterbacks in the Shore with 1,572 yards and 14 touchdowns passing along with a team-high 403 yards and 4 touchdowns rushing. His running ability has been a game-changer while teams try to stop Freehold Township's spread passing attack.
"People are bringing five or six guys every time against us because they know we are going to throw the ball," Cardone said. "I've had some openings (to run). When they're bringing a lot of kids, if I can beat a D-lineman one-on-one that gives us the advantage."
The Patriots were also out to prove they wouldn't take a big step back despite losing standout junior running back Chase Enlow and junior wide receiver Shawn Corchado, who transferred to the Hun School of Princeton in the offseason.
Cortes has emerged as one of the Shore's most productive wideouts with 22 catches for 477 yards and 6 touchdowns, Gill-Anderson is right behind him with 20 for 357 and a touchdown, senior Nick Carnevale has 22 for 305 and 5 touchdowns, and junior Noah Cancela has 23 for 244 and a touchdown.
The defense has also produced 10 turnovers, including 8 interceptions. They came up with a crucial stop that helped set up the game-winning drive against Brick.
Next up is a nondivisional game against Ocean this week, followed by the regular-season finale at Barnegat. Freehold Township has only won one state playoff game in its history, which the Patriots are hoping to change this year.
Also, if Freehold Township beats Barnegat and Brick upsets unbeaten rival Brick Memorial in two weeks, the Patriots would clinch a tie for their first division title in program history.
Cory Davies will be a guest on this week's Varsity Link Coaches Corner show, so keep a lookout for that to hit Spotify, YouTube, Apple, etc. on Thursday.
Young Lancers making strides
A St. John Vianney team that starts three freshmen took a step forward in its growth in knocking off a Shore Regional team that had won four straight with a 21-6 win in the Constitution Division.
Junior wideout Dante Campagna had a touchdown catch from junior quarterback Ryan Vallely and senior Luca Minardo ran for a touchdown in the win.
"We told the kids, this could be our turning point," Lancers coach Jeff Papcun said. "If we can beat these guys and show the Shore what we're about, we're going to be a scary team for the next three or four years."
The Lancers are 2-5, but four of their five losses are by eight points or less, so it's mainly been about a young team learning to finish games. Freshman linebacker Donny Rocco Sosa has been a breakout player with a team-high 50 tackles, including 15 tackles, an interception and two tackles for a loss in the win over Shore. He also starts at guard on the offensive line.
Freshman safety Abdul Turay has also made an impact with 34 tackles as well as 336 yards rushing and three touchdowns as a running back. Freshman Joe Diver, who is already 6-1, 250, starts at center.
"We had big expectations for (Sosa) after seeing him play last year," Papcun said. "Just his leadership and how kids feed off his energy."
Rutgers and Monmouth University have shown interest in Sosa and Turay, according to Papcun.
The Lancers main struggles have been offensively, where they have worked to find an identity. Senior quarterback Mark Augello, a Freehold Township transfer, injected immediate life into them in his first game after getting eligible, a 34-0 win over Ocean. However, he injured his ankle a week later against Long Branch.
Augello is expected to return for this week's nondivisional game against Colts Neck, where Papcun was formerly an assistant under coach Matt Ahearn.
Play of the week
Let's do three for this week.
First, blink and you'll miss it. Marlboro's Kamerin Nash just straight up swipes the ball from a Jackson Memorial upman on a pooch kick for a huge turnover in the Mustangs' 11-2 win in a showdown of unbeatens.
Next, give it up for the spin move by Holmdel's Matt Iulo in a 30-0 win over Ocean.
Finally, sophomore Trey Tallmadge from Brick Memorial brings the noise against Freehold to cause a fumble. One of the best young players in the Shore.
Alumni of the Week
Patrick Jamin, Jr., WR, Middlebury
The former Rumson-Fair Haven star caught a game-winning, 16-yard touchdown pass with 56 seconds remaining to send Middlebury to a 12-10 win over Williams. He led all receivers in the NESCAC for the week with 140 yards receiving despite the game being played in torrential rain. He also had a 62-yard catch in the win, and leads the NESCAC with 433 yards receiving.
Elijah Marquez, So., RB, Stevenson
The former Manalapan standout was named the Middle Atlantic Conference Offensive Player of the Week after running for 116 yards and three touchdowns on 17 carries in a win over Albright.
Shore Bites
---Five teams clinched no worse than a tie for division titles in Week Six. Marlboro won its first title since 1994, Brick Memorial took home its first since 2017, Toms River South won its first crown since 2002, Holmdel picked up its first since 2018, and Keyport clinched back-to-back division titles for the first time since 2002-03.
Toms River South and Holmdel each only had one win last season, so it's been a remarkable turnaround for those squads in particular.
All five of them still have to win one final division game or another team could potentially tie them for the title. Keyport can lock up the outright Patriot Division title with a win over rival Keansburg on Saturday.
--If Point Boro beats Raritan in two weeks and Colts Neck beats Long Branch, the two would tie for the Colonial Division title. A loss by either one would allow the other to clinch the outright title. A loss by both would allow other teams to potentially grab a share.
---Donovan Catholic junior star wide receiver Michael Thomas has added an offer from Michigan State and is now up to 15 total offers, according to his Twitter post.
---Red Bank Catholic now has the longest winning streak against Shore competition with 11 straight after its win over Middletown South and Point Boro's loss to Manalapan.
---Matawan is right on the playoff bubble at No. 16 in UPR in South Group 3 with a tough game against Point Boro this week. The team right behind them, Burlington Township (2-5), plays a loaded Winslow Township team this week....Brick's loss to Freehold Township means the Green Dragons are in must-win mode against Middletown North and then undefeated rival Brick Memorial to secure a playoff spot. They are currently 18th in South Group 4...Despite an 0-4 start, a resurgent Howell is now in the playoff mix at No. 15 in South Group 5 following its win over Southern to get to 2-4...Middletown North's win over Lacey put the Lions at No. 14 in the North Group 4 rankings, so that was a crucial one.
More From Shore Sports Network