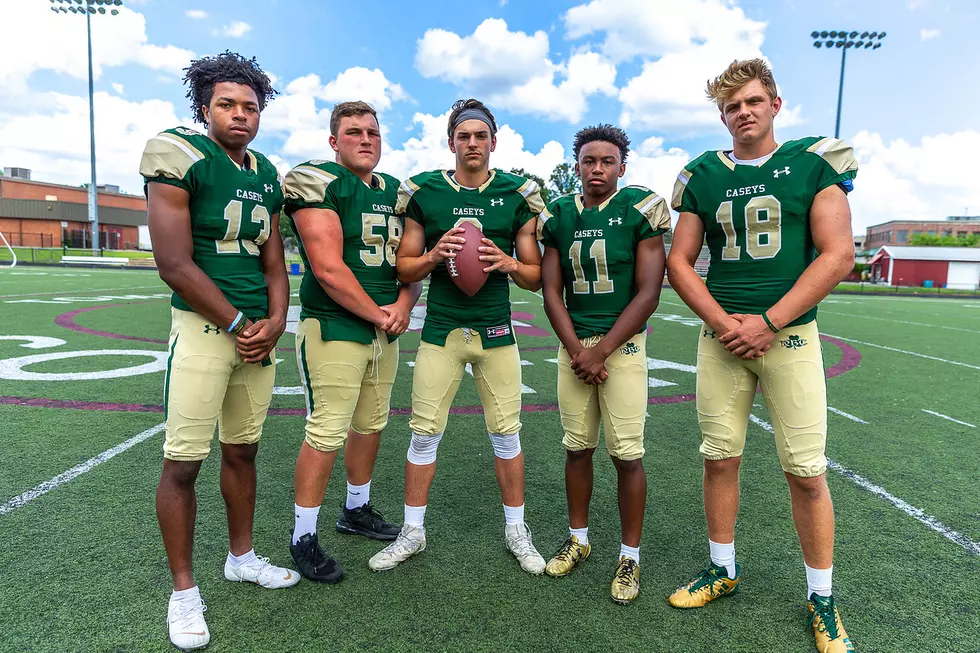 The Cusp of Greatness: 2018 Red Bank Catholic Football Preview
Photo by Paula Lopez/PAL Images
Even for a team which prefers to focus on the present day and remind itself that it has yet to accomplish anything in 2018, for Red Bank Catholic to deny its own talent and promise would be sandbagging on an offensive level. The Caseys know they are a team loaded with talent and potential, possessing all the necessary pieces to forge a special season.
"It's just really exciting having a lot of people back," said senior quarterback Steve Lubischer. "We've been working hard all summer and we're ready and anxious for the first game. We've got a great group."
Simultaneously, the Caseys know preseason accolades and media attention won't mean anything if they don't deliver between the lines. Their focus is on maximizing their collective abilities in order to turn 2018 into one of the best in program history.
"It's fun seeing stuff online about us being really good but we want to manage our expectations within our own room," said senior wide receiver/defensive back Jaden Key. "We want to come out and practice hard and play to the best of our abilities, and we know if we do that then Friday nights will take care of themselves."
"Obviously we're excited but this time of year there's room for optimism for everyone, as there should be," said Caseys head coach Frank Edgerly. "Fortunately for us we have some experienced and talented players coming back, but how it all comes together remains to be seen. If you're looking at it strictly on paper right now you feel encouraged by the possibilities."
One year after finishing 8-2 and flirting with the top spot in the Shore Conference, Red Bank Catholic returns eight starters on offense and eight starters on defense, including multiple FBS and FCS recruits, as it looks to reign supreme in the Shore and contend for the NJSIAA Non-Public Group 3 state championship.
Leading RBC's multiple pro offense at quarterback is Lubischer, a Boston College recruit, who had a breakout year as a junior to emerge as one of the Shore's top players. He threw for 1,810 yards and 18 touchdowns with six interceptions while also rushing for 496 yards and seven touchdowns on an average of 9.9 yards per carry, helping the Caseys average 39.8 points per game in 2017. His presence gives the Caseys a dual-threat quarterback who can break the game open with his arm or his legs.
"His overall game has elevated," Edgerly said. "He grew an inch and a half and put on 25 pounds and he's gotten faster, so obviously from the physical part, he's evolved. And then in terms of his comfort level and outright command of the offense it allows everything to speed up. The one thing that separates him is – and to me, the most overused term is 'playmaker' – but this kid legitimately can make plays from anywhere on the field."
Surrounding Lubischer is a tremendous group of skill players that will give opposing defensive coordinators headaches all season. At tight end, the Caseys have one of the top juniors in the state regardless of position with 6-foot-5, 230-pound beast Kevin Bauman, who verbally committed to Notre Dame in June. Also at tight end is 6-foot-5, 225-pound junior Charlie Gordinier, giving RBC a pair of bookends who present the type of physical mismatches most teams don't remotely have an answer for.
"It's a matchup issue for any defense because you have kids of that size with great athleticism," Edgerly said. "I was fortunate enough to spend the time I did in New England when we brought in (All-Pro tight end Rob) Gronkowski and had (Aaron) Hernandez, and although they were different kinds of tight ends you saw the flexibility that having two tight ends gives you in both the run and the pass game. It really does create some questions for a defense to answer, and to have that at this level with kids you can move all throughout the formation really does allow the playbook to get thick."
"It's great having those two big bodies," Lubischer said. "Defenses don't know how to defend it and it's definitely going to be a great thing having them out there."
Key returns as a starting wide receiver after posting 501 yards receiving and six touchdowns on just 19 receptions for an average of 26.4 yards per catch. Senior M.J. Wright is also back as a returning starter while 6-foot-2 senior Anthony Romano, who saw significant time last season, will be in the same role.
"As a unit, I think we're going to be really dangerous," Key said. "Some teams may want to focus on one player and double one player but you can't do that. "I'm not just saying that to boost ourselves up, I'm saying it because of the confidence I have in our players."
The Caseys backfield lost a great player to graduation in Zack Bair, who rushed for 1,087 yards and 15 touchdowns on a ridiculous average of 13.8 yards per carry in just seven games. However, the Caseys winning comfortably in several games and Bair missing the last three-plus games with an injury meant plenty of carries for Billy Guidetti. After rushing for 579 yards and seven touchdowns as a sophomore, Guidetti will take over as the Caseys starting tailback and is primed for a big year. RBC will have two veteran fullbacks leading the way for Guidetti in seniors Steve Cmielewski and John Columbia. Cmielewski was slated to be the starter last year before a broken ankle in Week 1 knocked him out for the season.
Senior Tommy Smith (6-2, 285), a three-year starter, anchors the offensive line from his center position. He is RBC's only returning starter up front, but two of the new starters did get on the field last year. Sophomore Jake Louro, the left guard, saw a lot of action as a freshman while sophomore right guard Luke Guidetti was called up to the varsity squad at the end of the season. The left tackle will be senior Ambrose Richards and the right tackle spot is between senior Nate Mansfield and freshman Matt Cody.
If there's one area the Caseys would like to see a statistical improvement it's on defense, where they allowed 21.3 points per game and finished in the middle of the pack in the Shore. RBC's 4-3 alignment has Smith as a three-year returning starter at defensive tackle and senior Gino Tartamella moving from starting outside linebacker to defensive end. Bauman will also play defense this year and will be the other defensive end. Sophomore J.J. Lodato will spell Bauman and should see ample playing time.
The back seven looks to be very strong with six total returning starters. Columbia returns as the middle linebacker with Cmielewski as the weakside linebacker and Gordinier as the strongside linebacker. Columbia registered 91 tackles and five sacks last season en route to a Class A Central All-Division selection while Gordinier made 69 stops as a sophomore.
The cornerbacks are Key and Wright with Romano, who had 66 tackles and three interceptions last year, as the free safety. The strong safety position will feature a new starter, which will be either junior Kevin Degnan or sophomore Anthony Borriello.
"We really like where we're at right now," Edgerly said. "To have the amount of depth we have in the back seven creates some versatility with what we can do, schematically. We're encouraged by what we've done so far this summer. Last year we made strides but didn't get to where we wanted to, but hopefully the amount of guys we have back who've played in big games will allow us to take another step forward."
The weapons at RBC's disposal aren't limited to the offense or the defense. The Caseys return one of the Shore's top kickers/punters in senior Ryan O'Hara, who will be a three-year starter. He connected on 49 of 57 extra points and converted three field goals with a long of 34 yards last season. O'Hara had never played football prior to high school but now owns a scholarship offer from Lafayette College.
"He definitely impacts us and my ability as a play-caller because when you're generating a drive and situational football presents itself you have a guy you know allows you to play for the field goal, and it doesn't have to be from extra-point depth," Edgerly said. "When you have one guy who can handle all your duties on that level it's a tremendous weapon."
The Shore Conference divisional realignment has the Caseys in the Freedom Division with Long Branch, Ocean, Red Bank, Toms River East and Toms River South. They also have nondivisional games against former Thanksgiving rival Rumson-Fair Haven and Middletown North.
The one opponent that jumps out, though, is St. John Vianney, which will host the Caseys in Week 0. The Lancers scored a 35-17 victory in last season's marquee matchup and will enter the season riding a 38-game Shore Conference winning streak. When the Caseys practice at Count Basie Field the scoreboard is illuminated with that final score to serve as a reminder of what they're working toward.
"We were all really pumped when the schedule came out," Lubischer said. "We want another shot at them and it's going to be a great time on August 31."
Head coach: Frank Edgerly, third season (13th overall).
2017 record: 8-2 (6-0 in B North).
Coaching staff: Mike Lange (def. coordinator); Matt Bijas (TE/DB); Joe Gallagher (WR/DB); Kevin Gaul (OL/DL); Keith Hugger (special teams coord.); Joe O'Connor (OL/run game coord.); Mike Rosenfeld (RB/LB); Rich Curran, Anthony LaGuardia Flego (freshmen); Matt Finucane (Director of Football Technology); Amanda Balarinni (athletic trainer).
BIG SHOES TO FILL: Kevin Degnan, Jr., SS/Anthony Borriello, So., SS
Whoever emerges as the Caseys' starting strong safety will be the lone newcomer in the secondary and also be stepping in for Matt Ansell, who was an SSN First Team All-Shore defensive back last season with 104 tackles and five interceptions.
The Caseys are chockfull of proven veterans at the skill positions but return just one starter up front. If that unit can come together the RBC offense will be that much more dangerous.
IMPACT NEWCOMER: Jake Louro, So., OL
This could really be any of the new players on the offensive line, but we'll go with Louro, who will start at left guard after seeing time as a freshman.
PIVOTAL GAME: Oct. 5 vs. Long Branch
RBC's Week 0 meeting with St. John Vianney is undoubtedly a huge game, but since that game will have been played by the time the print version of our preview is out, we'll highlight the regular-season tilt against the Green Wave. It will be the final division game for the Caseys and will likely decide the Freedom Division championship.
Managing editor Bob Badders can be reached at bob.badders@townsquaremedia.com. Follow him on Twitter @Bob_Badders. Like Shore Sports Network on Facebook and subscribe to our YouTube channel for all the latest video highlights.