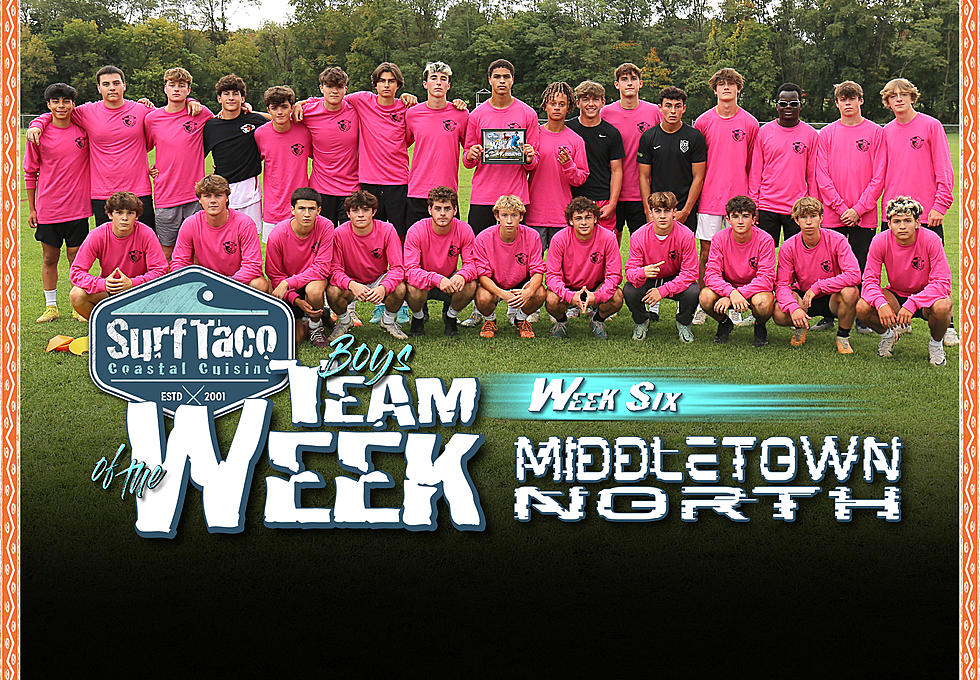 Surf Taco Week 6 Boys Soccer Team of the Week: Middletown North
Photo: Steve Meyer

In each of the past two seasons, the Middletown North boys soccer team tapped into the the best version of itself during the Shore Conference Tournament and, in doing so, did something no Lions team has ever done.
Last week, Middletown North won three Shore Conference Tournament games in five days, earning the Lions a trip to the SCT semifinals for the second consecutive season -- first as a No. 13 seed in 2022 and again as a No. 12 seed this year. That makes this Middletown North team the first in program history to reach the SCT semifinals in back-to-back years and, in turn, the sixth Surf Taco Boys Soccer Team of the Week for the 2023 season.
The Lions kicked off their SCT run with a dominant performance in a 5-0 win over Monmouth Regional. Playing in his full capacity as a starting center back for the first time all season, Ryan Barnao scored two goals to lead Middletown North in the opening-round win over the 21st-seeded Falcons.
Barnao again delivered in the round of 16 and this time, his scoring and defensive contributions made all the difference. On Oct. 11, Middletown North made the trip to play No. 5 Southern Regional and knocked off the Rams, 2-1, behind two more goals by Barnao.
In its final game of the week, Middletown cooled off a Toms River East side that upset No. 13 Central Regional and No. 4 Colts Neck to reach the SCT quarterfinals as a No. 20 seed. Against the Lions, the upstart Raiders could not crack the defense of Barnao, Jake Isaksen, Liam O'Keefe and Nick Dinella in front of senior goalkeeper Landon Terrell.
Middletown North would still need a goal to get by Toms River East and standout goalkeeper Bobby Calvo, who put his shot-stopping prowess on full display in an 11-save performance. Lions junior striker Josiah Stepney, however, needed just one good opportunity to deliver, which he did with a goal in the 52nd minute. The goal stood up in a 1-0 Lions victory that once again secured them a spot in the SCT semifinals.
For the second straight year, Middletown North's SCT run ended at the hands of top-seeded Christian Brothers Academy. The Colts beat the Lions, 1-0, in Wednesday's SCT semifinal round by scoring in the 12th minute and keeping Middletown North off the scoreboard.
The Lions hope to parlay their deep run in the SCT into a longer stay in the NJSIAA Group III Playoffs.
2023 Surf Taco Boys Soccer Team of the Week Winners
Week 1: Central
Week 2: Colts Neck
Week 3: Howell
Week 4: St. Rose
Week 5: Middletown South
More From Shore Sports Network