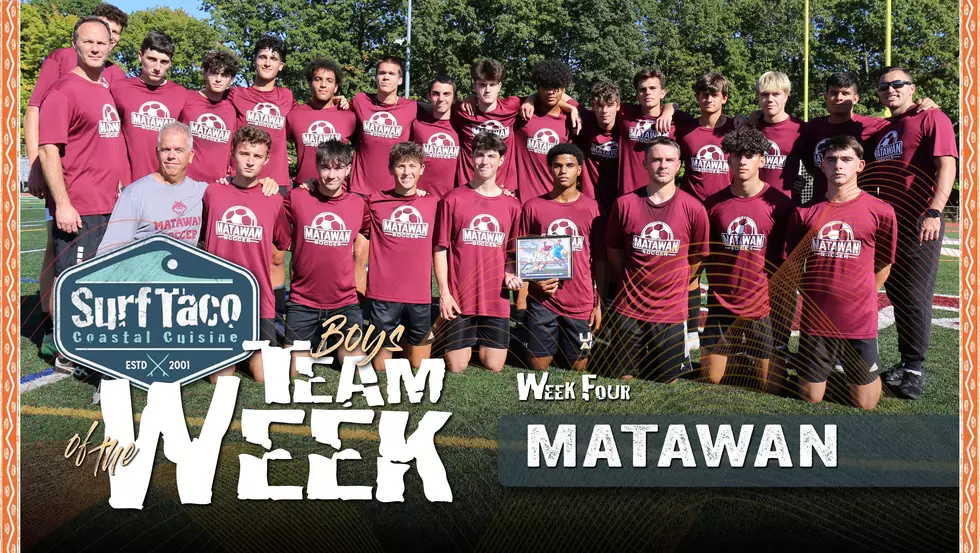 Surf Taco Week 4 Boys Soccer Team of the Week: Matawan
Photo: Steve Meyer

With an overhauled, senior-laden roster, Matawan entered 2022 with high hopes for a turnaround season following a 1-11-3 finish a season ago.
The schedule to open the season was not all that conducive to different results. The Huskies opened with a win over Red Bank Regional, but then ran into a three-game run against three teams that have gone on to clinch some form of a division title: Holmdel, Colts Neck and Howell.
Matawan lost those three games by a combined 13-0 score and faced a crossroads, even after edging St. John Vianney, 1-0, on Sept. 20.
Since then, Matawan has found its stride, and with a huge Class B North divisional win over Ocean, followed by a win over Monmouth last week, the Huskies are the fourth Surf Taco Boys Soccer Team of the Week in 2022.
A four-game unbeaten streak began with a 1-0 win over St. John Vianney, but Matawan's fortunes really began to turn in a road game vs. Long Branch. Facing a team that has reached the sectional final round of the NJSIAA Tournament in two of the past three seasons, the Huskies battled the Green Wave to a 0-0 draw to stay within a game of a .500 winning percentage (2-3-1) at the time.
Matawan's next game is when it would make it's move toward .500. Niko Skeete jumpstarted the Huskies with a goal in the 13th minute off a pass from Anders Nielson, which gave Matawan a 1-0 halftime lead. The Huskies did not let Ocean up off the deck, with Aaron Kalish striking for the game's next goal -- a 47th-minute finish off a pass from Evan Arendt.
Ocean did put a scare into the Huskies with a goal in the 75th minute, but goalkeeper Jared McMeans and the Matawan defense held strong in the final minutes to secure the victory.
Matawan did not have a letdown two days later when it topped Monmouth Regional, 4-2, behind a pair of goals from Alejandro Cortez.
The two-win week carried Matawan into the Shore Conference Tournament, even with a 2-0 loss to Neptune to open up the current week. The Huskies drew the No. 20 seed and will take on No. 13 Middletown North in Tuesday's opening round, with the winner playing the winner of another first-round game between No. 4 Freehold Township and No. 29 Raritan.
The Top 10 Most Popular Types of Halloween Candy in America
America's favorite types of Halloween candy range from candy corn to M&Ms. Here are America's favorite kinds of Halloween candy, starting with number 10 working our way to the number one most popular type of Halloween candy.
More From Shore Sports Network