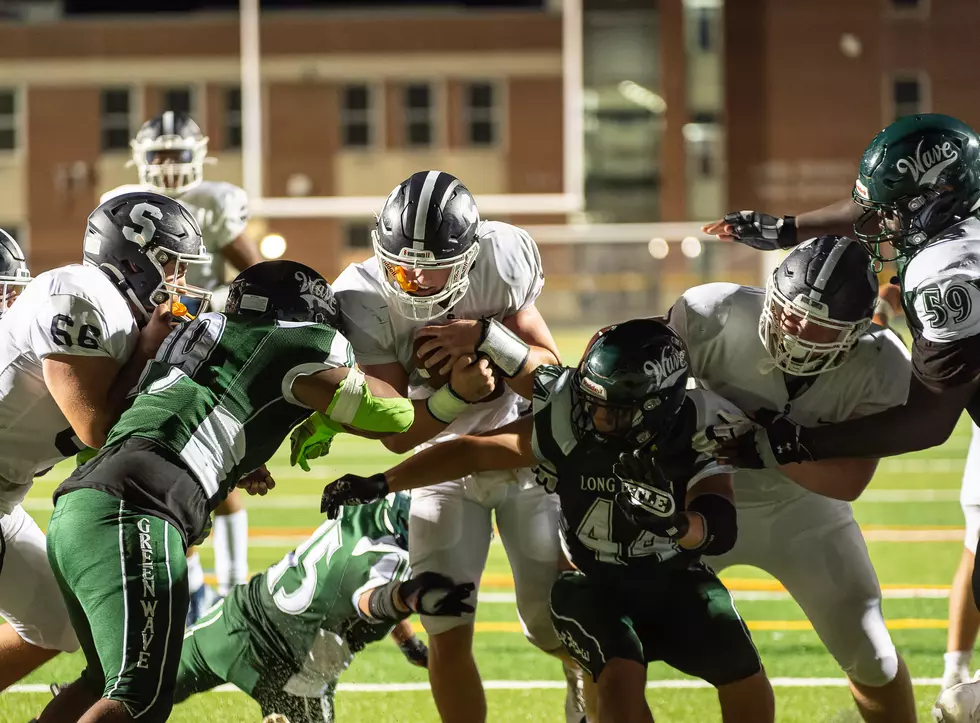 Shore Conference Athletics makes mental health top priority with this new idea
Photo credit: Tom Smith | tspsportsimages.com
🏀 Shore Conference Athletics providing forum for student-athletes from all 46 schools across Monmouth and Ocean County.
🏀 Student-Athlete leaders inform SCA they want focus to be on mental-health with two biggest issues being anxiety and burnout.
🏀 How student-athletes can work with administration to address any concerns.
---
Sports has been and continues to be a big part of every school community across Monmouth County and Ocean County whether it's going to a football game on a Friday night in the fall, heading to a big basketball game in the winter or baseball, softball or anything year-round.
There's been quite a few great athletes who've excelled at the college and pro level over the years as well.
Between the lines, there is more a focus than ever now with an athlete's mental health and how they deal with everything from the spotlight to something different altogether.
The light that has shined on the mental and emotional well-being of professional athletes has brought up a conversation in colleges and in high schools to protect them in between plays and races in a number of different ways.
An athlete could face any number of mental health obstacles including burnout, fatigue, feeling over or under whelmed, trying to find a way to break out of a slump or sustain success, how to impress scouts, pressures of playing well, parent or coach pressures, heckling fans, pressures inherited from social media, balancing schoolwork and what you do on the field, and much more.
To help student-athletes in Monmouth County and Ocean County, the Shore Conference has put into action an outlet where student-athletes can go and have an open forum.
"We really have two parts to it: we have a leadership conference (where) we met every season, so, we'll do it at Freehold Township (HS) usually -- for the fall, every school in the Shore Conference has brought a representative from every team -- we meet, and we call it a leadership conference because it doesn't have to be the captain," Harry Chebookjian III, Shore Conference President and Shore Regional High School Athletic Director said. "The second piece is our Student Ambassadors, which is an incredible program."
Colts Neck High School Athletic Director David Zwirz, who helps in overseeing the Student Ambassadors program, says they've adopted a similar program that the NJSIAA has but where the Shore Conference selects one junior and one senior from each school to fill the role of student-liaisons to the Shore Conference.
"We wanted them to have a direct voice with the athletic administrators. Every school, all 46 schools in the Shore Conference, has two ambassadors that they select in August -- it's a two-year term," Zwirz said. "We wanted it to be student led, student directed and for them to have a direct voice with us."
He says that they typically meet with the student-athletes four times over the course of the school year providing a direct forum with them.
"We have a Q&A session and a reflection session where they can share anything as athletes with us, the Shore Conference Student Ambassador Committee which consists of anywhere, each meeting, from 7-10 athletic directors," Zwirz said.
As these Student Ambassador meetings continued to occur, one particular issue came into focus affecting all student-athletes.
"One of the biggest issues that kept coming up, to them, was student-athlete mental health and they wanted to really focus on that," Zwirz said.
This led to the creation of a Shore Conference Student-Ambassadors sub-committee whose sole focus is student-athlete mental health.
"We have four kids, we have a male from Manalapan (HS), a female from Middletown, female from Colts Neck, and a female from Neptune jump on and might have a couple others joining. They developed -- with our help -- a slide show presentation of mental health resources that were very easily shared out," Zwirz said.
At a recent sub-committee meeting in December, student-athletes presented to the larger group two particular mental health concerns in a slide show.
"That was really powerful because one of the slides was common risk factors that cause mental health issues and the two biggest ones were anxiety and burnout," Zwirz said. "We said, (is there) anyone in the room who has felt or experienced one of those two things, raise your hand -- and the whole room raised their hand."
One of the takeaways from this presentation, Zwirz explains, is that addressing mental health and anxiety and burnout in particular among student-athletes, is something they need to address head on and normalize it.
Beth English, Manalapan High School Athletic Director who also helps oversee the Student Ambassadors Program, explains that it's on school staffs to be there for the student-athletes.
"We are being very pro-active, very progressive in this situation, but, what's so great about what we're apart of right now is that it is student-based, so, all of these concerns, all of these issues are coming from our students," English said. "There is absolutely no reason any adult in an educational community should not be listening right now."
From professional sports to college sports and down to high school sports, English, explains that there continues to be a light shown on the importance of mental health in athletes.
"The mental health crisis in athletes -- this is way beyond high school, we're a microcosm of a sports community," English said. "It's happening and it's a pandemic on the college level, it's finally getting headlines in the professional world where you now have professional athletes standing up and they're normalizing it and making it okay to start talking about it."
The other mission of this program and an overall goal, English explains, is to make student-athletes comfortable opening up and seeking out help and services without fear.
"If people are afraid to talk about because they don't want to say, 'the wrong thing', but that's not helping -- giving any resources, correcting bad behavior, and having that open dialogue where it's safe to ask questions and it's safe to not know," English said.
Separately, Toms River Regional Schools Athletic Director Ted Gillen explains that throughout the district, they continue to avail all resources to student-athletes including child study teams, school psychologists, guidance counselors, coaches and more all with the focus on being there and helping the athlete physically and mentally.

"It really is a cocktail of variables that kids are exposed to now and coaches are exposed to," Gillen said. "As a school district, you try to avail kids as many opportunities as you can because a healthy body typically lends to a healthy mind, however, in this day and age, you have kids that are specializing (playing just one sport) and with that comes an increased pressure from parents, coaches inside the building and outside the building, kids are also still coping with coming back into structure post-Covid, the world is more digital than it's ever been before. We're trying to establish connections with kids that even my younger coaches are struggling with because kids are just being exposed to so much more than we ever have been."
You can listen to the full conversation, right here.
KEEP READING: New Jersey Athletes Who Played/Coached in NBA and MLB
KEEP READING: NJ Athletes Who Played Games In NFL
[carbongallery id="385:615f09e395e7672ca54d33a1"]
More From Shore Sports Network