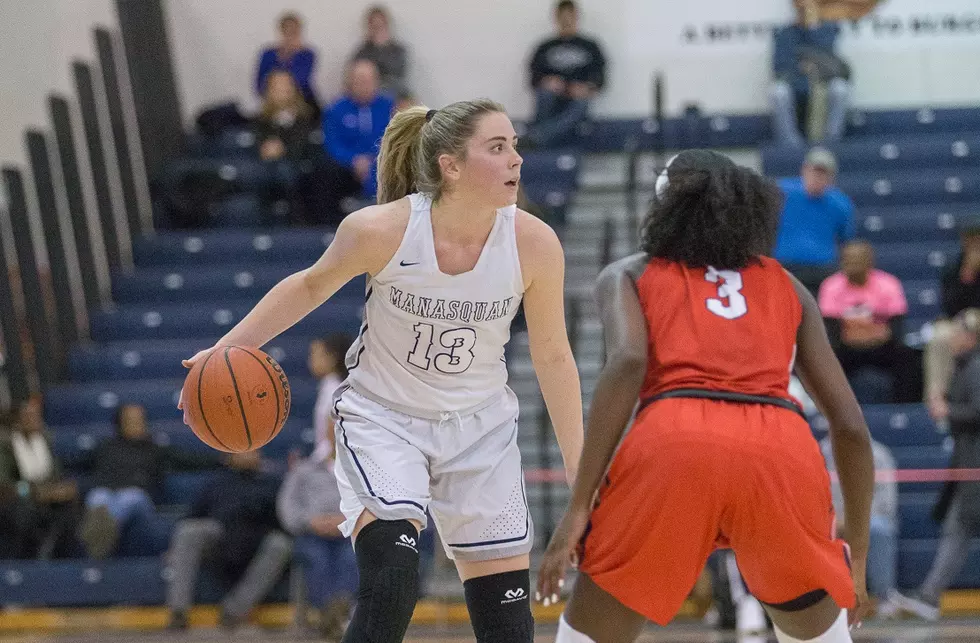 GOOD AS ADVERTISED: MASONIUS FUELS MANASQUAN INTO TOC FINAL
Faith Masonius of Manasquan (Photo by Paula Lopez)
TOMS RIVER - Faith Masonius heard enough. Enough about untapped potential and living up to lofty hype.
Few players came into high school with the reputation that preceded Masonius when she arrived at Manasquan as a dynamic 6-1 freshman with endless resources. She passed out of the post with a vision and court sense that belied her age, had range on a jumper that instantly made her a long-distance threat to balance presence in the post and managed the game with a rare wisdom for a player so young.
Yet, some were still unsatisfied, They maintained an impression things were absent from her game…and had no problem offering their unwarranted insights.
"People told me I didn't live up to the name and what people said about me," Masonius shared. "It ticked me off."
Masonius isn't one for sulking. Her light-hearted nature seems immune to a frown. However, sher holds herself to standards far greater than those shared by outsiders. She's surrounded by opinions she respects, trusts and absorbs. However, the sentiments from those beyond her inner circle do carry substantial weight, like logs on a fire that fuel a burning desire to substantiate she is as good as advertised.
Masonius put to rest how high her ceiling is this winter with a breakout junior year that encapsulated the versatility within her. She penned the latest chapter Friday night with a dominating performance that covered practically every shred of lumber on the court at RWJBarnabas Health Arena, collecting 26 points and 20 rebounds to complement her overall composure in powering top-seeded Manasquan to an 80-67 triumph over fifth-seeded Saddle River Day in the semifinal round of the NJSIAA Tournament of Champions.
The win sends Manasquan (31-2) to its unprecedented fifth straight TOC final and a rematch against third-seeded Franklin, who pinned the Warriors with a heart-breaking 50-48 overtime loss a year ago in the season finale. The two will get reacquainted on Sunday at 2:30 at CURE Insurance Arena in Trenton.
Masonius with a picture of poise, going 9 of 18 from the field, including a pair of 3-pointers, and 6 of 6 from the line, yet that only told a portion of the story. Besides instilling her will on the glass, the Maryland commit supplied staunch defense and a timely ballhandler who maneuvered through traffic with defensive rebounds before completing sojourns with a bucket at the opposite end. Her command and direction on the ball proved a soothing pacesetter for the Warriors.
"She started working for this last spring and it set an example," said Manasquan coach Lisa Kukoda. "She has the ability, because of her skill set, to do so much on the floor and effect so much in a game. Her vision and knowledge have always been there. Her defense, putting the ball in the basket, posting up, knocking down threes… she's combined that with her confidence and skills. All of that has come together because she put in the work."
Masonius did not act alone. Senior guard Dara Mabrey charted the course to victory from the outset by persistently attacking off the dribble en route to 26 points, keyed by a 15-for-18 performance at the charity stripe, rewards earned for her aggressiveness. Junior guard Lola Mullaney added a third option that proved beneficial, dropping in 19 points with heady cuts to the rim, offset by two triples.
But, it was Masonius from whom the Warriors drew inspiration and plenty of faith. A mild-mannered force with an underlying resolve that seeped infectiously into her teammates.
"Faith is only going to get better," Mabrey proclaimed. "She is so open minded to criticism and never gives an attitude. I knew Faith had so much potential from back when we played together in fifth and sixth grade. She could do things that were awesome. She's so versatile on offense and is like a chatterbox on defense who never stops talking."
Mabrey accounted for 20 points in the first half to steer Manasquan to a 38-30 lead at intermission. Masonius, who had 11 at the break, opened the third with a layup and a three to push the gap to 43-32. After junior guard Michelle Sidor, who led all scorers with 29 points, drilled a 3-pointer that narrowed the margin to eight, the Warriors responded with a decisive 14-0 run in a blinding span of 2:50 that opened an insurmountable 57-35 cushion.
Mullaney, who was responsibe for eight points in the burst, senior guard Carly Geissler and junior guard Annie Mako each buried a jumper from behind the arc during the game-breaking surge.
While Mabrey was an offensive catalyst, it was her defense, especially in the first quarter, that staked Manasquan to a lead that it never surrendered. Matched up on Sidor, she held her without a field goal within Saddle River Day's halfcourt sets, the explosive scorer getting her first bucketwith six seconds left in the opening stanza by retrieving a turnover in the backcourt and parlaying it into a layup that cut the Warriors' lead to 19-16.
Mabrey countered with four foul shots and a three while Masonius pulled down a rebound and took it the distance for a layup to increase the Manasquan lead to 28-18 with 6:38 showing in the second quarter.
Saddle River Day, which bowed to Manasquan for a second time this season, falling, 87-77, in their previous encounter on Dec. 30, got as close 34-29 on a free throw from promising junior guard Jaida Patrick with 1:56 left in the first half. Manasquan, which hit 24 of 30 free throws, sustained no less than an eight-point lead over the course of the second half.
Saddle River Day (24-7)   16           14           13           24 --- 67
Manasquan (31-2)            19           19           24           18 --- 80
Saddle River Day: Carolyn Carrera 1-0-0-2; Jaida Patrick 7-0-5-10; Sydney Watkins 3-2-1-13; Michelle Sidor 8-4-1-29; Jenna Jordan 2-0-0-4; Lauren Garofalo 0-0-0-0; Jordan Janowski 0-0-0-0; Isabella Garabo 0-0-0-0. Totals: 21-6-7---67.
Manasquan: Lola Mullaney 5-2-3-19; Dara Mabrey 4-1-15-26; Faith Masonius 7-2-6-26; Carly Geissler 0-2-0-6; Emma McMenaman 0-0-0-0; Abby O'Shea 0-0-0-0; Maci Black 0-0-0-0; Ryan McCarthy 0-0-0-0; Sharon Marks 0-0-0-0; Allison Waters 0-0-0-0; Annie Mako 0-1-0-3. Totals: 16-8-24---80.
More From Shore Sports Network