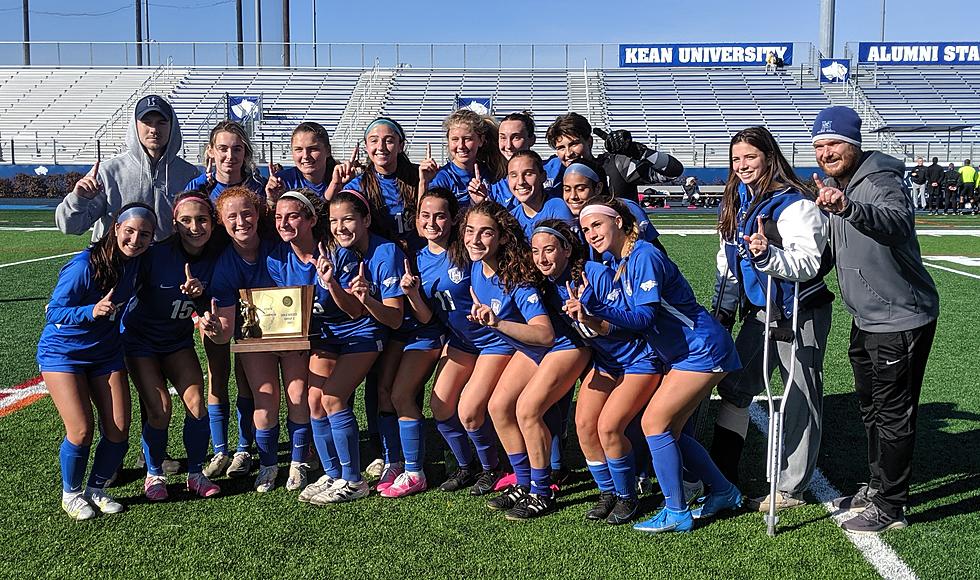 Girls Soccer – Juliana Kolbasovsky's Two Goals Lead Holmdel to Group 2 Championship
Photo by Matt Manley

UNION TWP. -- Over the past two years, Holmdel girls soccer coach John Nacarlo has referred to senior midfielder Juliana Kolbasovsky as the unsung hero of the team.
After completing a spectacular NJSIAA Group II Tournament on Sunday, however, it is no longer possible to overlook how much Kolbasovsky's addition to the program two years ago meant to the Hornets returning to state-championship form.
Kolbasovsky scored two goals in the second half Saturday at Kean University and Holmdel's defense shut out Hanover Park, 2-0, to win the program's second ever Group II title and first since 2014.
"We knew it wasn't going to be easy," Kolbasovsky said. "We all worked hard. It wasn't just me: it was the defense that kept them in check. They didn't really have any scoring opportunities and we had a lot of scoring opportunities. I was just glad I was able to put two away."
The six-game run through Group II by Holmdel is the best scoring stretch of Kolbasovsky's high school career, which began as a junior last season. She entered the 2021 NJSIAA Tournament with 10 career goals and five on the 2021 season and nearly doubled her career total with nine in the last six matches.
"JK was our unsung hero last year," Nacarlo said. "She didn't get the accolades and that's sometimes the difference between a kid playing the six, which is a more defensive role compared to an attacking mid. For her to put in those (nine) goals in the state tournament just shows you how good she is, but it doesn't get recognized as much when she plays more defensive."
Kolbasovsky scored at least one goal in all six of Holmdel's state playoff games and scored twice in wins over Rumson-Fair Haven in the Central Group II quarterfinals, Haddonfield in Wednesday's Group II semifinal and Sunday in the finals. The senior attacking midfielder also scored the overtime golden goal to win the sectional championship over Wall, 1-0, on Nov. 12.
As a freshman and sophomore, Kolbasovsky passed on playing for Holmdel in favor of academy soccer.
"The camaraderie is just so amazing on a high school team," Kolbasovsky said. "I'm playing soccer with my best friends and it's such a great feeling to win together. I really wanted to (play high school soccer) freshman year and I trained with the team a little bit as a sophomore, but it's a new experience that I really wanted to have and I'm so glad I got the opportunity to play for the high school team because it is such a great feeling to accomplish this with this team."
Holmdel's defense held Hanover Park without a shot until the 53rd minute and the Hornets finally gained the edge on the scoreboard in the 42nd minute. Kolbasovsky took a cross from senior Alexandra Wojie, split two defenders and was tripped up in the middle of the 18-yard box, resulting in a penalty kick.
"Lexi made a great run and she crossed the ball perfect and I was right there," Kolbasovsky said. "I tried to touch it past the defender and she just clipped me and I fell to the floor. When (the official) didn't call it right away, I was upset because I thought I would have had the goal if she didn't foul me."
"Once we got the penalty, I knew J.K. has got it," Wojie said. "She read the goalie, she knew exactly what to do. She is great."
The senior stepped to the spot, took a long look and buried the kick into the lower left of the goal to break the scoreless deadlock.
"Once the whistle blew, I knew I would be the one to take it," Kolbasovsky said. "I knew I had to stay calm and hit it where I wanted to. They have a good goalie but if I put it where I wanted to put it, I would score."
"We were fortunate to get a PK, but it was the right call," Nacarlo said. "J.K. has buried every PK she has taken this year."
With Hanover Park pushing to equalize, Holmdel got its insurance goal in the 71st. Senior Mia Giamanco served a corner kick to the near side of the 18-yard box and Kolbasovsky flicked a header just under the crossbar for her second goal of the game and ninth in six NJSIAA Tournament games.
Holmdel held in the back for the final nine-plus minutes, with senior goalkeeper Katrina Walier making two more saves to wrap up her third clean sheet of the Group II Tournament.
The pristine defensive performance came after Holmdel fell behind, 2-0, to Haddonfield in the Group II semifinals on Wednesday before rallying to win, 4-2. Holmdel had to go on the road to win that game and benefitted from getting back to neutral turf on Sunday.
"The beauty of this field compared to Haddonfield is the width of it," Nacarlo said. "I thought we created a lot more scoring opportunities by getting our forwards more involved and they hadn't been doing that.
"They haven't played in that kind of big-game atmosphere on the road and for us to overcome that early deficit at Haddonfield, I thought, was big for this group coming into today. I told them, 'Now you know what it's like to play in the states and have to win away from your home turf."
While Kolbasovsky was the scoring star, Holmdel got standout performances all over the field. Seniors Adrianna Morales and Nicole Worobel shut down the middle while senior Sydnie Nied and freshman Isabel Weiner manned the outside of a defense that gave up just four shots, only three of which made it to Walier in front of the net.
"At halftime, we knew we were playing well," Kolbasovsky said. "Our possession was really good. We were executing on everything we wanted to execute, except, of course, putting the ball in the back of the net."
"That back line played phenomenal all year," Nacarlo said. "It wasn't always the same all year. Worobel was an outside back or outside midfielder and now, she looks like a natural center back. You can't even tell she is new to it."
Just as Kolbasovsky was the glue of the formation as a defensive center midfielder last year, Wojie had the same effect on Holmdel after moving from center fullback to the six spot early in the season and pairing with Kolbasovsky to dominate the middle of the field.
Senior Izabella DeMatos also made herself dangerous throughout Sunday's match, getting off shot-on-goal just before Kolbasovsky's penalty kick early in the second half. Freshman starter Lily Reardon handled the right outside midfield spot and Giamanco and sophomore Felicia Arena provided the energy off the bench.
"We're all pretty athletic, but it's good because we're not just athletes; we're soccer athletes," Wojie said. "The combination of the two makes it work really well for us."
Holmdel was dangerous up top throughout the game, with seniors Taylor Bielan and Katie Vassilakos putting pressure on the Hanover Park back line throughout. Each forward had a near miss in the game, with Vassilakos rifling a shot off the right post in the 18th minute and Bielan getting stopped by Hanover Park Abby Huang on a counter-attack in the 75th. Bielan also got off a pair of dangerous headers that sailed wide of the the post.
"Both Taylor and Katie were banged-up, dealing with injuries, but they battled through and did what they had to do," Nacarlo said. "It just felt like it was only a matter of time before we put one in."
After losing to Ramapo in the 2015 Group II championship game, Holmdel endured losing seasons every year from 2016 to 2019 before things dramatically turned around in 2020. In addition to the young core maturing, the program added Kolbasovsky from the academy ranks and Nacarlo as head coach at the end of the 2019-20 school year.
As the boys soccer coach at Holmdel, Nacarlo directed the Hornets to seven NJSIAA sectional championships, six appearance in the group final round and overall group championships in 2010 (Group III), 2017 and 2018 (both Group II).
"This one is right up there," Nacarlo said. "This is a great group of girls and I wanted this so badly for them, probably more so than any other team I have had."
Led by current Penn State freshman Sofia Mancino, last year's Hornets side had look of team that could win a Group II championship and finished 15-0 before they were forced to withdraw from the truncated NJSIAA Tournament due to multiple cases of COVID-19 within the team. Even had Holmdel been able to participate in the 2020 postseason, the group finals were not contested last season and a modified sectional championship was the top prize for any team to win.
"Coach always says, 'Take it one game at a time,'" Wojie said. "Even in tournaments, you can't worry about the bigger games, you have to focus on the game you are about to play."
This year, however, the Group II championship was the goal from the beginning for the Hornets. Holmdel tasted disappointment in losing, 2-1, to Red Bank Catholic in the Shore Conference Tournament quarterfinals -- the only loss Holmdel suffered in two years under Nacarlo -- but bounced back by adding to its state tournament soccer trophy collection.
"It's a whole dream," Wojie said. "I still can't believe we made it this far, but we worked our asses off to get here. We wanted it since the beginning of last year, so to bring it back to this year, everyone was intense, everyone knew what we had to do and we got it done."
More From Shore Sports Network