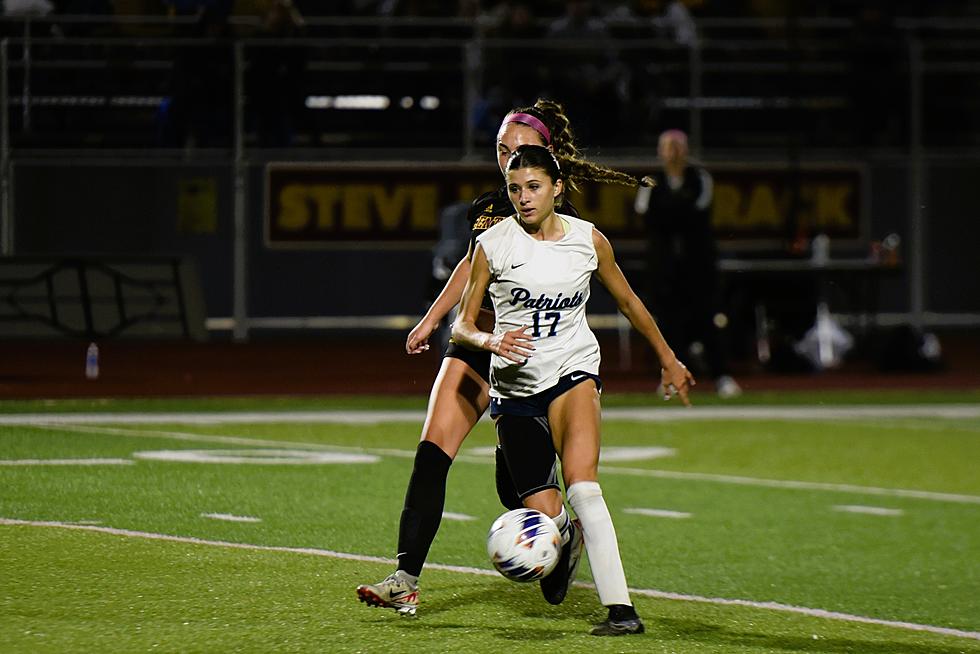 Girls Soccer – Parker, Santiago Lead Freehold Township Back to Group 4 Final
Hailey Santiago (Photo by Eric Braun)
BAYVILLE - Freehold Township is on its way to returning to the No. 1 spot in The Shore 16 rankings after defeating Central Regional in the Group 4 semifinals, 5-1. The Patriots also earned a spot in the Group 4 final for the third straight season and will defend their championship Sunday against Ridgewood.
Fans were still filing in when Freehold Township scored the first goal of the game in the second minute. Gaby Parker received a through-ball from Sophie Tonino to put the Patriots up early. Six minutes later she scored her second goal. Taryn Conover passed Cassidy Corcione's corner kick right to Parker for the finish. 
"We knew Central was going to come out with a lot of energy so we needed to match that and come out with more energy," Parker said. "We wanted to get off to a quick start and I capitalized on the opportunities that I got."
After settling down and preventing Freehold Township from scoring any more goals in the first half, Central started the second half putting pressure on Freehold Township's defense. Senior Arianna Chidiac, who has had a remarkable postseason, scored in the 46th minute on a cross that carried over Patriot goalie Ashley Moore and snuck into the net. 
Freehold Township would not allow Central to get any closer than 2-1. The Patriots followed Chidiac's goal with three unanswered goals. Hailey Santiago scored two goals over the next six minutes (48th and 51st minutes) to make the score 4-1.
"It was something we talked about because we had seen them (Central) in a scrimmage; it was a 3-3 draw and they scored early in both the first and second half," Freehold Township coach Dave Patterson said. "We knew they were not going to go anywhere and we knew they would bring energy. We knew if we did give one up we had to have an answer and we certainly showed we had an answer to it tonight."
Junior Danielle Howard, who has stepped up all season for Freehold Township, scored the team's fifth goal off a pass from Santiago in the 57th minute to put the game out of reach. 
Freehold Township did a good job preventing Central's Emma Harmon and Samantha Versnal from creating opportunities in the midfield throughout the game. Moore once again showed her ability to come off the line on corner kicks to grab the ball through traffic, limiting Central's chances to score.
"Each game in the last three games we have been facing some really talented players from Jade Vieira at Howell to the plethora of talent that Manalapan has, to these girls here tonight are top class players and our defense worked hard out their and that was our game plan to limit them and we did that pretty well," Patterson said.
Freehold Township will play Ridgewood on Sunday at Franklin High School in a rematch of last season's Group 4 Finals. Freehold Township won last season, 1-0, on a goal by Ainsley Moy. Game time is set for 10 a.m.
More From Shore Sports Network