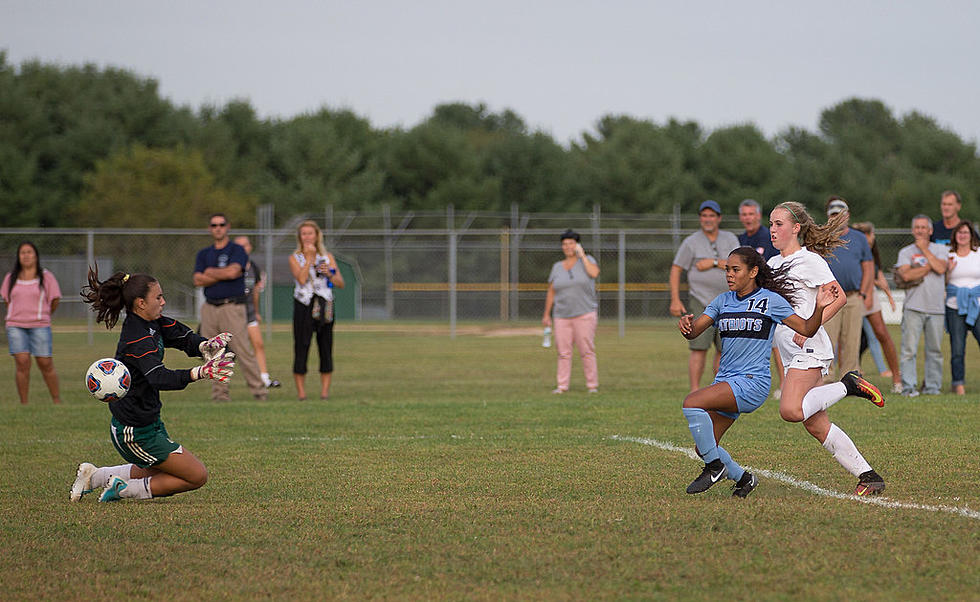 Girls Soccer – Jasmine Colbert's Hat Trick Leads Freehold Twp. Past Colts Neck in SCT Final Rematch
Jasmine Colbert scores one of her three goals Tuesday vs. Freehold Twp. (Paula Lopez)
Freehold Township lost the Shore Conference Tournament championship game in 2016 because of the individual scoring performance of one player on Colts Neck.
In a rematch of last year's SCT final and a showdown between two teams ranked among the top five in the state by NJ.com on Tuesday, it was one of Freehold Township's players who took over the game and earned the Patriots a dose of retribution.
Senior Jasmine Colbert threw up a hat trick Tuesday against the defending SCT champs to lead Freehold Township to a 3-0 win - the same score by which Colts Neck defeated the Patriots in last year's Shore Conference Tournament final behind a pair of goals by current Penn State freshman Frankie Tagliaferri.
Colbert scored her first goal in the first half and tacked on two more in the second half to bury Colts Neck and put a ribbon on Freehold Township's third straight win to open the season.
Senior Jada Colbert, senior Meaghan Latona and junior Jen Weinstock each assisted one of Jasmine Colbert's goals.
Colts Neck had to finish the game without starters Lauren Feaster and Jenna Kushnir, who collided with one another and had to leave the game with head injuries, according to Shore Sports Network featured photographer Paula Lopez.
Freehold Township has already defeated two-time defending NJSIAA Group I champion Shore Regional and defending Shore Conference Tournament champion Colts Neck. The Patriots will finish their week against Neptune on Thursday and defending Group III co-champion and unbeaten Wall on Saturday.
More From Shore Sports Network