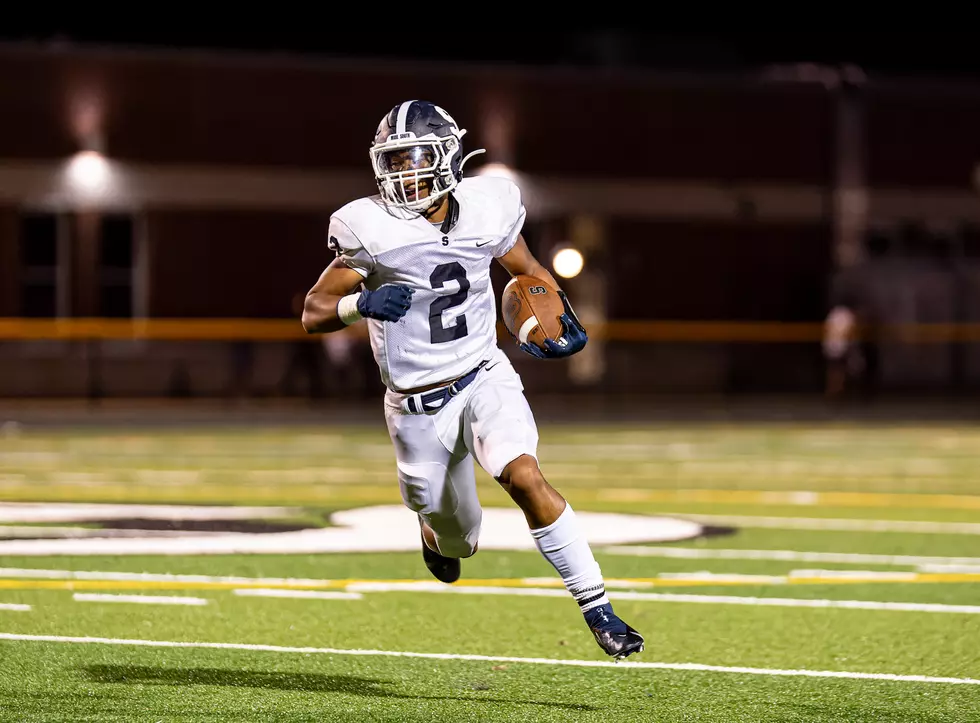 Football – Huge Fourth-Quarter Finish Propels No. 3 Middletown South Over No. 8 Manalapan
Photo credit: Tom Smith | tspsportsimages.com

MANALAPAN -- During the first half against Manalapan on Friday night, the Middletown South offense could hardly generate a first down.
By the end of the fourth quarter, it could not be stopped.
Quarterback Jake Czwakiel led two go-ahead drives in the fourth quarter and running back Donovan Summey scored two touchdowns in the final 3:29 of the game as the Eagles -- ranked No. 3 in the Shore Sports Network Top 10 -- pulled out a 17-14 thriller on the road over No. 8 Manalapan.
"We had to switch it up on offense in the second half, because clearly something wasn't working," Summey said. "We just kept clicking, though. We had to hype each other up and it really worked. It showed in the fourth quarter and we're a fourth-quarter team and a second-half team. We continue playing all the time."
"It's literally a roller-coaster of emotions," said junior Colin Gallagher, who had three sacks in the game to lead a dominant defensive effort after Manalapan scored on its first drive. "We had ups and downs, we persevered and in the end, we won and that's all that matters."
Czwakiel finished with 221 combined passing (128) and rushing (93) for the game and also kicked a 27-yard field goal in the fourth quarter to finally get Middletown South on the board after Manalapan had shut out the Eagles over the first three quarters.
In the first half, Middletown South accumulated just 54 total yards for only two first downs, but kept the deficit at 7-0. In the fourth quarter alone, the Eagles racked up 134 yards on two drives that ate up a little more than eight of the 12 minutes in the quarter. Czwakiel passed for 65 of his 128 yards and ran for 28 of his 93 yards in the final quarter and Summey carried for 38 yards on five fourth-quarter attempts after only 17 yards on his first 10.
"Our o-line is just a bunch of dogs," Gallagher said. "They're going to fight, they're going to beat up the other team and that's pretty much what makes our offense."
Middletown South opened the fourth quarter with 2nd-and-goal from the Manalapan 10 yard-line, but failed to gain another yard on the drive after a pair of incomplete passes on deflections by Manalapan's Joe Melo. The Eagles settled for a 27-yard field-goal attempt by Czwakiel, which he drilled through the uprights to cut Manalapan's lead to 7-3 with 11:43 to play. On the final play of the first half, Czwakiel missed a 37-yard attempt wide left.
"We felt like we left points on the board in those first three quarters," Antonucci said. "On that last drive of the third going into the fourth quarter, we had to put points on the board. Once you put points on the board and you see that momentum shift, you never know what's going to happen."
On Manalapan's ensuing drive, the Braves made a bold move in going for the first down on fourth-and-inches from their own 27 and converted it with a dive play to running back Thomas Clark-Glasco. Middletown South, however, shut down the drive in its tracks and Manalapan punted the ball back to the Eagles with a little more than 8:30 left.
Gallagher kept the Middletown South drive alive with a six-yard run on a third-and-2, but the Eagles soon faced fourth-and-3 from the Manalapan 18 yard-line. Czwakiel ran the option tight on the left tackle's hip and pitched the ball to Summey, who attacked a seam in the Manalapan defense and took the ball into the endzone for a 10-7 Eagles lead with 3:29 left following Czwakiel's extra point.
"We have some (linemen) that go both ways, but we could feel (Manalapan) getting tired too," Summey said. "We keep fighting, keep pushing and in the fourth quarter it started to click more and we were able to find the endzone two times."
Middletown South's first lead of the game lasted all of 16 seconds. Anthony Macchio mishandled the ensuing kickoff, but had plenty of time to recover and turned what appeared to be a broken play into a big one, rumbling up the right sideline for an 88-yard return for the go-ahead touchdown.
"Honestly, we felt pretty good," Antonucci said. "That might sound a little strange with with only three minutes and 13 seconds left on the clock, but we were moving the ball and had three timeouts and our quarterback was playing his rear-end off and our tailback was doing the same."
Czwakiel and Beau Servidio got the next Eagles possession started with a 10-yard pass play on second down. On second-and-8, Czwakiel dumped a pass off to Quinn Curley in the left flat and Curley raced 43 yards to the Middletown South 25 yard-line.
"Credit (offensive coordinator) Joe Trezza with some great calls," Antonucci said. "He knew exactly what he wanted to do. We were hitting them inside and when they started to pack it in, we would go outside, so we got into a rhythm playing that chess game. We were also able to come to the line of scrimmage and check plays, which helped tremendously and we took advantage of that too."
Four plays later, Czwakiel hit Summey with a similar short pass and Summey slipped free and into the endzone for an eight-yard touchdown that gave the Eagles a 17-14 with 32 seconds left.
Manalapan had one last threat as the Braves tried to get into field-goal range for their powerful kicker, Mike Calton. In the first half, Calton hooked a 47-yard attempt, but the kick had plenty of distance.
On the first play of the drive, quarterback Nick Heckel made a running throw to Alex Dille near the right sideline for 25 yards up to the Manalapan 48 and clocked the ball with 16 seconds to go. Manalapan still had one timeout remaining, so the Braves were about 15-to-20 yards from a reasonable field-goal attempt for Calton.
Middletown South, however, didn't let that happen. Heckel barely overthrew a receiver on second down, got wrapped up for a near sack and no gain on third down and a Hail Mary on the final play fell incomplete.
While Middletown South's offense gradually gained steam over the course of the game, its defense was dominant with the exception of one play. Braves running back Thomas Clark-Glasco broke a 71-yard run through the middle of the Eagles defense that came up one yard shy of the goal-line. On the next play, Clark-Glasco pounded the ball into the end zone for a 7-0 Manalapan lead with 9:56 left in the first quarter.
"We had a rough first drive," Antonucci said. "Other than that, we buckled down and played great defense. Credit them for keeping us in the game and give us a chance to do what we did."
That one play accounted for more than one third of Manalapan's 186 total yards of offense for the entire game and Middletown South kept Clark-Glasco under wraps from that point on, with the Braves tailback finishing with 120 yards on 25 carries.
"We have a great coaching staff and a great team and after that first drive, everybody started to do their job," Gallagher said. "We stayed together as a team throughout and after that start to the game, we held them to nothing."
Friday's game began with a pregame ceremony to retire the No. 44 in honor of former Manalapan star Kyle Mullen. After playing football at both Yale and Monmouth, Mullen enrolled in Navy SEAL training. He completed the intense session known as "Hell Week" in February of this year, but died of pneumonia after his lungs filled with water during a training exercise at sea, according to both military and independent autopsy reports.
Mullen graduated from Manalapan in 2015, starring in both football and basketball for the Braves. He was a standout two-way player on the 2014 Manalapan team that won the program's first ever NJSIAA sectional championship.
Box Score
Middletown South 17, Manalapan 14
| | | |
| --- | --- | --- |
| | Midd South | Manalapan |
| First Downs | 14 | 10 |
| Rushes-Yards | 31-154 | 33-94 |
| Passing | 9-17-0 | 9-16-0 |
| Passing Yards | 128 | 92 |
| Fumbles-Lost | 1-0 | 1-0 |
| Penalties-Yards | 1-5 | 2-15 |
| | | | | | |
| --- | --- | --- | --- | --- | --- |
| | 1 | 2 | 3 | 4 | F |
| Midd South (2-0, 1-0) | 0 | 0 | 0 | 17 | 17 |
| Manalapan (2-1, 1-1) | 1 | 0 | 0 | 7 | 14 |
Scoring Summary
M -- Thomas Clark-Glasco 1-yard run (Mike Calton kick)
MS -- Jake Czwakel 27-yard field goal
MS -- Donovan Summey 18-yard run (Jake Czwakiel)
M -- Anthony Macchio 88-yard kickoff return (Mike Calton kick)
MS -- Donovan Summey 8-yard pass from Jake Czwakiel (Czwakiel kick)
Individual Stats
Rushing - MS: Jake Czwakiel 14-93, Donovan Summey 15-55, Colin Gallagher 2-6; M: Thomas Clark-Glasco 25-120, Joe Santana 1-1, Alex Dille 2-(-3), Mike Calton 1-(-7), Nick Heckel 4-(-17)
Passing - MS: Jake Czwakiel 9-17-0 128, Beau Servidio 0-1-0 0; M: Nick Heckel 9-16-0 92
Receiving - MS: Quinn Curley 2-70, Logan Colleran 2-26, Owen Richter 3-14, Beau Servidio 1-10, Donovan Summey 1-8; M: Alex Dille 6-42, Joe Melo 2-40, Thomas Clark-Glasco 1-10
9/11 Memorial at Mt. Mitchill: Remembering those we lost, 21 years later
Remembering those we lost who called Monmouth County their home.
More From Shore Sports Network