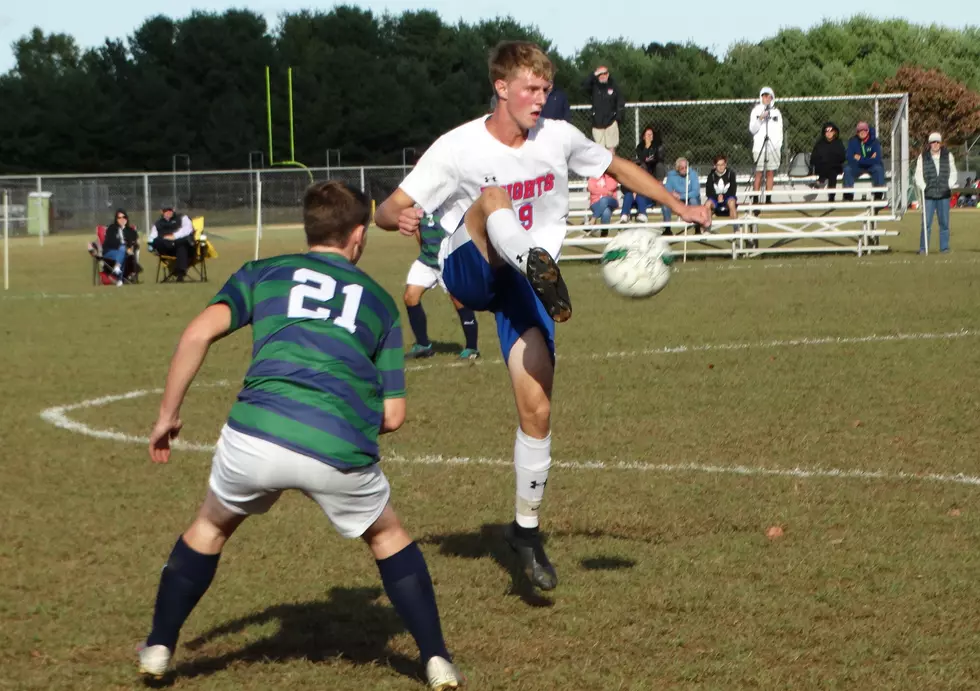 Boys Soccer – Wall Storms Through Colts Neck With B North Title on the Line
Wall junior Jake Pepe. (Photo by Matt Manley)
COLTS NECK - With a win at Colts Neck on Friday, the Wall boys soccer team could set themselves up nicely to win the Shore Conference Class B North division and earn high seeds in both the Shore Conference Tournament and NJSIAA Central Jersey Group III Playoffs.
Most of Wall's players, however, were thinking less about the future implications and more about a past embarrassment.
Whatever the motivation, Wall - No. 7 in the latest Shore Sports Network Top 10 - came out on a mission Friday and slammed No. 9 Colts Neck, 3-0, to move within one more win of clinching the Class B North title. Wall can clinch the championship by beating Ocean on Monday.
Even with everything that was on the line Friday, Wall's players - especially its returning group - still thought most prominently about a 4-0 home loss to Colts Neck last year that contributed to the Crimson Knights falling short of the division championship.
"We have been thinking about this game all week," senior midfielder Jack Gotsch said. "We had two nice tune-up games with Shore and St. John Vianney and this is what we came here to do. We knew this game could determine the rest of our season and it's a really good feeling to come out with a win."
The roles were reversed this season, only this time, both teams were competing directly for the division championship rather than playing spoiler, as Colts Neck ultimately did last year. The Cougars entered Friday ahead of Wall in the standings and would have won the division outright with a win.
"Last year, they came to our field and beat us 4-0 and we really wanted revenge for that," junior forward Jake Pepe said. "I think we wanted it more and we took that motivation, used it on offense and won that game."
On a windy afternoon in Colts Neck, Wall worked against the wind in the first half but was not phased. The Crimson Knights applied immediate pressure and it paid off in the eighth minute, when an errant clearance attempt ended up at the feet of Pepe with only Colts Neck senior goalkeeper Dylan Jacobs between him and a goal. Pepe smoked a shot to the upper right of the net from eight yards out to open the scoring.
"We knew we had to come out super strong, with or without the wind," Pepe said. "Guys were sending good through-balls in and we were getting some early opportunities. It took a lucky bounce in the box and I had an opportunity and I just laid it in. Scoring early for us is huge because it gives us that boost knowing our defense is our strength and they don't usually give up goals."
"We have been telling the team when they are mentally focused from the beginning of the game to the end, we can do some great things," Wall coach Garry Linstra said. "We talked about how huge this game was for Shore Conference, for power points and for B North so we had to come out and with that intensity early."
Colts Neck settled into the game and, with the aid of the wind, kept the ball in Wall's end for the most of the ensuing 20 minutes that followed the first goal. In the 29th, however, Wall earned a free kick from 35 yards out and cashed in.
"We knew we the wind was going against us so we had to play really hard and keep the ball on the ground so it doesn't get hung up in the air," Gotsch said. "I think that helped us focus right away. They were playing with three in the back, we found the space in between and and just word the ball up the lines."
Senior Tagg Ancrum served up a ball to the middle of the 18-yard box than Gotsch headed to the left post as Jacobs arrived to get a hand on it. The ball hit the post, bounced away from the Colts Neck keeper and Gotsch followed his first shot to walk in Wall's second goal.
"I think we just wanted it more, especially on balls in the air," Gotsch said. "We were flying around, putting our bodies on the line and a lot of times, their guys were just watching the ball and we took advantage."
The Crimson Knights added their third goal in the 44th minute, with junior Nico DellaPietro swinging a corner kick straight into the far right corner of the net, with the wind giving DellaPietro's pinpoint service and extra push.
Each team got one clean header near the goal frame off a corner kick in the final 35 minutes but neither manufactured any other dangerous opportunities.
Both teams entered Friday as two of the top five teams in the Shore Conference in preventing goals. Colts Neck entered tied for No. 1 with four goals allowed in nine games and Wall nearly matched that total in one outing.
"We talked about how good both teams were defensively," Linstra said. "Neither team has given up many goals, so we challenged our defense to go out and play a clean game, keep them off the board and prove that you are one of the best defensive teams in the Shore."
Colts Neck did manage seven corner kicks to Wall's eight but put together just five shots and three on goal.
Wall's losses in 2019 are a 3-1 divisional defeat at Matawan and a 1-0 loss to a Marlboro team that is 10-1 heading to the Shore Conference Tournament and a favorite to earn the No. 2 seed in the SCT. Wall gave up two goals on turnovers in the back vs. Matawan and missed a penalty kick to potentially tie the game in the second half vs. Marlboro.
"We really want to find that nice balance between confident and cocky," Gotsch said. "We don't want to go in thinking like we own any game but we really want it bad and we think we're good enough."
| | | | |
| --- | --- | --- | --- |
| | 1 | 2 | F |
| Wall (10-2, 5-1) | 2 | 1 | 3 |
| Colts Neck (6-3-1, 4-1-1) | 0 | 0 | 0 |
Goals (Assists): (W) Jake Pepe 8', Jack Gotsch 29', Nico DellaPietro 44
Shots: Wall, 11-5
Saves: (W) Sebastian Campanile 3; (CN) Dylan Jacobs 6
More From Shore Sports Network