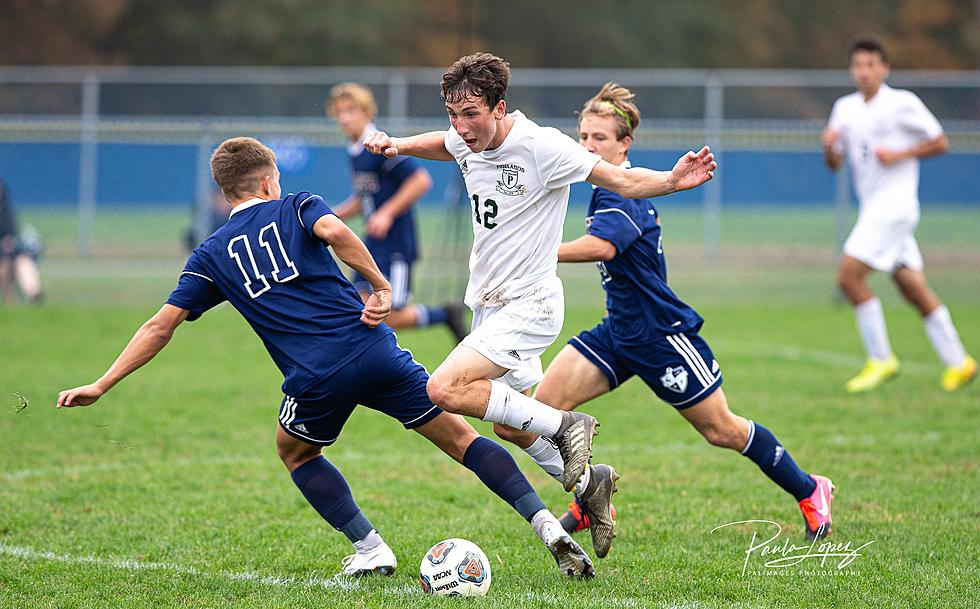 Boys Soccer – Pinelands Overcomes Missing Pieces to Advance in SCT
Pinelands senior James Cahill. (Photo by Paula Lopez)

NEPTUNE -- It took the Pinelands boys soccer team long enough to adjust to life without one of its best players and when the team jumped on the bus to head to Neptune for the Shore Conference Tournament opening round, the Wildcats found out they would be missing another of their top scorers.
Playing without second-leading scorer Stephen DeMilio do to illness, Pinelands -- the No. 17 seed in the SCT -- found some scoring from a pair of seniors and turned in a strong defensive effort to beat No. 16 Neptune, 2-0.
"We knew coming in that guys were going to have to step up," Pinelands senior James Cahill said. "We know losing a scorer that it going to be a challenge up top, but players stepped up today and that's why we won."
With Friday's win, Pinelands earns a shot at No. 1 seed Christian Brothers Academy in Wednesday's round of 16.
Despite missing DeMilio and continuing to march on without senior center midfielder Adam Grelak due to a season-ending leg injury, Pinelands still had its top scorer, Cahill, to lean on. The senior entered Friday with 18 goals on the season and was all of the field while playing mostly in the middle in the 2-0 win.
"I just figured we'd put James in a roaming role and let him do whatever he wanted," Pinelands coach Nino Scotto di Carlo said. "He was kind of positionless and we didn't make him defend too much."
Although Cahill was active and instrumental to the win, he did not score a goal. Instead a pair of his senior teammates stepped up with critical finishes, the first of which came from John Staino after Cahill skipped a pass up ahead to him. Staino shielded off a defender, took a shot against the direction he was moving, and powered the ball into the lower right corner in the 22nd minute.
"Before the game we discussed their backs' touch," Staino said. "Based on the previous play, I thought he might take a bad touch, so I just read the play, then I saw the goalie overcommitting so I just let him keep coming and I was lucky the ball went in."
"We've pretty much had two guys score goals for us all year so we said before the game, we're going to need somebody else to find a way to score," Scotto di Carlo said. "I have Staino in my class during school and I told him earlier today it was going to be him. That was huge to get us on the board."
In the 32nd minute, the field lights at Memorial Stadium shut off unexpectedly and sent the game into a 15-minute delay. When play resumed, Pinelands closed out the half with the 1-0 lead and built off the strong first half by limiting Neptune's chances even more in the second half.
"I thought it might hurt us, but it actually helped us," Staino said of the light malfunction. "We like to reflect at halftime and that was a chance to get together a little earlier and make sure we all knew we needed to finish the half strong."
In the 70th minute, Pinelands put the game away when sophomore Alex Aguilar battled for a loose ball near the top of the box and kept it alive for senior Tom Reilly to swoop in a strike a 15-yard shot to the right side of the goal.
Neptune got its best chance in the 12th minute on a shot by sophomore Kervens Lafortune that sailed just over the crossbar.
"We had to change our tactic with Stephen out so I think the first part of the game was us getting used to that and the result was giving up some possession and some chances," Scotto di Carlo said. "The great thing about this team, is their work rate is never an issue. We have had our issues at times, but effort has never been one of them. These guys are dogs."
The Scarlet Fliers had their own absence to overcome, with leading scorer Ernst Louisius forced to sit after picking up his fourth yellow card of the season in Neptune's previous game. The Shore Conference instituted a rule in 2019 that stipulates players who accumulate four yellow cards over the course of the season will have to sit for the entire game following the issuing of the fourth card.
The two teams also met in the NJSIAA Tournament last season and while each team was led by an All-Shore senior that has since graduated, it gave Scotto di Carlo and his team an idea of how they wanted to play them.
"(Anthony) Munoz Garcia was the guy we felt like we had to stop," Scotto di Carlo said. "They are very athletic and they have some guys who can burn you but he is the guy that connects it all together. So we decided we were going to man-mark him and that worked pretty well."
Pinelands saw its run of four straight first-place finishes in the Class B South division come to an end during the 2021 regular season, but the Wildcats are hoping that they are on the cusp of a postseason run. Win or lose on Wednesday against the top-ranked team in the conference, Pinelands is hoping a strong showing can propel them into the NJSIAA Tournament, if not into the SCT quarterfinals with a major upset.
"This should be something our guys want and I think they are starting to look forward to it," Scotto di Carlo said of the CBA matchup. "You want to go play on their beautiful grass field, with that crowd there making noise and playing in a tournament game. I was at the game against Toms River North (at CBA) and it was an awesome atmosphere. I think any player wants to get a chance to play in that environment and test yourself against a high-level team."
More From Shore Sports Network