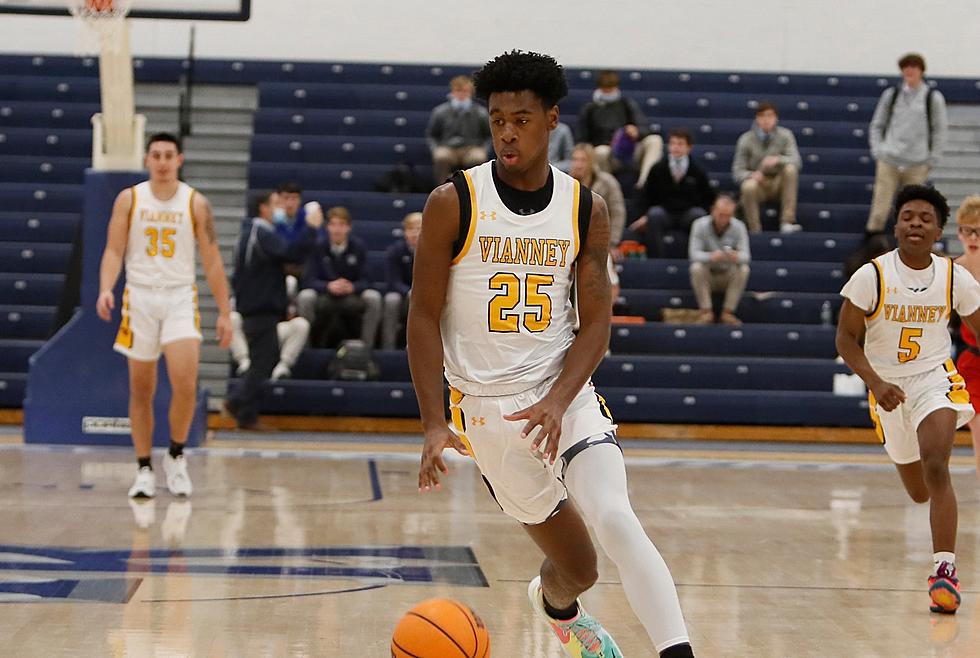 Boys Basketball – Williams, St. John Vianney Find a Way in Tight Division Win Over Middletown North
St. John Vianney senior Nate Williams. Photo by Ray Richardson.

HOMLDEL -- Nate Williams was strangely quiet for the first 28 minutes of his St. John Vianney boys basketball team's Shore Conference Class B North divisional home game vs. Middletown North on Friday night.
Over the final four, he returned to the form he has displayed throughout the start to his senior season: the best player on the floor.
Williams came alive over the final minutes to finish with 17 points and classmate Omar Calderon converted the tiebreaking layup with 18 seconds left to give the Lancers -- ranked No. 5 in the Shore Sports Network Top 10 -- a 49-47 win over the No. 10 Lions to reach the 10-win mark while seizing control of the top spot in the standings.
St. John Vianney has been a breakout team in the conference with its 10-2 start and it has coincided with the all-around improvement of its senior star. Down the stretch, with his team trailing by seven points with under four minutes to go, Williams took over the game while also trusting his teammates and it all paid off with an 11-2 sprint to the finish line.
"We didn't want to lose," Williams said. "That winning determination carries us a lot. I hit a couple big shots, Kyle (Verriest) hit a couple threes, Omar coming through with some layups, and then our defense on top of that -- everything came together for us."
Middletown North grabbed a 43-36 lead by scoring the first 10 points of the fourth quarter, going up by seven on a three-point play by senior Matt Kenny with 3:55 left.
After Kenny's free throw capped the 10-0 run, Williams immediately came back with a pull-up jumper, followed by a drive-and-dish to Calderon to cut the Lions lead to 43-40.
"The three things he has improved on have been, number one, his conditioning on both ends of the floor," St. John Vianney coach Ryan Finch said. "He never comes out of the game. Then his leadership. His maturity and leadership over these last four years, I couldn't be more proud of.
"And then his handle. The first three years, he was a face-up four or a wing that could shoot it well. Now with his handle, teams are sending two guys and we're not setting up a press-breaker. He just goes."
A tip-in by Middletown North senior Lucas Cerbo momentarily slowed St. John Vianney's momentum, but could not top it. Williams knocked down another mid-range jumper to slice the deficit back to three and after his team came up with a stop, he drove for a three-point play that tied the game, 45-45, with 1:34 remaining.
After Middletown North missed the front end of a 1-and-1 with 1:17 on the clock, St. John Vianney bled most of the remaining clock while Middletown North sat in its zone -- which it did throughout the game.
Finally, senior guard Justice Brayboy spotted an opening and fired a pass inside to Calderon, who missed the initial attempt but put in the follow-up to put St. John Vianney on top, 47-45.
After a timeout with 5.5 seconds left, Middletown North went to senior Tommy Giannone, whose contested three-point attempt from the top of the key was off the mark to end the game.
Calderon finished with 12 points and eight rebounds while sophomore Dylan Seay pitched in eight points, eight rebounds and five assists for St. John Vianney, which led by as many as eight points in the third quarter.
If Williams was quiet with his 10 points in the first 28 minutes, he was silent for the first 12:30. The Shore's No. 2 scorer heading into the night did not get on the board until a pair of free throws with 3:28 left in the half, although those did mark the first two of eight points over that final 3:28 in the half.
While Middletown North bottled up Williams for most of the first half, St. John Vianney completely took away Middletown North's top scorer in Kenny, who went scoreless on one field-goal attempt in the first half and finished with six points.
Giannone led the way for Middletown North with 15 points, five rebounds, four assists and four steals, while junior Zac Searight chipped in 10 points and seven rebounds in the loss.
Middletown North's gameplan gave the Lions a chance to knock off the Lancers and had it been last season, with St. John Vianney boasting similar personnel, the outcome might have been different.
"This year is completely different from last year," Williams said. "Our connection on the floor is phenomenal. We never give up.
"We did a lot of team-bonding this offseason. We didn't do a fall league. We did team workout sessions and that definitely played a huge roll in us becoming a team and really brought us together."
This year, however, St. John Vianney has played like a Shore Conference contender from the outset, with Williams playing like a conference Player of the Year front-runner.
"The handle and the shot-making have improved a lot for me since last year," Williams said. "More than anything, it's the confidence. My confidence went through the roof and I feel like that's why I have been trying to show everybody what I'm made of."
More From Shore Sports Network