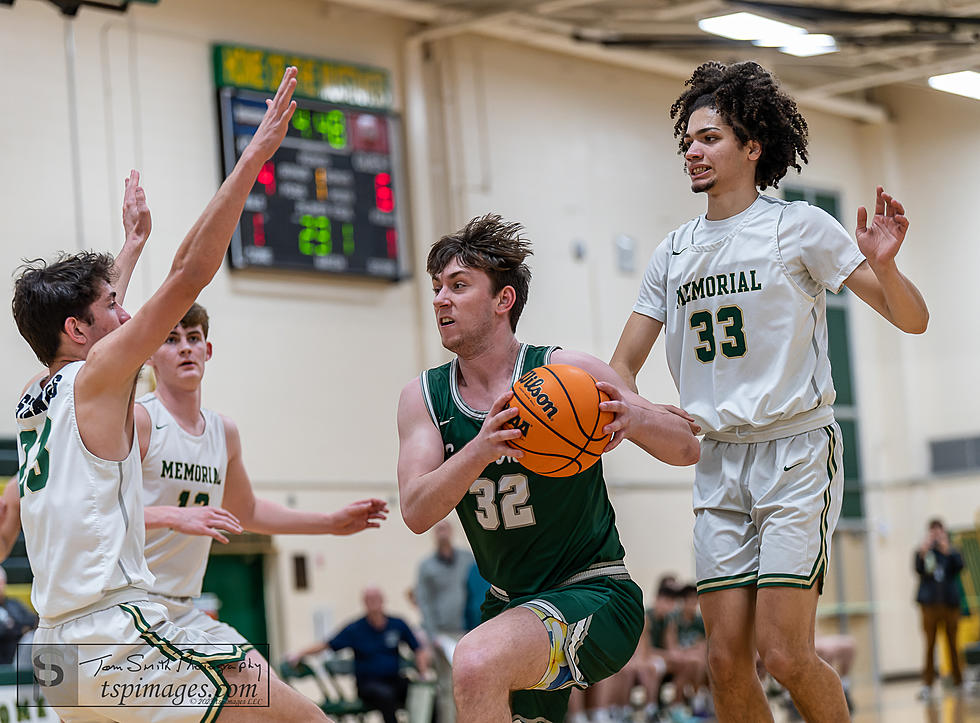 Boys Basketball – Surdez, Colts Neck Close Out Brick Memorial to Reach Central Group 3 Semifinals
Colts Neck senior Will Surdez surrounded by Brick Memorial seniors Eric Sliazis (23), Josh Michigan (12) and Dorian Alston (33). (Photo: Tom Smith | tspsportsimages.com)

BRICK TWP. -- Ahead of his first season as the head boys basketball coach at Colts Neck High School, Steve Jannarone wanted his team to set goals struck the perfect balance between ambitious and realistic and when his team brought up winning an NJSIAA Tournament game, he realized something that he had missed while coaching the girls team at Colts Neck from 2017-18 to 2021.
"I didn't realize it had been four years since the boys team won a state tournament game," said Jannarone, who was an assistant under Lou Piccola -- the only head boys basketball coach in Colts Neck history until his retirement at the end of last season. "I was coaching the girls and I knew they had some young teams and were going through some growing pains, but I guess I didn't really occur to me.
"When I was coaching with Lou, we were very fortunate to have some good teams and we always felt like we could be competitive in the tournaments, so when we got this group together and they said that they really wanted to get back to winning in the state tournament, I told them, 'Let's take one step at a time: compete in our division, make the Shore Conference Tournament and when the time comes, we'll be ready for states.'"
Wednesday night at Brick Memorial, the Cougars -- seeded No. 5 in the NJSIAA Central Jersey Group III section -- also took their Central Group III quarterfinal game as it came to them and in the final minutes, buried the fifth-seeded Mustangs in the fourth quarter to nail down a 49-39 win.
Senior forward and four-year starter Will Surdez came up big with 16 of his game-high 22 points in the second half, helping Colts Neck to close the game on 19-7 run over the final 5:20.
Surdez delivered a personal 7-0 run during the third quarter after Brick Memorial opened the second half with seven straight points to take a 24-23 lead. Surdez's seven straight gave Colts Neck a 30-24 lead that evaporated when Brick Memorial struck back with the last six points of the third and the first two points of the fourth quarter, with senior Josh Michigan scoring on a go-ahead drive to the basket in the first minute of the fourth.
For the next six minutes, Colts Neck held Brick Memorial without a point, with sophomore Vova Trotsko and Surdez hitting three-pointers just under two minutes apart to put Colts Neck up for good, 36-32, with 3:30 left.
Trotsko finished with 13 points and seven rebounds and junior Mike Belcher led a defensive Colts Neck defensive effort that held Brick Memorial scoreless for six minutes during the fourth quarter. After a Brick Memorial timeout following Surdez's three, Belcher stole the ball near midcourt and laid it in for a 38-32 lead.
"The Josh has been playing, we weren't going to hold him to seven points like we did the first time we played them," Jannarone said. "He did better than that today, but I was still really happy with how we played him. Mike is such a good defender: so long, so quick.
"He have a scorer in Will, we have a scorer in Vova and Mike can be that third guy and some games he is. To his credit, he has totally bought into what we told him, which is that he can the biggest difference out there just with his defensive ability. He has embraced it and has been fantastic. The list of guys he has guarded and held below their season average is impressive."
Belcher's defensive assignment for the game was Michigan, who went off for 30 points and 14 rebounds in Brick Memorial's first-round win over Burlington Township on Monday. Michigan scored a team-high 17 points on Wednesday -- three points below his season average -- with seven of those points coming in the final 1:30 after Colts Neck had built a seven-point lead.
Michigan's three-pointer with 1:28 on the clock snapped the six-minute scoreless stretch by the Mustangs and kept Brick Memorial alive, trailing only 39-35, despite fighting through those offensive struggles for most of the fourth.
Colts Neck, however, twice broke Brick Memorial's press, with Trotsko and Surdez finishing layups to stretch the lead to 43-35.
For the first time since 2018 -- Jannarone's first season as the girls varsity head coach at Colts Neck after working on Piccola's staff -- Colts Neck will compete in a sectional semifinal when the Cougars travel to play top-seeded Ewing (22-4) on Friday for a 7 p.m. tip-off.
Colts Neck is in the midst of its first winning season since that 2017-18 campaign, which ended with a loss to Trenton in the Central Jersey Group IV championship game. Last season, the Cougars made it back to the NJSIAA Tournament for the first time since 2018-19, when they finished 10-13 but won a first-round game over Brick.
"I'm just happy for our seniors," Jannarone said. "Everything that we're doing now reinforces what they have been doing from day one of the offseason and the sacrifices they have made. I have four seniors on the bench and they are such great kids. As a coach, I have had a chance to experience this but most kids only get one or two years to be a part of something like this, so that's what this is all about."
Brick Memorial had been an unkind venue for Colts Neck before Wednesday night. Surdez and his fellow seniors got their first taste of the NJSIAA Tournament last season, but went out in the first round at Brick Memorial, 55-38.
On Feb. 2 of this season, Colts Neck got a 41-40 win at Brick Memorial, but lost Surdez to an ankle injury early in the game. The Surdez injury started a run of injuries and illness that caught up with Colts Neck in the first round of the Shore Conference Tournament, when the Cougars lost a home game to 23rd-seeded Matawan with Surdez limited to only four minutes and Trotsko out with the flu.
After losing to Matawan, Colts Neck dropped two of its next three games in preparing for the NJSIAA Tournament, but the results of those games were less important that the Cougars getting healthy for the state playoffs. On Monday in round one, Colts Neck survived a hard-fought, 46-43, game vs. No. 12 Lawrence, with Surdez scoring 13 points and looking more like himself for the first time since his injury.
On Wednesday, the senior was at his absolute best when his team needed it the most.
"We really tried to take it slow with Will over the last couple of weeks," Jannarone said. "He was fighting us on it. He didn't want to get rusty, so we would try to sneak a couple minutes for him. To his credit, the big lights came on and so did he."
More From Shore Sports Network