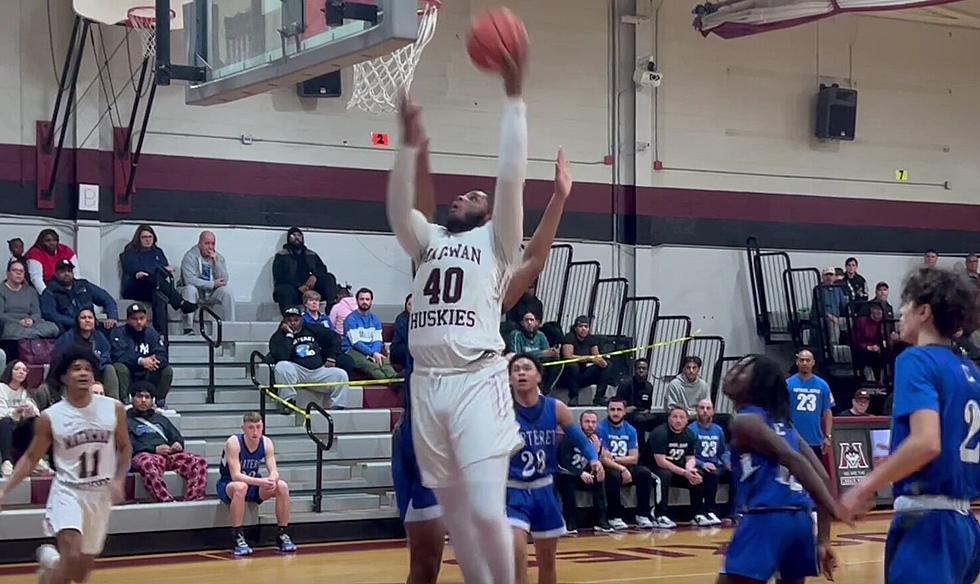 Boys Basketball – Matawan Storms Into Central Group 3 Quarterfinals
Matawan sophomore Jayden Elijah goes up for two of his 13 points Monday in Matawan's win over Carteret. (Image: Matt Manley/Shore Sports Network on YouTube)

ABERDEEN TWP. -- The way first-year Matawan head coach Matt O'Brien talks about his team's trio of Chauncey Brown, Jayden Elijah and Amir Martinez, it sounds like he is talking about senior captains rather than the sophomores that they actually are.
A year ago, the trio performed like freshmen -- albeit talented ones -- in that they had not figured out how to turn their raw talents into the caliber of play that would lead to wins and four games into this current season, that seemed to remain the case.
At some point, however, the proverbial light turned on for this sophomore-led Matawan team and it is shining its brightest at the best possible time.
Powered by double-doubles by both Brown and Elijah, seventh-seeded Matawan opened the NJSIAA Central Jersey Group III championship Monday with a 58-46 win over No. 10 Carteret for its second postseason win of the season.
With Wednesday's win, Matawan is moving on to face No. 2 Nottingham in the sectional quarterfinals and has guaranteed itself no worse than a .500 record for the season. With a team that starts one senior in four-year letter-winner and three-year starter Colin Haluska, the Huskies still brought back a significant amount of playing experience from a 2021-22 that finished 6-21 while missing out on the NJSIAA Tournament.
"When you have three kids that started as freshmen, you're off to a good start," O'Brien said. "I was the jayvee coach her for five, six years here, so I know the community, I know the kids and that's a big help. They may be young, but they're not really sophomores anymore."
Last season ended in encouraging fashion for Matawan, with the Huskies going 4-3 over their final seven games. This season, however, started off poorly when Matawan lost its first four.
There have still been some speed bumps since the 0-4 start, but Matawan has turned itself into a team that plays like it expects to win, no matter the opponent. In early January, the Huskies routed a Red Bank team that had recently knocked off Christian Brothers Academy, then Matawan later made its own run at CBA, falling to the Colts, 44-43, in the Shore Conference Tournament.
"They really bought in," O'Brien said of his players. "Defend your butts off and you'll always have a chance. That's what we have been preaching. You may not always win, but you'll always have a chance. Then, we try to get out and run and use our athleticism. We have a big guy inside and we have a couple of shooters and having all that makes it easy if you defend first."
In between those results, the Huskies played a competitive road game at Shore Conference Tournament runner-up Ranney, then knocked off 10th-seeded Colts Neck in the first round of the SCT as the No. 23 seed. Between the CBA loss and Monday's NJSIAA Tournament opener, Matawan dropped games to Jackson Memorial, Shore Regional and Red Bank Catholic -- a risky bet to head into the NJSIAA Tournament with the weight of a four-game losing streak on the team's psyche.
O'Brien, however, believes those games were crucial in preparing his still-young team for some of the scenarios it would face once the season was on the line. With a amped-up crowd and the tournament underway, O'Brien's team responded.
"We have been preaching all year that, 'You guys can be a top 10 team in the Shore,'" O'Brien said. "We made not have won all of those games (against other top 10 teams) but we have been right there."
After falling behind, 9-5, on Monday, Matawan scored 11 straight points, with Brown scoring nine of the 11 to give Matawan a 16-9 lead the Huskies would never give back, despite some spirited runs from Carteret.
"With last year and then the COVID year before that, this is my first team really playing in states," Haluska said. "The fans were great, the energy was fantastic and I just love playing with my guys. I just want to keep winning with them."
Brown finished with a game-high 23 points and 10 rebounds -- the first double-double of his career -- and struck for 13 of his points in the first half. He glided in for a transition layup off a feed from Martinez in the final seconds of the second quarter to send the Huskies to the locker room with a 29-18 halftime lead.
Brown then hit two free throws to open the second-half scoring and extend Matawan's run to 9-0 and responded to a three-pointer by Asi Powell with another drive to the basket. When Elijah putback a miss on the next Matawan possession, the Huskies found themselves with the largest lead they would have in the game, 35-21.
"We knew it was going to be a very feisty game," Brown said. "They are very scrappy, so we just had to keep our cool and finish the job."
Carteret sped up the game with full-court pressure and turned the tide heading into the fourth quarter with a 15-5 run to close out the third. The Ramblers pulled with 41-38 on a layup by Andre Diaz, but Matawan would not let the visitors get any closer.
"I think we kept our composure," Haluska said. "We stuck to what we normally run and we eventually started to break (the press) and kept scoring. That was the main part of what we did. They hit some big shots, but we were able to run our offense and keep scoring."
"We have been in those kind of games all year," O'Brien said. "We're up 15 and blow it, or we're down one score with 30 seconds left. That was all part of the plan, in a way: create some of those situations for these guys against tough teams so when we get to this part of the season, there isn't really anything these guys haven't seen."
With Matawan up, 44-40, junior Brian Charles Gagneron buried a clutch three-pointer to extend the lead to seven. The Huskies followed that up by clamping down on defense and hitting six consecutive free throws -- four by Martinez and two by Brown -- to extend their lead to 53-44.
The pivotal defensive play came during a Carteret fast break with under three minutes left, when Haluska tracked back, got to a spot, established possession and drew a charging foul on Diaz -- Carteret's second-leading scorer in the game with 16 points. That was Diaz's four foul and he picked up his fifth within the next minute.
"Our coach always emphasizes taking charges and we do it all the time in practice," Haluska said. "When he was coming down the court, I knew I had to get to the spot right after he took his first step, then I just planted my feet, took the charge, saw the ref call it an got hyped up because I knew it was a big play. Coach teaches us that, so shoutout to him, because we weren't taking charges like that last year."
Haluska then delivered the dagger on offense as well, draining a corner three-pointer to stretch the Matawan lead to 56-44.
Haluska finished with 10 points and six rebounds, while the 6-foot-7 Elijah racked up 13 points and 10 rebounds and Martinez finished with eight points, four assists and four steals in the victory.
Matawan will try to extend its season Wednesday at Nottingham, which nearly coughed up a 19-point halftime lead Monday before ultimately finishing off No. 15 Red Bank, 74-65. It was a win over Red Bank that opened the players' eyes to the possibilities and now, the Huskies will take on the team that ended Red Bank's season while hoping to extend theirs.
"We have improved a lot," Brown said. "It we stick together, we can go very far. We played a lot of top-tier, senior teams last year and it was very difficult as freshmen. Moving forward, we should be able to do better."
LOOK: Biggest underdog victories in March Madness
Every spring, legions of sports fans turn their attention to college basketball when
March Madness
takes the national spotlight. Using aggregated Associated Press data, BestOdds has come up with 10 of the biggest—and most unlikely—underdog wins in March Madness history.
More From Shore Sports Network