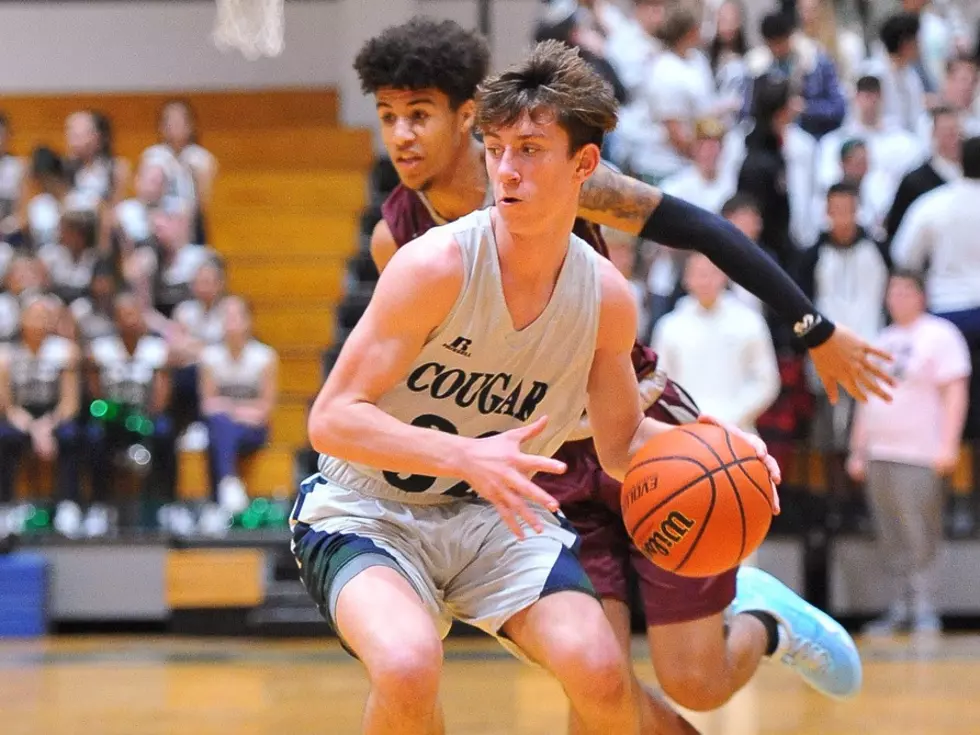 Boys Basketball – 2021 Season Preview: Colts Neck
Colts Neck sophomore Will Surdez. (Photo courtesy: Paul Surdez)
Enter your number to get our free mobile app
Just three years removed from reaching an NJSIAA sectional championship game for the fourth time in eight seasons, Colts Neck is trying to shake out the cobwebs of back-to-back losing seasons – unfamiliar territory for one of the Shore's most consistently strong public programs since the school opened at the turn of the millennium. Last year's Cougars squad was especially young, with just two regular contributors graduating from the five-win team – one of whom was leading scorer Aiden Horan.
Despite losing a top scorer, Colts Neck has every reason to expect a turnaround season thanks to a more experienced roster that has plenty of athleticism and physical toughness. Four regular contributors are back from 2019-20, led by returning starters Richard Lee, Steve Ciccarone and Will Surdez. Lee and Ciccarone are well-rounded guards, with Lee running the point and Ciccarone playing on the wing, while Surdez is a sophomore coming off a freshman season in which he became one of Colts Neck's most dependable players.
Juniors Tommy Fallon and Ronak Sandeep will provide the frontcourt presence for Colts Neck, with Fallon coming off a stellar fall as the quarterback on Colts Neck's 6-1 football team. The bench should provide a mix of skill and athleticism, with 6-foot-3 Delano Marcelus adding some more muscle down low and a wave of guards led by returning senior Matt Piperno that will back up Lee, Surdez and Ciccarone. After a 2020 to forget, Colts Neck is positioned to make 2021 far more memorable.
Head Coach: Lou Piccola, 22nd season
2019-20 Record: 5-17 (2-12, eighth in Class B North)
2020 Postseason Performance: Did not reach postseason
Disclaimer: Projected lineups listed in the 2021 Shore Sports Network Preview are not necessarily directly from coaches. Some are, while others are projections from Shore Sports Network staff. In either case, the projected lineup is fluid and could change leading up to the start of the season and beyond. Check back for periodic updates to every team's projected starting lineup on shoresportsnetwork.com.
Richard Lee, Sr., 5-9, Guard (RS)
Will Surdez, So., 6-3, Guard (RS)
Steve Ciccarone, Sr., 6-1, Guard (RS)
Ronak Sandeep, Jr., 6-4, Forward (R)
Tommy Fallon, Jr., 6-2, Forward (R)
Ryan Thaler, 6-2, Forward
Matteo Piperno, Sr., 5-11, Guard (R)
Delano Marcelus, Sr., 6-2, Forward (R)
Vivan Gandhi, Jr., 5-11, Guard (R)
Cade Chrebet, Jr., 5-9, Guard/Forward (R)
John Runfolo, Jr., 5-10, Guard
Anthony Esposito, Sr., 5-8, Guard (R)
R – Returning Varsity Player
Player to Watch: Will Surdez
Surdez turned in a memorable freshman season, which included a buzzer-beating tip-in to beat Middletown North in one of the Cougars' two divisional wins. Now a sophomore, Surdez will be even more relied-upon for scoring, but should have help around the floor thanks to an athletic roster and an offensive system that always spreads the wealth.
Big Shoes to Fill: Tommy Fallon
Fallon provided some production in spurts last season and will be asked to take on a bigger role as a junior now that he will be a regular starter. With some good scoring and play-making ability on the perimeter with Lee and Surdez, Fallon and Sandeep will just need to finish around the basket and earn some second chances on the glass when it comes to the offensive side. Defensively, Fallon will be reliable guarding multiple positions and that side of the ball should be an overall strength for the Cougars.
Impact Newcomer: John Runfolo
Runfolo will be a key bench piece this season along with fellow junior guards Gandhi and Chrebet – the son of former New York Jets wide receiver Wayne Chrebet. Runfolo is another two-sport athlete who played a big role on the Cougars football team and will bring some more defense and slashing ability to the back court when he is out there.
X-Factor: Winning breeds winning
While last year's basketball season was not up to Colts Neck's usual standards, a number of other Cougars athletic programs have enjoyed newfound success and a number of athletes from those teams are on the varsity hoops roster. Ciccarone and Gandhi were on Colts Neck's first sectional championship soccer team in 20 years this past fall, while Fallon, Surdez, Marcelus, Runfolo and Chrebet all played for the rejuvenated football program in the fall as well. Piccola and his team are now hoping that winning culture carries over to the basketball court, where Colts Neck should benefit from more game experience that carries over from last year.
Jan. 27 at Holmdel, 5:30 p.m.
Jan. 29 vs. Holmdel, 5:30 p.m.
Feb. 2 at St. John Vianney, 7 p.m.
Feb. 4 vs. St. John Vianney, 5:30 p.m.
Feb. 8 vs. Matawan, 5:30 p.m.
Feb. 10 at Matawan, 6:45 p.m.
Feb. 11 at Jackson Liberty, 6:30 p.m.
Feb. 16 vs. Raritan, 5:30 p.m.
Feb. 18 at Raritan, 3:45 p.m.
Feb. 22 vs. Middletown North, 5:30 p.m.
Feb. 24 at Middletown North, 6:30 p.m.
Feb. 26 vs. Freehold Boro, 5:30 p.m.