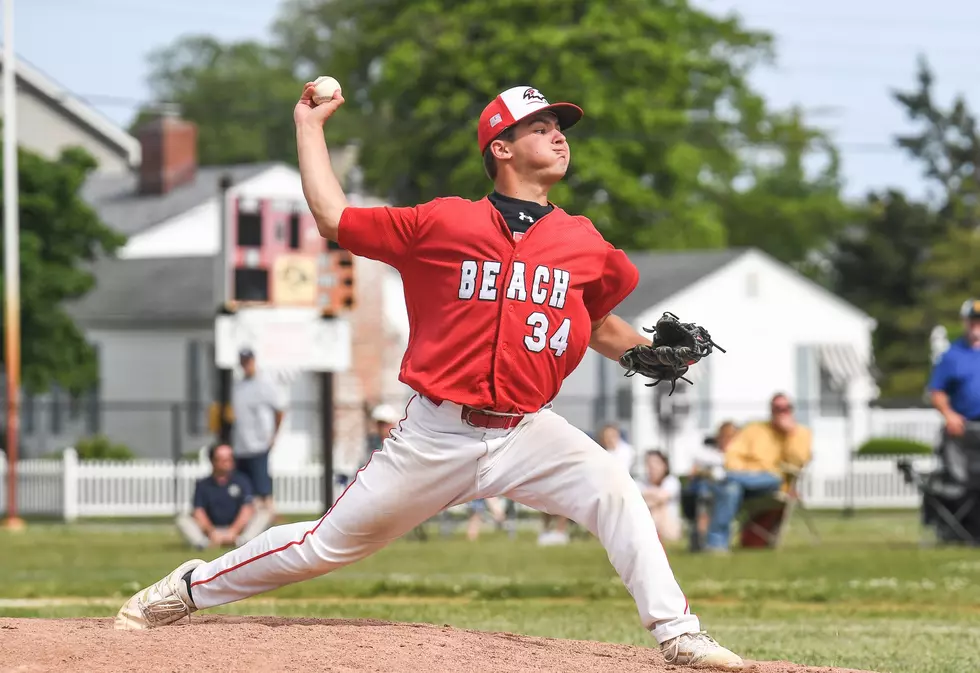 Baseball – NJSIAA Sectional Final Preview: Point Beach Hopes to Finally Conquer Middlesex Dynasty
Point Beach junior James Larsen. (Photo: Tom Smith | tspsportsimages.com)

Central Jersey Group I Championship
Friday, June 10, 2022
No. 2 Point Pleasant Beach (19-9) at No. 1 Middlesex (22-5), 4 p.m.
Point Beach at a Glance
Head Coach: Angelo Fiore
Last Sectional Championship: None
Probable Starting Pitcher
James Larsen, Jr., RHP (3-3, 4.62 ERA, 22.2 IP, 21 H, 11 BB, 34 K)
Available Pitchers (With available number of pitches)
Andrew Banick, Sr., RHP (110)
Kyle Kolans, Jr., RHP (84)
Owen West, Sr., LHP (110)
Ineligible Pitchers
None
Top Hitters
Phil Trebour, Sr., SS (.444, 7 2B, 1 3B, 38 R, 22 RBI, 13 SB)
Andrew Banick, Sr., LF (.361, 8 2B, 1 3B, 28 R, 32 RBI, 6 SB)
Bryan Matuschat, So., 3B (.440, 4 2B, 1 3B, 27 R, 27 RBI, 5 SB)
Colin Matuschat, Sr., 1B (.338, 4 2B, 2 3B, 2 HR, 25 R, 22 RBI, 8 SB)
Braden Ryan, Sr., DH (.426, 4 2B, 2 R, 20 R, 18 RBI, 13 SB)
Nate Clayton, So., C (.338, 4 2B, 3 3B, 1 HR, 10 R, 21 RBI, 2 SB)
Colin Reinhard, Jr., 2B (.407, 3 2B, 16 R, 16 RBI, 2 SB)
Hunter Roselli, Sr., RF (.300, 6 2B, 2 3B, 23 R, 25 RBI, 8 SB)
Connor DeLorenzo, Sr., CF (.286, 3 2B, 28 R, 12 RBI, 10 SB)
Road to the Final
First Round: James Larsen struck out seven of the first eight batters he faced on the way the three no-hit innings and the Garnet Gulls cruised to a 10-0 win over No. 15 Henry Hudson. Phil Trebour and Braden Ryan each went 3-for-4 with two runs and an RBI to lead the offense and both Nate Clayton and Colin Reinhard went 2-for-2 with an RBI for Point Beach.
Quarterfinal: Andrew Banick pitched a one-hit shutout with nine strikeouts and three walks and Point Beach blanked No. 7 Bound Brook. Third baseman Bryan Matuschat led the lineup by going 3-for-3 with an RBI.
Semifinal: Phil Trebour went 3-for-4 with three RBI and three pitchers combined on a four-hitter to spark Point Beach to a 9-1 win over No. 3 New Egypt. Colin Reinhard also went 3-for-4 and Kyle Kolans pitched the first 4 2/3 innings to earn the win, allowing one unearned run on three hits. Jackson Killian did not give up a hit in 1 1/3 innings and Larsen pitched a scoreless seventh to end it.
Middlesex at a Glance
Head Coach: Justin Nastasi
Last Section Championship: 2021 (four straight)
Probable Starting Pitcher
Stephen Young, Sr., RHP (4-1, 3.05 ERA, 43.2 IP, 39 H, 24 BB, 41 K)
Notable Available Pitchers (With available number of pitches)
Aidan Kozak, Jr., LHP
Adam Groel, Jr.
Ineligible
Alfonso Esposito
Top Hitters
Robert Ulmer, Sr., OF (.460, 13 2B, 3 3B, 1 HR, 25 R, 33 RBI, 7 SB)
Stephen Young, Sr., 3B/P (.345, 4 2B, 1 3B, 5 HR, 32 R, 20 RBI, 17 SB)
Chris Hopf, Sr., C (.351, 11 2B, 1 HR, 19 R, 32 RBI, 4 SB)
Michael Salvatore, Sr., 2B (.343, 2 2B, 23 R, 18 RBI, 15 SB)
Ty Nicolay, Sr., SS (.375, 5 2B, 37 R, 14 RBI, 15 SB)
Tomas Lavornia, Jr., 1B (.304, 9 2B, 12 R, 12 RBI, 7 SB)
Mike Venutolo, Sr., OF (.298, 4 2B, 1 3B, 2 HR, 26 R, 17 RBI, 8 SB)
Road to the Final
First Round: Five Middlesex pitchers combined on a five-inning no-hitter and the Blue Jays lineup clubbed seven extra-base hits in a 10-0 win over No. 16 Highland Park. Stephen Young homered and drove in two, Avery West tripled and drove in two, and Ty Nicolay doubled twice and drove in one for Middlesex.
Quarterfinal: Chris Hopf hit a double and drove in four and Robert Ulmer clubbed a three-run home run as the Blue Jays pulled away to beat No. 8 Riverside. Adam Groel pitched 4 2/3 innings of relief to earn the win.
Semifinal: Robert Ulmer went 4-for-4 with four doubles and two RBI and Stephen Young homered and drove in three to lead Middlesex to a one-sided win over No. 5 Shore Regional. Alfonso Esposito pitched a six-inning four-hitter on 92 pitches to pick up the win.
A Closer Look
Middlesex looks to wrap up a fifth straight Central Jersey Group I championship and continue its dominance, not only over the section but vs. Point Beach, in particular. In each of its last four runs to the sectional championship, Middlesex has defeated Point Beach along the way.
The most recent of those meetings is one that gives Point Beach hope heading to Middlesex County, where the Garnet Gulls hope to finally earn themselves a joyous bus ride after three straight disappointing ones from 2019 to 2021 (there was no 2020 tournament). It took an errant throw in the bottom of the seventh inning for Middlesex to score the winning run and emerge with another sectional championship to its name and the Garnet Guls have been stewing for a full year, nearly to the day.
Another reason for hope on the Point Beach side is the way the Gulls have played against some of the better teams on the schedule. Point Beach has a win over Group IV West Windsor-Plainsboro South and in an unprecedented three-game stretch, the Garnet Gulls took out all three Toms River public-school teams: South, East and North. Point Beach also dropped competitive games to Brick Memorial and Colts Neck, so factor in last year's close loss to the Blue Jays and Point Beach has to expect that the game will, at worst, hang in the balance in the final inning.
Point Beach also has an edge in pitching available, with every one of the Garnet Gulls' arms ready for action if the situation calls for them. Middlesex, meanwhile, used up ace Alfonso Esposito to get through Shore Regional on Tuesday, perhaps indicating that – in addition to setting Esposito up to pitch the Group I semifinals and championship game – Middlesex saw Shore as its greatest threat in the section after the Blue Devils scored several big wins during the regular season, including one over Point Beach.
Over the course of the 2022 season and, certainly, going back through the past decade-plus, Middlesex has shown to be a better team than Point Beach. For Point Beach, however, the last two months mean nothing at this point, let alone the past two decades. The Garnet Gulls are one win away from their first sectional title and reaching 20 wins for just the second time in school history and the team that has been flat-out better than Point Beach and every other Group I school is standing in the way.
Point Beach can't erase the last four losses, but it won't have to. The Garnet Gulls just have to be better on Friday.
Prediction: Point Beach, 6-4
More From Shore Sports Network